Welcome back,
Last Saturday, I celebrated an anniversary Mass for Javier and Laura Garcete and Julio and Betty Ruiz, who were married at a joint ceremony 25 years ago and whose children I had baptized.
Javier was my youth minister at Centro Católico for many years. He and his wife, Laura, are involved in the Focolare Movement.
In this picture, beginning on the right, is Padre Moises, a capuchin friar. Next to him is Deacon Rudy Salinas, who is studying at Blessed John XXIII and will be ordained a priest in the spring. Next to him is Father Mark Knestout, who is stationed at St. Matthew's Cathedral, and next to him is Father Evelio, who is in charge of Hispanic ministry at the Cathedral.
The pictures here are the side altar in St. Matthew's, which is a statue based on Raphael's painting "The Betrothal of the Virgin," the marriage of Mary and Joseph. It's an altar where I had many weddings in the past.
Zechariah is presiding over the marriage. According to the legend, so many men were seeking Mary's hand that Zechariah set up a test for them to see who was the one chosen by God. All the eligible men of the line of David were given a bare wooden staff. The man whose staff flourished into bloom would be the one who was chosen as Mary's husband, and that of course was Joseph — shown with the lily growing out of his staff.
One of the frustrated suitors is breaking his staff.
In 20 years that I was in Washington, I worked at the cathedral parish, as well as other parishes. Here, in particular, I had many weddings, confessions every Saturday and baptisms galore! I used to say that we would have 60 baptisms for every funeral, which was very telling. It was a very young community.
It was nice to return there for this celebration because it was also the 40th anniversary of my priesthood, and that was where I celebrated my first public Mass and worked for many years.
Afterwards, I went to Pittsburgh for the funeral of the father of Father Don Lippert. Father Lippert was one of our Capuchin missionaries in Papua New Guinea. Fortunately, he was able to arrive in Pittsburgh the day before his father died.
The funeral was at St. Augustine's Church, the parish where I was professed and was ordained a priest 40 years ago on the Feast of the Beheading of St. John the Baptist by Bishop McDowell.
This church was a German parish. It was built as a replica of a very beautiful church in Munich called St. Benno.
Our province is St. Augustine's province, and we were always ordained either on or close to the Feast of St. Augustine.
They would always have the ordinations on a Saturday and that Saturday happened to be the Beheading of St. John the Baptist.
I often joke about it, but it is a great feast day. St. John the Baptist is the only saint besides the Blessed Mother for whom we celebrate the birthday as well as their death, in Mary's case her Dormition.
– – –
It was providential that these two occasions — one joyous, one sorrowful — brought me to places so important to my early priesthood around the time of my anniversary.
I am so grateful for priestly vocation. It is not something we deserve or merit, It is something that God in His goodness calls us to do. It calls us to be part of something bigger than ourselves. It is not our priesthood, it is the ministry of Jesus Christ.
In the Church, the priesthood is so important because we are a Eucharistic people. It is through the priesthood that Christ has chosen to give us the sacraments.
My vocation was very much nurtured by my parents and my teachers in Catholic school.
In Catholic schools, the teachers were always promoting and praying for vocations, and encouraging us as students to reflect on whether God was calling us to a vocation.
Being an altar server was a great joy. Because we lived so close to the church, we used to serve very, very often. In those days the priest never celebrated Mass without an altar server. In the Tridentine right, there were many more things for an altar server to do — ringing the bell, changing the book, and answering the prayers. The altar server actually took the people's part — answering the Latin prayers. That was a wonderful experience for us as children.
Having been a priest for 40 years I can certainly say to the young people it is a wonderful life and a great adventure. In the words of Pope John Paul II, "Be not afraid."
This week, I reflected on the past 40 years of my priesthood in an interview with The Pilot, which I want to share with you.
– – –
After the funeral in Pittsburgh, I returned to Boston for another funeral, which was held at St. Ignatius Church this past Tuesday.
There, with all the ordinaries of the state of Massachusetts and some of our auxiliary bishops we celebrated a Mass for attorney Edward Saunders, who was the executive director of the Massachusetts Catholic Conference.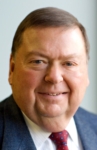 Ed was a man who had gone to BC High and Boston College, and was very much involved with the Church in issues of social justice his whole life.
For many years he had worked with the credit unions in Massachusetts but came to us after Gerry D'Avolio, the previous director of the MCC, retired. It was a very difficult time for the Church, but as he said, he wanted to be able to help his Church and be a part of what was happening.  He was a very hard worker and a man of great compassion.
His sudden death was a shock to everyone.
It was nice to be able to meet some of his family members who I had not known. I knew he was very close to his family.
When I went to the hospital to visit Ed I was happy to see that Father Jim Shaughnessy, a Jesuit who was a classmate of his at BC High, was the chaplain there so he was able to care for him on his last days. Father Jim also preached at the Mass.
– – –
On Wednesday, I celebrated the Mass of the Holy Spirit, which was the Mass to open the academic year at St. John's Seminary.
This week our seminaries begin. We were happy to welcome a new spiritual director, Father Michael Barber, a Jesuit who has come to us from the California province. Father Dave Pignato from the Diocese of Fall River, and Father Ed Riley, a Boston priest who left his parish in Holbrook to be with us, joined me there as well.
We are so pleased to have such a large group of men in formation for the priesthood. This year, 101 seminarians are studying for the priesthood from various dioceses and religious communities. St. John's has 27 resident seminarians studying for Boston. Seminarians also come to St. John's from other dioceses in Massachusetts, New England and around the world. We welcomed 26 new seminarians, 13 of whom are from our archdiocese.
Please join me in praying for these men as they prepare to serve the Church and that the Holy Spirit will raise many more good and holy men to work in the vineyard of the Lord.
Until next week,
Cardinal Seán