I was very happy to be back in Boston this week, though I enjoyed the pilgrimage and the opportunity to be with our Holy Father. His visit to Portugal was a great success. I was very privileged to have been a part of it.
While I was there news reports focused on one of our schools whose pastor decided to rescind the admission of a child of a same-sex couple. Due to the importance of the matter, I published a special post on Wednesday that you can read here.
– – –
On the way back from Portugal I passed through Cleveland in order to preside at the wedding of Gabriel Somarriba and Mary Rose Rybac.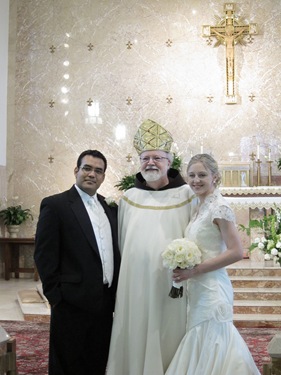 Gabriel's family is from Nicaragua and his father works at the Nunciature. I married his parents and have known his family for many, many years.
Gabriel married a wonderful woman who is the managing editor of the Catholic journal First Things. Mary Rose is from Fairview Park, Ohio, which is very close to where my family lives.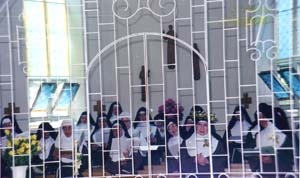 So, in addition to having the wedding Mass, I was able to celebrate Mass with the Poor Clare Colettine Nuns where I celebrated my first Mass 40 years ago. I was also able to visit with my Uncle Ed, Aunt Therese, my cousin Annette, her husband John, and their three children — Patrick, Matthew, and Seán.
I also had a chance to visit with the Capuchin friars there. I was pleased to see Father Bob McCreary and the friars who are at Borromeo Seminary in Wickliffe, which is near Cleveland. Father McCreary is the formation director at the seminary.
As you can imagine, it was a very busy schedule.
– – –
Sunday afternoon I arrived back in Boston, and I was off to the Redemptoris Mater Seminary's gala dinner. John and Marguerite McNeice were honored for their support of the House of Formation and I was also honored with the first Evangelization Award that they are planning to offer every year.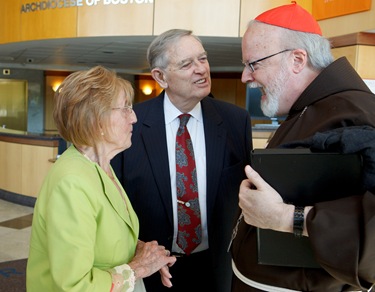 The event began with a Mass at the Bethany Chapel followed by a cocktail hour.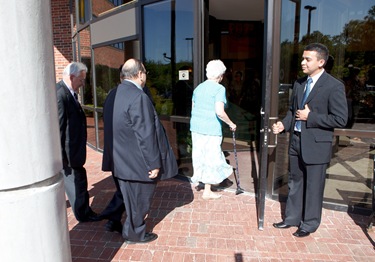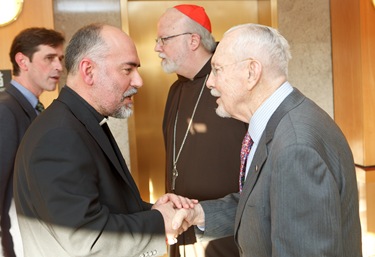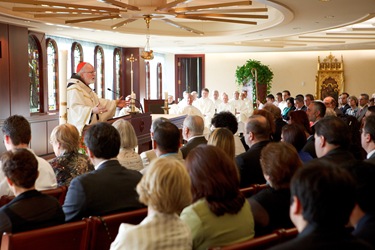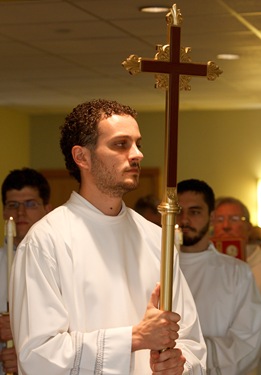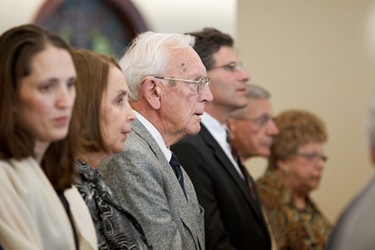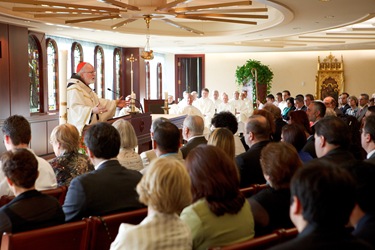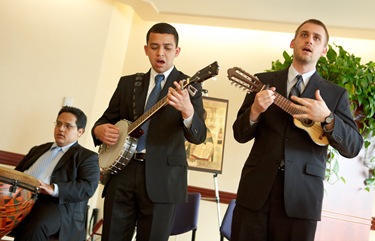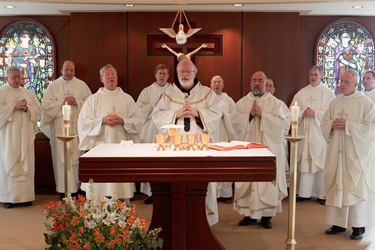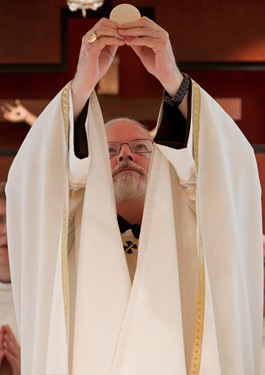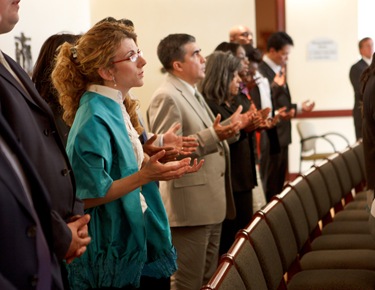 During that event, some members of the Haitian community attending spoke very kindly of our efforts to help in the recovery efforts there after the earthquake, and they gave me a plaque.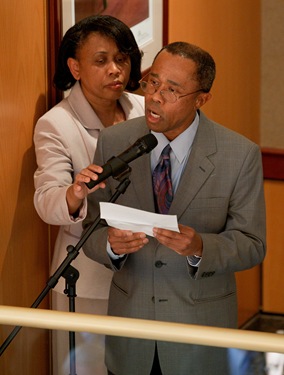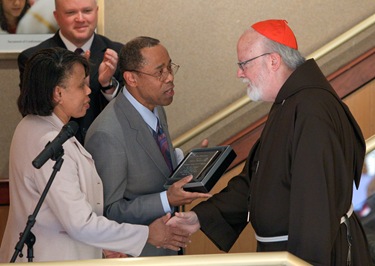 The gala dinner, the first one they have organized, took place at the Pastoral Center and it was a great success.  I understand this was the largest function we have hosted to date at the Pastoral Center.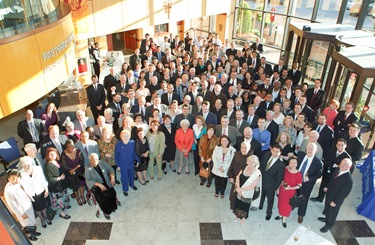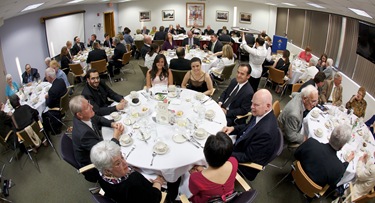 The evening gave the seminarians a chance to meet the people and tell them a little bit about the seminary.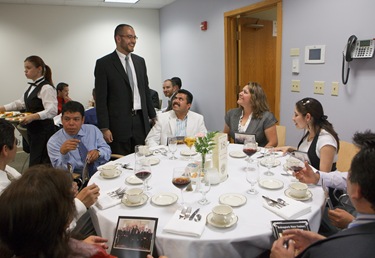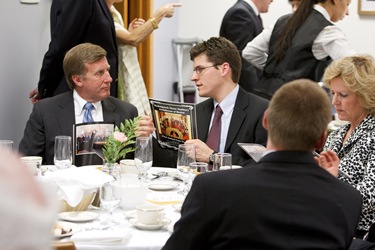 They gave John and Margarete an icon of the Blessed Mother.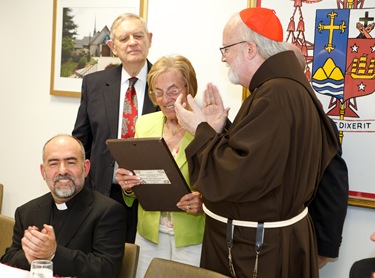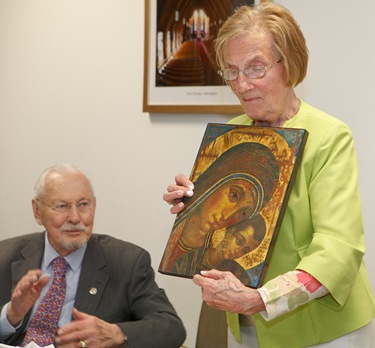 They gave me this wonderful icon of St. Francis, a replica of the one in Florence.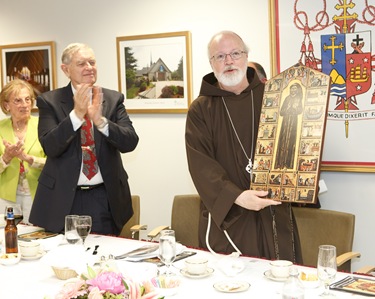 As at many Catholic events, though, there were great challenges in getting the audiovisual to work. In the meantime, the seminarians regaled us with wonderful singing. Here is the video presentation that we were finally able to enjoy.
At the end of the evening, they presented me with a lovely cake in honor of my 40th anniversary of priestly ordination.
As they presented it the seminarians sang Las Mañanitas for us!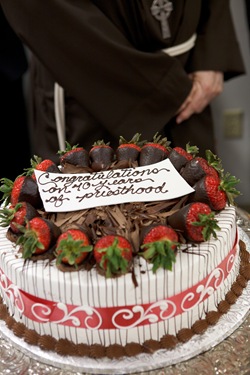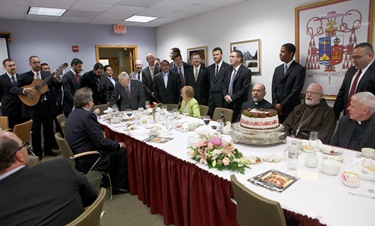 – – –
Mary Jane England, the president of Regis College in Weston, visited me Tuesday to share with me information about an important outreach program of the college.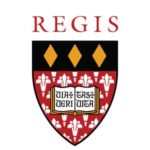 Regis is working to develop a program in Haiti to train nursing instructors. They have brought a number of nurses up to their program at the Boston hospitals to acquaint them with the most modern equipment, and emergency and operating room procedures. It is one more example of our Catholic institutions of higher learning participating in this wider mission of the Church to help the people of Haiti.
– – –
The Sisters of St. Joseph held an evening prayer at their motherhouse in Boston on Tuesday to mark the Year for Priests. Individual sisters invited priests of the archdiocese.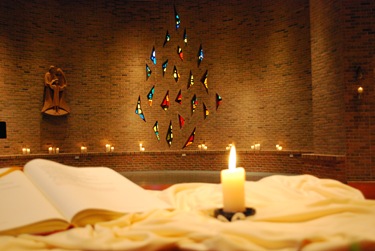 There was a vesper service, and afterwards we had a reception.
Everyone had a wonderful time and it seemed the sisters really enjoyed the priests' company. There were about 200 priests in attendance. There was standing room only in the chapel.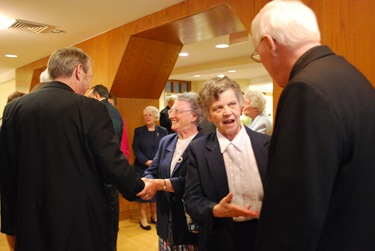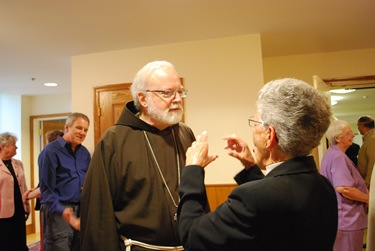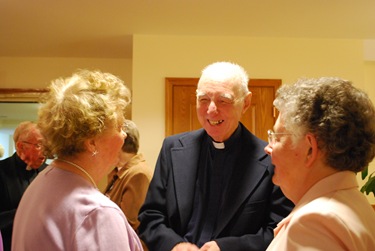 At the end, they asked me to give some brief remarks. I thanked the sisters and I acknowledged the very important role that religious women have had in the history of our archdiocese and our personal lives as priests.
So often it was the sisters who taught us how to pray and taught us our faith, and planted the seed of vocation in our heart. They were frequently the ones who nourished our spiritual life by their example, their prayer, and their ministry in Catholic education, health care, and so many other areas.
– – –
On Wednesday, I celebrated a Mass for the consecrated virgins in our archdiocese. We have about a dozen in all, most of whom were able to be with us that day.
Every year, we have a Mass and lunch with the consecrated virgins of the archdiocese to support and pray with them and be updated on their lives and activities. Sister Marian Batho is my delegate and liaison with the consecrated virgins.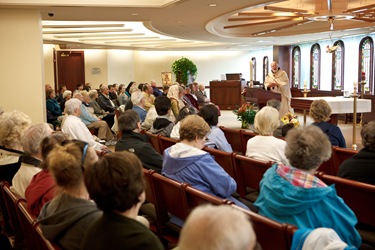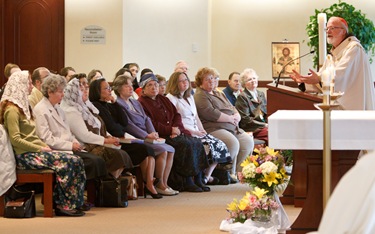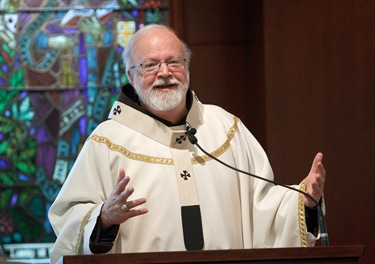 At the Mass, I outlined for the people the history of the consecrated virgins in the Church and their restoration after the Second Vatican Council, as well as the important contribution they make as witnesses of the Resurrection and ministers of charity in our midst.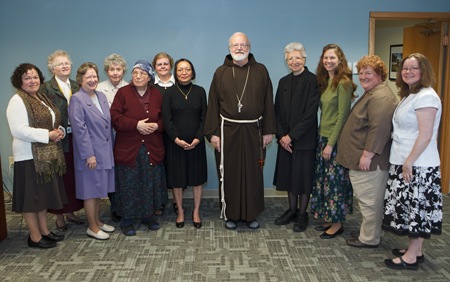 – – –
After that, members of the St. Boniface Haiti Foundation from Randolph visited me at Pastoral Center.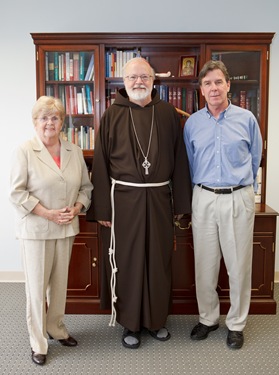 They were here to talk to me about the hospital, Fond des Blancs, and the school they are supporting in Haiti and to invite me on some future trip there to go and say Mass for their people. This is one of the longstanding commitments of the Catholics of Boston, under the leadership of Father Gerry Osterman, to support the people of Haiti.
– – –
I was also fortunate to be visited that day by Dr. Paul O'Malley, his wife Carolyn, and Dr. Michael Lescault for a brief conversation about Irish history. Dr. O'Malley (no relation) is a history professor at Providence College and Dr. Lescault is a PC alum and theology teacher at Bishop Fenwick High School in Peabody. So, they updated me on things at the college as well.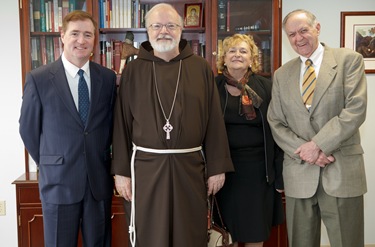 With Michael Lescault  and  Carolyn and Paul O'Malley
Dr. O'Malley is an associate of Dr. Richard Grace, who is a very good friend of mine from my Fall River days. Dr. Grace also teaches history at PC.
I was happy to show them my picture of Grace O'Malley's castle, which was given to me as a gift. One of the big legends in our family is about this pirate queen, Grace O'Malley. It depicts her castle on Clare Island, which is, in reality, little more than a fortified tower.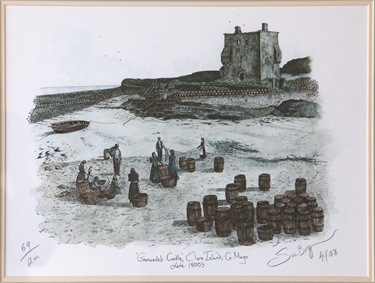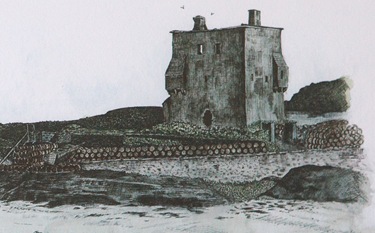 On my coat of arms I have a ship, which actually comes from her coat of arms.
Dr. O'Malley was telling me that he met a priest in Ireland who was a Father O'Malley who commented that the family motto is "Terre Marique Potens," which in one reading means "powerful on land and sea" but, in a play on words, "potens" sounds very much like the latin word for "drinking," so "drinking on land and sea."
I may have mentioned that the historical documents about her indicate that once when she met with Queen Elizabeth I, Elizabeth offered her a title of nobility because that was a way Elizabeth would co-opt these Catholic leaders. Grace turned her down, saying "In Ireland, I'm already a queen. I don't need your titles."
The interesting thing is their conversation was in Latin. She probably didn't speak English. Back in the 1500's English had not penetrated western Ireland. So, the lingua franca in that part of the country was still Latin.
Grace was quite a character. There are many songs, plays and books written about her and her exploits. She was certainly the scourge of the British!
– – –
Recently there was a cursillo, Cursillo #416 at MCI Norfolk, which is a house of correction here in Massachusetts. Paul Blanchette was the rector.
I had sent them a "palanca" for the cursillo and in acknowledgement of that, they sent me this card. It was signed by all the prisoners who made the cursillo.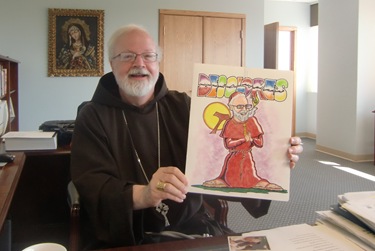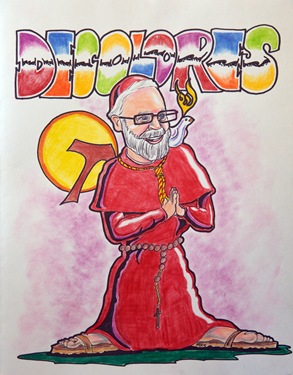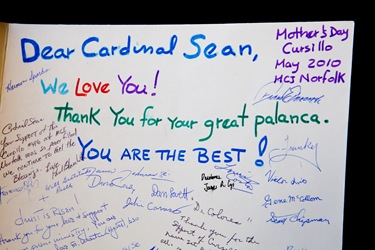 – – –
You may recall that in last week's post, I wrote that I recently published a book in Portugal and while I was there on my pilgrimage to Fatima, I gave a number of interviews about it.
The name of the book is "Anel e Sandálias", which in Portuguese means "The Ring and Sandals."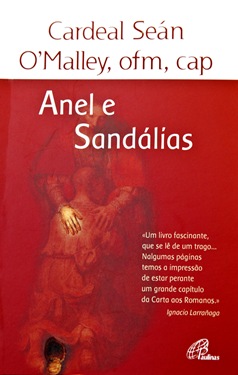 It is a book that contains a lot of different conferences and talks that I have given in various languages, all translated into Portuguese.
Perhaps the most salient feature of the book was that the preface was written by Ignacio Larrañaga, who is one of the best spiritual writers in Latin America. As I mentioned in the introduction, the only problem with the preface is that it is so good it eclipses the rest of the book!
It is the second book I have published in Portugal. It just happened to come out while I was there. The Daughters of St. Paul asked me to give a number of interviews about it. In both cases, the book was relegated to about one sentence and the rest was about the Pope.  If you speak some portuguese you can watch one of those interviews here.
This Sunday is Pentecost, which marks the birthday of the Church. The feast recalls the Holy Spirit descending upon the Apostles. May the fruits of the Holy Spirit be alive in your lives.
As always, peace,
Cardinal Seán