Welcome back,
Our conversations between Caritas Christi and Cerberus Capital Management have continued, and it looks very positive.
We announced yesterday that an agreement has been reached with Cerberus that ensures the Catholic identity of the Caritas Christi hospitals. The sale is still pending as the Attorney General has to review it, but this stewardship agreement was a key component for us because it will preserve the Catholic identity of Caritas.
The Boston Globe recently published a very interesting story about St. Vincent's Hospital in the Worcester Diocese showing how a hospital that has been taken over by a for-profit corporation has been able to maintain its Catholic identity and sense of Catholic mission. This is what we are hoping we can accomplish with Caritas.
Catholic moral and ethical principles are at the heart of the Catholic mission but, at the same time, we are committed to service to the poor, the underprivileged and immigrants.
– – –
On Thursday, I went to Lombardo's in nearby Randolph, to be a part of our Symposium for Adolescent Catechesis.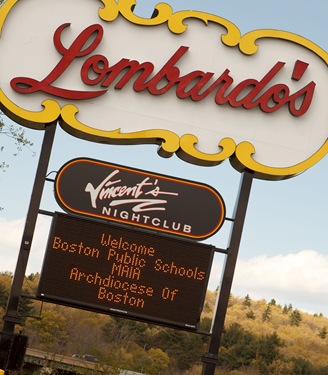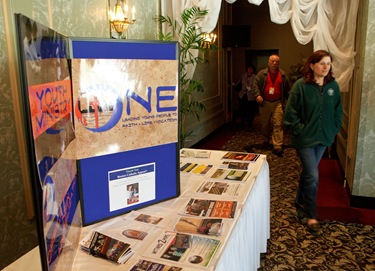 I gave brief remarks where I thanked everyone for their commitment to youth faith formation and encouraged them in their efforts.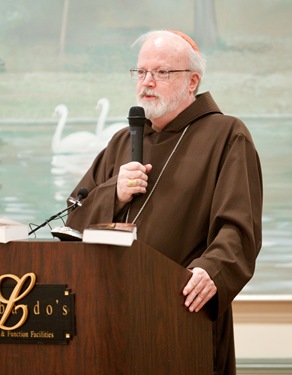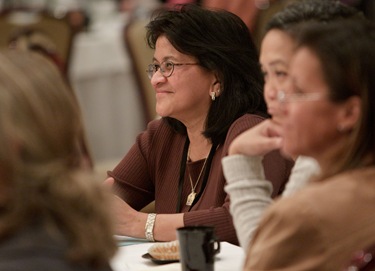 This event brings together many people involved in various aspects of youth ministry in our parishes and schools. Those who are a part of this typically are youth ministers, high school or middle school teachers, and parish catechists or religious education directors.
Andrea Alberti, a local campus minister and youth minister spoke in the morning about the importance of understanding today's youth culture.
Also, this year, we were happy to welcome Randy Raus to be our keynote speaker. Randy is the president of Life Teen, an international organization that is at the forefront of evangelizing young people today. Many of our parishes have incorporated the Life Teen program into their youth ministry, and even those who have not formally adopted it use many of the elements of Life Teen's program.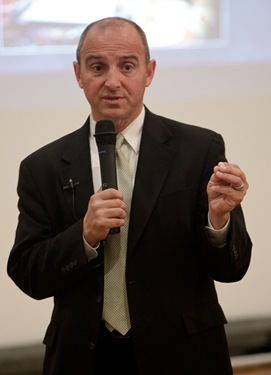 Rand Rouse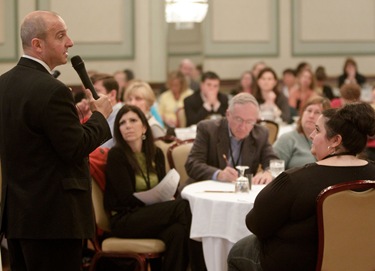 He gave two talks which gave our catechists excellent advice on how to reach young people today.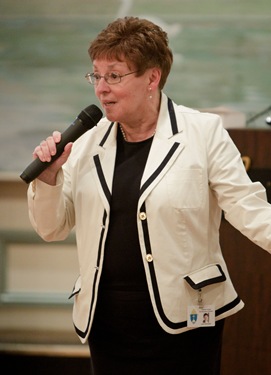 Janet Benestad, our Secretary for Faith Formation and Evangelization also addressed the gathering
Father Matt Williams and his team from our Office for the New Evangelization of Youth & Young Adults have organized this for two years now. Each year, it provides a wonderful way for those involved in youth ministry to come together for prayer and support.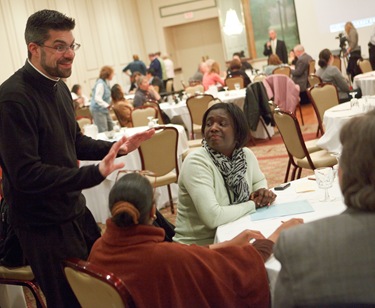 Father Matt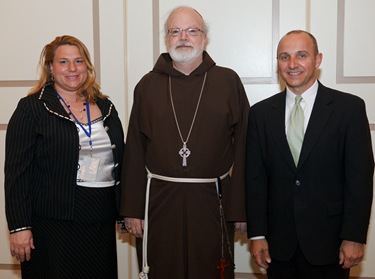 With Randy Rouse and Lisa Alberti
– – –
Thursday evening, I attended the annual fundraiser for the Catholic Charities Labouré Center. They had it in the new venue, Artists for Humanity EpiCenter in South Boston, and it was very well attended.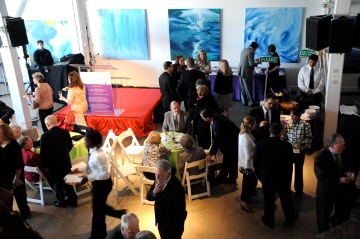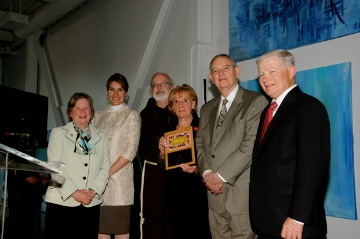 They were honoring John and Margarete McNeice for all of their support. Jack Shaughnessy and many members of his family were also there, as were many supporters of Laboure.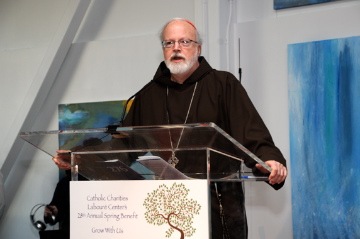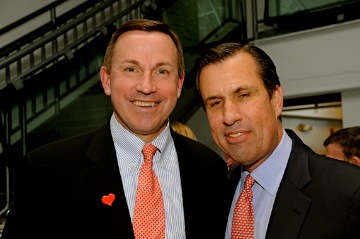 Bob Kelly and Craig Gibson, who are on the board of the Laboure Center
Bill Bulger
They had an auction and one of the items was a "brunch with the Cardinal," which brought in $5,000. That will be at the Cathedral some time soon. I look forward to it!
– – –
Also in the evening, I went to St. Rose of Lima in Chelsea for a graduation ceremony of the Instituto de Formación de Laicos, our lay formation program for the Hispanic community.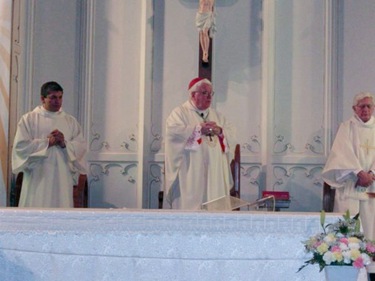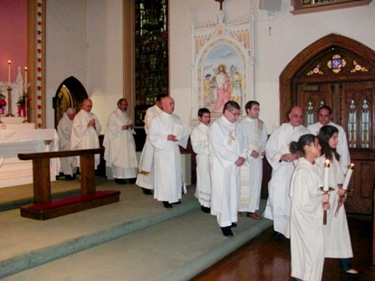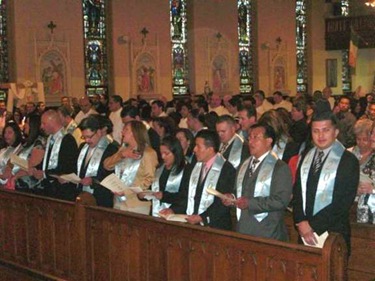 Bishop Emilio Allué celebrated the Mass and I gave an address and distributed the diplomas. Many of our priests working in Hispanic ministry joined us for the graduation and our Secretary of Faith Formation and Evangelization, Janet Benestad was there as well.
Afterwards there was a social in the parish hall.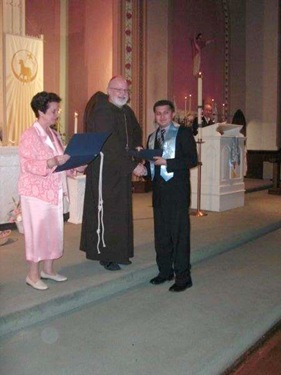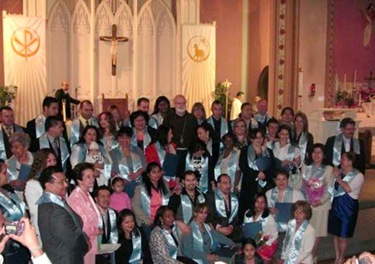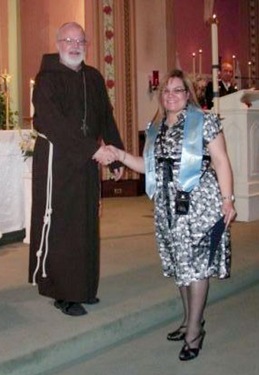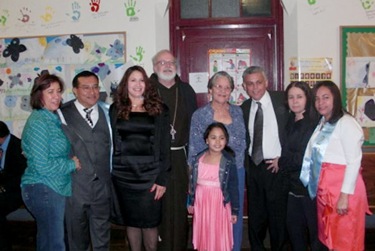 IFL is a rigorous program. For two years, students attended classes on Saturdays at the Pastoral Center. Each weekly session begins with prayer, and is followed by two 90 minutes classes. Classes are taught by priests, theologians and experienced lay ministers in the Hispanic community.
In the final semester students are asked to select an area of concentration. This year students received formation in catechesis and evangelization, marriage and family life, adult faith formation, youth ministry, liturgy, and ministry to prisons and hospitals.
One of the great needs that we have in the Catholic community is adult faith formation, particularly the kind of formation that could prepare people for lay ministry and leadership roles in our parishes. This program goes a long way in meeting those needs.
We are grateful to the director, Pilar Latorre, who has done an extraordinary job in the formation programs for Hispanic leaders as well as to all the professors and her staff.
We are very gratified by the enthusiasm of the students and I was pleased to see that two of the students were husband and wife, which was nice.
– – –
Friday evening, I was very happy to meet with all our seminarians who are studying for Boston.
I regularly meet with small groups of seminarians for dinner and conversation, but I only get a chance to meet with all of them once or twice a year.
We began the evening with a holy hour in the Pastoral Center chapel and then we had a dinner together.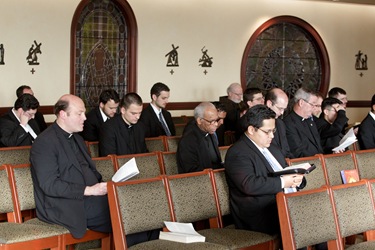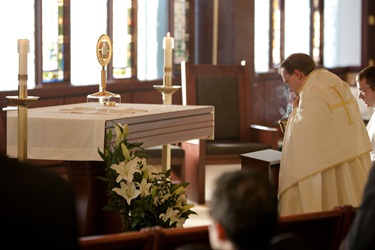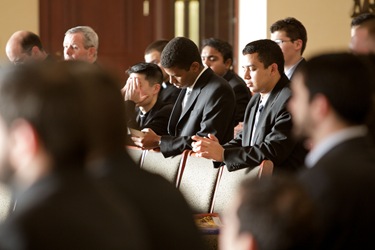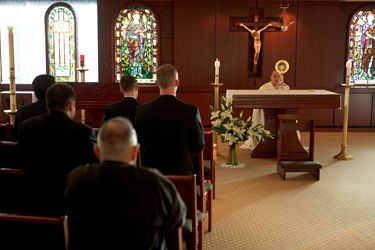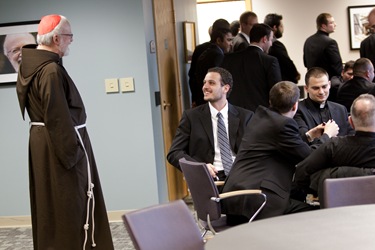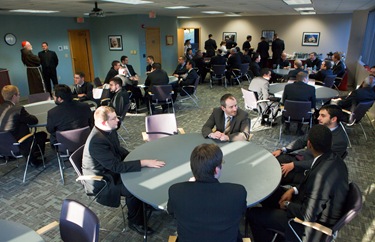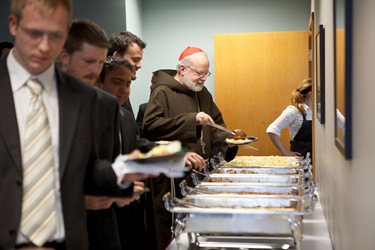 – – –
On Saturday, I had confirmations at St. Margaret Mary Parish in Westwood, Father Chris Coyne's parish.
It was a very large class. I think there were almost 70 young people there.
Confirmation, of course, is a very important event in the lives of young people. As the archbishop, I am always delighted to be able to be a part of that and to encourage them in a life of discipleship and fidelity to the Lord. I also invite them to reflect on the importance and centrality of the Eucharist in our lives as Catholics, to be part of a worshiping community, and also talk to them about the personal vocation that we have. I always highlight the priesthood and marriage.
– – –
That evening, I attended the gala dinner at St. Elizabeth's. It was very well attended.
St. Elizabeth's is the largest of our Catholic hospitals. They recently opened up a new emergency room. It has been a great addition to the hospital.
They have a billboard there that is updated live and tells how long it takes to be able to see a doctor. When I drove by the other day it was two minutes. That is incredible because you hear all these horror stories (maybe you've had one yourself) about going to the emergency room and having to wait for hours. Sometimes it can feel like you could bleed to death before you see a doctor. Well, not at St. Elizabeth's.
The new emergency room there is very efficient and it is just wonderful. Of course I hope none of you ever have to use it!
The event also gave me an opportunity to thank Dr. Ralph de la Torre and all of the doctors and nurses. Michelle Fay was also there, as was Dr. Mark Pearlmutter. Both Dr. Pearlmutter and Michelle had been with me in Haiti a couple of weeks earlier. Our Catholic hospital system here sent about $1 million in medical aid, personnel, and the hospital tents to aid the people of Haiti.
I presented Dr. de la Torre with a crucifix and a shield with the crest of the Maltese cross that I brought back with me from Haiti. The Catholic hospital we are supporting down there is run by the Order of Malta.
– – –
On Sunday, I went to St. Mary of the Annunciation Parish in Melrose to celebrate a Mass to mark their centennial anniversary.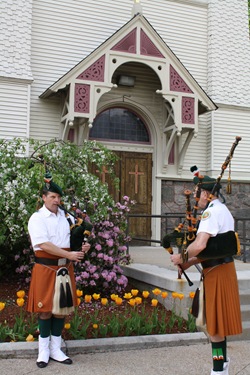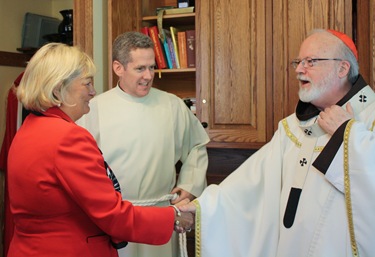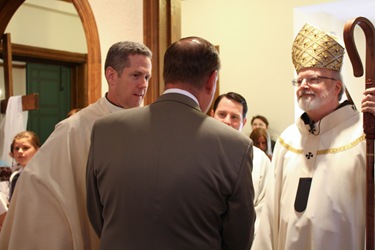 It was an overflow crowd with standing room only. They had people in the downstairs church watching it on closed-circuit television.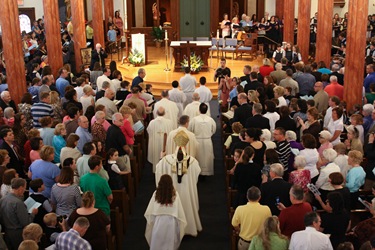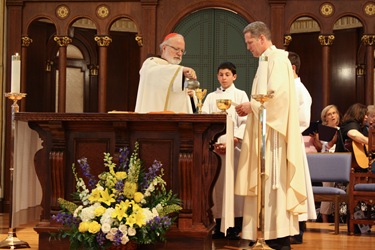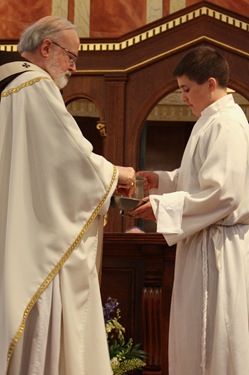 Two of the Sisters of the Holy Child Jesus who are working in the parish were there. Their order started the school 100 years ago and these women are still working in the parish and the Catholic school is still thriving.
The mayor of the town, Robert Dolan, spoke.
Also, the man whom they call "the mayor," was there too, sitting in the front row. He had been mayor of the town for 20 years and he is still is the organist at the parish. He is 100 years old. He was born something like a week before they opened the church. He could have been one of the first baptized!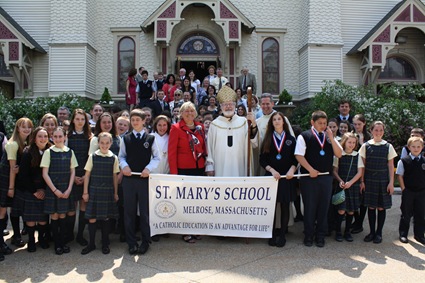 The principal, the faculty, the students, and their Board of Trustees were all very much in evidence there. They had a wonderful group of very well-trained servers.
Among the concelebrants were Father Bernard Shea and Msgr. Alfonso Palladino, who both are in residence at the parish. Msgr. Palladino has been a priest for 67 years so he was ordained before I was born, and he is still very active. Father Shea has been a priest for almost 60 years and he is also in great shape.
– – –
Deacon Patrick Moynihan, whom many of you may remember from my previous posts on the situation in Haiti, came to see me Sunday at the Cathedral.
Deacon Moynihan is running a wonderful school for poor children in Haiti. He came up for a confirmation with his family and he wanted to give me a report and some things he would like me to share with the bishops' conference because I am on the board working with CRS for relief in Haiti.
– – –
Later on Sunday, I traveled to Miami to concelebrate at a funeral Mass for Father Amando Llorente.
You may remember him from a recent blog post because I went to visit him while I was on my way to Haiti.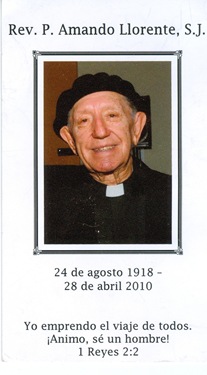 Father Llorente would have been 92 this summer and he was still working full time giving retreats all over the country. There was always a waiting list for people to get in to his retreats.
His provincial said he gave more retreats in one year than most Jesuits give in a whole lifetime. He had a great gift for inspiring young people to become very active in the Church.
He was an old friend of mine from our days at the Agrupacion Catolica Universitaria. He was sort of its second founder.
He had been a teacher at Belen, which is the large Jesuit school in Havana, sort of the B.C. High of Havana. Fidel Castro was one of his students there.
When the Communist Revolution took place, he was expelled from Cuba. He came to Miami and immediately set out driving around the country to contact the members of the Agrupacion from Cuba to reassemble them.
Many of them, of course, had been professionals there and had come to this country, where they often did manual jobs while trying to get their professional credentials revalidated. He would drive from one city to another and in that city he would have to raise enough money to pay for gas to go to the next town.
He completely rebuilt the Agrupacion Catolica, for which I am so grateful. When I was a seminarian, I began to frequent their meetings, and then I was their chaplain for all the years I was in Washington. Their members worked as volunteers at the Centro Catolico. The agrupados, together with their wives and children were the doctors, the dentists, the teachers, the accountants who gave of their time.
In the 75 years of the Agrupacion, they have had 50 vocations. This is really the ministry of Father Llorente, who was such an eloquent teacher of Ignatian spirituality and the Gospel life.
His death is a terrible loss, but at the same time, we are so grateful we had him for so long and that he had such extraordinary health. He was working full steam up until the very end.
The funeral was incredible. Archbishop John Favalora of Miami was there as well as four bishops, including one who came from Cuba. Many, many priests were also there. There was standing room only in the church, which was very large, and people were still outside on the steps.
They had already had two days of wake at the Agrupacion with the Mass on Sunday. The funeral Mass was just an overwhelming tribute to such a great priest and such a great Jesuit.
– – –
On Wednesday, I met with Chris Godfrey from Athletes for Life in my office at the Cathedral.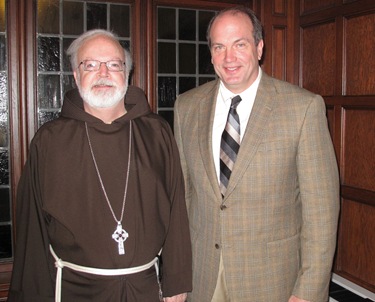 Chris has helped us in the past with chastity education programs. He is the founder and president of Life Athletes, an organization of current and former professional athletes who help our young people understand how to live a virtuous life, realize the benefits of abstinence, and foster a respect for human life.
He played most of his professional career for the New York Giants, and was the starting right guard on the team that won Super Bowl XXI. That year, he earned All-Pro NFL Films honors, and was named All-NFC by the Associated Press and United Press International. He also played briefly for the Seattle Seahawks and New York Jets.
After football, he graduated from law school at the University of Notre Dame. He did his undergraduate work at the University of Michigan.
– – –
That afternoon, I celebrated Mass with our jubilarian priests who are celebrating their 25th anniversary of their ordinations, at the Pastoral Center.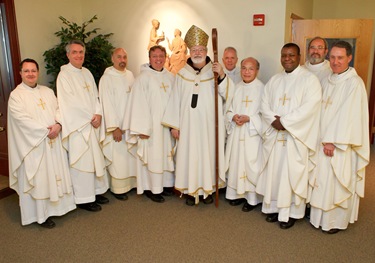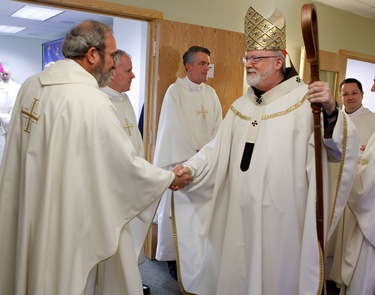 Greeting the jubilarians before the Mass
Among the priests who were honored were our vicar general Father Rich Erikson and Father Jim Taggart, an Oblate father whom I had taught at the seminary many years ago. As I said in my homily, it certainly made me feel old celebrating his 25th anniversary!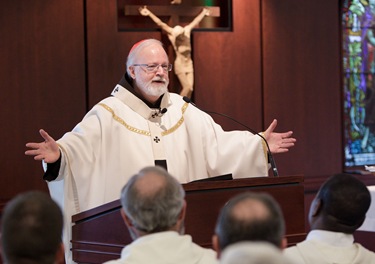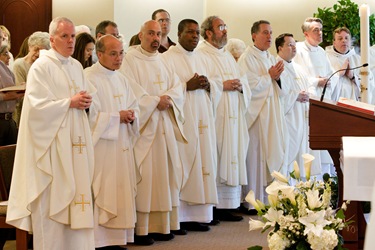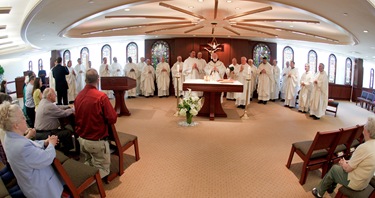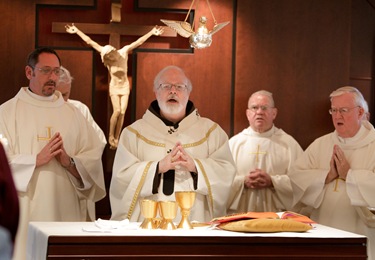 Following the noon Mass and we had a luncheon in their honor in the formal dining room at the Pastoral Center.
– – –
That evening, I went to Our Lady of the Assumption in East Boston to institute seven lectors and one acolyte for the Redemptoris Mater Seminary.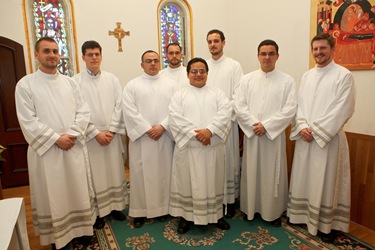 I was very happy to see these men as they go through their formation to become diocesan priests.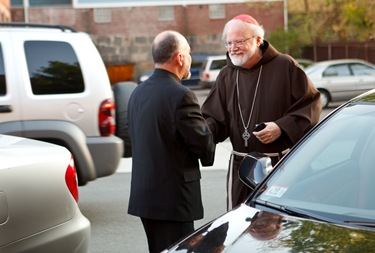 Greeting Father Tony Medeiros, the rector of Redemptoris Mater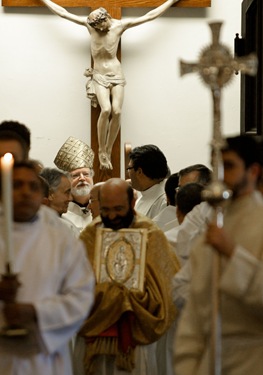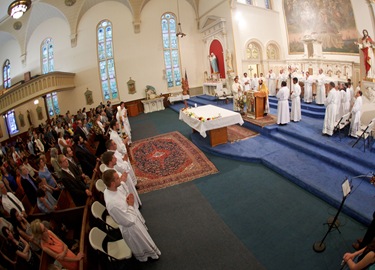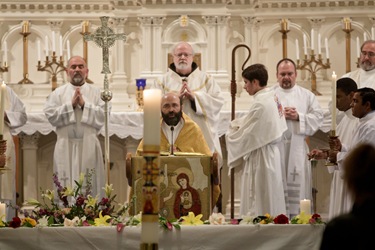 Those receiving the minor orders were members of several ordination classes as they are at different stages in their formation. Their formation time is longer than for those at St. John's because they spend a couple of years doing missionary work before being ordained and also because some of them are taking undergraduate courses prior to the theology courses required for ordination.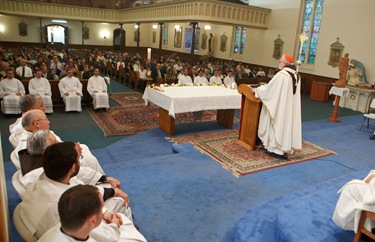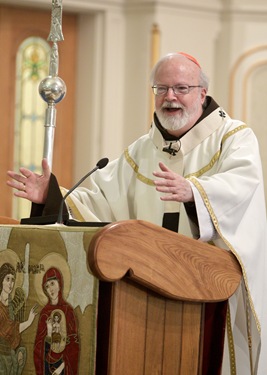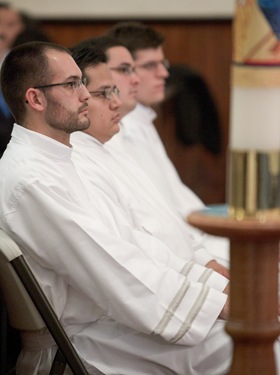 During the rite of institution, lectors are presented with a Bible, representing their ministry of proclaiming the Word of God.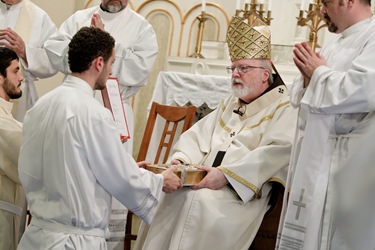 The acolyte is presented with a paten containing host, symbolizing his ministry of assisting at the altar.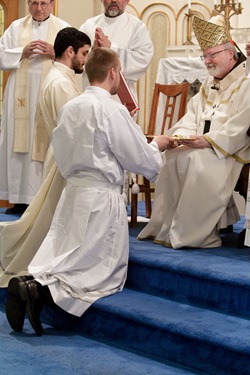 The Mass was very well attended. There were a number of priests and many people who came from the parishes where the seminarians are doing pastoral work and where they participate in their Neocatechumenal communities. The pastor at Assumption, Father Oscar Martin, was very welcoming.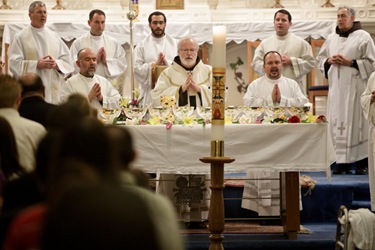 Afterwards there was a celebration in the parish hall.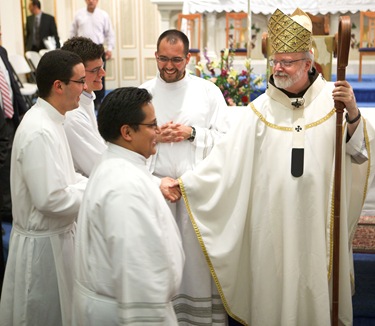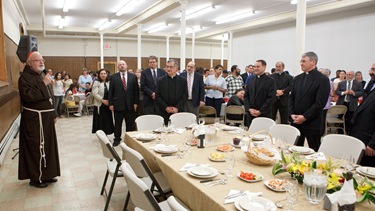 – – –
Yesterday, we had a May crowning ceremony following the noontime Mass here at the Pastoral Center.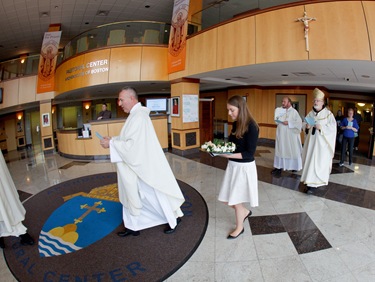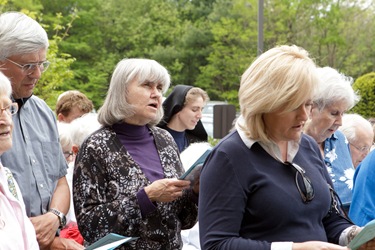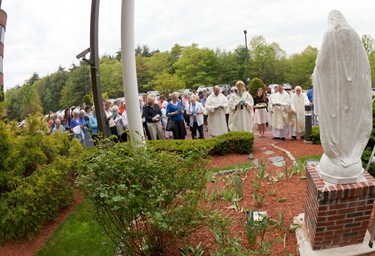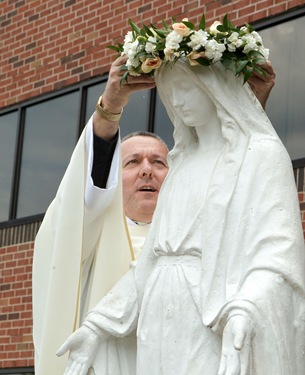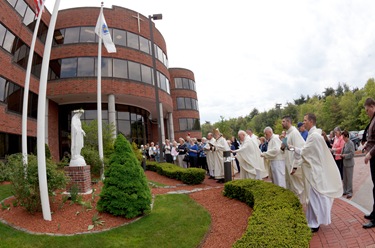 As you may know, May is the month of Mary our Blessed Mother.
– – –
And, speaking of mothers, I would like to wish all of you who are mothers a very happy and blessed Mothers' Day. May God bless the work that you do in raising up the Christian family.
Please join me in praying for mothers everywhere.
Until next week,
Cardinal Seán