Hello and welcome!
Friday, I went to Sacred Hearts Parish in Malden to celebrate the funeral of Father Daniel Hickey. Father Dan had been in the parish for nearly 30 years and was greatly beloved.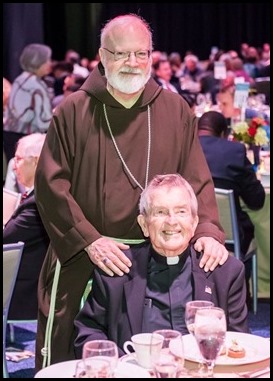 With Father Dan at last year's Celebration of the Priesthood Dinner
He was ordained in 1959 and served as vicar in several parishes, and he also served as a Navy chaplain in Vietnam. But he was named pastor of Sacred Hearts in 1985 and remained there until his retirement.
While I was there, the current administrator, Father Mario Guarino, showed me the around the church.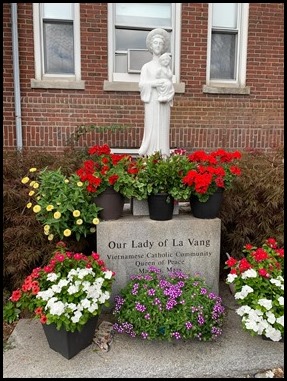 They have a very vibrant Vietnamese community at Sacred Hearts
When Cardinal Karol Wojtyła (the future Pope St. John Paul II) would visit Boston, he would stay with Msgr. Stanislaus Sypek at St. Adalbert's and would say Mass every day at this altar.
When St. Adalbert's closed, the altar was brought to Sacred Hearts, and now they have it in the lower church.
---
Saturday was the 50th anniversary of my priestly ordination.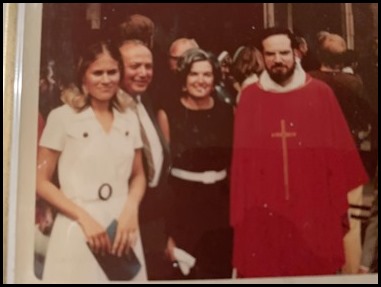 This is one of the few photos that I have of my ordination day. I am with some of my family at St. Augustine Church in Pittsburgh, which is our Provincialate. (Of course, I am in red vestments for the Beheading of John the Baptist.)
When I was ordained a priest, I decided not to have a big celebration for my first Mass. Luckily, there were three or four first Masses being celebrated in my parish that spring, so my pastor allowed me to have my celebration at the Poor Clares with my family.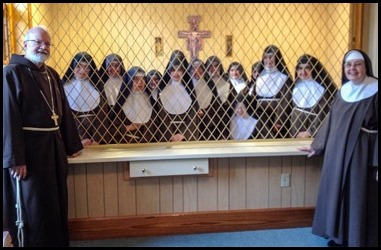 Visiting the Poor Clares in Ohio in 2012
The priest who preached at my first Mass was Father Paul Brody, who was the superior in Puerto Rico.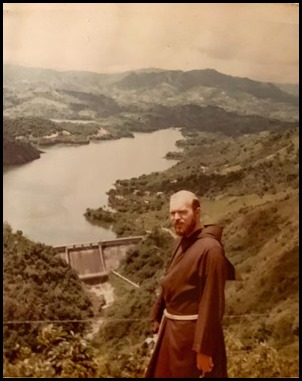 This is a picture of Father Paul in Utuado, Puerto Rico, where I served as a subdeacon
For my 25th anniversary, I went back to celebrate Mass with the Poor Clares in Cleveland, and it was my intention to go this summer for my 50th anniversary. But with the pandemic, I decided it would be best to have the Mass here with the Poor Clares in Jamaica Plain.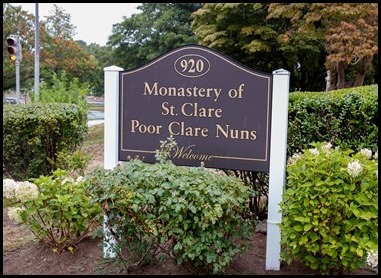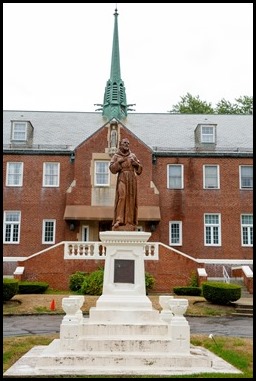 The sisters here were very, very lovely, and I can't thank them enough for their hospitality.
Afterwards, we joined the sisters for coffee, and they gave me a lovely gift of a Last Supper scene made in Mexico.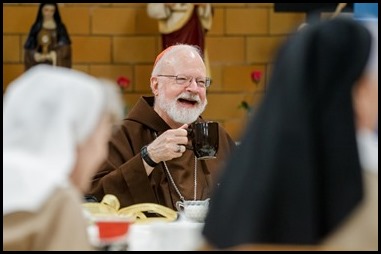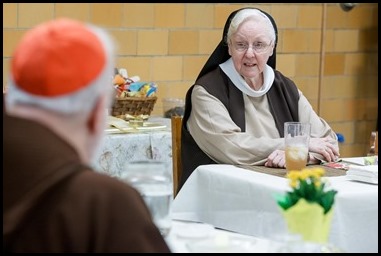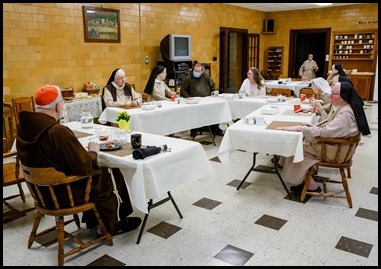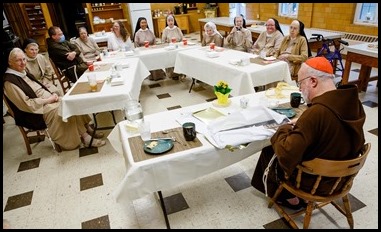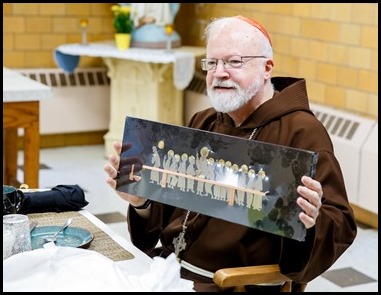 As I always like to joke, when I was ordained, Aug. 29th was The Feast of the Beheading of John the Baptist. Later, it was softened to The Martyrdom of John the Baptist, and I'm sure it will eventually be known simply as "Herod's Birthday."
So, in honor of Herod's Birthday, I sent a cake to the Poor Clares at home where I would have celebrated my Mass. Of course, I also sent one to the Poor Clares here, as well.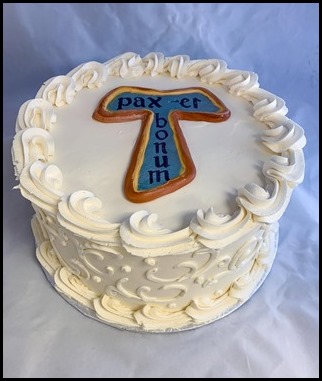 When I called the cloister in Cleveland to tell them that the cake would be arriving, the extern sister who answered the phone was Sister St. John. She was there at my first Mass, as were a number of the other sisters. I told her how sorry I was that I couldn't come this year, but I said that they can definitely count on me to be back for my 75th!
Later that day, Msgr. Kevin O'Leary had a cake for me back at the rectory. So if anyone thought I didn't get enough cake for my anniversary, they can rest at ease!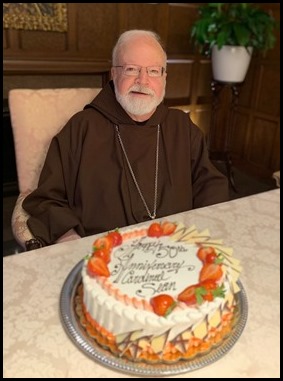 I am very grateful for my vocation and for all of those in my family and community who supported, helped, and formed me and made my vocation such a privilege and a joy. I can say that I have no regrets after 50 years. My only regrets are over things I wish I had done better, but I am grateful that the Lord has called me to this way of life and allowed me to serve his people.
---
Sunday, I once again had the Spanish Mass the Cathedral.
Our new vicar, Father Marcelino D'Arthenay, arrives later this month. But in the meantime, I have been serving as the priest for the Hispanic community at the Cathedral. It's interesting to think that I began my priesthood serving the Hispanic community, and here I am at my 50th anniversary doing the same.
---
After the Mass, Father Patrick Fiorillo from St. Paul's in Harvard Square asked me to bless the chalices he received at his ordination.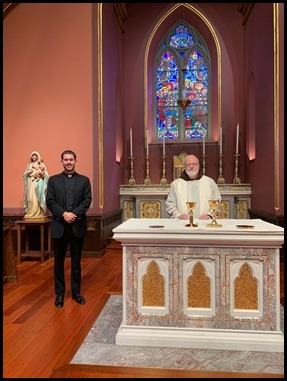 It is an old custom for the bishop to bless a priest's chalice. So it's not uncommon to receive this request, and I am always happy to oblige. As Capuchins, we do not have our own chalices, but I have always thought it's a beautiful custom for a priest to have a special chalice of his own.
---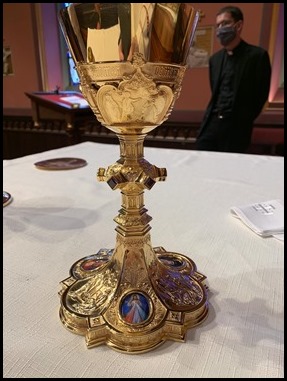 Monday, we had a virtual meeting of the Council of Cardinals advising the Holy Father on the reform of the Roman Curia. We continue to have these meetings virtually because of the complications of international travel at this time. The Holy Father was not able to be with us for this session, but he did send us his greetings along with some instructions to guide us in our work.
---
Wednesday, I went to St. John's Seminary to celebrate the Mass of the Holy Spirit to open the academic year. We were very happy to welcome new faculty members Father Cristiano Barbosa and Father Peter Stamm, our new class of seminarians and, of course, our returning men, as well.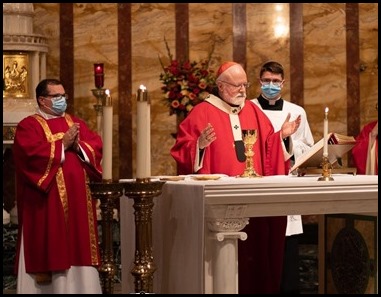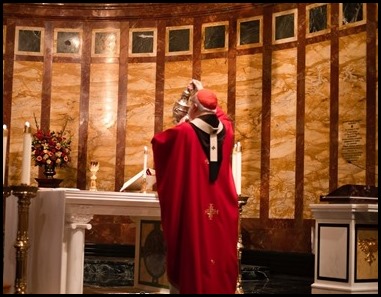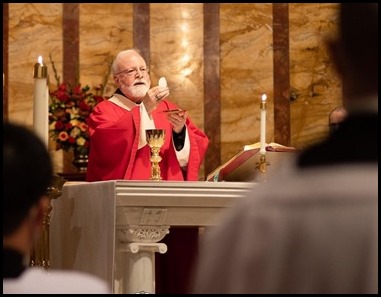 Following the Mass, we had a lovely dinner. The seminarians had just finished the retreat led by Bishop Reed, and they all spoke very highly of the job that he did. From what I heard, they had a good experience in the parishes during the summer and are beginning the year on a high note. I think there is a good spirit in the house.
Until next week,
Cardinal Seán