Hello and welcome!
This week I would like to bring you the next post by one of our men who are going to be ordained this year on Aug. 1, Deacon Daniel Zinger.
However, before that, there are some items I want to share with you:
This last week we were very happy to be visited at the cathedral by one of our seminarians studying at the Pontifical North American College in Rome, Joe Ferme.  Joe had not been home for a couple of years, and this was his first chance to see the renovations to the cathedral in person. So, Father Kevin Leaver brought him over to see them.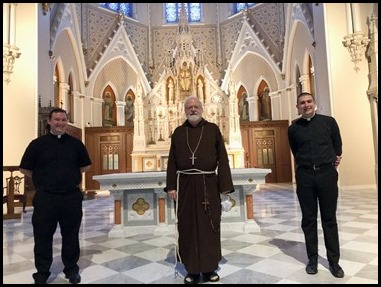 With Father Kevin and Joe
Of course, he was very, very pleased to see how beautiful the cathedral came out. I told him we had it renovated in anticipation of his ordination!
---
In 2007, Metropolitan Methodios and I led a wonderful Catholic-Orthodox pilgrimage to Rome, Constantinople and St. Petersburg with about 100 Catholic and Orthodox priests and laypeople. One of the highlights of the trip was meeting with Ecumenical Patriarch Bartholomew in Constantinople and visiting the Hagia Sophia, the former Patriarchal Cathedral.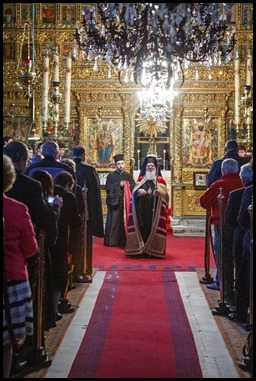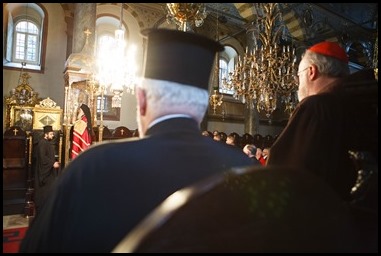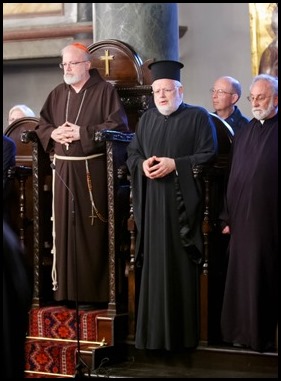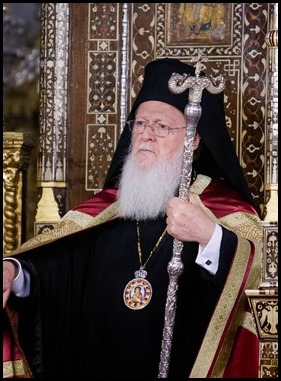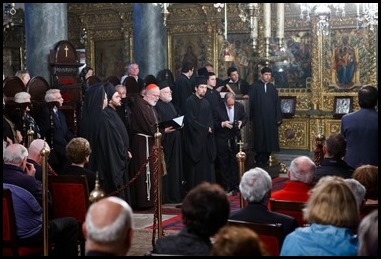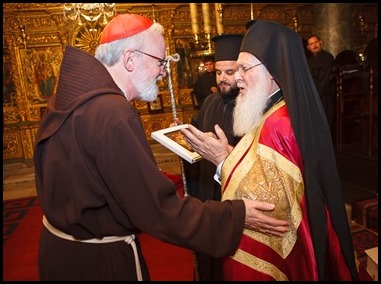 The Hagia Sophia was built by the Emperor Justinian at a time when the Catholic and Orthodox Churches were still united. I was thrilled to climb the pulpit from which St. John Chrysostom used to preach and see the beautiful mosaics throughout the former cathedral.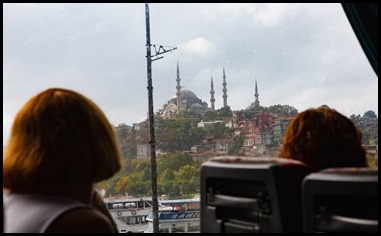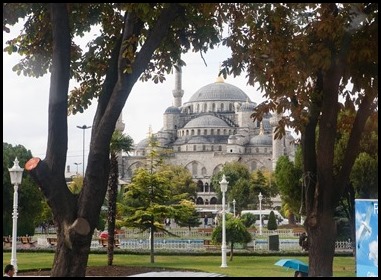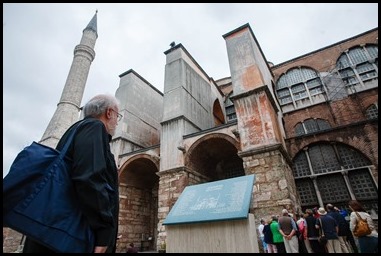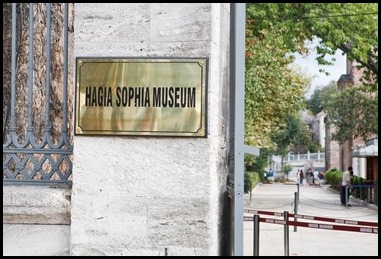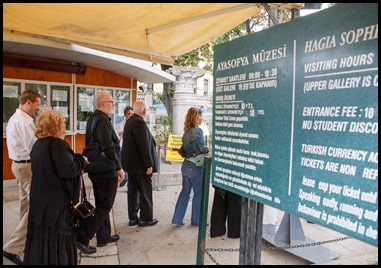 When it was built, it was the largest building in the world and retained that title for many, many years. There were literally tons of gold used in the mosaics on the ceiling.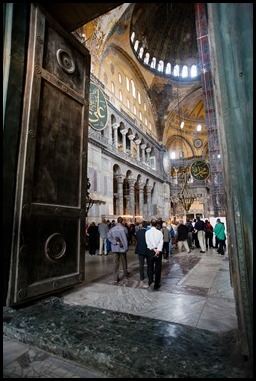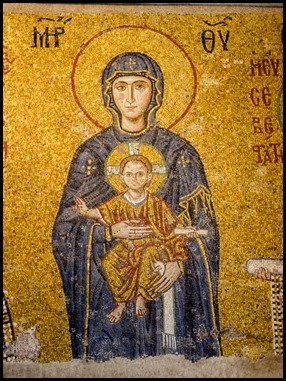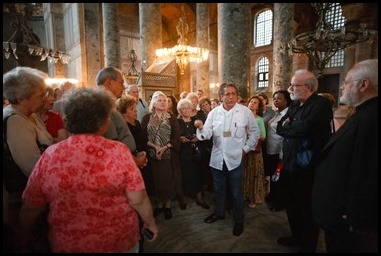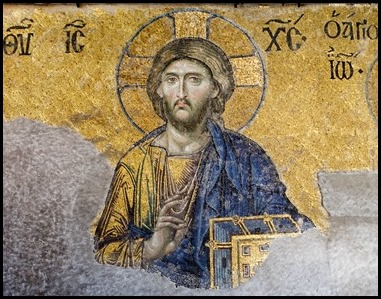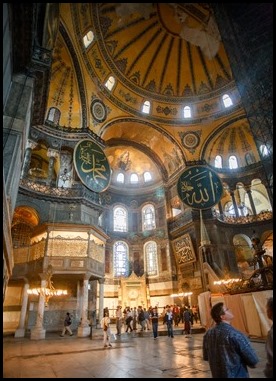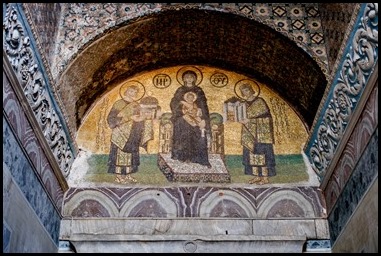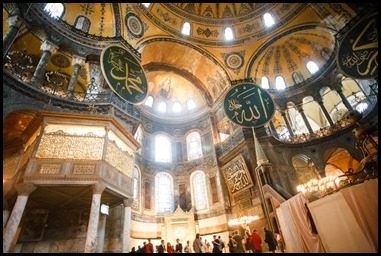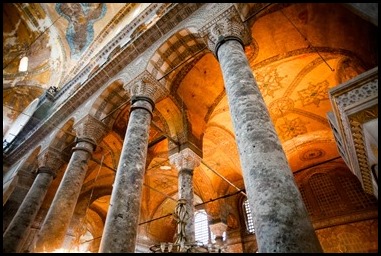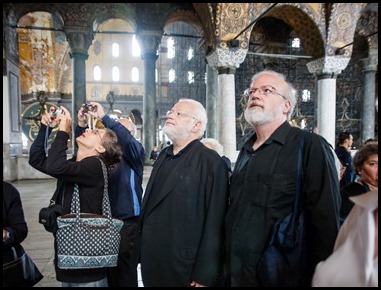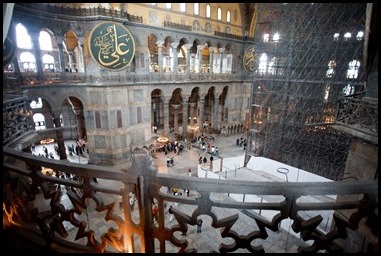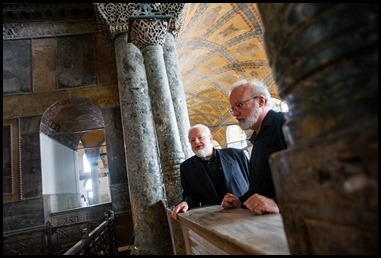 It is just a spectacular structure steeped in so much history. For nearly a thousand years, it was a Christian Cathedral of Constantinople. Then, under the Ottoman Empire, it was converted into a mosque. In the 20th century, Kemal Atatürk, the founder of the modern Turkish republic, decided to turn the Hagia Sophia into a secular museum. I understand that it is the most visited site in Turkey, attracting over 4 million people a year.
The decision by the Turkish government to once again convert the Hagia Sophia into a mosque is very distressing for Christians throughout the world, but particularly for the Greek Orthodox. There are, of course, concerns that the move will make access to the Hagia Sophia more difficult, and there is also a question as to what might happen to the mosaics and icons that adorn the building still.
In light of these concerns, I was very happy to join Metropolitan Methodios in issuing the following statement on the matter:
Common Statement on Hagia Sophia

As leaders of the Roman Catholic Archdiocese of Boston and the Greek Orthodox Metropolis of Boston, we wish to voice our strong opposition to the decision of Turkish President Recep Tayyip Erdoğan to re-convert Hagia Sophia into a mosque. President Erdoğan's decree undoes that of his predecessor, President Kemal Atatürk, who converted Hagia Sophia into a secular museum in 1935. This action alters the status quo that has existed for the last 85 years and causes great pain to many throughout the world.

Hagia Sophia, completed in the year 537 during the reign of Emperor Justinian the Great, served as an important center of Christian worship for over 950 years. When the city of Constantinople came under the control of the Ottomans in 1453, the conquering power converted the great Christian cathedral into a mosque. Thus, Hagia Sophia served as a preeminent place of Christian worship for almost twice as long as it did a mosque. Since its conversion into a museum, countless visitors have passed through its great bronze doors and appreciated its distinctive architecture and historic mosaics. Hagia Sophia's structure in general, and pendentive dome in particular, is as much an engineering marvel today as it was when the Eastern Roman Empire built it. This is truly a unique building that the entire world admires and respects.

UNESCO has designated Hagia Sophia as a World Heritage Site. Recently, the Director-General of UNESCO, Audrey Azoulay, also expressed deep regret over the decision to convert Hagia Sophia into a mosque without any discussion. The Director-General is not alone in this opinion, and we join our voices to hers, as well as those of secular and religious leaders throughout the world, to express our profound disappointment at this most hurtful change in status.

We call upon President Erdoğan to reverse his recent decision on Hagia Sophia and restore it to its previous state as a museum. This return to the status quo will allow people of all faiths to draw inspiration from Hagia Sophia's rich history and serve to strengthen the relationship between Muslim and Christian communities, both in Turkey and throughout the world.

— Metropolitan Methodios of Boston, Greek Orthodox Metropolis of Boston

— Cardinal Seán O'Malley, Roman Catholic Archbishop of Boston
---
I also want to share with you a statement that I released this week regarding the resumption of executions of federal death row inmates.
As Catholics, our commitment to life is at the center of our Social Gospel. Of course, this begins with the defense of life in the womb, but ours is a consistent life ethic, meaning that we stand in defense of human life whenever it is threatened or vulnerable. There may be other groups that are pro-abortion and against the death penalty, or vice versa, but the Catholic Church stands in defense of all human life — particularly where life is most vulnerable and least valued by society.
Part of our commitment to life expresses itself in the Church's opposition to the death penalty, which, in the past, was tolerated as a form of societal self-defense. However, particularly since Pope John Paul II, the Church's position has been that, in the modern world, life is too precious to be taken by the state, particularly when it is possible to adequately incarcerate dangerous criminals and isolate them from society.
In the United States, I think we have seen that the death penalty has often been applied unevenly against the poor and minority groups and, at times, it has even been mistakenly imposed — people have been executed, and afterward, it is discovered that they were innocent. Of course, there is no way to redress that wrong.
The United States is one of the few countries in the world that still imposes has the death penalty. In fact, when Pope Francis made his very eloquent address to the joint session of Congress in 2015, the Holy Father chose to speak on this particular aspect of the Church's commitment to the sacredness of life.
In the past week, the executions of three men were carried out by the authority of the federal government of the United States. Prior to these three deaths, there had been a welcome reprieve of the policy of federally authorized executions for major crimes. A year ago, the policy was reinstituted and the deaths of the past week are the first consequences of that action.

The U.S. Conference of Catholic Bishops, in a statement of June 30, 2020, called upon the Administration not to proceed with the policy of relying on executions as a method of law enforcement. The U.S. Bishops were echoing the teaching of Pope St. John Paul II and Pope Francis in opposing the death penalty.

My long-standing opposition to capital punishment follows from the pro-life ministry of the Church. At all times, in all circumstances, Church teaching upholds respect and protection of every person's life from conception to natural death. Whenever human life is threatened in any way, the Church is called to stand in defense of life.

Legitimizing the death penalty fails to recognize that our nation has the means and capacity to provide safety and security for all without eroding the respect for life that is essential for a morally sound society. We must share the pain, anguish, and suffering of those whose family, loved ones, and friends have been the victims of murder and other violent crimes. Rejection of the death penalty calls us to implement alternatives that acknowledge the victims' suffering and assure our citizens of justice and their safety.

As we consider the ongoing national death penalty debate, it is important to also acknowledge that, in recent years, as a country, we have come to recognize that many people have been unjustly accused of serious crimes. More than 20 people sentenced to the death penalty have been exonerated by DNA evidence, which is only available for a fraction of capital punishment cases. The issue of crime and appropriate punishment goes beyond the death penalty, and requires further public attention, especially with regard to sentencing and the high rate of incarceration among minority communities in the United States.

In 2018, Pope Francis added the opposition to the death penalty to the Catechism of the Catholic Church and at a meeting with the International Commission Against the Death Penalty affirmed that every life is sacred, holding up the primacy of mercy over justice. The Pope shared with the Commission that in the light of the Gospel, the death penalty is always inadmissible because it is an attack on the inviolability and dignity of the person. It is my prayer that our nation can recognize the truth of the Holy Father's words.
---
Finally, I want to share with you a statement issued just yesterday by the four bishops of Massachusetts concerning the issue of police reform in the Commonwealth of Massachusetts.
The Time Is Now – A Call For Change And Unity

The sin of racism and struggle for racial justice has been part of our nation's history for centuries. Awareness of both has never been absent, but too often both themes have been marginalized. Periodically, they are brought to the forefront of common discourse, most often triggered by aggressive, violent, or horrific acts perpetrated on members of our African American, Latino, and other minority communities. As a result, serious discussions regarding how society acts and reacts to alter the culture of discrimination, violence, ignorance and indifference often occur and appear to gain momentum. Meaningful debate raises expectations that society will finally emerge from the culture of racism. However, as history has shown, those discussions ultimately fade into the background as time elapses and other seemingly pressing issues make any change less urgent and somehow less important.

That collective mindset and cycle of inaction must end now. The time is upon us as a society to take responsibility for our actions. Racial injustice, bigotry, scorn and intolerance against individuals based upon their religion, ancestry, ethnicity or skin color must end now. Excuses for hate filled behavior can no longer be tolerated. We are all created equal in the eyes of God, and all human lives are to be valued and protected. It is upon us to make that human equality the norm — not the exception.

As the four Roman Catholic Bishops of Massachusetts, we pledge our full support to the cultural shift towards meaningful reforms in the area of racial injustice. As a country and a commonwealth of immigrants from all regions of the world, we must join together as one race — the human race. We must learn from our mistakes. We must learn from our passive acceptance of inaction and not let this opportunity fade into the background. Today and every day until reforms are implemented, this must be the pressing issue of the day. We must seize this opportunity with energy, determination and vigor. We must act now — it is our collective responsibility.

Police Reform Legislation

The underlying racial injustice and inequality issues we face are countless. They include, but are not limited to, education, housing, employment, law enforcement, the judiciary and many more. As Bishops, we take this opportunity to specifically voice our support of the efforts of Governor Baker and the legislature as they craft a bill to enact meaningful police reform.

We acknowledge the vast majority of the police officers in the state of Massachusetts are capable and honorable public servants who serve and protect all residents with distinction. We also acknowledge that racial biases have infiltrated the mindsets and actions of some police officers. Those are the individuals targeted by the legislation currently being debated by our lawmakers. That legislation is a step in the direction of meaningful change and is the reason we support our elected officials in their efforts to address these systematic problems.

As Catholic Bishops, we do not pretend to know the business of policing. However, recent violent police actions from across the country inform us that methods, tactics, training, attitudes and biases must be addressed to bring about better policing. These fundamental changes must be done with the expertise, input, and cooperation from as many resources as possible — especially those who have experienced racial injustice firsthand.

To that end, we are encouraged that so many individuals and organizations in the minority community are deeply involved in the effort to reform the laws and professional standards inherent in effective policing. The NAACP of Boston, the Black and Latino Legislative Caucus, religious leaders, elected officials in our cities and towns, police unions and countless other individuals and groups have stepped forward to help effectuate change.

The United States of America is a country of hopes, dreams, ideals and ideas. To that end, many specific ideas have emerged as the legislature considers the different proposals. We do not choose to endorse a particular bill as the legislative process unfolds, nor do we dismiss the critical service police officers provide to maintain law and order and public safety throughout the commonwealth.

On the other hand, we strongly support legislation that draws the best ideas from each bill creating a best practice model for meaningful reform. Although there are differences in the qualified immunity debate which must be rectified, not surprisingly a common vision has emerged. It is a vision that embraces a unified, systematic desire to enact legislation that will have permanent ramifications. The specifics will be debated and vetted over the next ten days as we near the conclusion of the legislative session.

The killing of George Floyd at the hands of officers of the Minneapolis police department finally triggered a movement that will not be deterred, will not be silent and will not die. Laws need to be changed across the country. We have been given the opportunity to contribute to that change in the Commonwealth of Massachusetts. This will be a defining moment in Massachusetts history.

As we celebrate the life of United States Congressman John Lewis of Georgia and his unyielding commitment to the principle of equality, let us not forget why he lived – to end racism for all Americans.

The time has come for all of us to do our part to end racism and unite as one race. That time is now, let us seize this opportunity always remembering more work will remain.

— Cardinal Seán P. O'Malley, OFM, Cap., Archbishop of Boston

— Most Reverend Robert J. McManus, Bishop of Worcester

— Most Reverend Mitchell T. Rozanski, Bishop of Springfield

— Most Reverend Edgar M. da Cunha, SDV, Bishop of Fall River
With that, leave you with Deacon Dan Zinger.
Until next week,
Cardinal Sean
---
Hello, everyone. My name is Deacon Dan Zinger. It is with tremendous joy and gratitude that I announce that next Saturday I will be ordained a priest for the Archdiocese of Boston! It is a true pleasure and joy to share with you some of the moments that have made up my journey to the altar.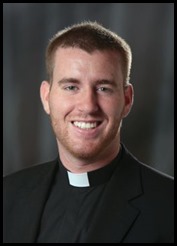 I was born the first of three sons to Andrew and Robin Zinger, both natives of upstate New York. I was born into a very large and vibrant family that consisted of several aunts, uncles, grandparents and great grandparents. Our Catholic religion was extremely important in our daily lives. My uncles, Tom and Dave, were still in high school and were regular altar servers and got to know the priests of our parish well. Every Sunday, my Grandma and Grandpa Zinger hosted dinner, and the priests would join us. I don't know what it was precisely, but one of my earliest memories is looking up to the priests and just wanting to be one of them when I grew up. I am certain that from those encounters the seeds of a priestly vocation were sown into my heart and soul.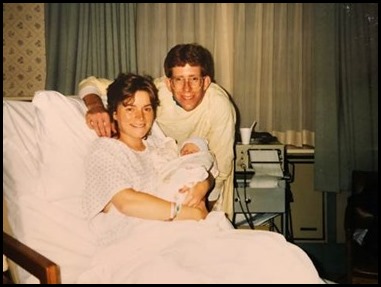 Mom and Dad and Me right after I was born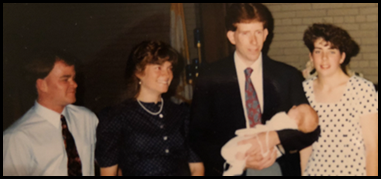 Mom, Dad and I with my Godparents on the day of my baptism
I grew up like a regular American kid with my two younger brothers, Adam and Benjamin. I attended school, played sports, had friends. My Mom and Dad loved their family more than anything. They both worked very hard and joyfully sacrificed so their three boys could have a happy and healthy upbringing. Their constant and unfailing examples of fidelity and joyful sacrifice inspired me to serve others just as they served my brothers and me.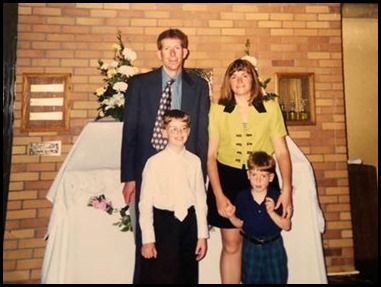 Mom, Dad, Adam and me on the day of my First Communion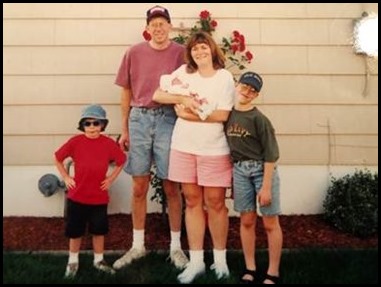 The five of us when Benjamin was born
Some of the fondest memories I have as a kid are the times I spent with my grandparents, Richard and Mary Ann Zinger. My Grandma comes from an Irish family. She is a great storyteller, and I used to love to sit with her and listen to her tell stories of her family. She always told me how very important the Catholic religion was to her family and how they made it a priority to take care of people. She herself was taught in school by the Daughters of Charity, and she often enjoyed passing onto me what the Daughters taught her. She also taught me how to pray the rosary. Likewise, as a boy, I used to love to sit on my Grandpa's knee and listen to him tell stories of the "old days." Whenever I stayed with my Grandma and Grandpa, they would take me to Mass. My Grandpa was a very devout man, and I always was struck by his reverence for the Blessed Sacrament. Both my Grandma and Grandpa used to enjoy sharing how, in addition to raising their own five children, they were also foster parents for other children who needed a home. Certainly, the timeless authenticity of faith and the lives of service of my Grandma and Grandpa nurtured the seed of the priestly vocation that was growing within me.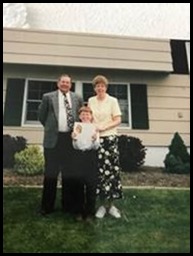 With my Grandma and Grandpa Zinger on my First Communion day
In high school, I participated in sports, had friends and dated a few girls. One of the highlights of high school was that I was a Boy Scout and, in my junior year, achieved the rank of Eagle Scout. The idea of being a priest certainly was still clear in my mind, but I wanted to put it away on the side so that I could pursue other interests and see where they would lead. I recall as I searched around for an opportunity to do an Eagle project, it was very challenging to find something that met the requirements. The only opportunity that surfaced was at a living history museum called The Mission of Sainte Marie Among the Iroquois, colloquially "The French Fort." It is a replica of a 17th century Jesuit Mission situated right on Onondaga Lake in Liverpool, New York. When I inquired about doing my project there, the director told me one thing they certainly needed was benches for the mission church. I could not help but wonder if God was confirming the priestly vocation that seemed to be growing within me.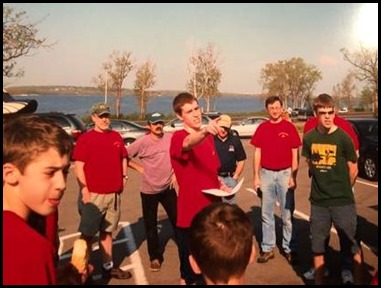 Directing my Eagle Scout project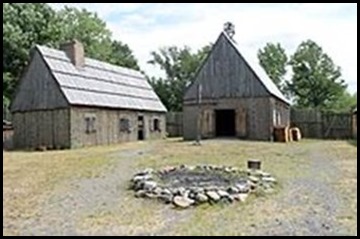 Sainte Marie Among the Iroquois
I graduated college from St. John's University in Queens, New York. During those years, I was a student leader taking students to the Missionaries of Charity soup kitchen in the South Bronx on Saturday mornings to assist the sisters in serving a meal to the poor and homeless of the neighborhood. That experience has been one of the most important and influential of my life. The sisters taught, just by their example, how to see Christ in every person and how to love them as they should be loved. They created an environment of prayer and hospitality that was contagious. Most of the people who came to the soup kitchen spoke only Spanish. I was frustrated that I could not speak with them, but I did not think I could learn a foreign language. I presented this to a priest I was going to for confession, and he told me, "If you love the people, you will learn their language." That is exactly what I did. I did all I could to love the people, and in return, I began to learn their language, not only their language but their faith and culture as well. It was the most fun experience I have ever had! The Missionaries of Charity were instrumental in nourishing the seeds of my vocation according to God's plan.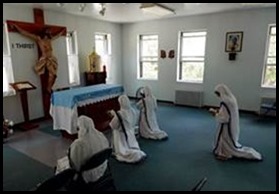 Chapel of the Missionaries of Charity in the South Bronx
I very much felt that God wanted me to enter the seminary and become a priest. I just didn't know how to go about it. Every day I would spend an hour in Eucharistic Adoration, and my prayer was always: "Lord, I feel like you want me to enter the seminary and become a priest. If you do, open the door to where I am supposed to go. If you don't want that for me, show me where you want me to go." One of the priests I had come to be good friends with along the process of discernment, Father Bob McCreary, encouraged me to make a retreat with Mother Olga Yaqob. I went to make the retreat with Mother and, honestly, I was hoping Mother would tell me that I didn't have a vocation and I should move on. Mother Olga is deeply prayerful and has a keen gift of discernment. Mother assured me that, without question, I had a vocation to the priesthood, and I should continue to discern it. I left, still wondering how to go about going to the seminary. I stayed in contact with Mother, and she encouraged me to discern the Archdiocese of Boston. I did and entered seminary formation for the Archdiocese of Boston at St. John's Seminary in Brighton.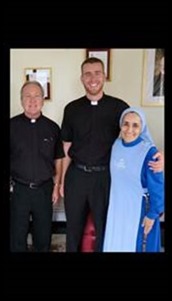 With Mother Olga and Father Robert Cullen shortly after I began seminary for Boston
Becoming a Catholic priest, both in the discernment before seminary and then being in the seminary, is a commitment that requires whole-self dedication and discipline. If it is God's will, it will always have the cross. Nevertheless, if it is God's will, it will always yield great fruit. My years at St John's Seminary have been filled with many graces and gifts. Some of the greatest gifts are the friendships. When a man accepts God's call to serve Him as a priest, the Lord always provides him with companions.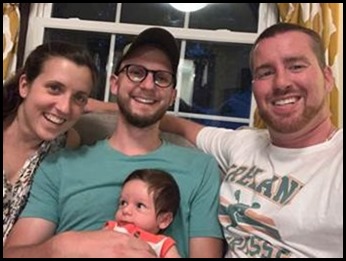 With the Niemaszyk Family
Michael Niemaszyk and I entered St John's Seminary at the same time. On the occasional free evenings we had, we would make our way up to Cranes Beach and walk the beach, attempting to find constellations in the night sky. Mike discerned, during his time at St. John's Seminary, that God wasn't calling him to priesthood but to marriage. Several months after he left, he met his wife, Megan. They were married last summer and just had their first baby boy, John Thomas.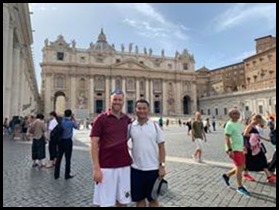 With Hiep (now Father Hiep) in Rome
My classmate, Hiep Nyguen, was ordained a priest for the Diocese of Providence just a few weeks ago. He and I sat next to each other in almost every class. We have shared many good and hearty laughs together.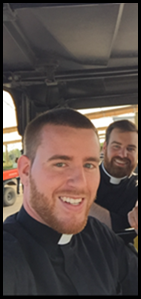 Paul Born and I on spring break
I would be remiss not to mention Paul Born, Fernando Ayala and David Campo, three of our Boston seminarians. Then from the Diocese of Rochester, New York, Steven Lewis, whom I will have the great honor of vesting as a deacon at his ordination on Aug. 15.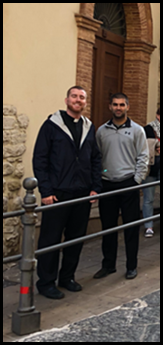 Nick Ware and I
For one summer assignment, St John's Seminary sent me to Omaha, Nebraska to participate in the Institute for Priestly Formation. Through the course of the program there, I met another very close buddy, Nick Ware from the Diocese of LaFayette, Louisiana.
Also, as a seminarian at St John's Seminary, I had the opportunity to pursue a hobby that I love — the sport of Lacrosse! Every fall and spring a men's league plays in Boston, and I have been able each season to be a part of the team.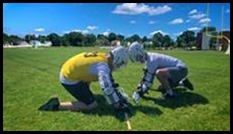 A face-off for a game
I was ordained a deacon last June, and it was just an amazing day! It was a day full of great joy!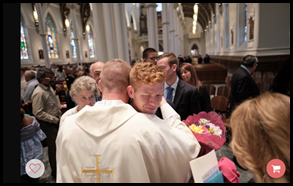 My brother Benjamin and I after the ordination Mass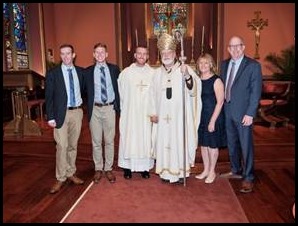 My family with Cardinal Seán
The capstone of my years of seminary formation has been my deacon year. It has been a privilege to learn from my pastor, Father John MacInnis.
One of the greatest highlights of my year as a deacon has been ministering to the large and growing Brazilian community. I committed myself to learning Portuguese, and it's been a real joy to minister to them.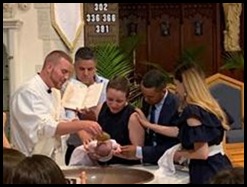 Celebrating a Brazilian baptism
With the community being so young, there are many couples interested in marriage. One of the main things I did was facilitate marriage preparation.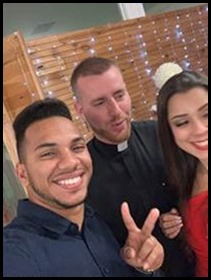 With one of our young Brazilian couples
The Brazilian community is amazing to serve. Just like in my own Irish heritage, the Catholic religion means everything to them as a people. We have many teens in our community, and a few times a year, the Brazilian Apostolate here in the archdiocese hosts a retreat for the teens. I had the opportunity to celebrate the Holy Hour for one of the retreats this year.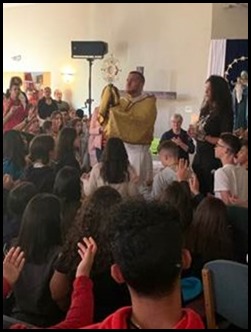 Holy Hour for the Brazilian teens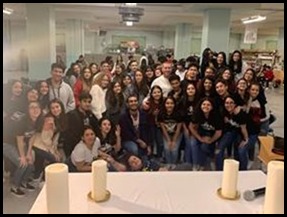 With the Brazilian teens
When the pandemic hit, we worked very hard to meet the religious needs of our people. We had daily virtual live-streamed Masses. We also offered virtual live-streamed talks to help people stay connected. I was amazed by how many people tuned in daily to watch Mass.
I was also amazed at how many baptisms were scheduled and how many I had the opportunity to celebrate.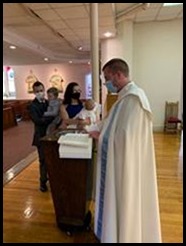 Celebrating a baptism after the coronavirus hit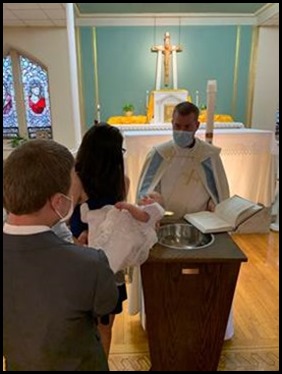 These months since the pandemic began in March have certainly been challenging on many different levels. The greatest consolation is seeing how God keeps the life and mission of his Church going strong! To have been a transitional deacon during this time was extraordinary. It was truly being on the front lines. Every homily that I prepared, I knew had to be done with great and particular care and prayer because the words that I would preach God would use to give His people light when many felt the world around them was slipping into darkness.
In one week's time, I will be ordained a priest! It is with great and joyful anticipation that I await that day. I humbly ask you to please pray for me that I be a holy priest and that, by God's grace, I will bring as many souls as I possibly can to heaven.
Please also know of my prayers for each of you and your families!
— Deacon Dan Zinger