Hello and welcome!
Regular readers will remember that last week we heard from Father Jonathan Gaspar about the great gift of the Eucharist in our lives. Along those same lines, this week, I've asked Father Paul Soper, our Secretary for Evangelization and Discipleship, to offer some reflections about the observance of our archdiocesan Year of the Eucharist, which began almost a month ago.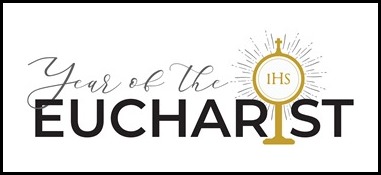 I hope you enjoy his reflection as much as I did.
Until next week,
Cardinal Seán
---
As you know, we began our celebration of the Year of the Eucharist on Corpus Christi, 2020.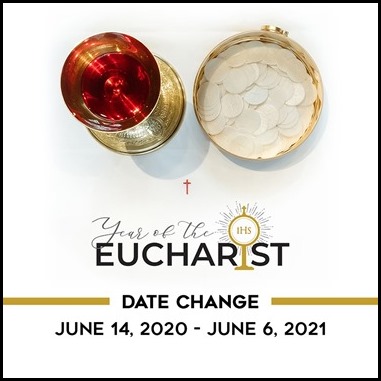 As Bishop Barron says, we need to speak about the Eucharist with greater clarity, and to treat the Eucharist with greater reverence.
As St. John Vianney said, "There is nothing so great as the Eucharist. If God had something more precious, He would have given it to us."
As St. John Paul said, "From the Eucharist comes strength to live the Christian life and zeal to share that life with others."
As Pope Francis said, "The Lord Jesus, by making himself into bread broken for us, pours over us all his mercy and his love, as he did on the cross, so as to renew our hearts, our existence and our way of relating with him and our brothers."
As Mother Teresa said, "When you look at the Sacred Host, you understand how much Jesus loves you now."This Eucharistic Year has essentially two goals: to celebrate the Eucharistic faith of those who believe and to encourage, gently but persistently, those who do not now believe to enter into a real relationship with Jesus Christ, our Lord truly present in the Eucharist.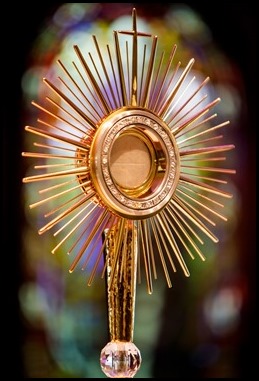 In this as in all things, evangelization accompanies, and often must precede, catechesis. It is more effective to introduce someone to the person of Jesus in the Eucharist than to try to teach them about something as a theoretical idea.
That is why the heart of the Year of the Eucharist is the missionaries that are in most of our parishes. A couple of days before Corpus Christi, Cardinal Sean held a Zoom meeting with 250 of these missionaries, praying with them, and commissioning them. As of this writing, there are 700 missionaries who are meeting in their parishes, or will be shortly.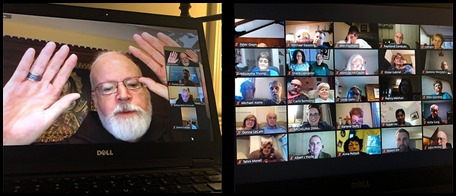 These missionaries have made a commitment to daily prayer, to giving witness to their Eucharistic faith, and to service.
Many are practicing short witness talks, to record for their parish's social media sites or to give at Masses and various parish meetings. These can be very effective.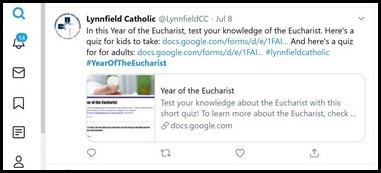 Even more effective is committing to and practicing engaging people in informal conversations about the Eucharist. If each of these 700 missionaries were to have real, personal conversations with a dozen people during this Eucharistic Year, and in the years that follow, in which they speak about their encounter with the real Person of Jesus in the Eucharist, we would really begin to move the needle on this question.
This is the basic methodology of the Year of the Eucharist — personal witness by committed Catholics who have encountered Jesus in the Eucharist, in both formal moments and informal conversations.
These are strange times, but two things are becoming clear from our growing experience.
First, this is the hour of the domestic church. Parents are the first and best teachers of their children in the way of the faith, including their Eucharistic faith. If parents can teach their children about what they believe about the Eucharist, there is a huge multiplier. Support the parents, and you form the children. While this may not be the sole strategy of a parish with regard to forming children in Eucharistic faith, it certainly needs to be a central strategy.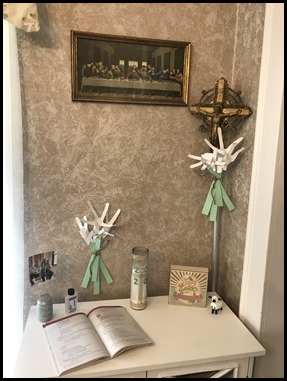 Second, there are fewer big gatherings these days, but the opportunities for small conversations abound, and small conversations are exactly the right venue for evangelization and giving witness. The more parishes can help their missionaries to develop the skills of giving witness in small conversations, the more effective this effort will be.
We trust that God is bound to bless these efforts!
The cardinal called for the Year of the Eucharist in response to the Pew Research Center study that showed that only about one-third of Catholics believe that the Blessed Sacrament actually is the Body and Blood of Jesus, rather than merely symbolizing Jesus. Of those who do not believe, distressingly, many think that the Church teaches that the Sacrament is merely symbolic.
From this, we see the strong need for clearer catechesis and witness, in our faith formation programs, in homilies, from our missionaries, and in our families.
I want to conclude by telling you something about my own experience in prayer before the Blessed Sacrament, either in adoration, or in the church in front of the tabernacle, or in the little chapel we have in our rectory.
I'm not very good at prayer. My mind wanders all over the place. But when I am in front of the Lord Jesus in the Blessed Sacrament, I don't have to be good at it. I am not somehow creating his presence by staying focused, or by using the right formula for prayer, or by getting everything just right. He's there whether I do it right or not. All I have to do is be there. He handles the rest. And, for someone like me who is not good at this, that is a very, very big comfort.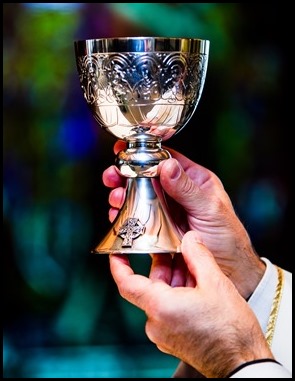 Sometimes I just go and stay with him for a while. And sometimes, he overwhelms me with his presence. Either one can happen, and everything in between. It's all up to him — I don't get to choose. My own Eucharistic faith is the basis of my Catholicism. It goes hand in hand with my intense experience of the presence of Jesus' mercy in Confession — the two are completely inseparable for me.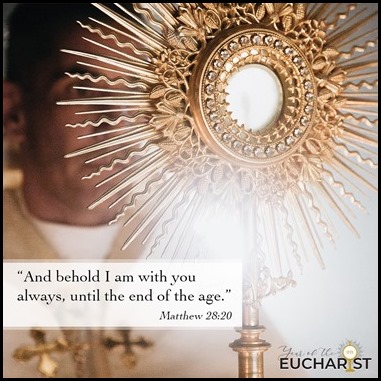 There is a Year of the Eucharist website with supporting materials, which is growing day by day. Please check back there often.
Thank you, and God bless you.
— Father Paul Soper