Hello and welcome!
This Sunday, we offered our Mass for the Sixth Sunday of Easter for healthcare workers — doctors, nurses, support staff, those who do the cleaning and provide services — all of those who are really putting their lives at risk to make sure everyone is cared for during this pandemic.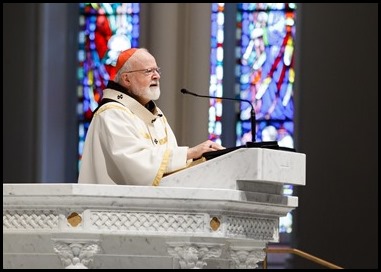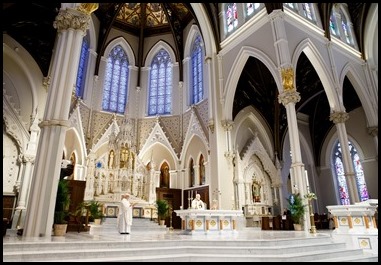 Representing the medical community and serving as lector at the Mass was Dr. John Barravecchio, the president of the Guild of St. Luke for Catholic physicians.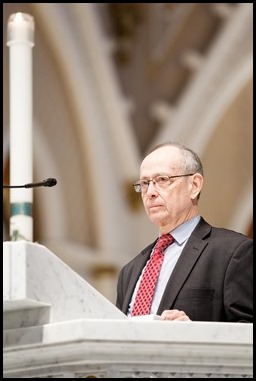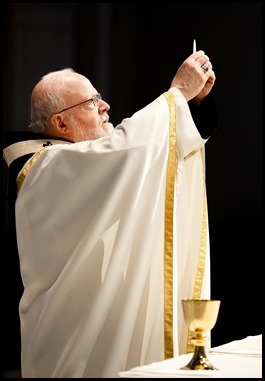 I was very struck when I learned recently that more than 500 physicians died in Wuhan, China, during the worst part of the epidemic there. While we are fortunate we haven't seen anything like that in our own country, it just serves to underscore the potential danger and the heroism our healthcare workers have displayed in the service they are providing. So, we were very pleased to be able to offer that Mass for all of them.
---
On Sunday, we also had a Baccalaureate Mass for all our high school graduates in the Archdiocese of Boston.
Our lectors, representing the class of 2020, were two graduating seniors from Cathedral High School, Fatima Caceres and Joausto Teixeira.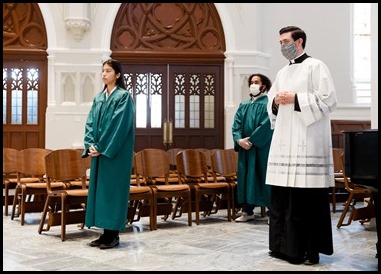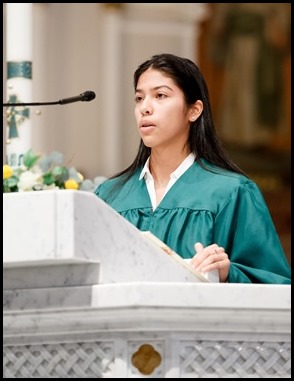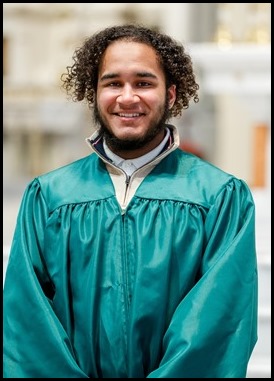 We offered the Mass for the more than 3,000 graduating seniors at our Catholic high schools as well as our parishioners who would have been graduating from public or other private high schools this spring. We realize that, due to the pandemic, they had to forgo many of the traditional ceremonies and celebrations that normally surround graduations. But we wanted to take this opportunity to pray for them and with them and to express our congratulations for the accomplishment of graduating high school.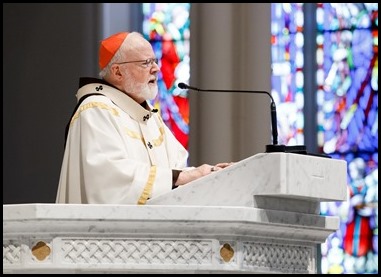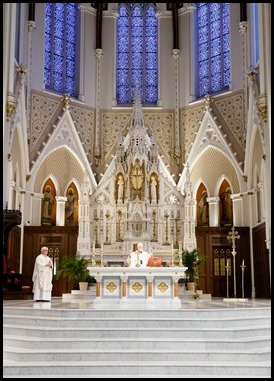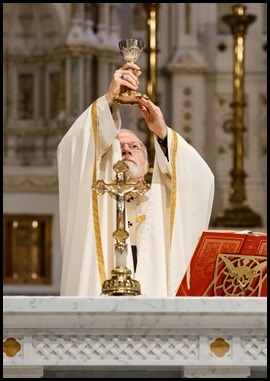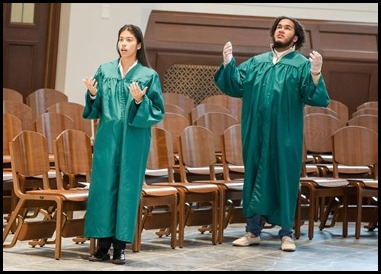 At the end of the Mass, our Superintendent of Schools, Thomas Carroll, made an address to the graduates, which I would like to share with you:
Thank you, Cardinal Seán. I would like to join you in congratulating the more than 3,000 graduates of the 29 Catholic high schools in the Boston Archdiocese.

Something great is asked of each generation. Here in Boston, our ancestors sacrificed at Bunker Hill and Lexington and Concord in the 1770s to set the nation on a path to independence. In the 1860s, families were torn apart as we went to war to save the Union and free the slaves. And in the 1940s, Americans stood shoulder to shoulder in World War II to save Western Civilization. The men and women of that time are referred as The Greatest Generation.

Today, the men and women of the Catholic Church and our Catholic schools will also be known for greatness they are displaying in the crucible of this crisis.

— To keep our students and teachers safe, we closed our schools before the city or state ordered all schools to close.

— Our school leaders and teachers more rapidly than anyone embraced remote learning and have worked every day to make sure that in Catholic schools we never stop learning.

— Our priests are literally risking their lives every day ministering to those with COVID-19.

— And our students — for whom this Baccalaureate Mass is offered — have shown their potential to be the next Great Generation. Committed to learning amidst adversity. Remaining optimistic and joyful. Taking care of each other.

Today's graduates inspire us that — when this pandemic is all over — our future is in good hands.

I offer one closing bit of advice for our graduates. Some times are times for protest. Today, however is your time to "be still" as is said in Psalm 46. Reflect on where you are going, where God wants you to go. We wish you all great success in what you do and where you go from here. Whether college, a trade, the military or ultimately a religious vocation. No matter your path, remember always: your parents' sacrifices; who you are; and perhaps most importantly WHOSE you are. Always leave room for God in your life.

God bless the graduates of 2020.
---
Sunday evening, the Massachusetts State Council Knights of Columbus held their annual convention onlione. I was very happy to deliver the opening prayer and offer some remarks.

Then we heard an address by The Supreme Knight Carl Anderson. He spoke about the Knights' work during the 1918 influenza epidemic and the things they are doing now to be supportive of the Church and of the community during this current pandemic.
---
This week we continued our virtual gatherings of dinner, Vespers and a time of conversation with groups of seminarians. Sunday, I gathered with the men in Second Theology and on Thursday, I gathered with those in First Theology. It is encouraging to see how well the seminarians have done in these unusual circumstances of finishing their classes through distance-learning and adjusting to life in the parishes.
---
Monday, we received the long-awaited decision of Gov. Baker about the reopening of houses of worship in the Commonwealth.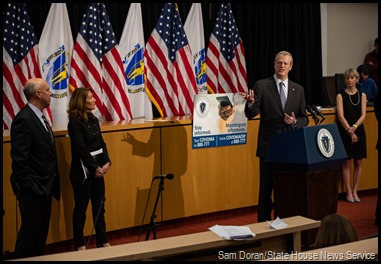 We are very pleased that we are now able to celebrate the Eucharist in our churches once again and invite our people to return. Of course, there are many requirements and restrictions for the sake of safety. So things will look very different the first time you return to Mass, but we ask everyone's patience and cooperation as we work to make our churches as safe as possible.
We held a webinar Tuesday for over 1,500 participants to discuss what will need to be done in order for our churches to reopen.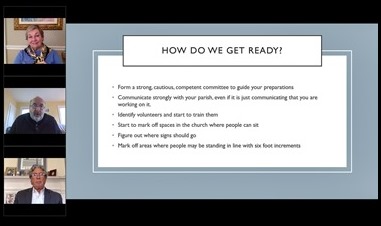 Some of our churches will be ready this Sunday, and many others will wait until Pentecost — as we are doing at the Cathedral of the Holy Cross — to make sure that we have everything in place.
I want to reiterate to the people of the archdiocese that they are still dispensed from the Mass obligation, and those who are elderly or otherwise at risk should refrain from coming to church. Please know that we will continue to broadcast Masses through CatholicTV and online in order to reach those who are unable to join us at Mass at this time.
We are so grateful to the committee that has worked so hard at preparing our reopening plan for the archdiocese. We have representatives from the Archdiocesan Pastoral Council, the Presbyteral Council and the deacon community along with members of our staff all working diligently with Father Paul Soper.
---
Of course, the travel restrictions that have come about as a result of the pandemic have prevented in-person meetings of the Council of Cardinals advising the Holy Father on the reform of the Roman Curia. However, a small group of us met via Zoom on Monday morning to begin to look at some of the work that lies before us and to get back into the rhythm of meeting once again.
We managed to get together members from Europe, Latin American, and Asia and I was amazed at how well it went. I have had these kinds of international Zoom meetings with the Pontifical Commission for the Protection of Minors, and it is incredible that we are able to unite people from all over the globe in this way.
---
Tuesday evening was Catholic Charities' Spring Celebration, which, like many of our spring galas and fundraisers, was moved online.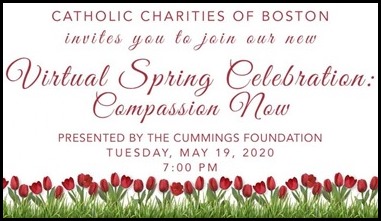 It was about a 30 minute program, which I thought was very nicely done.
This year, they presented their Justice and Compassion Award to Sister Norma Pimentel, who is very well known for her work at the U.S.-Mexico border.
We were sorry she couldn't be with us in person, but we are very pleased they chose to honor her in this way. You can watch the segment about Sister Norma's work here:
---
Wednesday, Msgr. Kevin O'Leary celebrated his 25th anniversary of priestly ordination, and his sister very graciously sent a wonderful cake so we could appropriately mark the celebration.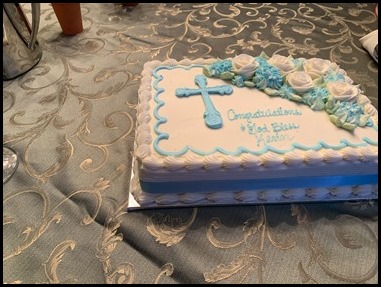 (We were all very pleased that it was not a virtual cake!)
His anniversary falls on the feast of St. Bernardino of Siena, who was a great promoter of the Holy Name.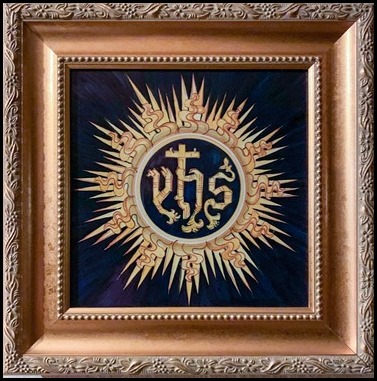 When I visited Galway to rededicate the cathedral in 2015, the Poor Clares, who had held a big campaign to promote devotion to the Holy Name in Galway, gave me this beautiful image.
---
Thursday morning, we had a meeting of the Finance Council of the archdiocese. We are very grateful for the team of experts that advises us and helps us in all the challenges we have to bring financial support to the mission of the Church in the archdiocese.
---
Then, Thursday afternoon, the bishops of the state had a meeting with the Massachusetts Catholic Conference, which is headed by Jim Driscoll.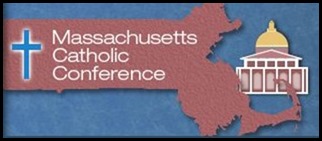 It was an opportunity to talk about the Church's response to the pandemic and a number of legislative issues that the state is facing. A particular focus during this meeting was the situation of our Catholic schools, and we heard a lengthy report from Tom Carroll on that issue.
---
Thursday was, of course, the Feast of the Ascension of our Lord, the beginning of the Pentecost Novena. In some parts of the country, the celebration of the Ascension has been transferred to the Sunday, but here in the Archdiocese of Boston, we still observe Ascension Thursday.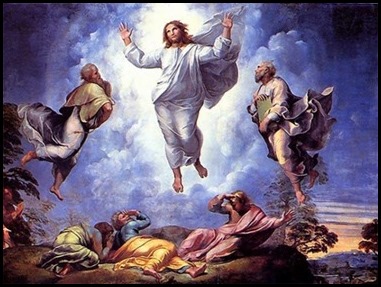 It is one of the major Christological feasts in the calendar of the Church and a wonderful opportunity to renew ourselves spiritually in preparation for the great Feast of Pentecost, the coming of the Holy Spirit.
Until next week,
Cardinal Seán