Hello and welcome,
We were all very saddened this week when Bishop Emilio Allué passed away on Saturday, after a battle with the coronavirus.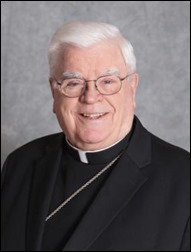 However, we were comforted by the fact that Father Tom Macdonald, a member of our new priest COVID response team, was able to give the bishop the last rites on Friday. That was a great consolation for all of us and for his family in Spain. Of course, it is very difficult for his family to be so far away.
Bishop Allué had served so well in the diocese for many years and was beloved by the priests and the people of the archdiocese, especially among the Hispanic community where he served with special responsibilities.
I first met Bishop Allué when he was a priest working in New York. So, I have known him for many, many years. He was a gentleman and such a kind and pastoral priest. Once the churches are able to open again, we will have a memorial Mass for him.
He was a member of the Salesian Order and asked to be buried with his community at their cemetery in Goshen, New York. So, we arranged for his body to be taken there by funeral director Richard Gormley of Gormley Funeral Home in West Roxbury. Richard knew the bishop well because Bishop Allué lived for many years at St. Theresa Parish. Also accompanying them on the trip was Bishop Allué's long-time secretary Anne Kenney and her husband, Brad.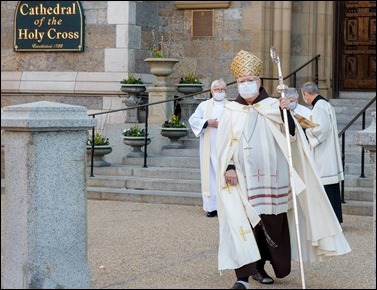 We were glad to say a prayer here at the cathedral as they began their journey down to New York for his interment.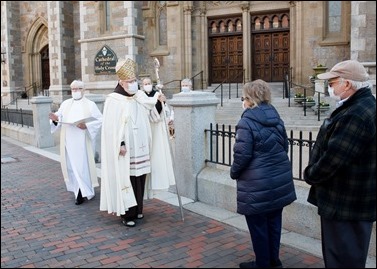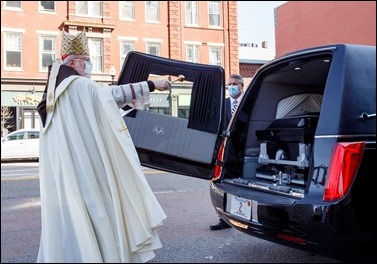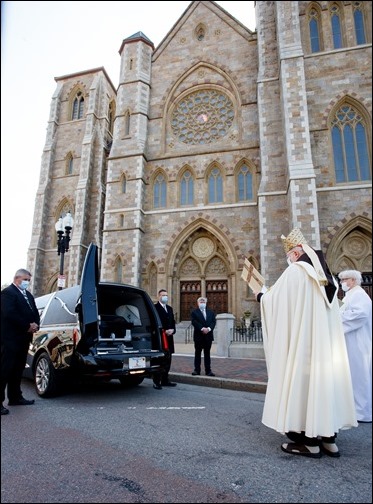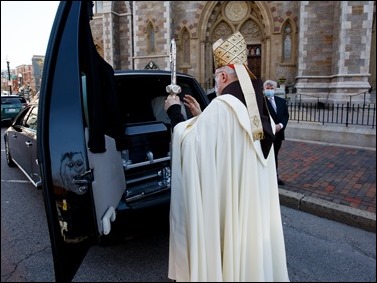 ---
Sunday, we celebrated our weekly televised Mass, which I would like to share with you here:
---
This week, we continued our series of Monday webinar videoconferences addressing some of the issues and challenges we are facing during this time of pandemic and looking at plans going forward.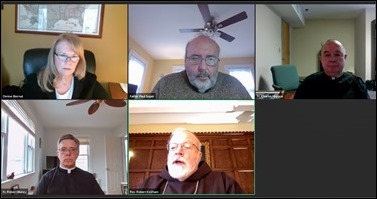 This time, the webinar was for priests, deacons and parish staffs along with parish pastoral and finance council members, and we discussed the financial challenges of parishes and the possibility of parish mergers. Going forward, we will have sessions on virtual evangelization and continuing discussions on the process of reopening our churches.
---
Each April for the past few years, it has been our custom to announce the winners of our Excellence in Education Award, which recognizes 10 teachers – five from our elementary schools and five from our high schools – for their outstanding service. This prize is a collaboration between our Catholic Schools Office and the Catholic Schools Foundation and includes a $1,500 prize for each of the teachers.
Normally, we would invite each of the teachers to a lunch at the Pastoral Center where they would receive the award, but this year, of course, that is not possible. So, we had a virtual gathering with the award recipients and their principals on Tuesday, and we look forward to gathering together in person later in the year.
In his remarks, our Superintendent of Catholic Schools Tom Carroll spoke about how successful our Catholic school teachers have been in their transition from classroom teaching to distance learning and how grateful and satisfied the parents have been with this new form of instruction that we have had to embrace.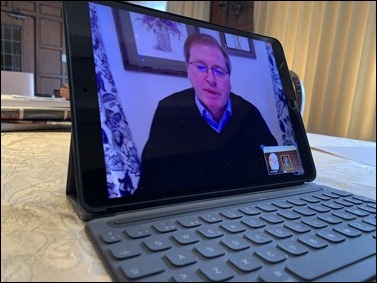 We congratulate this year's winners:
John Aversa of Catholic Memorial School, West Roxbury
Jayne Franchini of Arlington Catholic High School, Arlington
Patricia Girvan of Sacred Heart School, Roslindale
Robert Gray of St. Peter School, Cambridge
Madeline Jarret of Mt. Alvernia High School, Newton
Corinne Kalaijian of St. Agatha School, Milton
Maria Lyons of Mt. Alvernia High School, Newton
Eric Maurer of St. Paul's Choir School, Cambridge
Elizabeth Pilla of Fontbonne Academy, Milton
Alexander Ward of Ursuline Academy, Dedham
---
During the week, we continued with our regular schedule of online meetings. Among them was a meeting of the Presbyteral Council and a meeting of the Trustees of the Catholic University of America. As I have mentioned, we are holding our Presbyteral Council meetings much more frequently now, as people are anxious to have the opportunity to communicate, share ideas and express what their challenges and best practices are during this time. Once again, we are so grateful for the technology that allows us to stay in such close contact with our parishes and our priests.
---
In these last few weeks, since the stay-at-home order has been in place, we have lost six priests, including Bishop Allué. Five of them were from Regina Cleri, and another, Father Russell Best, was a graduate of Cathedral High School. So, we decided to have a memorial Mass at the cathedral to pray for them on Friday. We did this particularly in light of the fact that the priests from Regina Cleri, because they are in isolation, were not even able to attend a graveside service. Usually, they have services at Regina Cleri for priests who die in the residence.
Between the six priests, there were 350 years of pastoral service to the archdiocese and to the people of God. So, we were happy to be able to celebrate the Mass, even though it was just Bishop Bob Reed, Msgr. Kevin O'Leary and myself who were able to be present.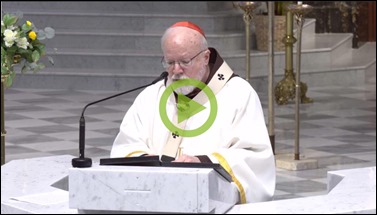 ---
Also, on Friday, the bishops of the United States joined with the bishops of Canada in re-consecrating our nations to the care of the Blessed Mother in this time of the coronavirus pandemic.
There was a celebration held in Los Angeles by the president of our bishops' conference, Archbishop José Gomez, which was broadcast on The CatholicTV Network.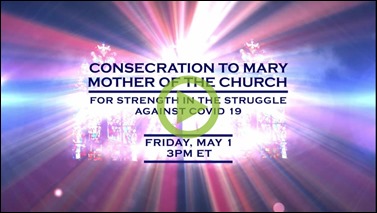 As a help to our parishes, I recorded the prayer of consecration in four languages – English, Spanish, French and Portuguese — for use on their websites or social media.
I hope all of us will participate in this act of consecration as we pray for deliverance from this pandemic.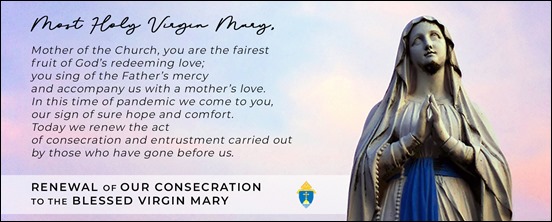 ---
Finally, I want to share with you a message that I sent this week urging everyone to join us in signing an online petition to Governor Baker, asking that he include our Catholic schools in the distribution of aid available to all schools in the Commonwealth.
Please join us in supporting the petition and sharing it with those you know.
Recently, the Archdiocese sent you an online petition which asks Governor Baker to allocate private schools a portion of federal CARES Act funding for emergency educational relief in Massachusetts. In sending the petition we also asked that you share it with your parishioners and staff, with the request that they join you in signing. It is important to note that although this petition does not ask any special consideration for Catholic Schools, it is essential that our schools, as one group of private schools in the Commonwealth, have access to this emergency funding. Many Catholic Schools families come from communities that were economically challenged and underserved before the current crisis, they are now experiencing some of the most serious impacts, including uncertainty concerning their children's education. By signing the petition we can help these families, by asking that our Catholic schools receive a share of the emergency funding.

Please share the petition with your parishioners, staff, parish pastoral and finance councils, asking for their participation and that they share it with all individuals and group who would welcome the opportunity to join in this effort. We are in the midst of a critical moment for our Catholic schools, particularly those that serve the most needy. It is of great importance that we do everything we can to support our students, families, teachers and staff, that they can continue their mission of service that greatly benefits our communities and is a priority for the work of the Church.

To access the petition please click here. If you have any questions or require any assistance, please contact Thomas Carroll, Superintendent of Catholic Schools, at thomas_carroll@rcab.org.

Please know of my gratitude for all you are doing on behalf of the Church, the people entrusted to your care and your assistance with this very important effort in support of our schools.
Until next week,
Cardinal Seán