Hello and welcome,
In light of the present makeup of the Supreme Court, the national debate on abortion has generated a great deal of legislation to restrict abortion in some states and to attempt to enshrine abortion in state law other places.
This is what we are currently seeing in Massachusetts with the proposed ROE Act. However, the ROE Act does not seek to simply maintain the status quo of what is allowed under the Supreme Court's Roe vs. Wade decision but seeks to radically expand access to abortion in Massachusetts – even to the point of allowing young girls to receive an abortion without parental or judicial consent.
In response to this, this week the Massachusetts Catholic Conference, representing the four dioceses of Massachusetts, issued a document providing information on the ROE Act and urging people to contact their legislators to express their opposition to this proposal. I have asked that this information be included in the bulletins of every parish in the Archdiocese of Boston this weekend, and I have also issued a letter to the people of the archdiocese that I have asked to be read at all Masses.
I would like to share my letter and the document from the Massachusetts Catholic Conference with you here: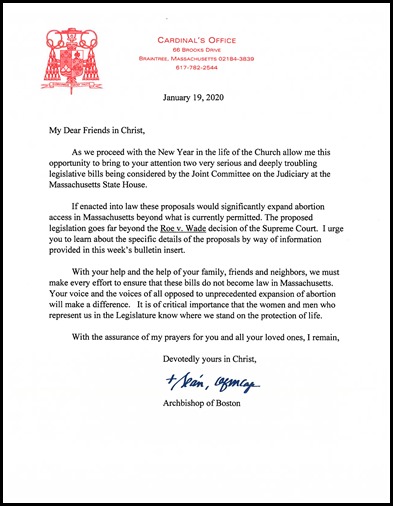 January 19, 2020
My Dear Friends in Christ,
As we proceed with the New Year in the life of the Church allow me this opportunity to bring to your attention two very serious and deeply troubling legislative bills being considered by the Joint Committee on the Judiciary at the Massachusetts State House.
If enacted into law these proposals would significantly expand abortion access in Massachusetts beyond what is currently permitted. The proposed legislation goes far beyond the Roe v. Wade decision of the Supreme Court. I urge you to learn about the specific details of the proposals by way of information provided in this week's bulletin insert.
With your help and the help of your family, friends and neighbors, we must make every effort to ensure that these bills do not become law in Massachusetts. Your voice and the voices of all opposed to unprecedented expansion of abortion will make a difference. It is of critical importance that the women and men who represent us in the Legislature know where we stand on the protection of life.
With the assurance of my prayers for you and all your loved ones, I remain,
Devotedly yours in Christ,
Cardinal Seán P. O'Malley
Archbishop of Boston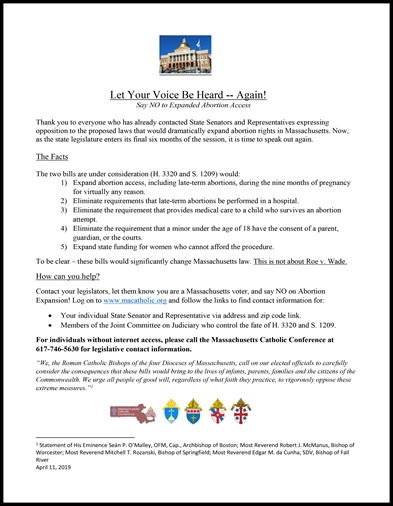 Let Your Voice Be Heard — Again!
Say NO to Expanded Abortion Access
Thank you to everyone who has already contacted State Senators and Representatives expressing opposition to the proposed laws that would dramatically expand abortion rights in Massachusetts. Now, as the state legislature enters its final six months of the session, it is time to speak out again.
The Facts
The two bills under consideration (H. 3320 and S. 1209) would:
1) Expand abortion access, including late-term abortions, during the nine months of pregnancy for virtually any reason.
2) Eliminate requirements that late-term abortions be performed in a hospital.
3) Eliminate the requirement that provides medical care to a child who survives an abortion attempt.
4) Eliminate the requirement that a minor under the age of 18 have the consent of a parent, guardian, or the courts.
5) Expand state funding for women who cannot afford the procedure.
To be clear – these bills would significantly change Massachusetts law. This is not about Roe v. Wade.
How can you help?
Contact your legislators, let them know you are a Massachusetts voter, and say NO on Abortion Expansion! Log on to www.macatholic.org and follow the links to find contact information for:
• Your individual State Senator and Representative via address and zip code link.
• Members of the Joint Committee on Judiciary who control the fate of H. 3320 and S. 1209.
For individuals without internet access, please call the Massachusetts Catholic Conference at 617-746-5630 for legislative contact information.
"We, the Roman Catholic Bishops of the four Dioceses of Massachusetts, call on our elected officials to carefully consider the consequences that these bills would bring to the lives of infants, parents, families and the citizens of the Commonwealth. We urge all people of good will, regardless of what faith they practice, to vigorously oppose these extreme measures."
---
Friday, I went to Regina Cleri to visit Father John Doyle, whose health was failing. His niece was there with us and we had an opportunity to pray together. Sadly, just a couple of days later, on Sunday, he passed away.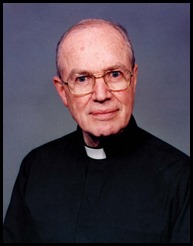 Father Doyle will long be remembered for his tireless commitment to working for the poor and marginalized. Beginning in the early 1960s, he spent 24 years ministering to the poor of Bolivia with the St. James Society. There, he was known for going wherever the people most in need were — whether that be in the remote villages or in the city slums. When he returned to Boston in the late 1980s, he brought with him that same spirit of service, working to promote social justice, particularly for the poor and immigrant communities, first in Brockton and later in Dorchester. Even in his retirement, he continued to help the immigrant communities of St. Gabriel's in Brighton and then Most Holy Redeemer in East Boston by celebrating the Spanish Mass for them and hearing confessions.
He certainly had a great impact on so many people, and his death is a great loss for the archdiocese.
---
My visit to Regina Cleri gave me an opportunity to see some of the latest renovations in the common area.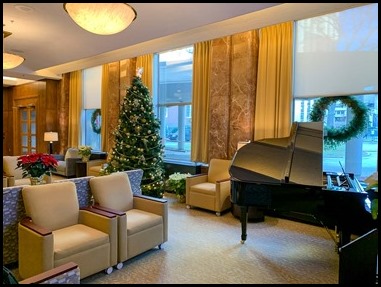 Of course, regular readers will remember that a few months ago we celebrated the completion of the beautifully renovated chapel. They continue to add more rooms and to update the facility. These renovations have been such a great blessing for our retired priests and we are happy that we are able to continue making improvements to Regina Cleri.
---
Saturday, I went to Immaculate Conception Parish in Marlborough to bless the renovations to their church.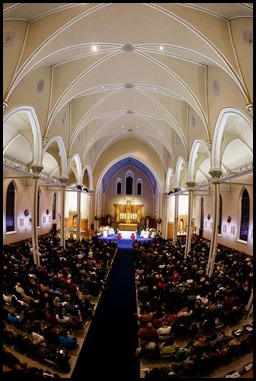 Almost exactly a year ago, there was a very serious fire in the sacristy that destroyed the sacristy and led to a great deal of smoke and water damage in the church. As a result, the upper church was closed for nearly a year.
They were able to complete the repairs in time for the Christmas Masses, and I was happy to come just a couple weeks later to rededicate the church.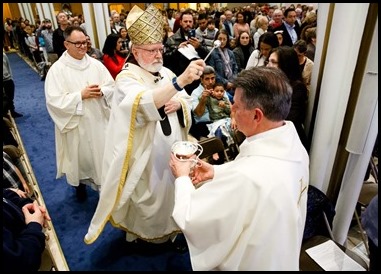 The renovations came out very well, and the church looks beautiful.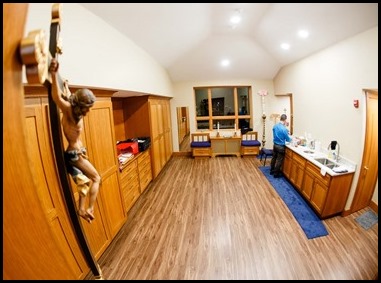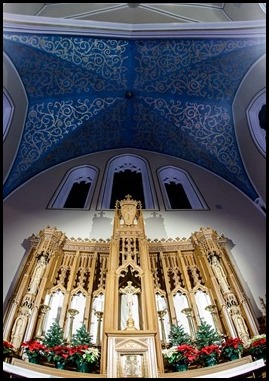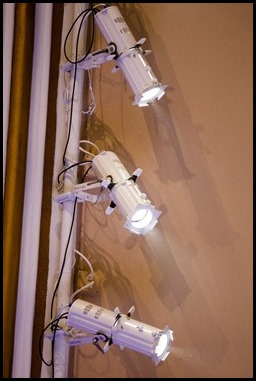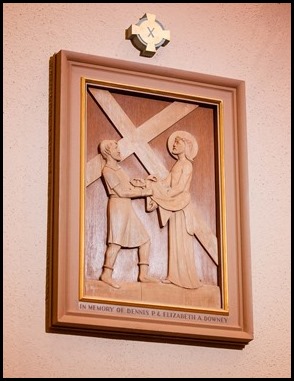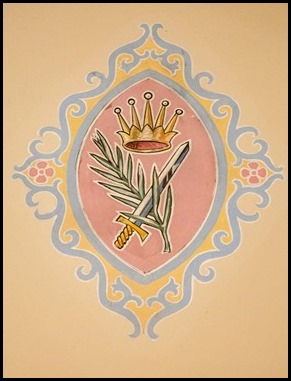 It was also a very fitting occasion to install the parish's new pastor, Father Steven Clemence.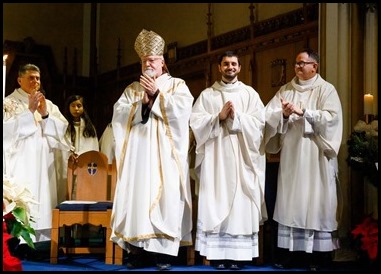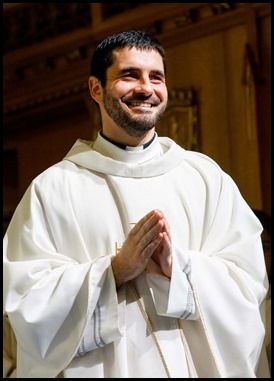 We were very happy that his parents and his brother, William, who is also a priest, were able to be with us along with several of Father Steven's classmates and neighboring pastors.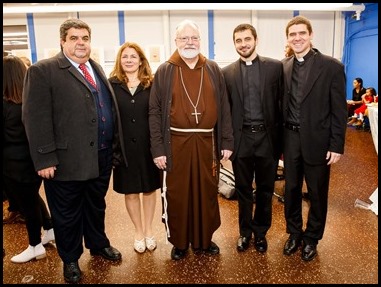 Immaculate Conception is a very diverse parish, so the Mass was trilingual in English, Portuguese and Spanish. It was very encouraging to see, on a Saturday afternoon, a church that was filled with many young people, families, and children from the parish school.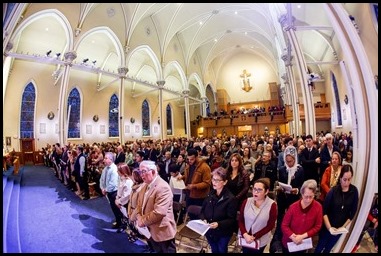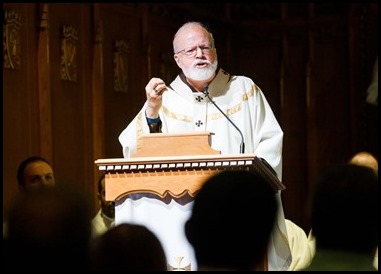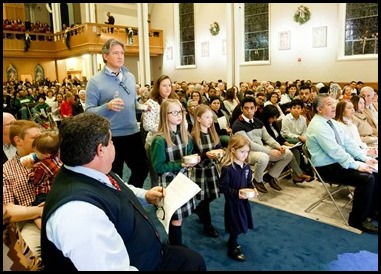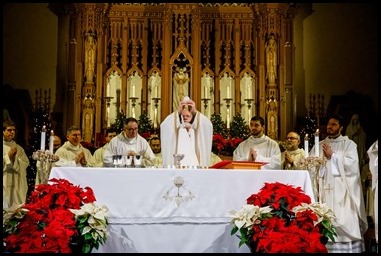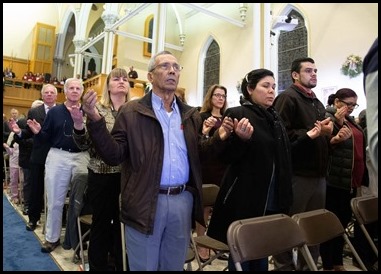 At the end of the Mass, they presented me with two very nice gifts — a picture of the school's crest signed by all the students and a beautiful painting of my coat of arms prepared by one of the families of the parish.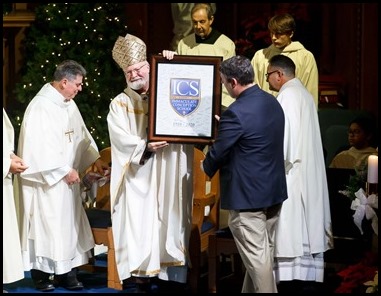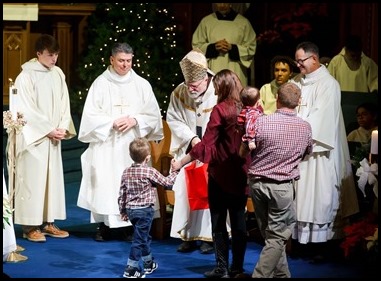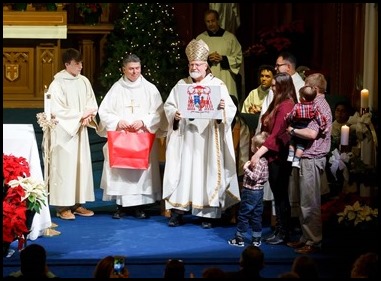 Afterwards, there was a reception in the school, and I was very pleased to be able to greet the people.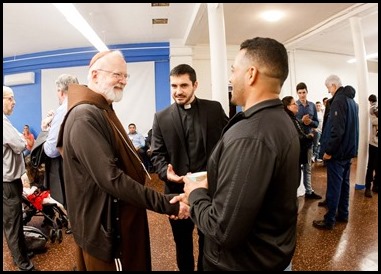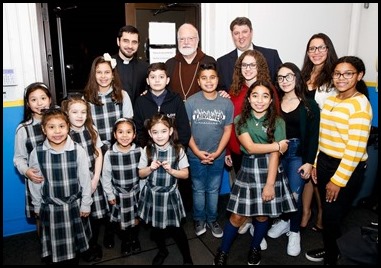 ---
Each year, the Sister Disciples of the Divine Master organize a dinner for the sisters and several priests at their house on West Street in Boston.
We began with Vespers, and afterwards, the sisters served a lovely dinner. After dinner, as he does each year, Father Paul Rouse played the piano and led us all in singing Christmas carols.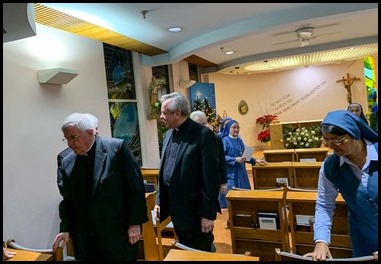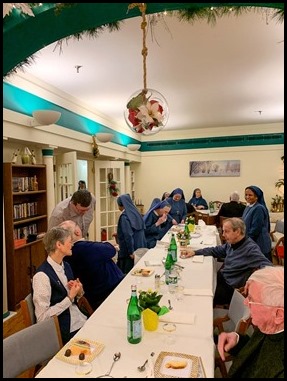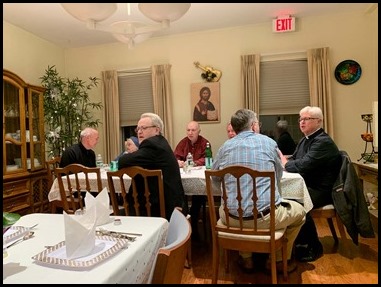 The Sister Disciples are such an important presence in the archdiocese — both at the Pastoral Center and Regina Cleri, as well as their house on West Street. Their ministry of providing wonderful liturgical vestments, the special care they give our retired priests and the ministry of presence that they practice, as well as their special commitment to Eucharistic adoration, are a great blessing for our archdiocese.
---
Also, I want to mention that in this past week we were very happy to learn that one of our Capuchin brothers at Capuchin College, Brother Andrew Corriente, was announced as the winner of ABC's "The Great American Baking Show."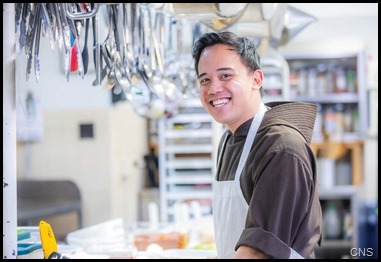 I have been the beneficiary of his culinary talents because whenever I go to Washington I, of course, stay with the friars at Capuchin College. If I am lucky enough to be there on somebody's birthday, Brother Andrew is always the one who bakes the cake — and it is always spectacular. So, I can understand firsthand why the judges were so impressed at his abilities! Needless to say, the friars are all very happy for his notoriety but even happier that they continue to enjoy his wonderful baked goods!
---
Finally, this coming Monday is, of course, Dr. Martin Luther King Jr. Day and I would like to share with you here a statement from the president of our bishops' conference, Archbishop José Gomez, calling on all of us to honor the memory of Dr. King by working to promote tolerance, equality and justice for all people in our nation.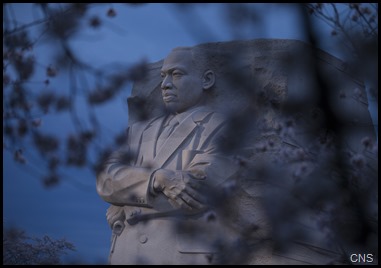 As our nation prepares to commemorate the life and witness of Rev. Martin Luther King, Jr., we are grateful for his courageous stand in solidarity with all who suffer injustice and his witness of love and nonviolence in the struggle for social change. But we are once again painfully aware that we are still far off from his dream for America, the "beloved community" for which he gave his life.
We have come a long way in our country, but we have not come nearly far enough. Too many hearts and minds are clouded by racist presumptions of privilege and too many injustices in our society are still rooted in racism and discrimination. Too many young African American men are still being killed in our streets or spending their best years behind bars. Many minority neighborhoods in this country are still what they were in Rev. King's time, what he called "lonely islands of poverty." Let us recommit ourselves to ensuring opportunity reaches every community.
In recent years, we have seen disturbing outbreaks of racism and prejudice against other groups. There has been a rise of anti-Semitic attacks and also ugly displays of white nationalism, nativism, and violence targeting Hispanics and other immigrants. Such bigotry is not worthy of a great nation. As Catholics and as Americans, we must reject every form of racism and anti-Semitism. 
Racism is a sin that denies the truth about God and his creation, and it is a scandal that disfigures the beauty of America's founding vision. In our 2018 pastoral letter on racism, my brother bishops and I stated: "What is needed, and what we are calling for, is a genuine conversion of heart, a conversion that will compel change and the reform of our institutions and society." 
Let us honor the memory of Rev. King by returning to what he called "the best in the American dream and the most sacred values in our Judeo-Christian heritage." Let us commit ourselves once more to building his "beloved community," an America where all men and women are treated as children of God, made in his image and endowed with dignity, equality, and rights that can never be denied, no matter the color of their skin, the language they speak, or the place they were born.
The U.S. Bishops' 2018 pastoral letter on racism, "Open Wide Your Hearts: The Enduring Call of Love," and other resources from the Ad Hoc Committee on Racism can be found at: http://www.usccb.org/issues-and-action/human-life-and-dignity/racism/index.cfm.
Until next week,
Cardinal Seán