Hello and welcome!
Around this time each year, I like to give some our newly ordained priests a chance to introduce themselves to you through my blog. Earlier in the month we heard from Father Joe Almeida and this week I have asked Father Brian O'Hanlon to share his reflections with you.
Cardinal Seán
---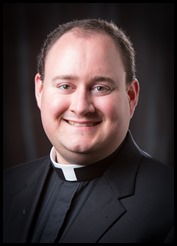 I remember thinking about becoming a priest since around my first Holy Communion. I grew up in Manassas, Virginia, about 30 miles southwest of Washington, D.C. Our parish there was All Saints, the only Catholic church in the city and surrounding towns.
I am the oldest of five siblings; I have three sisters and a brother. My father grew up in New York and my mother was from Salt Lake City, Utah; they met at a parish CYO group in Northern Virginia after having both moved to the area. I remember being eager to go to Mass and CCD classes and learn about the Faith. My mother's brother is a priest with Maryknoll, and I always looked forward to seeing him when he visited from Korea, where he was stationed. While I may have had a simplistic view of priesthood at the time, there was something about it that drew me, and I had a sense from a young age that I should be involved in the Church and follow her teachings.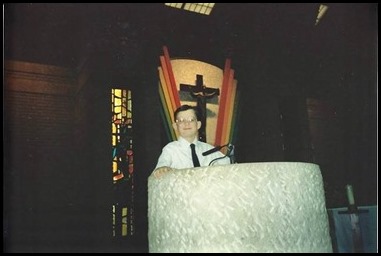 Reading at my First Holy Communion
As I got older, I remained faithful to the Church and participating at Mass. I was a youth lector and eventually an altar boy; I admit that I was not particularly eager to be up there to serve, but my parents pushed me to try it and I eventually got used to serving and being in the sanctuary. I was very excited to be Confirmed when I was fourteen years old. I remember the day vividly, as an auxiliary bishop from the Military Archdiocese was supposed to come; he got stuck in traffic and had difficulty finding the church in the pre-GPS days, and the Mass started an hour late! But I was happy to receive the final Sacrament of Initiation.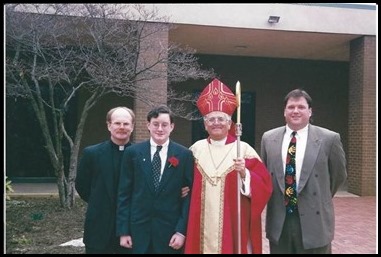 After my Confirmation with the bishop, my uncle Father Phil Mares, M.M., and my uncle Steve Mares who was my sponsor.
Through my high school years, I stopped thinking as much about becoming a priest, though it was always in the back of my mind. After Confirmation in middle school, our parish offered short six-week classes about different aspects of the faith; it was a sort of mystagogy to give us a foundation after Confirmation. I enjoyed the different classes and getting to learn more about the teachings of the Church. After a year, though, they hired a new youth minister, and started a LifeTeen program. He asked me to be on the Core team, which I enjoyed doing the next three years. A particularly exciting time was going to World Youth Day in Toronto, where we got to see Pope St. John Paul II very close, and had the opportunity to meet Catholics from all over the world. It was very encouraging and made me think a little more seriously about priesthood again, though I did not really consider entering seminary after high school.
As a kid, I was also very interested in computers and electronics, and had been thinking that that was what I wanted to pursue professionally. I enjoyed outdoor activities such as camping and hiking as well, and I combined these interests by becoming involved in wilderness search and rescue with the Civil Air Patrol, specializing in direction-finding for missing airplanes. I also got my amateur (ham) radio license shortly after 9/11 for doing emergency communications and electronics projects, and was happy to be able to help with public service events. I continued these interests as I was applying to college, and ended up deciding to go to Carnegie Mellon University in Pittsburgh, Pennsylvania, to study Math and Computer Science.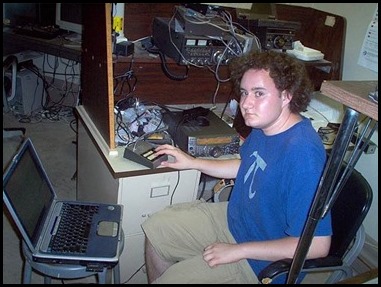 In college, I continued my interest in computers and ham radio.
In college, I continued going to Mass, and I occasionally attended Newman Club events, but my focus was primarily on my studies and extracurricular activities. I joined the Ham Radio Club, which regularly helped with communications at events on campus and throughout the city. I also joined the Computer Club and the Spring Carnival Committee, which helped run the annual carnival on campus every year.
I had an experience, though, that changed my outlook on faith and the Church. The campus ministry was handled by the Oratorian Fathers whose oratory was a few blocks from campus; they also did ministry for the University of Pittsburgh and other local colleges. They have a Sunday Mass on campus in a lecture hall; this setting made it seem somewhat informal. One Sunday, I attended the Mass, and the priest said that even though it is not a church, we needed to take Mass seriously and show the proper respect toward the Blessed Sacrament, including kneeling and genuflecting in the Presence of Our Lord. It was a moment of grace for me; I realized that I would have to take my faith seriously, and that my life had to reflect what I believed to be true. This led me to want to study more about the Church and her history and theology, and grow in holiness.
The Newman Club had an intellectual focus which appealed to the college students, and I decided to go to a book discussion that they were having. The book was Dom Scupoli's The Spiritual Combat. The book made me realize the importance of a spiritual life and the necessity of prayer and the sacraments, and made me rethink my focusses in study and how I spent my time. I started reading more about spirituality, liturgy, and Church history, and I started going to daily Mass. I discovered some of the missionary work of the Church, and became interested in the story of Father Walter Ciszek, SJ, who had gone undercover to Russia to minister to Catholics there. I started thinking about becoming a priest again, and signed up to take Russian in college thinking that I might want to join the Jesuits and go there. I talked to the local vocation director for the Jesuits, but he encouraged me to finish up school and work before applying.
My senior year in college, I started looking for jobs. Most of my interviews were with companies in the D.C. area, out in Silicon Valley, and then one in the Boston area. The Boston job interested me most, so I took it and moved up here after graduation. I first went to Newton, where I got involved in Mary Immaculate of Lourdes Parish. I was working in Bedford, and enjoyed my job, which involved computer security and cryptography research. It was very interesting, and I enjoyed the cutting edge work and the combination of mathematics and computer science that it involved. It was a good workplace, and I was very happy with the work. I also enjoyed exploring New England, and all that the Boston area had to offer.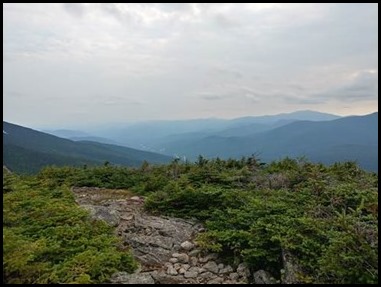 A view from the Franconia Notch trail in New Hampshire. I love hiking and being out in nature!
Even though I enjoyed my work and life here, the thought of priesthood kept coming back to me. Because of my college experiences, the thought of spirituality and being a missionary kept coming back to me, and I was looking at a few religious orders, especially the Jesuits, who had interested me especially because of Father Walter Ciszek. I visited a few places, and got to talking to a spiritual director. I realized that my focus was really on parish life and being a priest for the people in a particular place, and my spiritual director asked whether I had actually considered diocesan priesthood. I prayed about it, and realized that that was really where my call was. In a religious order, the focus is on the charism of the order and following its rule, and the priests support this. In diocesan priesthood, the focus is on the people of the parish where you are assigned and serving them, and this is where my prayer always led me.
I had to decide then whether to apply back in Virginia where I had grown up, or here in Boston where I was living now. I had not lived in Virginia in nine years, and did not know many priests or people there well, and I had gotten to know people up here, so I contacted the vocations office of the Archdiocese of Boston in December of 2012. I was surprised how quickly I was applying and preparing for admission to seminary; by the grace of God, I was going to be entering in August of 2013!
There was one experience that seemed to confirm everything for me. Because of my emergency communications training, I regularly volunteered at the Boston Marathon. The communications guy would be paired with a medical guy and get people aid when they needed it. At the 2013 Marathon, I was assigned for the second time to be at the finish line, helping people once they completed the race. When the bombs went off, we started running toward the area to assist in the confusion. I remember reaching into my pocket and grabbing the crucifix on my rosary; at that moment, I had a sense, almost an interior voice, that I could be of so much more help if I were a priest. My interview at St. John's Seminary was exactly a week later, and that is when I learned that I had been accepted for formation.
Seminary life is a blessing, but it is also an adjustment. I had been out of school for a few years, but here I was going back to taking classes, and philosophy was quite different from the more technical subjects I had studied before. I expected that since I was entering as a 27-year-old, that I would be fairly old compared to the other guys, but I was actually in the middle of my class. I enjoyed the structure, though, of seminary. The life of prayer, Mass, classes, study, work, and Adoration was a wonderful way to prepare for priesthood. Still, much of the important formation work came from outside of the structure — hanging out with other guys in the seminary, informal talks with the priests, and going out with friends.
Seminary life is focused on Christ, and there are four areas of focus for our formation. Intellectual formation allows us to learn about Christ and His Church, human formation helps us to be like Christ Himself in service to the people, spiritual formation allows us to know Christ personally and respond to Him in our own lives, and pastoral formation teaches to bring Christ to others. I especially enjoyed my summer assignments; my first summer was at the three parishes in Billerica. There were three wonderful priests there, and it was a good way to see how collaboratives work in the Archdiocese of Boston and what day-to-day ministry is like. Two summers later, I was in Dorchester at St. Mark's and St. Ambrose. I was very happy to be able to work with the Spanish-speaking community there, as well as get to interact with the very faith-filled Vietnamese parishioners! My last summer as a deacon, I had the blessing to be in Roxbury at St. Patrick's, and work with the Spanish-speakers and Caboverdianos. It was wonderful to know more about these communities.
I also spent two summers travelling. My second summer, I went out to a spirituality program in Omaha, Nebraska, where most Boston seminarians go at some point. It was wonderful to get to explore the Midwest and I took advantage of some of the parks out there and did some camping! I was also blessed to spend a summer in Mexico City to work on Spanish. I was surprised by how much I loved my time there, and I probably would have loved to live there before seminary. I had a great time getting to know the people and learning about their language and culture.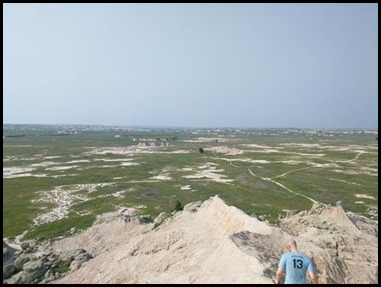 A fellow seminarian and I went to the Badlands in South Dakota when we were in Omaha one summer; there are some beautiful things to see out there!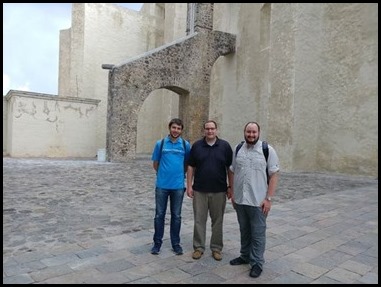 Three of us Boston Seminarians at the very old Cathedral in Cuernavaca, Mexico. We spent the summer there learning Spanish.
Preparing for Ordination was exciting this past year. As a deacon, I was getting used to preaching, and had the opportunity to perform Baptisms, which was a great joy. My first baptisms were at my assignment at St. Peter's in Dorchester, they were in Portuguese for the Caboverdiano community. It was a challenge, but a great consolation to be able to bring children into the faith. It is funny that through all of seminary I had been looking forward to priesthood, but with the date approaching, it always seemed like a little more time would be good — time to send out invitations, to plan my first Mass, to study for exams and write papers, to do all those things that we needed to do before the big day. And yet, I knew that God would take care of everything, and Our Lady was arranging things to work out.
The day of my ordination was very surreal. It takes a while for the reality of what happened to set in, but there was certainly grace, and I was stricken by everything. It seemed to go by very quickly, and yet I can remember each part very distinctly and vividly. We vested and spent time in prayer, and then we processed in, and everything went as we had practiced. (I was happy that I was in the middle of the alphabet, so I could follow the guys in front of me!) I mostly went where I was supposed to go, and when I didn't, I tried to make it look natural… But thanks be to God, I was a priest of Jesus Christ!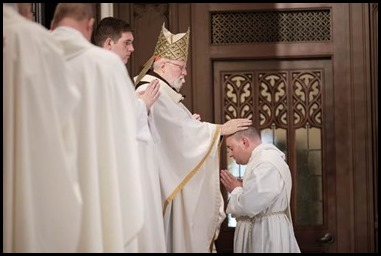 My Ordination
The night before our ordination, we had dinner with Cardinal Seán, at which we received our assignments. I have to admit that we spent a lot of time in the months before trying to figure out where we might go, and had a good idea of what the options were, though of course, we were not sure who would go where. I was excited to be assigned to Sacred Heart and St. Mary's in Lynn, which I knew were diverse parishes in a busy city. It was especially poignant for me, as I would be starting on June 1, the first Saturday in honor of Our Lady, of the month dedicated to the Sacred Heart! It was very exciting to know where I would be serving as a priest.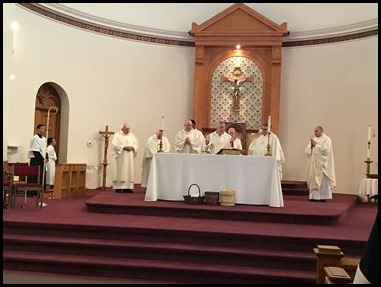 Shortly after I arrived, Sacred Heart celebrated their 125th anniversary, and Bishop Mark O'Connell came and celebrated Mass with all of us.
Transitioning to being in a parish in a new place is not necessarily easy, but it is also a very joy-filled and exciting time. I have been here now for a month and a half, and I still need a GPS to find my way to some places, but not everywhere anymore! Father Brian Flynn, our pastor, has been very good with introducing me to the churches and to the people, and getting me settled in and used to the routine. I had a funeral my first week, so it was a good way to get started in the parishes. They are very well-run, and the people are wonderful. I tell them that it speaks very highly of their pastor and of the people of the parish if they think that it is a good place for a newly-ordained priest.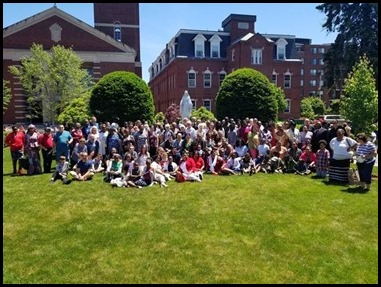 We had the parish barbecue at St. Mary's the week after I started, and everyone took a picture after
Both churches are quite beautiful. St. Mary's is built in the 1940's art-deco style, which I love; it is really a joy to pray and say Mass there. Sacred Heart is older and has exquisite woodwork and stained-glass windows; the people will always point out to me if something that I mention in a homily or in Scripture is depicted there. The parishes are very diverse, and the people of different backgrounds get along, talk, and attend Mass together. It has been especially nice to see the Haitians and Congolese worship with us and to get to know them a little. Lynn is very blessed to have people from all these different backgrounds. One of the greatest joys of my priesthood has been seeing the deep faith of the people, especially poor immigrants who know how much they depend on God, and they have a deep love for Him and His Church. It keeps me humble and serves to remind me of my own duty to grow in holiness and to stay close to Our Lord in the Blessed Sacrament and to Our Lady and the angels and saints in heaven!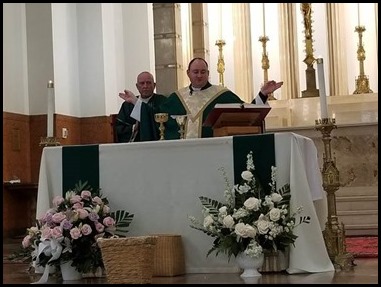 Saying Mass at St. Mary's in Lynn
Being a priest in an indescribable blessing, and I encourage any young man who thinks that he might be called to spend time in prayer before the Blessed Sacrament, and ask God for the grace to trust in Him. There were so many times before and during seminary that I was not sure how things were going to work out, but thanks to God's grace and the intercession of Our Lady, I made it through to serve her Son as His priest. Being able to be with the people of God and walk toward Christ with them is a great joy, and to live and preach the truth is a grace that we cannot fully comprehend. To be a priest is first and foremost to be one who offers sacrifice, and the sacrifice of Christ is His offering of Himself on the Cross; all of His priests are called to offer themselves with Him, especially in the Mass, which makes present this sacrifice. It is not easy, but through the grace of Jesus Christ, it is possible, and an incredible joy.
Thanks to Cardinal Seán for asking me to write this, and for all the editors and photographers who helped me put it together!