Hello and welcome!
I hope you all had a blessed Christmas!
Sunday, the Fourth Sunday of Advent, I went to Holy Family Parish in Dorchester to celebrate the Spanish Mass with the community there.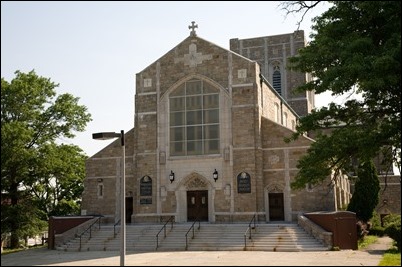 One of the things I talked about in my homily was Las Posadas, the wonderful Spanish Advent tradition in which a couple portraying Mary and Joseph, accompanied by a large entourage, go door-to-door looking for lodging. ("Las Posadas" actually means lodging in Spanish.)
At the parish they have a shelter in the lower church that is run by Pine Street Inn, and so, I told them that they have the Posadas all year round, not just in the novena before Christmas because, I said, here you are welcoming people at your church who are in need. As in the Posadas when people open the door to the Holy Family who are looking for shelter, by welcoming the homeless and those in need, we experience the true joy of Christmas.
---
Also Sunday, I met with David and Beatriz Lopez and their eight children. David is an artist from Spain who is visiting the States and they came to visit me accompanied by Father Tony Medeiros. It was lovely to meet them.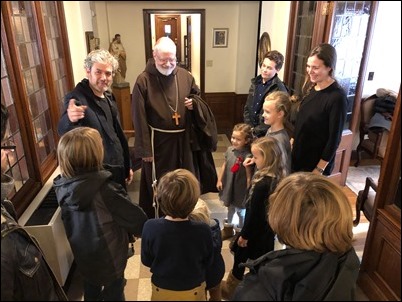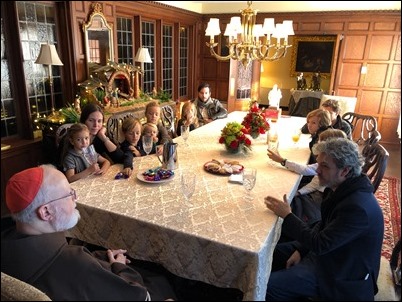 They brought the gift of a beautiful guardian angel statue that David had made.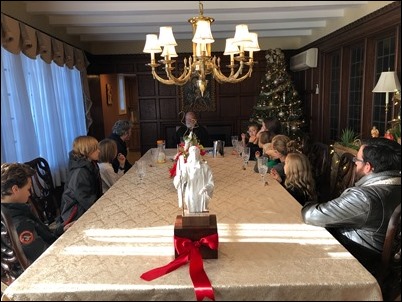 ---
Monday was, of course, Christmas Eve and I went to Catholic Charities' Teen Center at St. Peter's in Dorchester for their annual distribution of Christmas gifts to children and young people.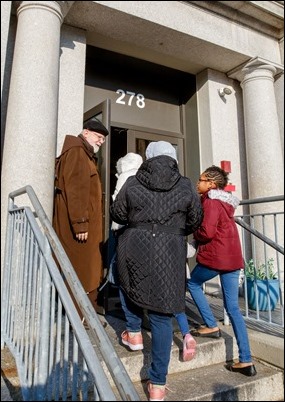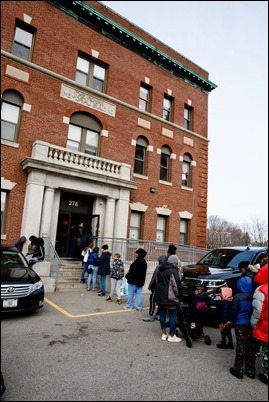 This program was very close to the heart of the late Mayor of Boston Thomas Menino, and his family still continues the tradition every year.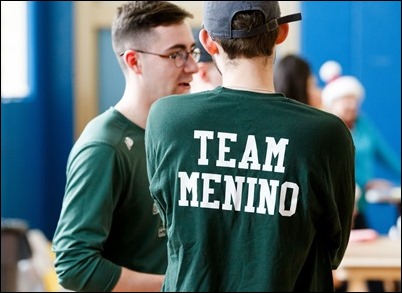 It was such a joy to be joined by so many members of the Menino family, including his wife, Angela, his children and many of his grandchildren. We were also joined by a number of local clergy as well as Boston Police Commissioner William Gross and other officials of the Boston Police Department, who work so closely with the neighborhood community.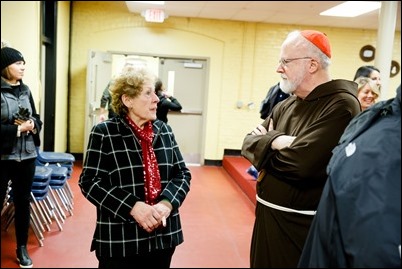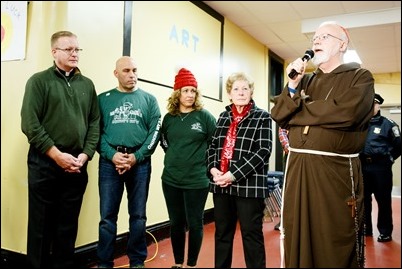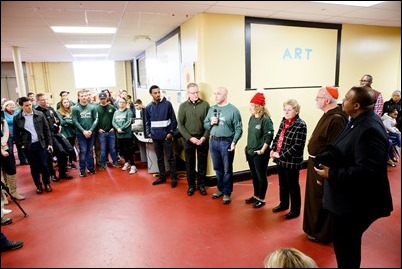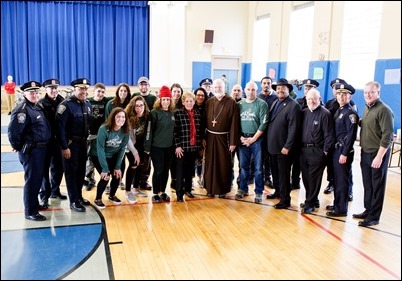 I was very touched by the spirit of the volunteers and the great number of toys that had been so generously donated. I was particularly struck by the dozens of bicycles they had lined up in the gymnasium for the children. It was wonderful to see the many young people who were so thrilled at receiving such a beautiful gift. It certainly brought a lot of joy.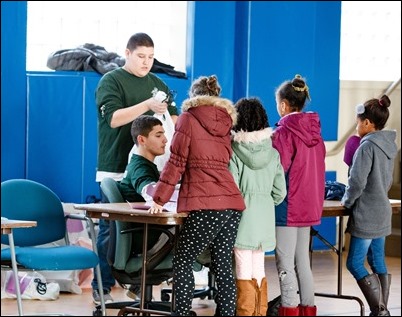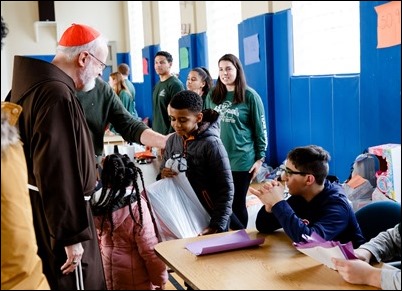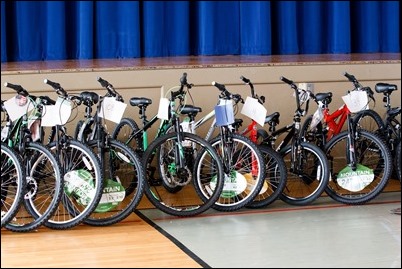 The Teen Center at St. Peter's is such a blessing for the hundreds of young people who participate in the programs there. It certainly keeps young people out of gangs, keeps them persevering in their studies and helps them get into college. It is a wonderful service to the Bowdoin-Geneva neighborhood. We are very grateful to all the local clergy who are so supportive of the activities of the Teen Center.
---
From there, I went to Pine Street Inn to pray with the guests there and help distribute the Christmas Eve lunch. Pine Street is celebrating its 50th anniversary this year and so I was very happy that Msgr. Frank Kelley accompanied me during my visit. He is one of those who helped found Pine Street all those years ago and he remains a member of their board.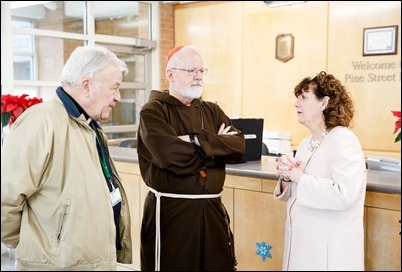 With Msgr. Kelley and Lyndia Downie, the executive director of Pine Street Inn
We began with the blessing and then I helped serve lunch to the guests on the men's side. Afterwards, we went over to the separate women's area and helped to serve lunch and dessert there, as well.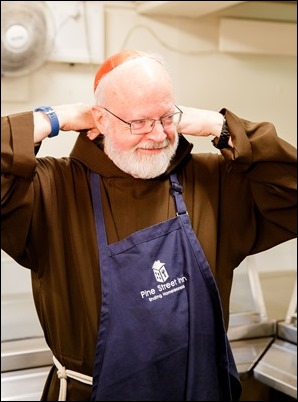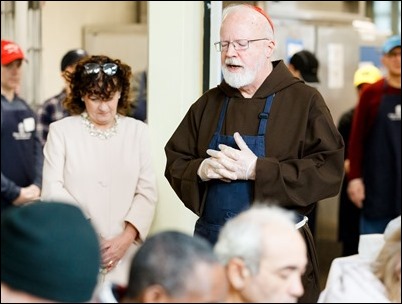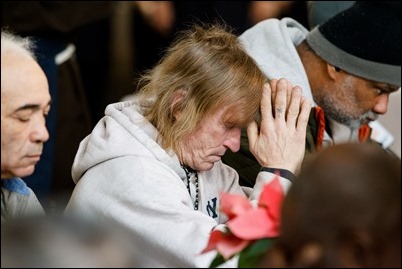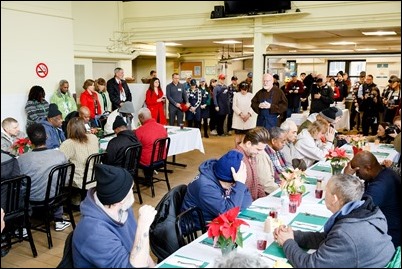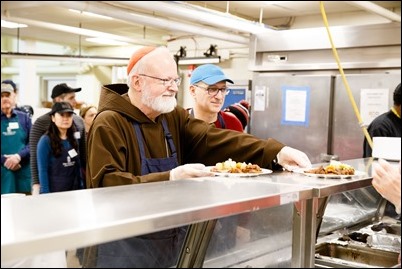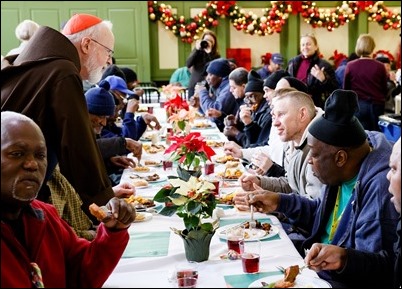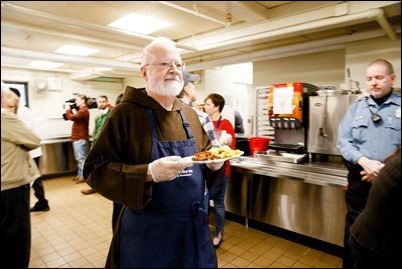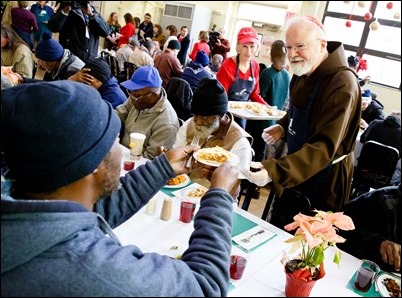 One of the highlights of my visit to Pine Street Inn each year is being able to greet some of the many fine volunteers who take time out of their schedules during this busy time of year to help others. It is particularly encouraging to see how many people bring their children with them to help them in the distribution of the food.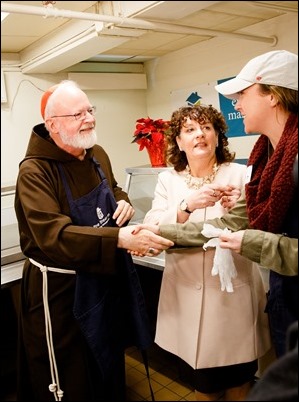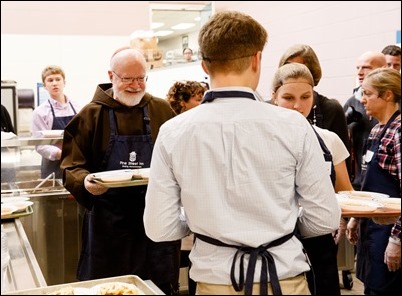 These visits to Pine Street Inn are always an opportunity to bring attention to the terrible scourge of homelessness in our community, which results from a constellation of problems that need to be addressed — the lack of affordable housing, insufficient care for the mentally ill, the lack of programs to help people with addictions and, of course, the need for more jobs that provide a living wage.
We are so pleased that Pine Street has worked very closely with Lisa Alberghini and our Planning Office for Urban Affairs to initiate more and more permanent housing to address chronic homelessness. Right now, they have about 600 people whom they house in their emergency shelters, but they have about a thousand people that they have placed into permanent housing, which is just a wonderful accomplishment. I am very pleased to support the wonderful work of Pine Street Inn and all those who are helping the homeless population in our community.
The Planning Office is also partnering with local government agencies to help find housing for women who are escaping from situations of human trafficking, domestic violence or other grave circumstances. So, after my visit to Pine Street, Lisa Alberghini accompanied me to one of the safe houses and we were are able to visit with the women who live there with their children.
---
That night, I celebrated our Christmas Midnight Mass in the lower church of the Cathedral the Holy Cross. We had a concert prior to the Mass that ended with the solemn chanting of the genealogy of Jesus followed by the Mass at midnight. It was just a beautiful celebration.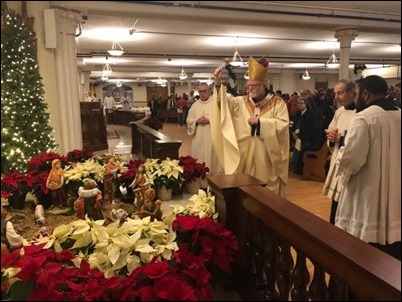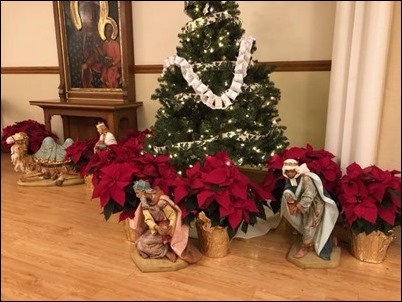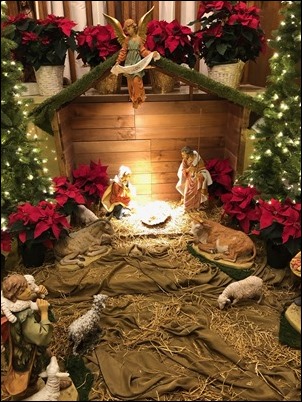 Then on Christmas Day, we had our television Mass, which was concelebrated by Bishop Reed.
In my homily, I spoke about the theme of discovering our origins in God at Christmastime. Lately, it's all the rage to take a test to learn more about yourself through information in your DNA. However, I pointed out that our real DNA is from God, and that we are all called to be part of his family and to care for and love one another. I also spoke with the theme of the peace that Christ brings to us at Christmastime.
Then, at 11:30, I celebrated Christmas Day Mass at the Cathedral. We had a very good crowd for that Mass, as well.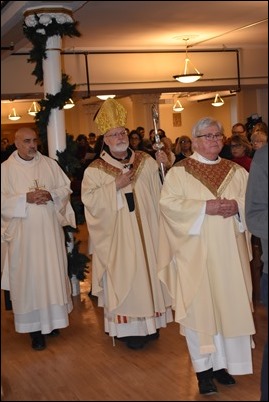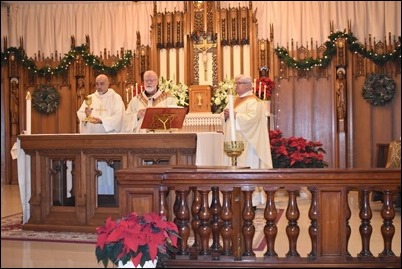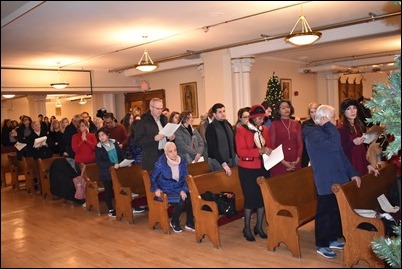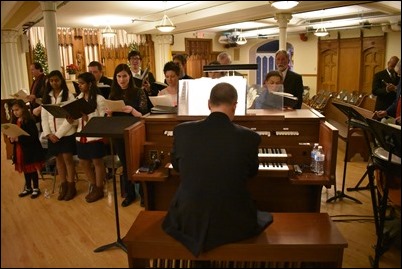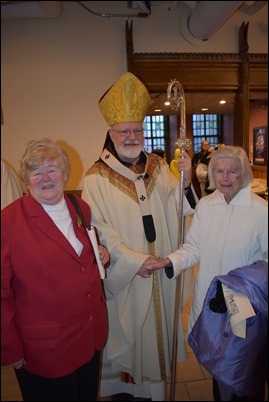 ---
Also that day, I went to St. Francis House. There, after visiting with the staff and volunteers, we had a Christmas prayer service with some of the guests. We read from the Scriptures and sang Christmas carols, and then I offered a reflection on the meaning of Christmas. I tried to help people to reflect on the fact that, at Christmastime, Mary and Joseph were homeless and looking for lodging and I stressed that God comes to be close to us especially in our moments of difficulty and need.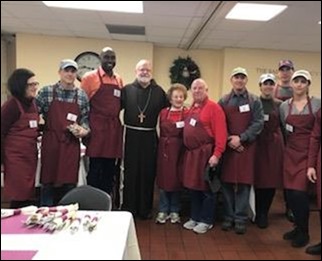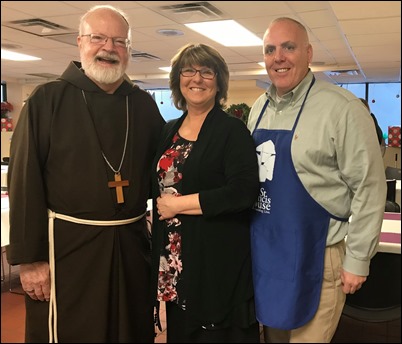 With President and CEO of St. Francis House Karen LaFrazia and Boston City Councilor Ed Flynn
Like Pine Street Inn, St. Francis House is moving towards doing more to obtain permanent housing for the homeless rather than just focusing on emergency needs, so that is a very important step forward. Once again, like Pine Street, they are working very closely with our Planning Office for Urban Affairs to help accomplish that goal. Perhaps some of you saw the story in The Boston Globe this past Sunday highlighting the new project of St. Francis House, converting the former Young Men's Christian Union on Boylston Street into nearly 50 units of housing, half of which are for low-income residents and the other half for formerly homeless people.
Until next week,
Cardinal Seán