Hello and welcome!
This week, the Holy Father issued a beautiful new apostolic exhortation, Gaudete et Exsultate ("Rejoice and be Glad"). It was actually signed on the Feast of St. Joseph, but it was published on Monday, April 9.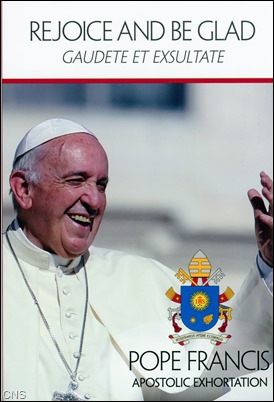 In it, the Holy Father speaks about the very important topic of holiness — the Church exists to help people live a life of holiness. He tells us that we should not be afraid of holiness, and that to live in holiness is to be what our Creator made us to be. It makes us more human, more alive. He cites the teachings of Jesus particularly the Beatitudes and the beautiful Parable of the Last Judgment, in which Jesus gives us the Works of Mercy.
The Holy Father also talks about the saints as wonderful examples of holiness, but he also reminded us that we have saints next-door, people in our own lives – relatives, friends, parishioners and others — whose witness of fidelity, sacrifice and love are an encouragement and inspiration to all of us.
We are very grateful for the Holy Father's exhortation, and we hope that many people will take the opportunity to read it. One of the great things about Pope Francis' writings is that they are very accessible. They don't read like theological treatises, but instead are very practical and filled with common sense and wisdom. We hope this will be
---
Also this week, the Holy Father, in a very powerful and moving letter to the bishops of Chile, addressed the very difficult situation of sexual abuse in their country. With the Holy Father's letter, and the visitation of Archbishop Charles Scicluna to Chile, the Holy Father has "pushed the reset button," as it were, on the crisis situation there and we pray that this is going to bring about healing and a restoration of trust in the Church in Chile. I know that the victims and survivors of sexual abuse there will be much consoled by the Holy Father's letter and his upcoming meeting with the bishops of Chile at the Vatican. We all must pray for the outcome of that meeting because so much is at stake.
---
Now, on to the events of my week:
Last Friday, we had our annual Co-Workers in the Vineyard conference at St. Patrick's Church in Watertown. This is our yearly gathering of people involved in parishes, agencies and ministries of the archdiocese who come together for a day of reflection, prayer and enrichment.
I was very happy to celebrate the Eucharist with them to begin the conference, which was concelebrated by Bishop Bob Reed of CatholicTV.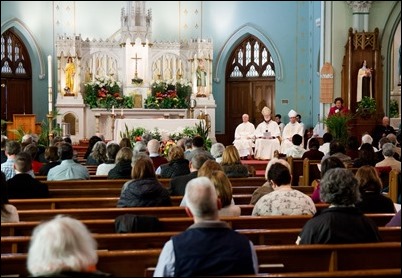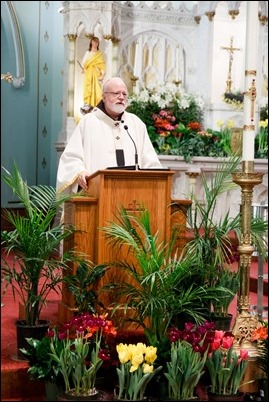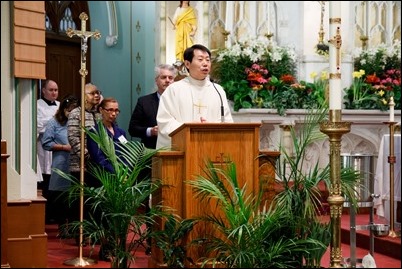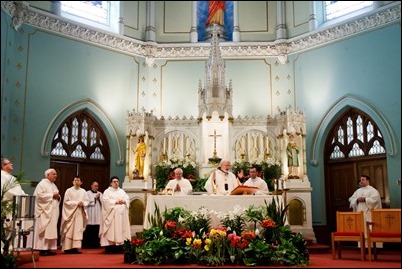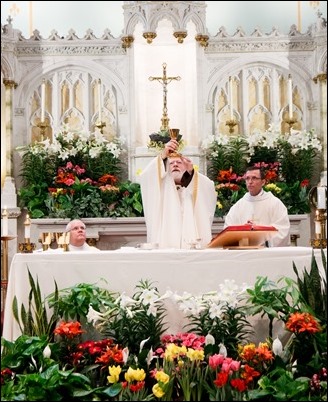 This year, the keynote was delivered by Deacon Greg Kandra of Brooklyn New York, who is a former news writer and producer for CBS News who found his vocation to the diaconate following the September 11 attacks.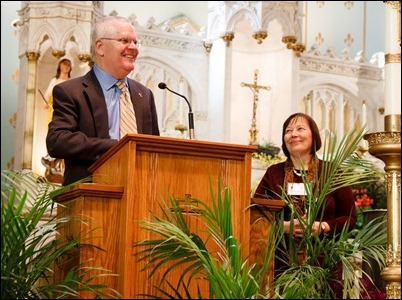 Throughout the day, participants attended different talks and panels, and they also took a tour of the CatholicTV studios, which are located just behind St. Patrick's in the parish's former convent.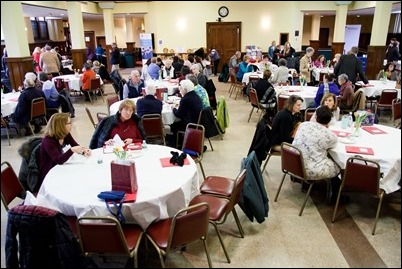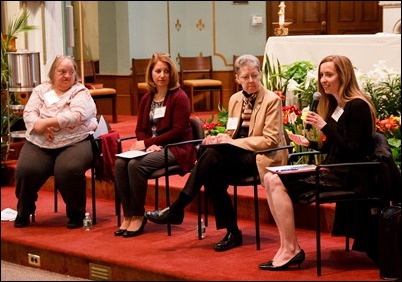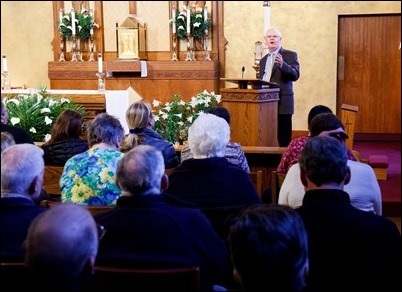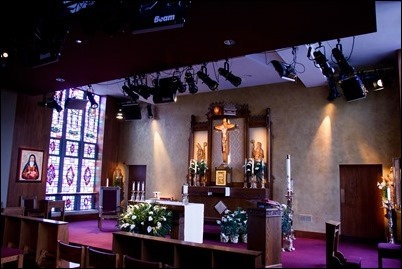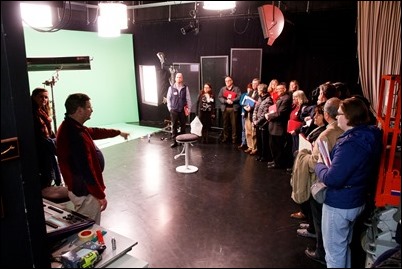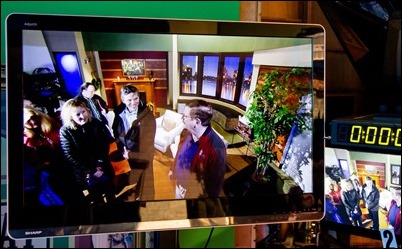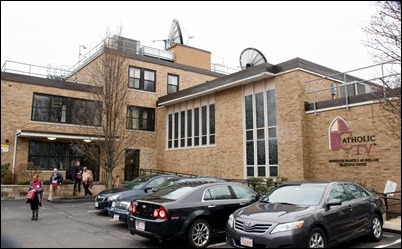 We are very grateful to Dr. Aldona Lingertat, Father Chris O'Connell and all of those from the Theological Institute who work so hard to organize this important gathering each year.
---
That evening, we had one of our regular meetings with a group of our seminarians.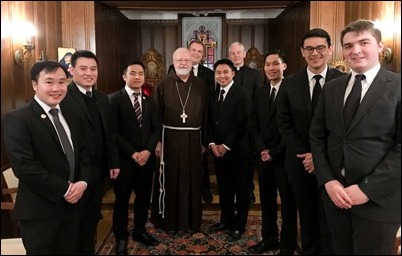 Throughout the year, I host these groups at the Cathedral rectory with Vespers, dinner and a time of conversation, as a way to get to know them better. Previously, we used to meet with all the seminarians together, but for a while now, we have been meeting in small groups to create a more intimate setting and allow more of an opportunity for conversation and exchange. I am very happy for these opportunities, and I think the seminarians enjoy them as well.
---
The following day, Saturday, was our Walk with Mary celebration, which was held this year at Mission Church in Roxbury.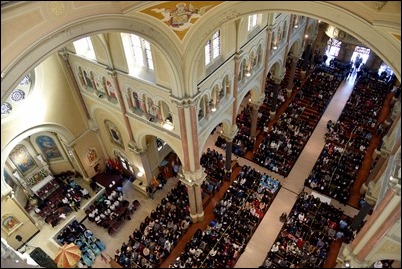 It was a beautiful, standing-room-only celebration on the eve of Divine Mercy Sunday. We had a Holy Hour, rosary, prayers, Divine Mercy Litany and the procession with various madonnas representing many different countries as well as the Divine Mercy icon.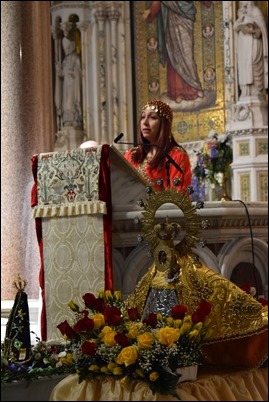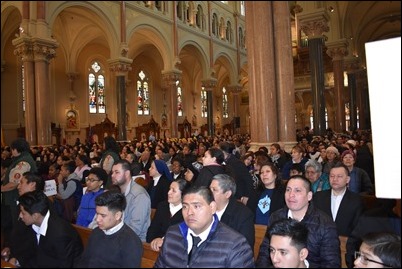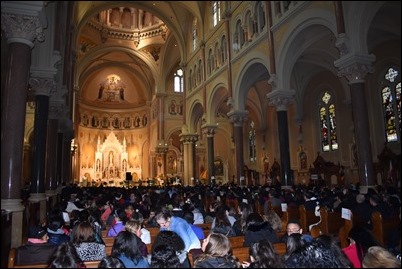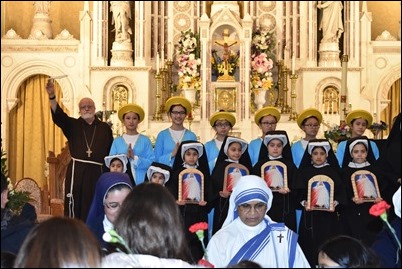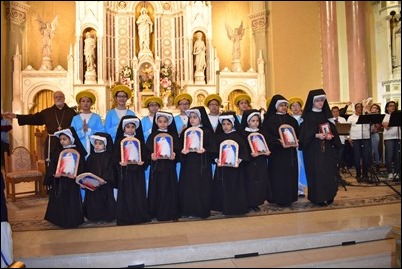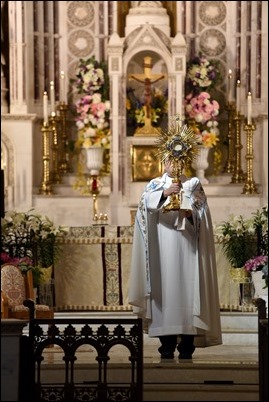 There were quite a number of different nationalities represented.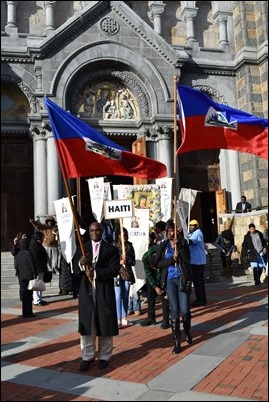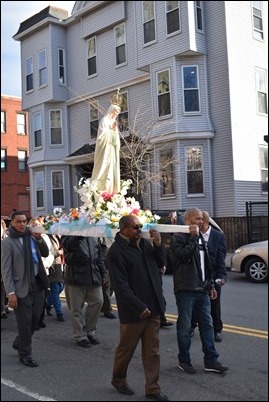 We are so grateful to Father Michael Harrington and his team for organizing this celebration, which has become an annual event. I know that people look forward to it because it is so very uplifting and I was very happy to be a part of it.
---
While this weekend we marked Divine Mercy Sunday, it was also the time when the Eastern Churches celebrated Easter this year. So, that evening I had an opportunity to take part in two different Easter Vigils.
First, I went to the Greek Orthodox Cathedral to join in their celebration.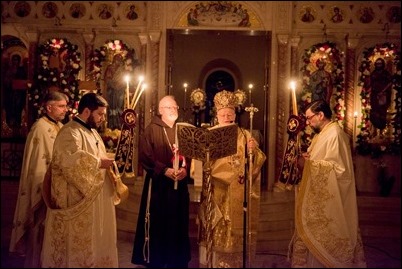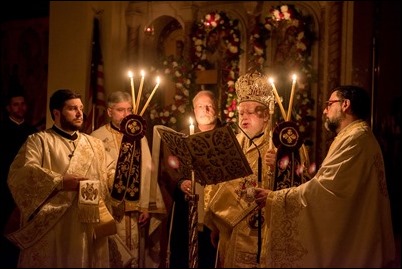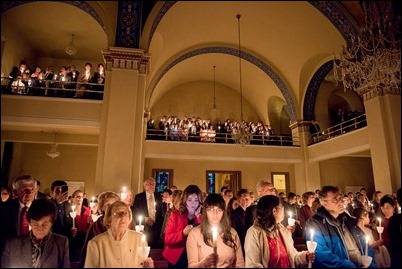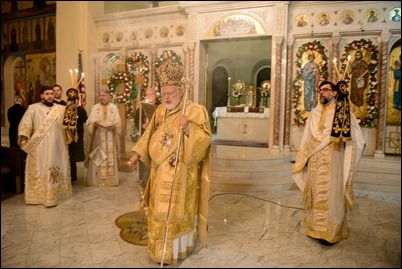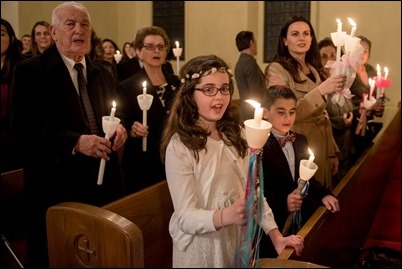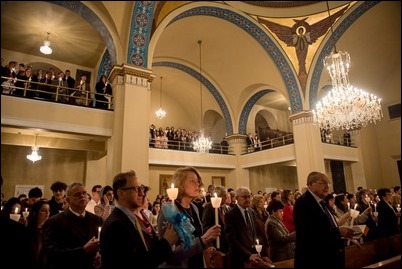 Metropolitan Methodios always very graciously invites me to read a passage from the Gospel and to address the congregation.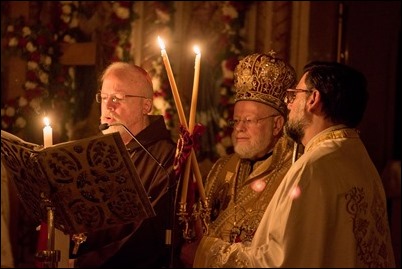 We are so grateful that the Metropolitan comes to our Chrism Mass each year. As he often says in his remarks at the Chrism Mass, it's a great joy to be able to celebrate Easter twice, once with us and once with his own community.
Well, I may have one up on him, because I returned from the Orthodox Vigil in time to greet the Ethiopian and Eritrean Ge'ez Rite Catholic community at the cathedral, who were celebrating their Easter Vigil that night, as well. So, it was my third Easter Vigil of the year.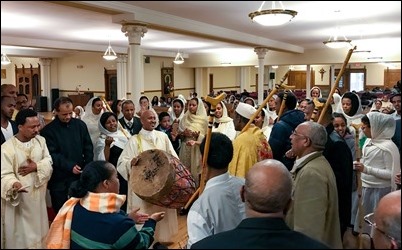 Their liturgy ends with very joyful singing, dancing and playing the drums, and it's always a very lively celebration.
---
On Sunday, I went to our new St. John Paul II Shrine of Divine Mercy in Salem to present them with a first-class relic of the pope.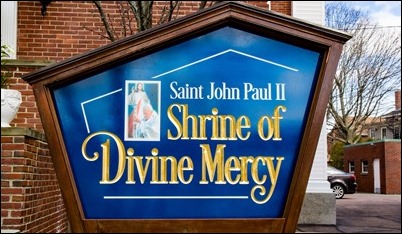 On the first feast day after Pope John Paul II was declared blessed, we had a special Mass at the Cathedral of the Holy Cross and, as part of that celebration, I wanted to have a relic of the pope present. I wrote to Cardinal Stanislaw Dziwisz who sent me a relic of the blood of John Paul II. Now, we've given that same relic to the shrine, along with a chalice given to Cardinal Medeiros by Pope John Paul II during his visit in 1979, as well as a vestment of John Paul II given to me by Dr. Domenico Giani, the head of the Vatican Gendarmes, at the time of the pope's funeral.
It was a beautiful standing-room-only Mass, which was concelebrated by a number of priests including Bishop Mark O'Connell, the shrine's rector Father Robert Bedzinski, and his provincial from Chicago, Father Pawel Bandurski, who has very generously sent Father Robert to work with us in the archdiocese.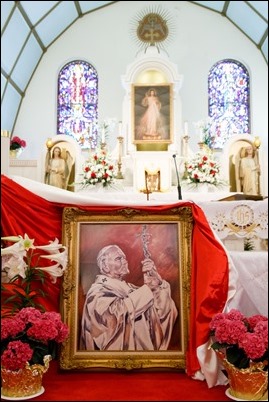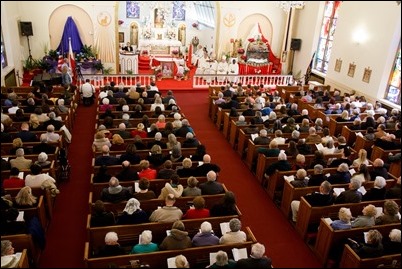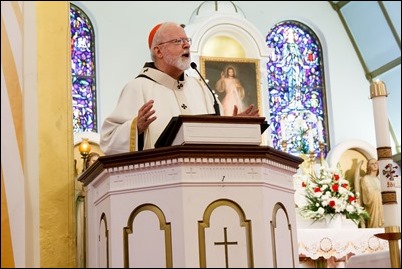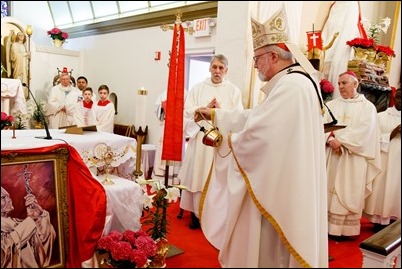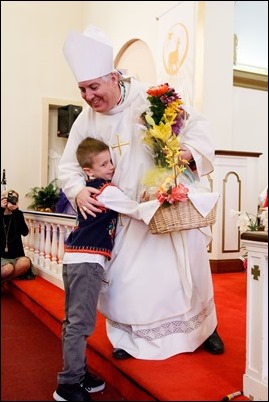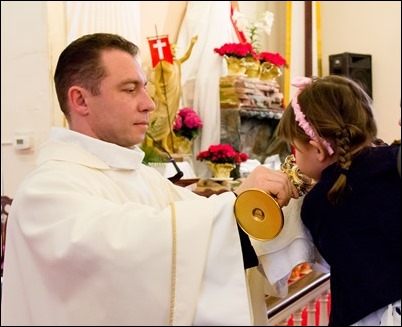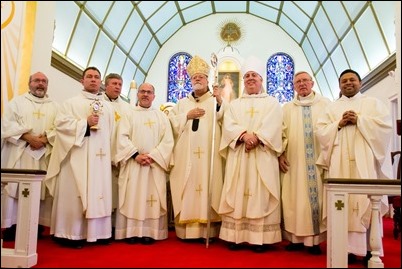 There was great enthusiasm among the people including great devotion to Pope John Paul II and to Divine Mercy.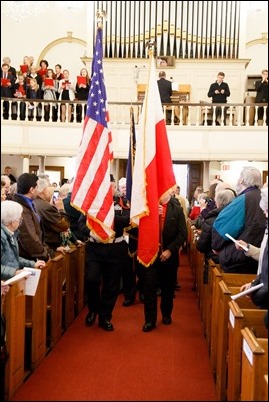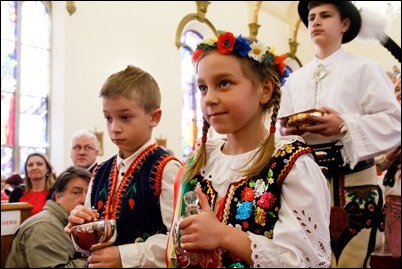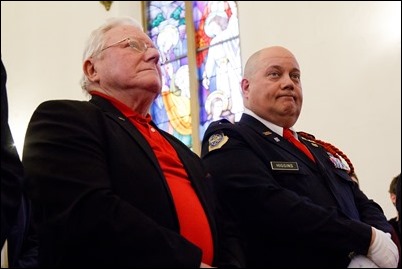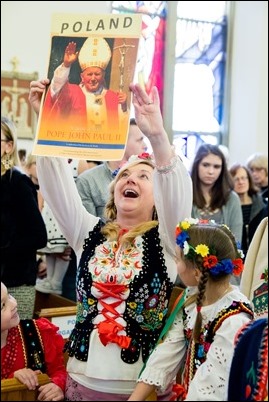 After the Mass, we had a very nice luncheon featuring very tasty Polish food, and then there was a Way of the Cross procession through the streets of Salem.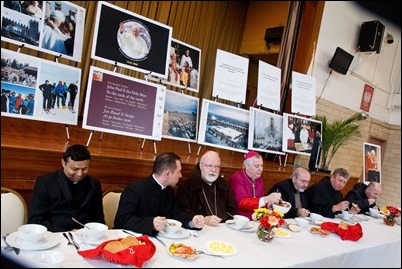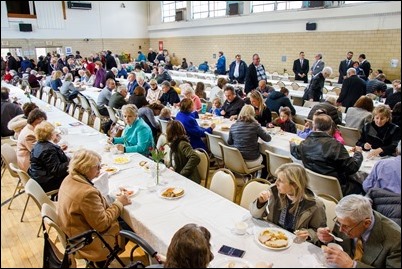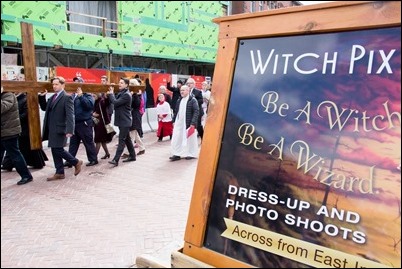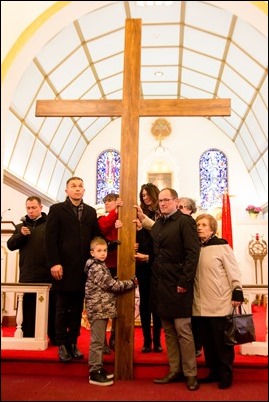 We hope that the presence of this new shrine will be a very special grace for Salem. In today's world, shrines are often a place where people can reconnect with the sacraments and the life of the Church, so we are very grateful and enthused that we have this new shrine in Salem. We encourage all of you to visit. It's an opportunity for people to have a pilgrimage experience right here in the archdiocese.
---
I just mentioned the head of the Vatican Gendarmes, Domenico Giani. Well, it was by complete coincidence that his son, Luca, came to visit me last week.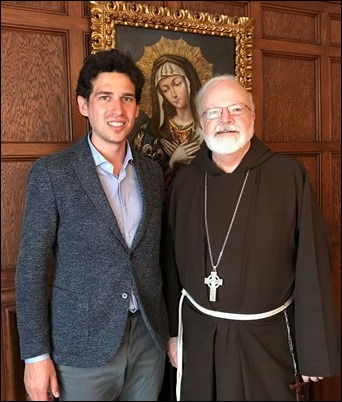 His father is very close to our Capuchin Friars in Italy, and I have known him since he was a young lad. He is a graduate of Georgetown University, where he studied diplomacy, and was in Boston, so he stopped by to say hello.
---
Tuesday, I went to attend the funeral Mass of Father Jerry Shea at Our Lady of the Assumption Parish in Marshfield.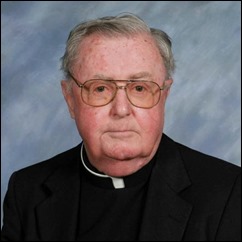 The church was full, and it was very edifying to see that so many people were there for the funeral Mass. Father Jerry truly was a priest who was much beloved by his people.
During the Mass, I talked a little about the Holy Father's letter on holiness, in which he talks about the important role of community. Certainly, in Father Shea's life, community was part of his road to sanctity – the closeness he had with his family, his parish and with his brother priests.
His classmate Father Jack Schatzel gave a wonderful homily, in which he reflected a bit on Father Jerry's life.
At the beginning of the homily, Father Jack said he works with the older priests and is often involved in the funerals. He said he is always encouraging the priests to choose someone as the preacher for their funerals. "But," he said, "the problem is that I can't convince them to ask younger priests, because very often, by the time the priest dies, the designated preacher has also died!" Then he added, "and I don't know why he asked me."
Afterwards, I told Father Jack, "We are very glad that Father Shea took a chance on you being around, because you did a great job!"
---
Wednesday, we had one of our semi-annual gatherings of the bishops of the Boston Province, which includes Massachusetts, Maine and Vermont and New Hampshire. It is an opportunity for us to be together and to talk about issues of common interest.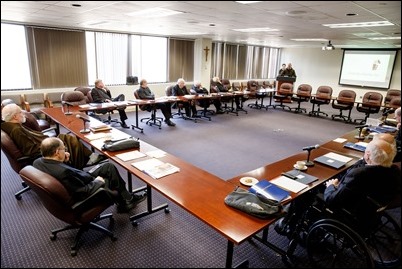 At this meeting, we heard reports on developments with immigration and physician-assisted suicide, as well as a number of other pastoral topics.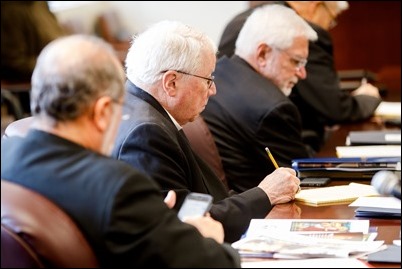 We are always very happy to be joined by a number of the retired bishops of the province as well as Bishop Nicholas Samra of the Melkite Eparchy of Newton. In fact, at this meeting, Bishop Samra gave a very interesting report on the extraordinary growth of the local Melkite community, due to the many Syrian refugees who are coming to the United States.
---
Finally, on Wednesday, I went to the Peabody Essex Museum to attend the annual Cushing Society Celebration held by St. Mary's School in Lynn.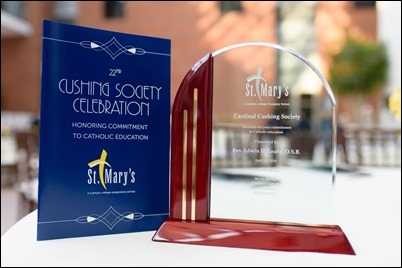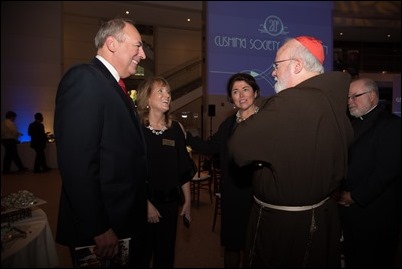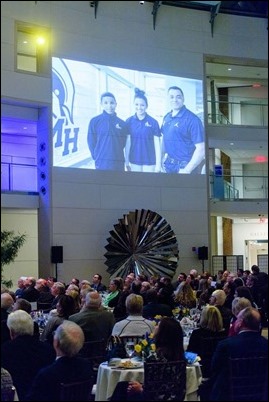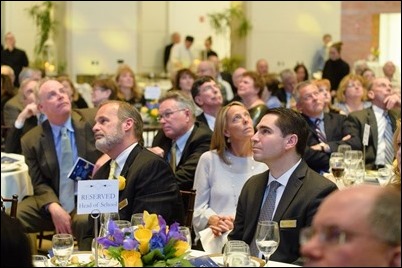 The museum is such a beautiful venue for the celebration.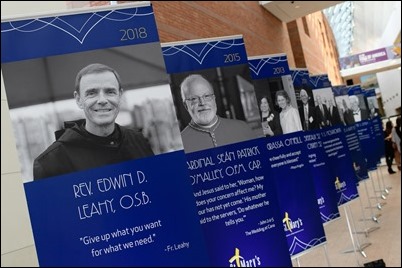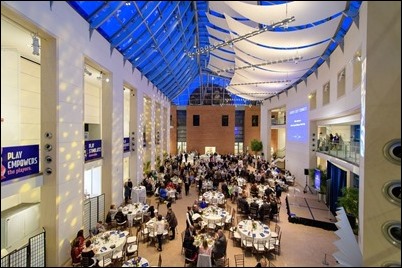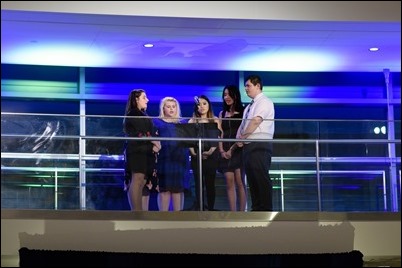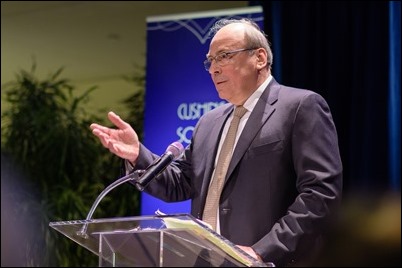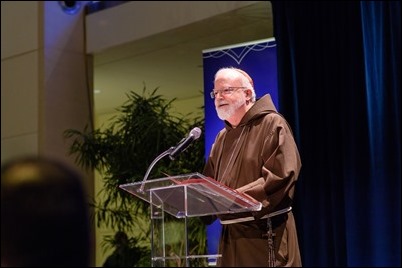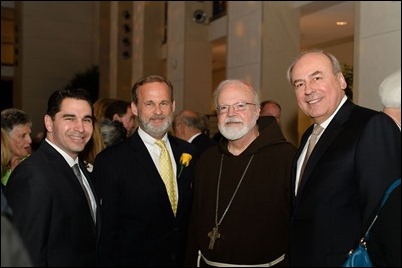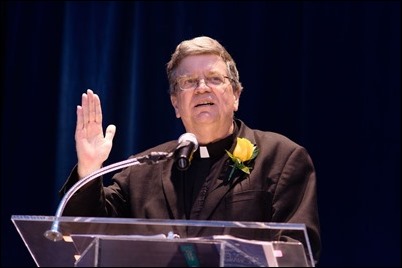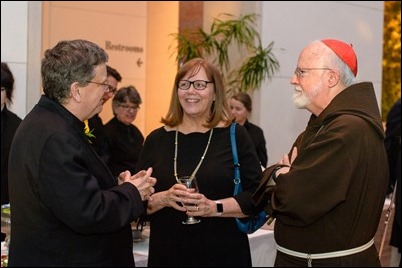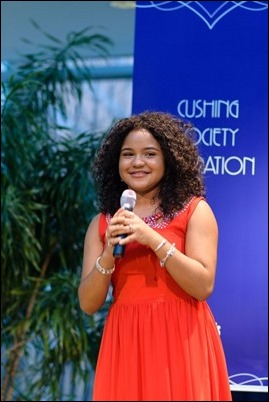 There were two people honored during this year's celebration. First, they presented their William Connell Service Award to John Teagan of the class of 1959. Mr. Teagan was unable to be there, so Msgr. Garrity received the award on his behalf.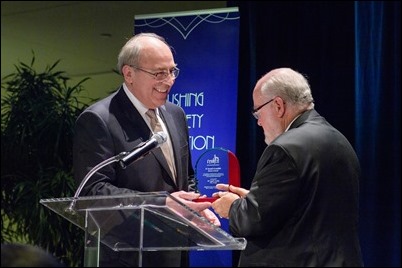 Then, they presented their annual Cushing Award to Father Ed Leahy, the headmaster of the St. Benedict's Preparatory School, a Benedictine inner-city school in Newark, N.J.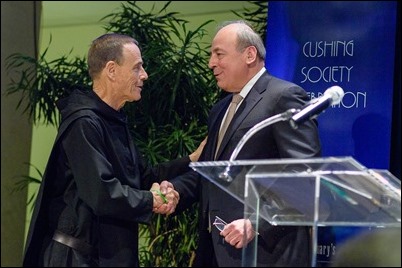 He gave a very lively and inspiring talk.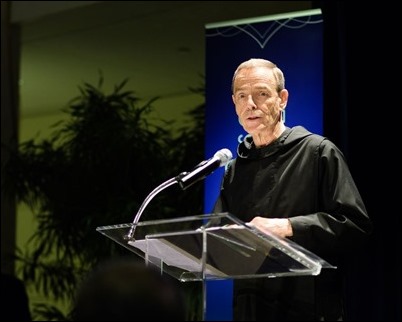 This year's student speaker was Lauren Gonzales, who gave a very moving testimony. She will graduate this year and go on to Catholic University.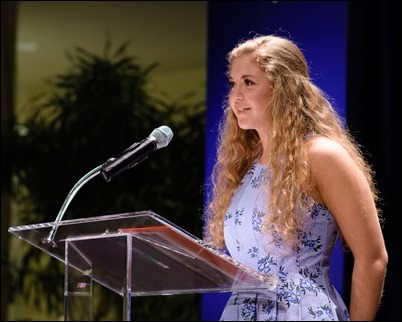 During the evening, they also introduced their new headmaster, John Dolan, and associate headmaster, David Angeramo.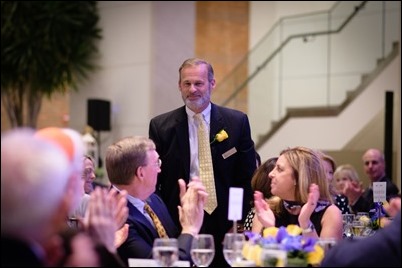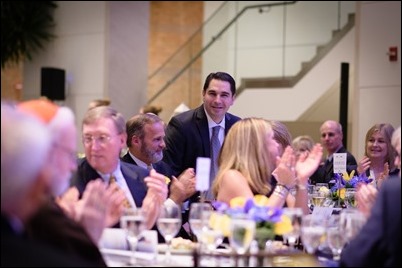 We are so grateful to St. Mary's Board Chair William Mosakowski and all those who do so much to support the excellent work they do in forming young people at St. Mary's.
Until next week,
Cardinal Seán