Hello and welcome!
As regular readers will remember, I was in Rome last week for meetings with the Holy Father and, on Friday, I left Rome to return to Boston.
The flight went from Rome to Munich, where we were supposed to make a connection to Boston. However, when we got off the flight in Munich, they informed us that the weather in Boston was very bad and all the flights were canceled. They also told us that there were no other flights to the East Coast that were getting out, either.
So, Lufthansa put all of us passengers up in a town about 15 minutes from Munich Airport called Freising. It turned out to be a beautiful old Bavarian cathedral town.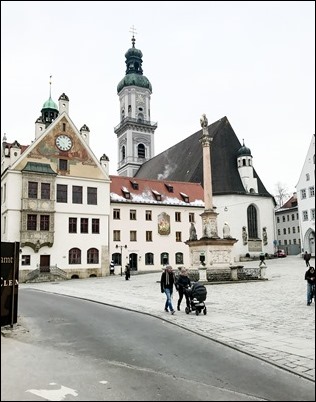 I got there around 2:00 in the afternoon, so I took the occasion to walk around the village. I visited the local church and the Marienplatz that had a plaque commemorating the visit of Pope Benedict there.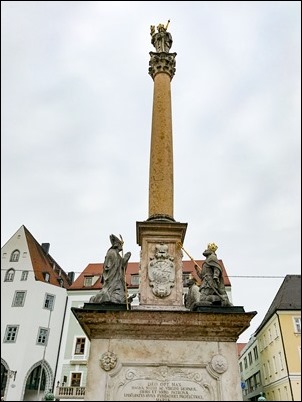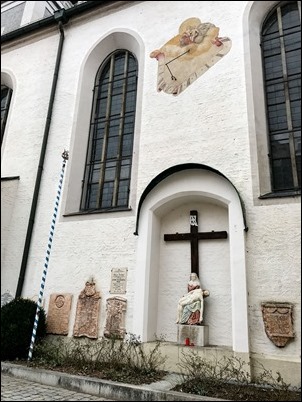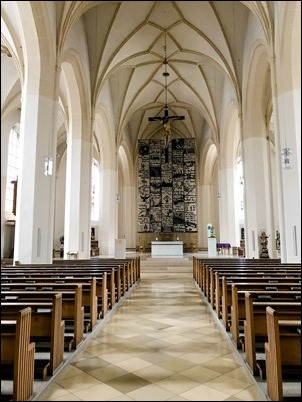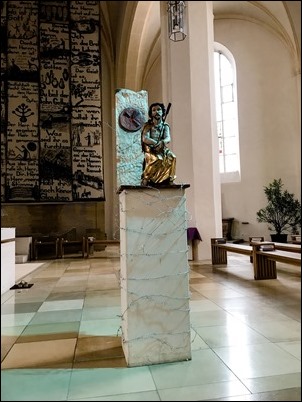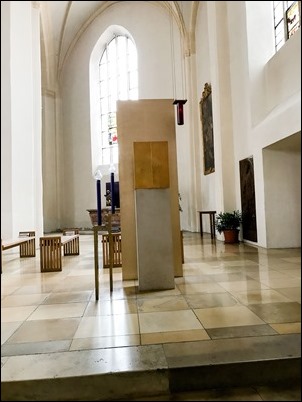 I made a special point of taking this picture of the church door with the writing on it: 20+C+M+B+18, written in chalk.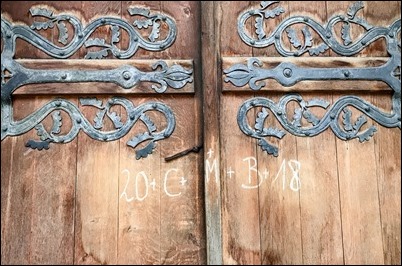 It brought back great memories of my seminary days. Our seminary was a German seminary and every Epiphany they would bless each room in the seminary and, in blessed chalk, write over the door that same kind of inscription.
As you might've guessed, the first two digits are the century and the last two are the year. Between them are the initials of the Three Magi who brought gifts to the Baby Jesus on the Epiphany — Casper, Melchior and Balthazar. So, for example, in my seminary days it would have read "19+C+M+B+65." and we would always joke that it really stood for "19 cases of monastery beer"!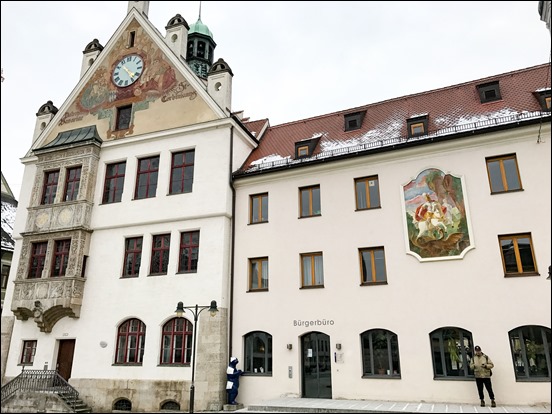 Very near the church is the town hall. If you look closely, on the left side of the clock, you see where it says Patronae Bavaria (Patroness of Bavaria) with an image of the Blessed Mother. On the other side of the clock is an image of St. Corbinian, the founding Bishop of Freising who was sent by Pope Gregory II in the 700s to evangelize Bavaria.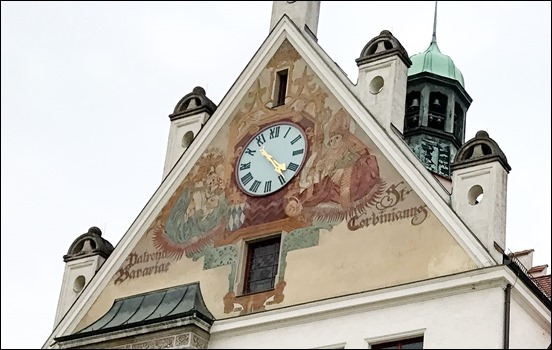 At the bottom of the photo, by the door, you see a statue of a bear. The bear is the symbol of Freising because it is said that, while he was on the way to Rome, a bear killed St. Corbinian's horse. The saint chastised the bear and made him carry the load to Rome. In fact, this is the bear that Pope Benedict has in his coat of arms.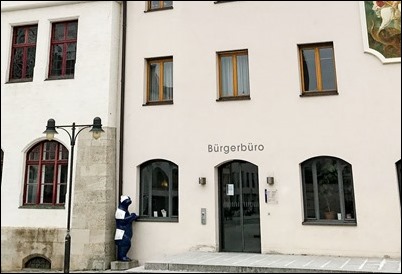 The following day, I managed to get a flight out to Toronto and then back to Boston but, having lost a day, I missed several events that I had scheduled for Saturday. However, I was grateful for the chance to have visited Freising. It is a beautiful town and the people that I met were all very gracious. I was really amazed at how well the airline took care of all of us and I would say it was about the best experience of a canceled flight one could hope for.
---
By Sunday, I was back in Boston and went to St. Francis Church in Braintree for a Mass to mark our Appeal Announcement Weekend.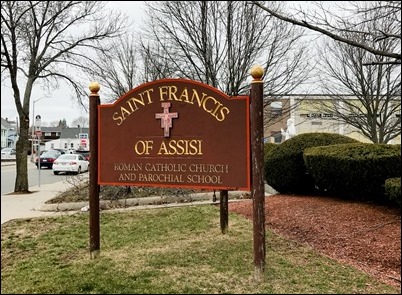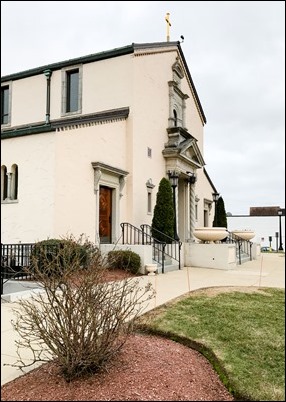 I was particularly struck by this window of an angel that originally came from Blessed Sacrament Church in Jamaica Plain. It's just a spectacular piece of art, and I was very happy that they were able to use it in St. Francis.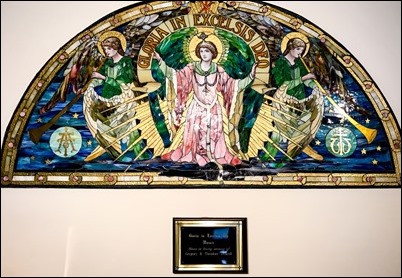 We had a lovely celebration and, after the Mass, I had a chance to visit with some of the parishioners.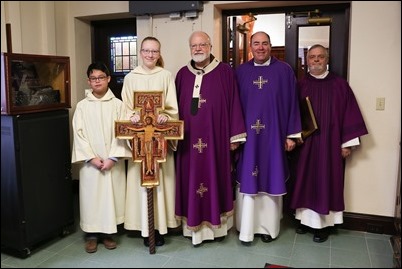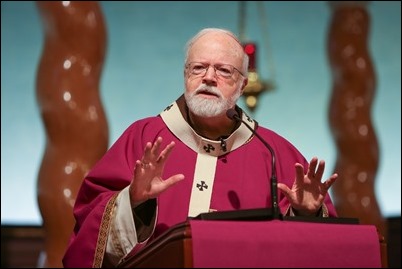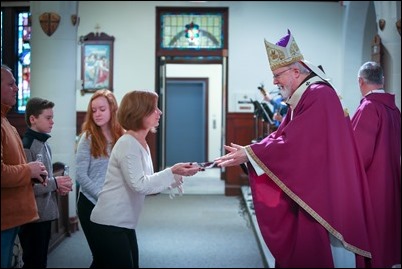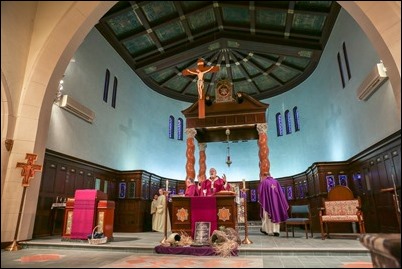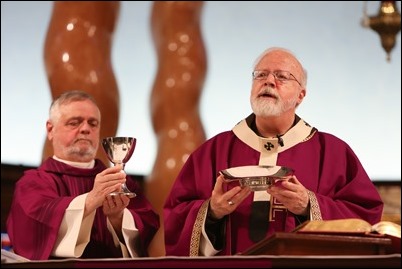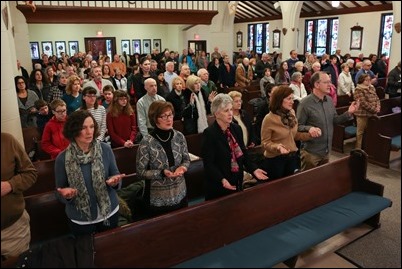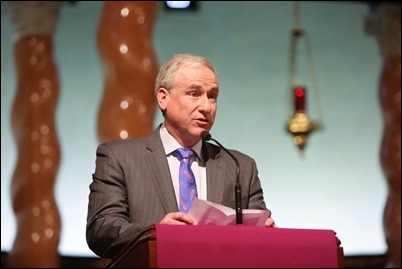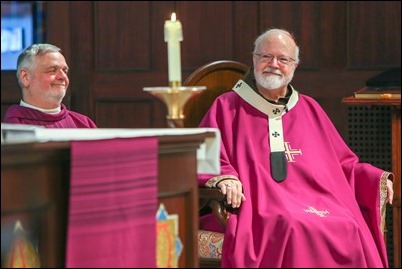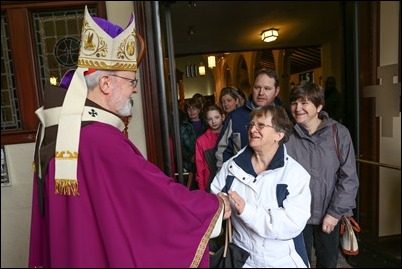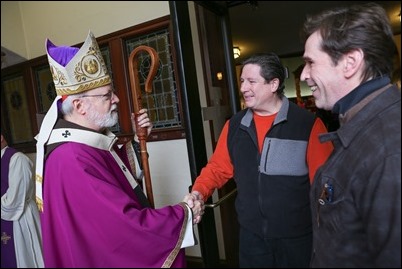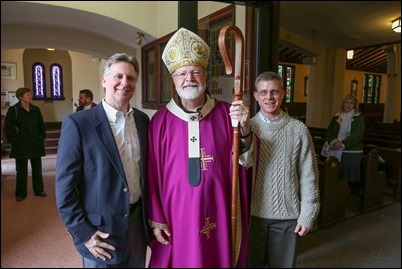 I went down to the parish hall and met a group of parishioners who were preparing meals for the homeless.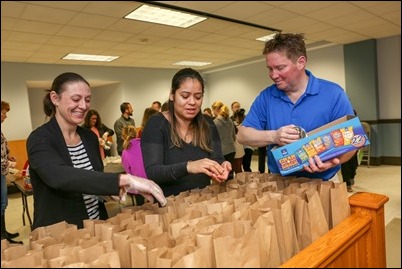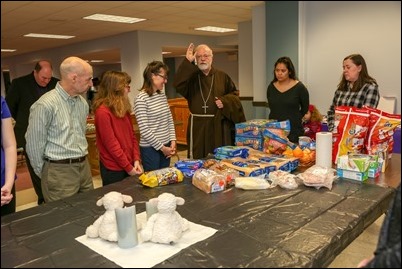 I also had the chance to meet one of the religious education classes.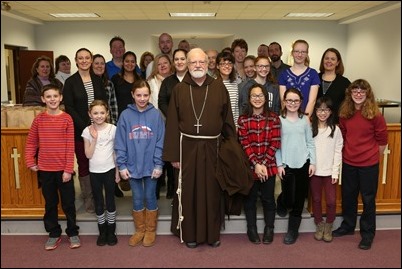 ---
Then, that afternoon, I attended the Anti-Defamation League of New England's 11th Annual "A Nation of Immigrants" Community Seder.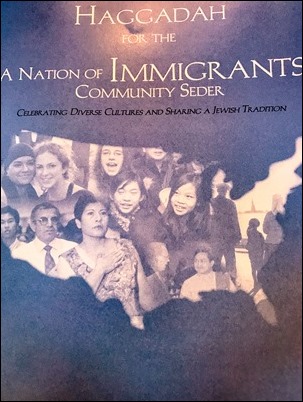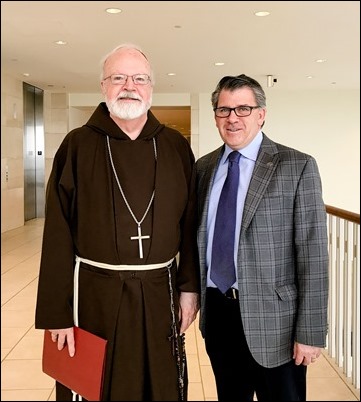 With the head of ADL New England, Robert Trestan
It was wonderful to see so many people there. I believe in all there are about 500 people from many different religious and ethnic communities with us.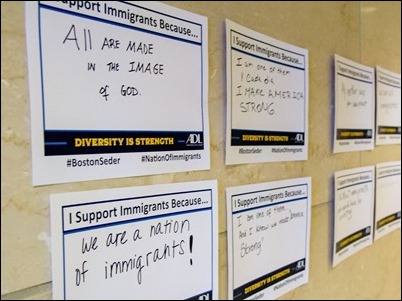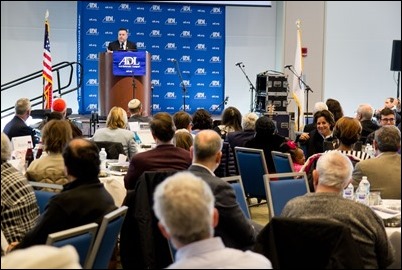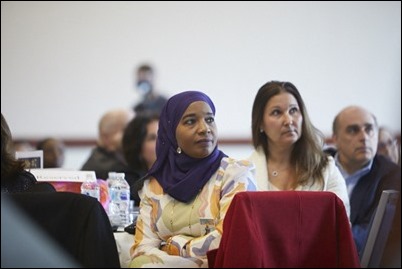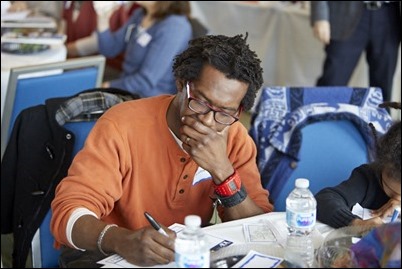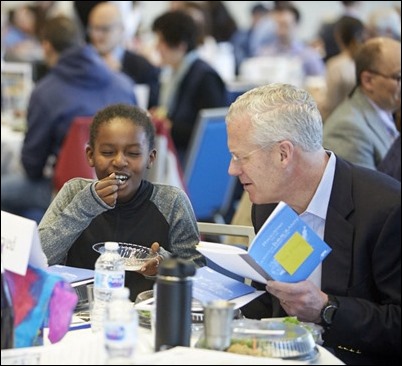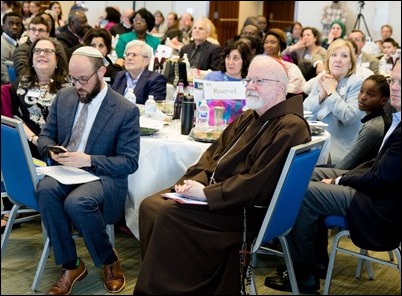 I was very happy to give opening remarks at the Seder. I told them that, when they began this Seder 11 years ago, they could not have imagined that we would be facing the current anti-immigrant spirit in our country, and seeing deportations of thousands of people who have been in the country for decades and have American citizen children.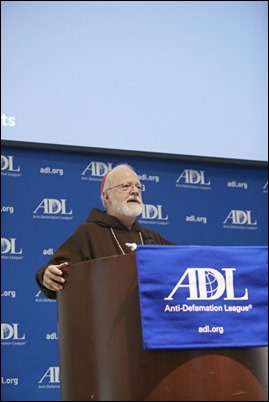 I talked about the contributions that immigrants have made to our country – we are indeed "a nation of immigrants" — and that, in our country's history, we have particularly accepted people whose lives were threatened. I said that the Jewish community, in particular, is very sensitive to this after their experience during World War II when thousands of Jews tried to escape from Germany and were turned away from the borders of many countries, including the United States. So, I thanked the ADL and the Jewish community for organizing this Seder.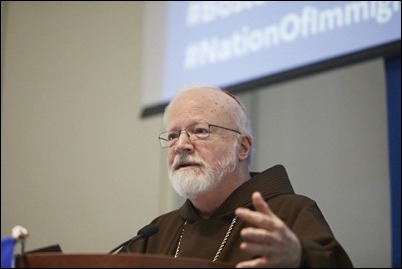 I noted that the original Seder was celebrating the Jewish people's liberation from Pharaoh, and that many people are still fleeing Pharaoh today in the form of repression, hunger, and war. I also thanked Combined Jewish Philanthropies for contributing funds to Catholic Charities so that we can provide more legal services to immigrants in need.
Following my talk, they had the mayors of several cities who were in attendance read aloud their Joint Statement of Massachusetts Mayors Honoring A Nation of Immigrants:
As proud Mayors of cities in Massachusetts, we join the Anti-Defamation League (ADL) New England Region in reflecting on the story of Passover, our shared stories of struggle and our shared humanity, and in celebrating the diverse people and cultures that make up the people and families of our cities. We reflect on immigrants and diversity in our cities as being the backbone of our economy, education institutions, and communities. And, we advocate for policies that respect human dignity and fulfill the lessons that the Passover story teaches all of us.

While we are a "Nation of Immigrants," anti-immigrant policies and rhetoric today which denigrate entire groups of people threaten to undermine the very essence of our cities' and America's core values of diversity, inclusion, and acceptance. We refuse to permit the federal government to allow bigotry and racism to control our immigration policy and mainstream culture. As deportations continue to separate families, as immigrants and refugees are portrayed as criminals, and as traditional norms of respecting safe spaces are violated every day, we will never turn our backs on refugees and immigrants, even when others do.

We commit to doing everything we can to advance the inclusion of immigrants in our cities, protect Dreamers and TPS holders whose lives have been unnecessarily upended, keep families together, and protect our nation's core values.

In honor of ADL's 11th Annual Nation of Immigrants Seder, we stand firmly with immigrants across Massachusetts today and every day in recognizing the significant contributions that immigrants make to every aspect of daily life. And we call upon our nation's leaders and all Americans to remember what binds us all together — that we, too, once were strangers.

Signed,

Paul Heroux, Mayor of Attleboro; Michael P. Cahill, Mayor of Beverly; Martin J. Walsh, Mayor of Boston; Marc C. McGovern, Mayor of Cambridge; Nicole Lachapelle, Mayor of Easthampton; Carlo DeMaria, Mayor of Everett; Jasiel F. Correia II, Mayor of Fall River; Alex Morse, Mayor of Holyoke; William Samaras, Mayor of Lowell; Thomas M. McGee, Mayor of Lynn; Gary Christenson, Mayor of Malden; Stephanie M. Burke, Mayor of Medford; Gail Infirna, Mayor of Melrose; Ruthanne Fuller, Mayor of Newton; Thomas W. Bernard, Mayor of North Adams; David J. Narkewicz, Mayor of Northampton; Linda Tyer, Mayor of Pittsfield; Brian Arrigo, Mayor of Revere; Kimberely Driscoll, Mayor of Salem; Joseph M. Petty, Mayor of Worcester
Then, the Seder meal was led by Rabbi Soffer of Temple Israel in Boston.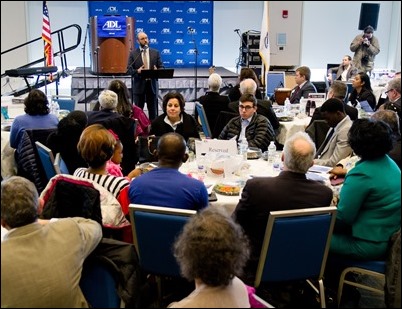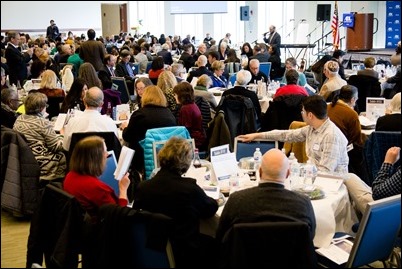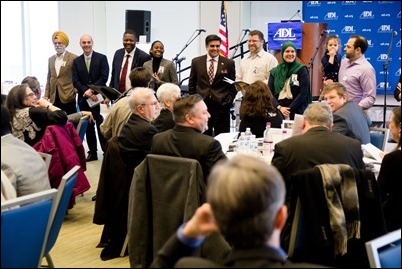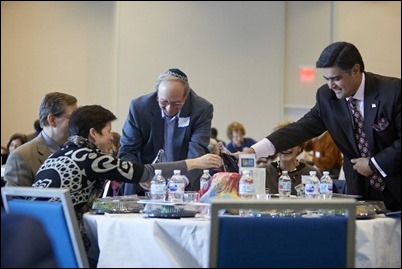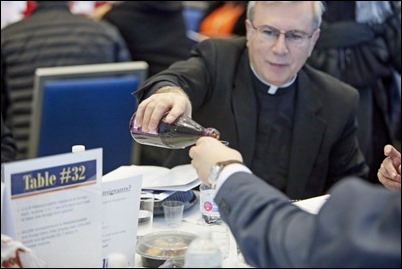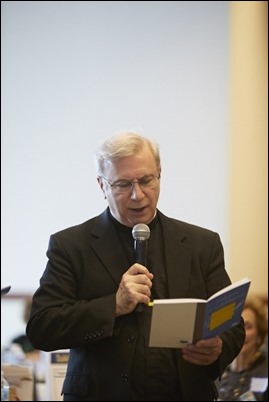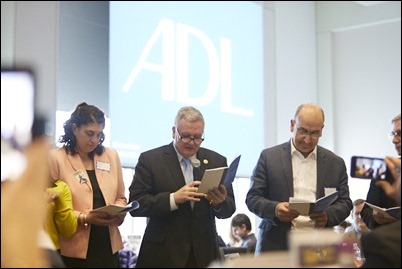 Until next week,
Cardinal Seán