Hello and welcome!
I hope you all had a wonderful Thanksgiving! I was very happy to be able to take a few days to visit with my family in Miami. Since the largest percentage of my family lives in South Florida, it's the one time of year that I am able to gather with them.
We all came together for Mass at St. Sebastian's Church in Fort Lauderdale. A couple of our relatives died recently so at the Mass we memorialized them, including my brother-in-law Craig Woods.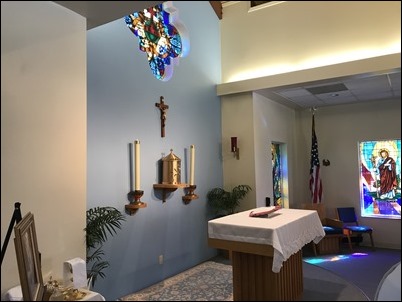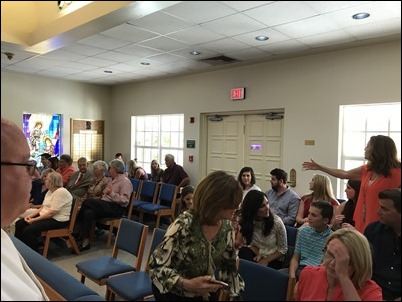 Then, we had dinner at the house of my cousin, Dan O'Malley. We had quite a crowd!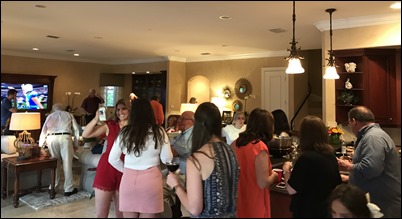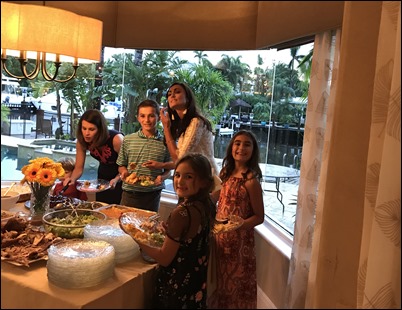 Thanksgiving is such a wonderful opportunity to step back and give thanks for all we have received, especially the blessing of our family.
---
From there, I went to Puerto Rico to visit Archbishop Roberto Gonzales and see first-hand the efforts of the local Catholic Charities on behalf of the victims of the two hurricanes that passed over the island and brought such devastation.
I was also there for the ordination of a young Capuchin friar, Brother David Maldonado, who was ordained Saturday at our parish in Rio Piedras. (It was the only Capuchin parish on the island that had electricity!)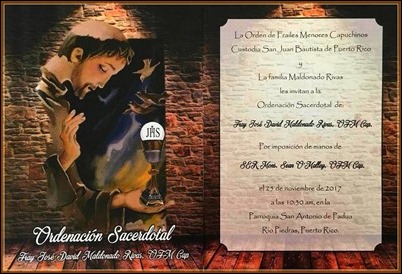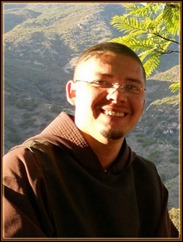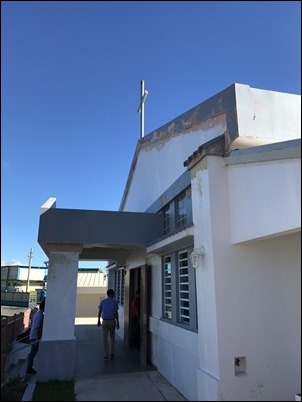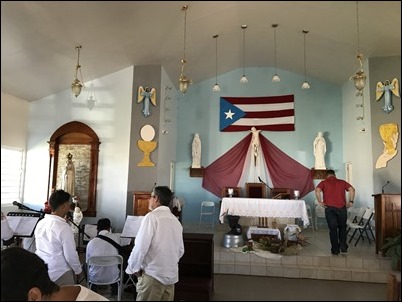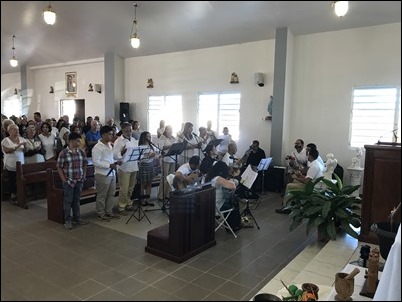 The following day, he held his first Mass in the mountain village where he is from, Orocovis. That is in the Diocese of Arecibo, where I had worked as a subdeacon many, many years ago.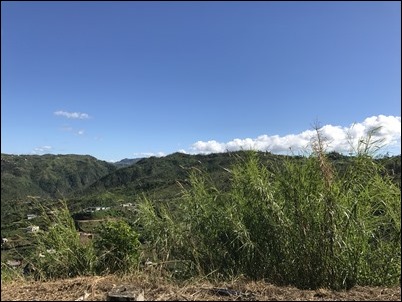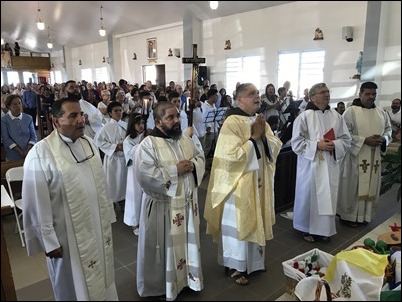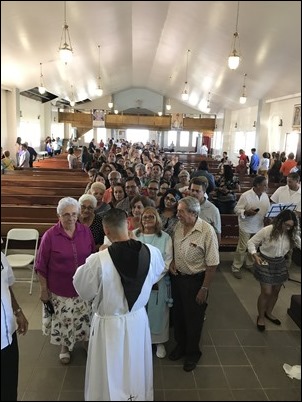 There was a great deal of destruction in that part of the country, so I was anxious to see how the people were doing. Unfortunately, I did not get to Utuado, which is the village where I worked all those years ago. At that time, we had about 20 chapels in the mountains, some of which you could only get to on horseback.
As I feared, there is a lot of devastation. Many places have a long road back to normal, but the most alarming thing is how the agricultural areas have suffered, and also the businesses that were the source of employment for so many people have closed. It was a coffee growing region, and now so much of that has been destroyed. I also understand that about 60,000 businesses have closed, as well as many of the schools and hospitals, and people are leaving in large numbers to come to the U.S. mainland. It is really a terrible crisis for the whole island.
But I was very edified to see the mobilization of the Church there. The Catholic Charities of each diocese have been so proactive in getting food and water out to people, particularly in the rural areas. In the cities, many areas have electricity, but still, most of the people of Puerto Rico are without phones, electricity or water.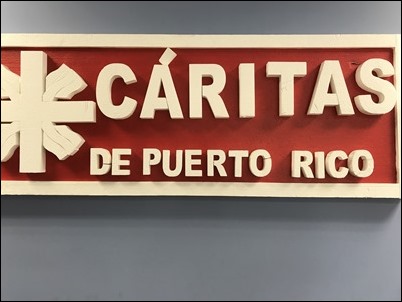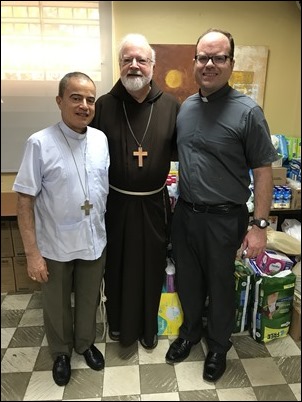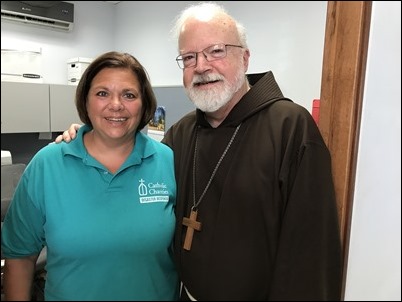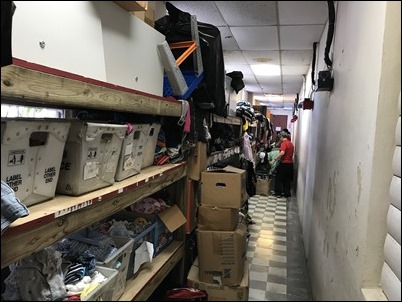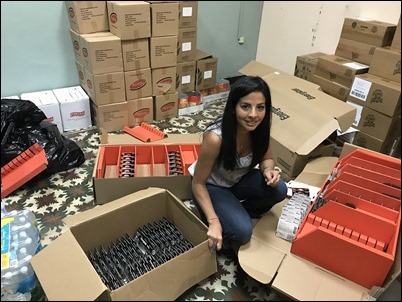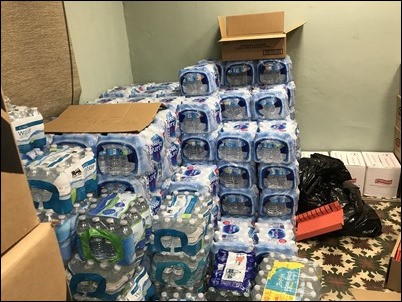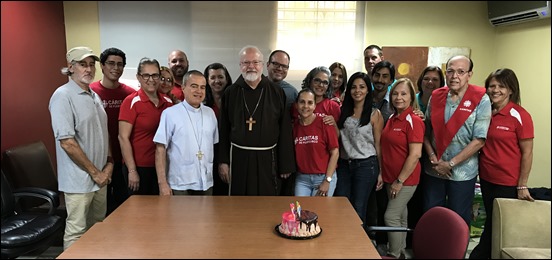 The New York Times reported that, during the month of September, there were 600 more deaths in Puerto Rico than in September of the previous year. This is just one indication of the way that the lack of medical facilities, potable water and electricity are taking a toll on the population.
In Orocovis they did not have electricity but the pastor, a Holy Ghost Father, brought in a generator so they could use the microphones at the First Mass.
The celebration of the Mass was beautiful. They had a wonderful choir and nine musicians who provided beautiful music. It was just a wonderful experience.
Those rural parishes in Puerto Rico, much like the parish where I had worked so many years ago, are so faith-filled. The country people (who in Puerto Rico called "jibaros") are very religious people and when they see a priest or a friar they greet you by shouting "Bendición!" ("Blessings!")
I saw another example of this deep piety when, during the Mass, a number of parishioners brought up gifts for the new priest. One woman was wearing a sort of habit, indicating that she made a promise (a "promesa") and her promise was to the Blessed Mother, but others would be to St. Anthony or another saint. Then, for a number of months or a year, they wear a garment to indicate that they've made this promise.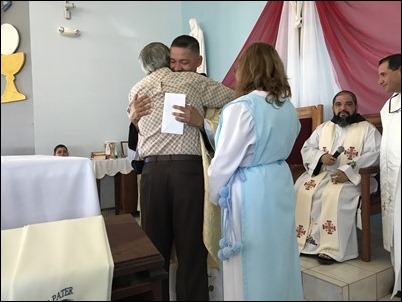 This very traditional practice is something you wouldn't necessarily see in the city, but in this rural parish there were three women each wearing a different habit indicating the different promises they had made.
It was a joy to see how enthusiastic the people celebrated the ordination of a new priest – in the midst of all their sufferings, this was such a consolation and source of joy for the community.
---
After I returned, on Monday, I was visited by two Christian leaders from Pakistan, Anjum Bhatti and Percec Rafiq. They came to talk with me about the difficulties that the Catholic Church is suffering in the country. Many will remember that just a couple years ago suicide bombers struck a church and Christian families that were in the park with their families on Easter Sunday.
During their visit, they presented me with a copy of the Bible in Urdu.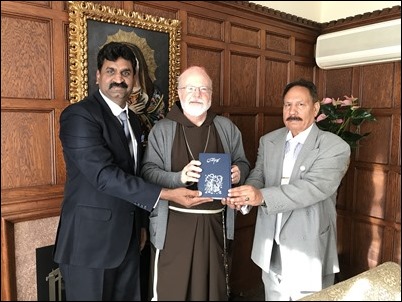 ---
Tuesday night, I went to attend one of our regular St. Andrew's Dinners for young men considering a vocation to the priesthood at St. Dorothy's Parish in Wilmington. I was so pleased to see such a large turnout of young men.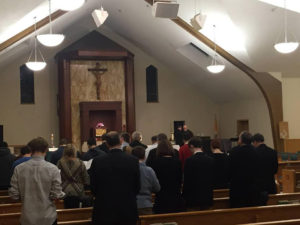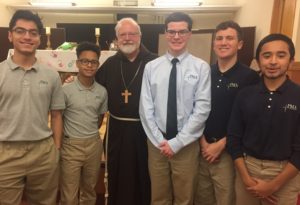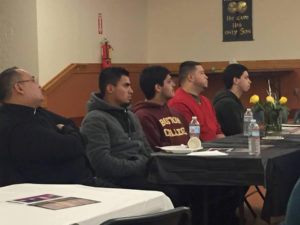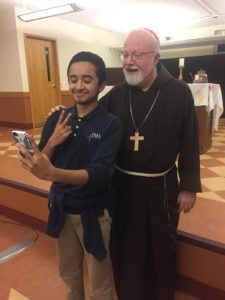 These dinners are always an important way to raise awareness in the community about the need to promote priestly vocations and challenge men to consider the possibility that God is calling them to this way of life.
---
Wednesday, we held our Fall Presbyteral Convocation at St. Julia's Parish in Weston.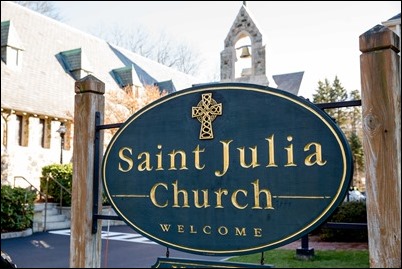 During our meeting, we heard from the Pastoral Planning Committee, which has been studying and monitoring the implementation of our pastoral plan, Disciples in Mission. They made a very important presentation to the priests, and there was quite a bit of discussion.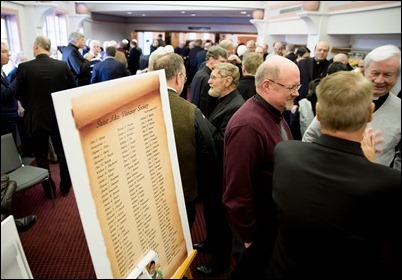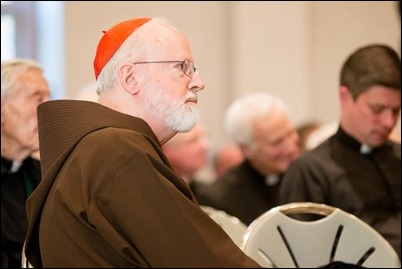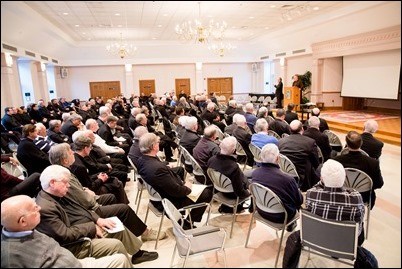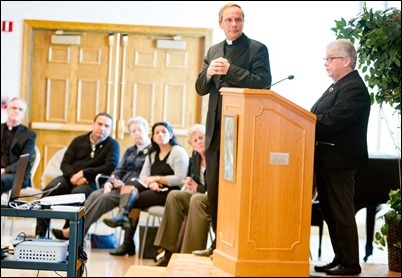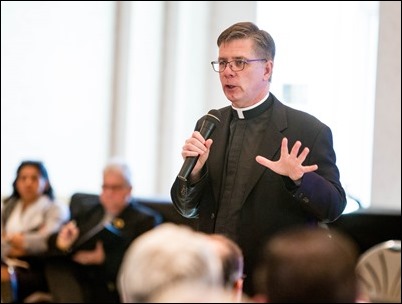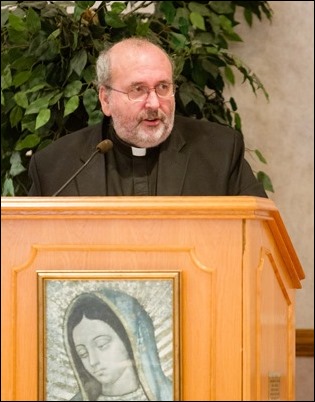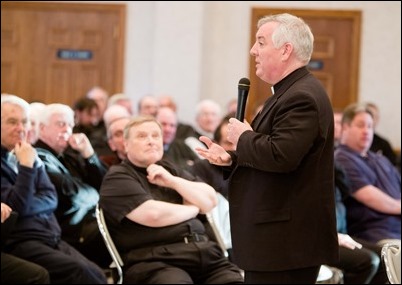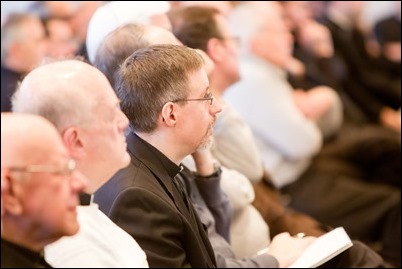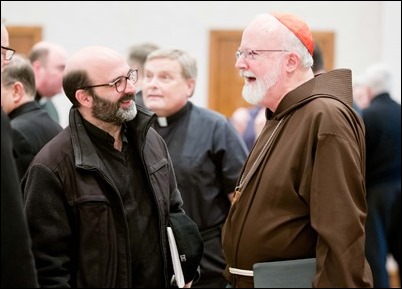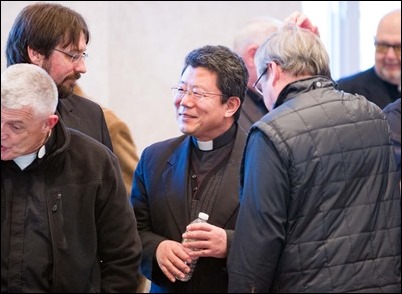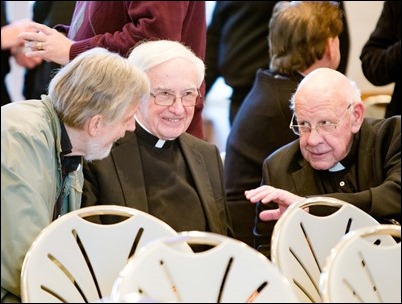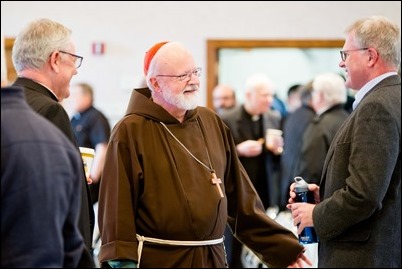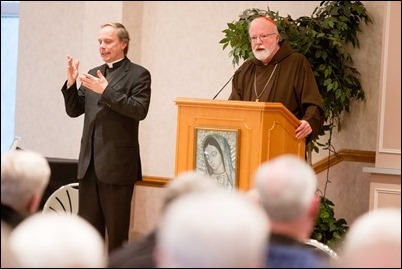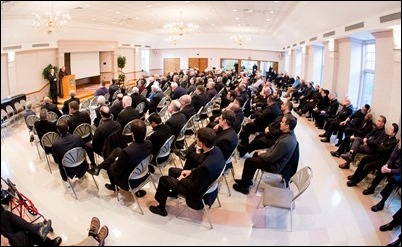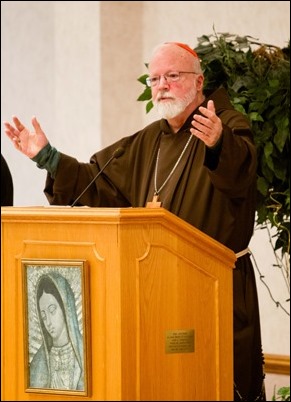 The convocation was well attended, and I was so pleased to see such a wonderful spirit among the priests. It was very helpful for me to get their input and see that the archdiocese is trying to be flexible in the implementation of this pastoral plan, trying to meet the needs of individual parishes.
---
Finally, yesterday I visited the Greek Metropolis in Brookline to join in their celebration of the Feast of St. Andrew. We celebrated Vespers, after which we had a collation with the priests and laity of the metropolis.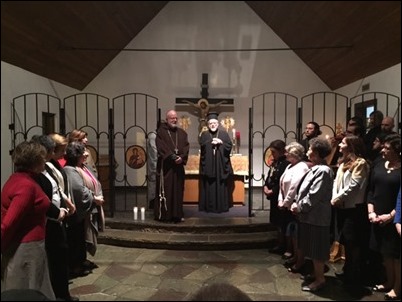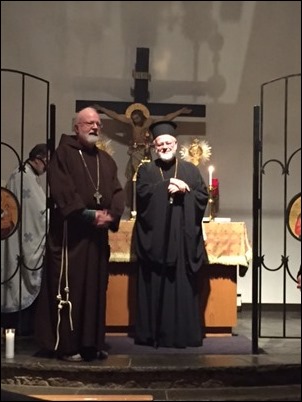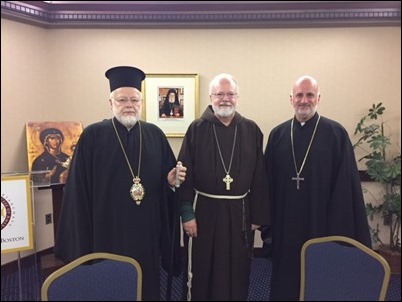 With Metropolitan Methodios and Father Christopher Metropolis, President of Holy Cross Hellenic College
There has been a long-standing tradition in Boston of the Catholics and Greek Orthodox attending each other's patronal feast days. This mirrors the practice of the Holy Father sending a representative to the Phanar in Constantinople to be with the Ecumenical Patriarch for the Feast of St. Andrew and the Patriarch reciprocates on the feast of St. Peter. (St. Peter and St. Andrew were brothers; St. Andrew is the patron of Constantinople and St. Peter of Rome.) This is a very important ecumenical moment and another indication of our strong relations with the Greek Orthodox community. I always value these moments to be together in prayer.
Until next week,
Cardinal Seán