Hello and welcome!
Each July, as events and meetings begin to wind down a bit for the summer, I like to invite some of our newly ordained priests to share the story of their life and vocation with you. This week I'm very happy to bring the first of those guest posts by Father Wellington Oliveira.
However, before I bring that to you, I would like to share with you a couple of important events that I had an opportunity to participate in this week.
First, on Saturday the archdiocese organized a rally for Hispanic youth at Fontbonne Academy in Milton. We had about 450 young people with us there.
The kids all looked wonderful in their blue T-shirts that said "Atrévete a Navegar Contracorriente" ("Daring to Swim Against the Current") and had the symbol of the fish, which of course in the Early Church was the symbol of the Christian because it comes from the acrostic of the Greek words "Jesus Christ, Son of God, Savior."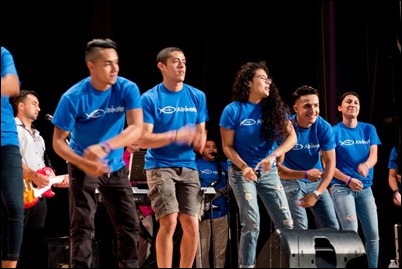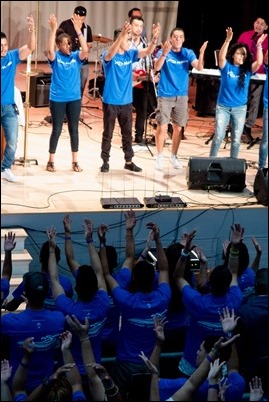 The program began in the afternoon with a Mass, which I celebrated.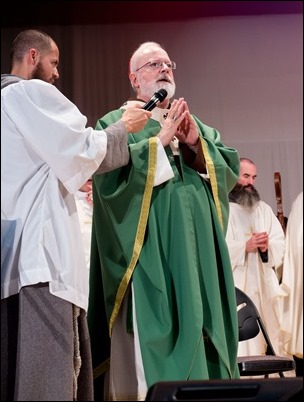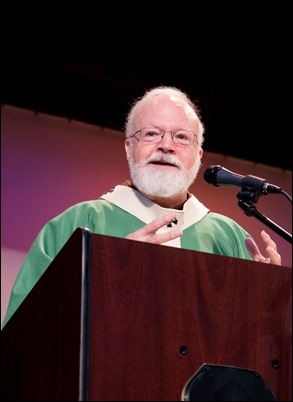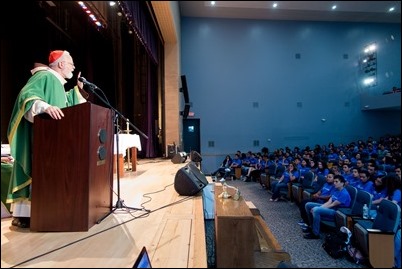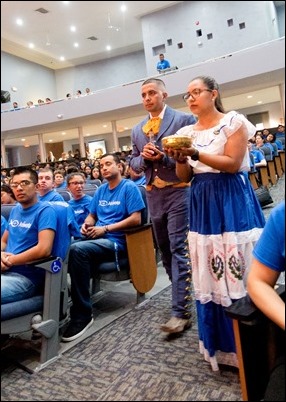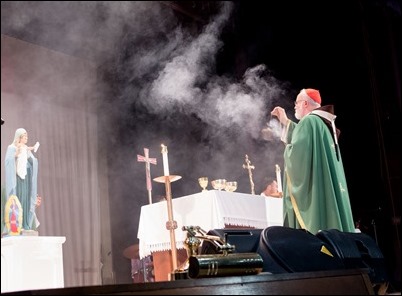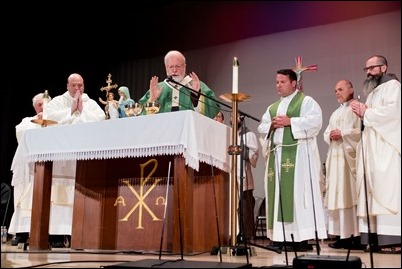 Then, following dinner, there was a play and other activities put on by the young people themselves and a witness talk by Azeneth Gonzalez, a Catholic musician and speaker from Mexico.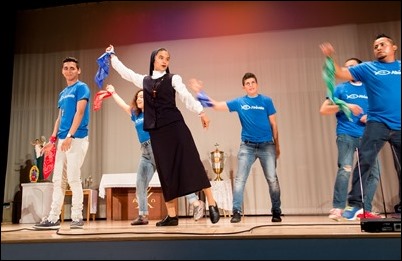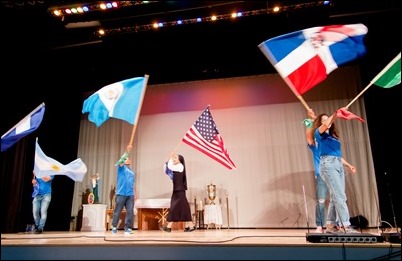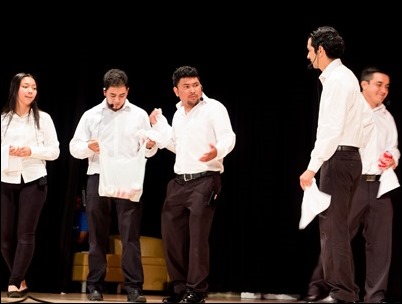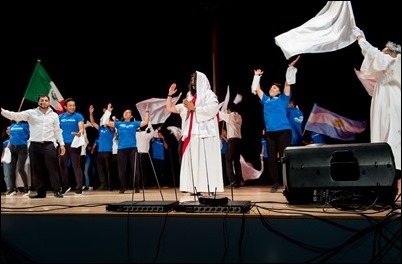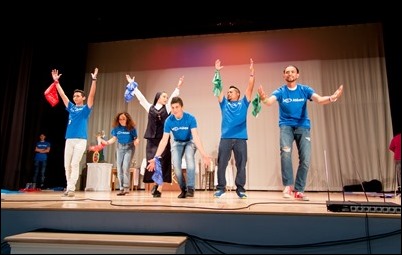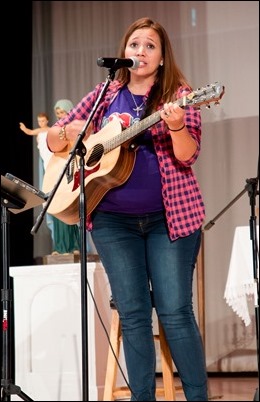 Azeneth Gonzalez
And then the evening concluded with a Eucharistic Holy Hour.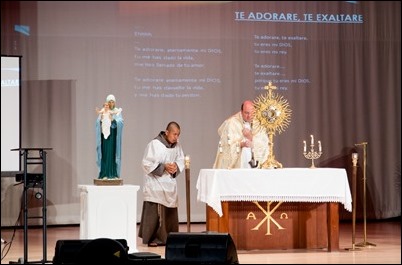 It was a wonderful experience. I was very pleased to have so many of our Hispanic young people join us particularly in light of two upcoming events: the Synod on Youth, Faith and Vocational Discernment and also the V Encuentro, which is going to focus very much on young Hispanics and second-generation immigrants. So, this was a wonderful preface for those events with the Hispanic community in our archdiocese.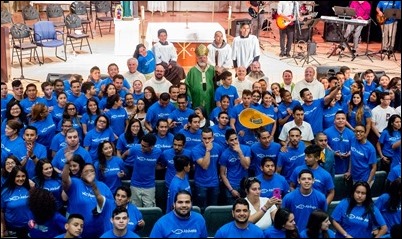 – – –
Then, on Tuesday evening I joined Mayor Walsh, Boston Police Commissioner Evans and a number of local faith leaders in a walk for peace in Dorchester.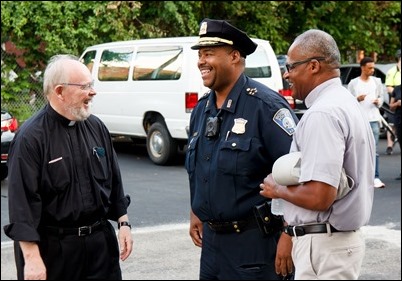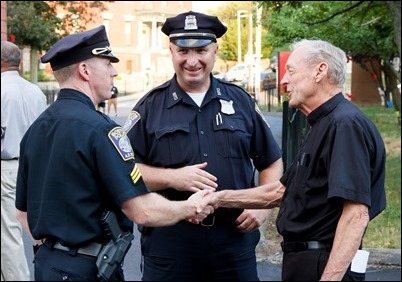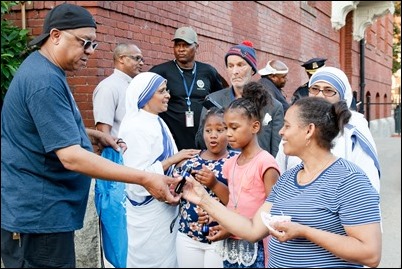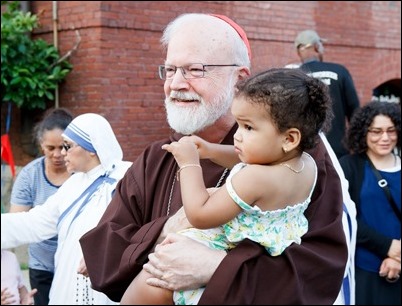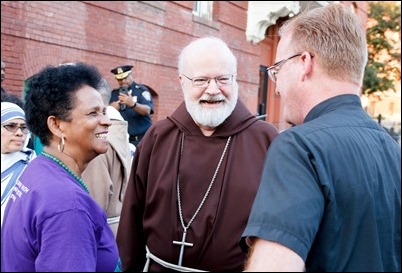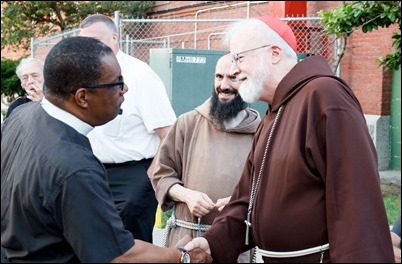 Along with a large group of residents, with us were Father John Currie, Father Jack Ahern, Father Doc Conway, Father John Connolly, Father Kevin O'Leary, Sisters of the Missionaries of Charity, Paulo De Barros of the Teen Center at St. Peter's, as well as a number of deacons, religious, Protestant pastors and local religious leaders. There were also many police officers marching with the people, underscoring the importance of working together with the police.
The walk began at Catholic Charities' Teen Center at St. Peter's with a prayer led by Father Currie.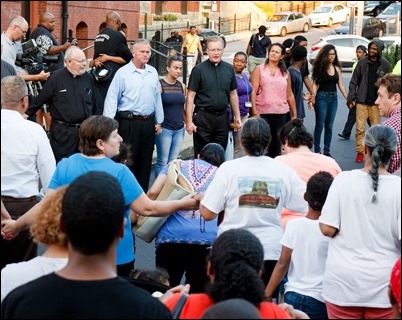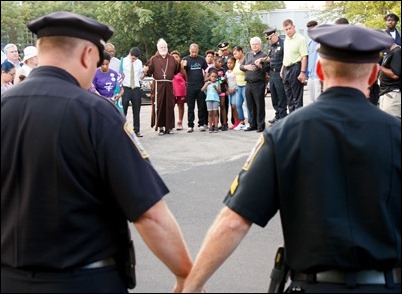 It was a very moving experience because many people on the walk had lost children or loved ones to violence in the streets of that neighborhood. There was also a call to turn in all the guns and other weapons that have caused such pain-and-suffering in the community.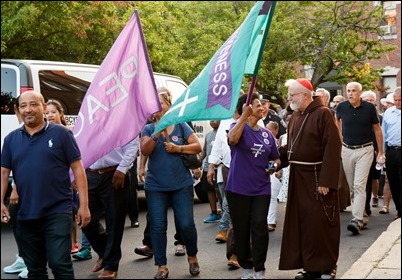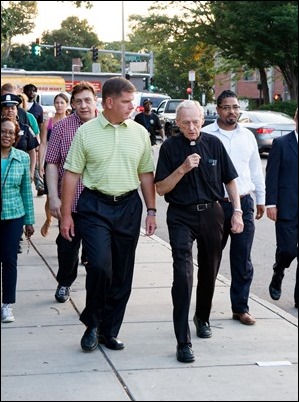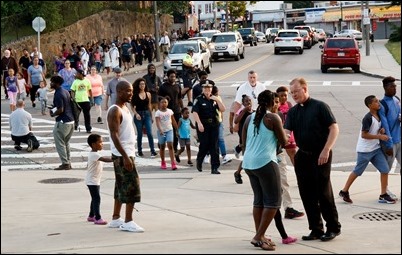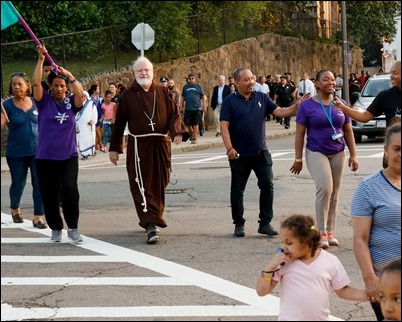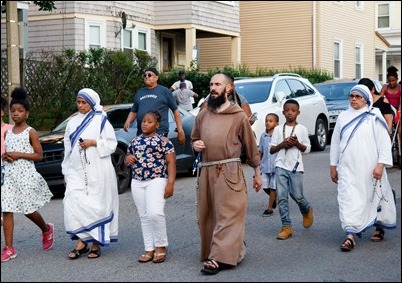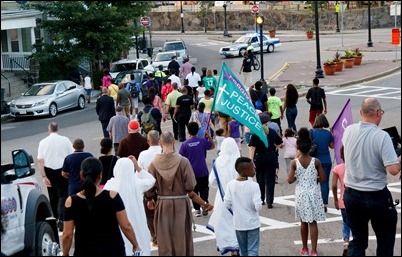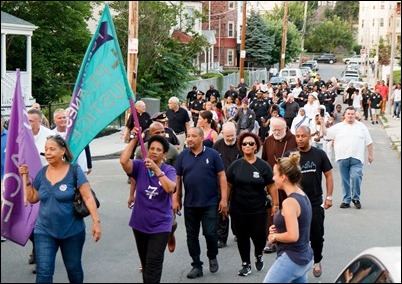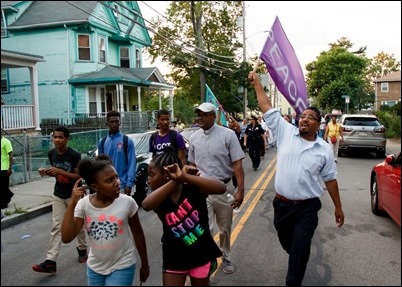 It was a very important witness on the part of the community.
– – –
Also this week I want to mention that, in light of the plan to convert St. John the Baptist in Salem, the Polish parish in the city, into a Shrine of Divine Mercy with a special emphasis on Pope St. John Paul II, I will be giving them the relic of Pope John Paul II that Cardinal Dziwisz gave to us following the beatification of the Holy Father.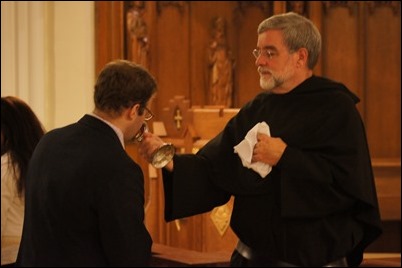 In today's world where shrines are taking on such importance, we hope the presence of this new shrine will prompt people who are disconnected from the parish and the life of the Church to go and seek contact with the Church and the sacraments through a pilgrimage experience. And we know that the theme of mercy is very resonant with people. For example, we saw what a wonderful impact the Year of Mercy has made in the Church, and the devotion of Divine Mercy that was so strongly promoted by Pope John Paul II has been a very important part of many people's devotional life.
So, we are very enthused about this new shrine, and I know the people in Salem are working very hard to make it a success.
And now, I leave you with Father Wellington —
– – –
My name is Father Wellington Oliveira and I was asked to write a little about the story of my vocation. I am one of eight priests recently ordained by Cardinal Seán and I was assigned parochial-vicar at St. Joseph Parish, Lynn.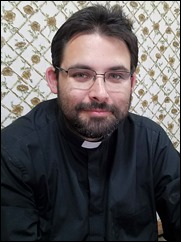 Although it was not easy to recognize my vocation, I am sure today that God has been calling me to the priesthood all my life. I did not accept it easily because all my friends and relatives had different priorities, and I felt obliged to be like them.
Growing up in Brazil, I remember the first time I told my father I wanted to be a priest. I was very young — no more than three years old — and my parents had a Marriage Encounter meeting in my house. The adults were all talking about what their children were going to be when they grew up, and my father asked me in front of them, "Do you want to be a policeman like me, a politician or a lawyer?" to which I replied, "I want to be a priest." He was shocked, and not the least bit happy about it.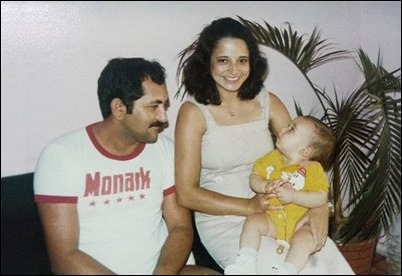 Even though I grew up like a prince in my family, I had a conflictive relationship with the Church. My father was not a churchgoer, and I was very attached to my mom — who was my unequivocal source of affection, security and approval.
My father was very strict but at the same time kind, generous and concerned with my health, my studies and my future. The dogma that he transmitted to me was, "you cannot fail." This statement relates to my life and the fact that I was adopted. In fact, some of my family members did not accept that my father would adopt me and in some way impressing upon me that I could not fail he both tried to protect me and also ease the path of the relationship with the relatives who were contrary to the adoption. For my father, what was important was that I became someone important and successful, which in his mind would protect me from any sort of rejection in the future.
My father taught me how to read when I was 3 years old and he sent me to school very early. Although he meant well wanting to protect me, in some way his efforts had pushed me away from him. The more he tried to dissuade me from the idea of becoming a priest, the more I became convinced that this is what God was calling me to do. At first, I wanted to enter the seminary in my early teenage years, but my father's strong opposition led me to postpone the decision until I was 27 years old.
In front of my father's disapproval about practicing the faith, my mother and I lived a clandestine life, going to church when he was at work, or when he would be busy with other things. In this way, my mother and I made sure that my younger brother and sister received the sacraments. I became an altar boy, then I joined the St. Vincent de Paul Society, and finally I joined the Religious Education program in my parish.
However, the idea of the priesthood began to wane as I entered my teenage years. For the next decade, I went to college, had several girlfriends and finally I began a career, first as a high school math and physics teacher, then as a public high school principal, and later as a computer programmer and director of technology. Little by little, the idea of the priesthood was becoming more and more like a childhood dream that had no continuity with my present reality.
In 2003, at the age of 23, while working for the Office of Religious Education of the Archdiocese of Brasilia, I attended a retreat for religious educators. I was not planning to go and had no specific reason to be there, but I went because of my mother's insistence. It was in this situation, being there with no desire and feeling no purpose to be there, that the Lord was waiting for me. I felt God speaking to me during the Lauds — more specifically during the Canticle of Daniel — and when I left the retreat, I was certain that God was calling me to go to the seminary. However, there was a serious problem that now stood on my way: I was in a serious relationship with a girl and felt that my career was just taking off. But, as my sister, Elida, reminded me after my ordination, just as I had been restless in life, so was God patient with me.
After the experience of the retreat, I realized that no job or relationship made me happy. My goal in life had been to be financially independent, not to depend on anyone. At this point, I was free of my parents and did what I wanted: I had my own house, was making good money and had a nice car. I also had a fiancée, had made plans to get married (twice!), but never carried through because I was unwilling to give up on my own freedom and lifestyle. I had studied Math, Physics, Enterprise Management, Computer Science and finally Law (although I never earned a degree in any of those subjects — something that made my father very frustrated!) At a certain point, just to fill the void of time and the lack of meaning in my life, I held three jobs, not because I needed the money, but because I could not love another person and live with the risk of being rejected.
In the midst of this mess in which I found myself, the Lord was yet again waiting for me, and he led me to listen to the catechesis of the Neocatechumenal Way in my parish in 2004. This was really the first time that somebody announced to me that God loves me as I am, that I did not need to do anything to deserve this love. They also told me that God had been always close to me, even when I rejected him.
In the beginning of 2006, I was promoted as director of technology in my job and I was transferred to the city of Porto Velho in Northern Brazil, in the midst of the Amazon forest. In Porto Velho I had a very strong experience. For the first time, I realized that I was completely alone, without anyone, either family or friends, and that neither money, relationships or success could fill the tremendous void that opened up inside of me.
Being away from home was dreadfully depressing. Yet, in the midst of this dark valley, I discovered that God was calling me to the priesthood and I heard his voice proposing a life that would make me happy with him, a life where I would find happiness, joy and peace. Little by little, I understood how important it was to be there, and without a doubt I understood what I had to do.
During the Papal visit to Brazil in May 2007, the initiators of the Neocatechumenal Way prepared a Vocational Meeting close to the Shrine of Our Lady of Aparecida, the Patroness of Brazil. After listening to Kiko Argüello's announcement of the Good News and the very words of St. Paul who said that God calls the weak to confuse the learned, it all became clear that God had prepared everything for me to surrender my plans and my projects and go to the seminary.
For the first time, as I opened myself to do the will of God, I glimpsed at freedom and, after attending a meeting for seminarians in Italy, I was sent to the Redemptoris Mater Archdiocesan Missionary Seminary in Boston.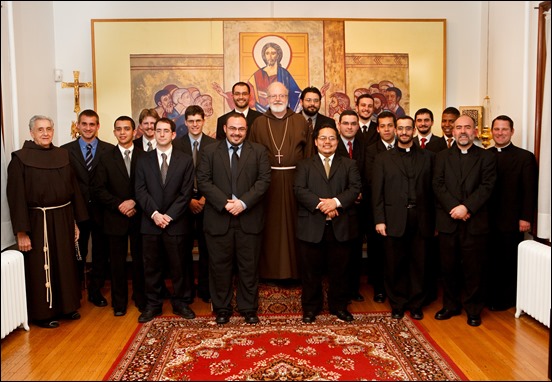 A visit by Cardinal Sean to the seminary in 2009
Later, as part of my priestly formation, I spent three years in mission in Colorado, which helped me to see firsthand the power of God acting in the lives of so many people. I am a witness that God can restore health and dignity to young people who were dependent on drugs, that he can heal rebellious hearts like mine, but also rebuild marriages and give people the strength to live suffering and to accept and carry their crosses. My time in mission in Denver remains a powerful memorial of how the Lord acts concretely in the lives of people.
It was while I was in Colorado that God had reserved for me one of the most painful trials I had ever passed through in life. In 2013, after suffering with a previous heart condition, my mother died from an infection that she contracted in the hospital after an otherwise successful heart surgery.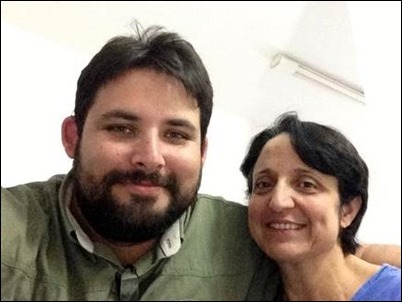 My mom
Although I was mourning the loss of my mother, I also experienced the love of God and the tenderness of the Church during this difficult experience. In her dying, it was as if a part of me also died, leaving in me a void that nothing could fill.
The very first phone call I received was from my rector, Father Tony Medeiros, who told me something I will never forget: "As you go and mourn the death of your mother, who was only 56 years old, go also to show faith to your family and be grateful to God for the gift of having had the best mother in the world for 33 years of your life. You will see that God will turn your mourning into an experience of resurrection and hope."
Even though I had not been in Brazil for most of the time that she had been hospitalized, I was very moved to see that, in my absence, the Church was always there with her. There was always a priest at her side, giving her the sacraments, helping my family with a word, and being present to them. Some of the priests I knew, but there were others that I did not know, and they all showed me tremendous love and affection as they served my mother and cared for my family. I also will never forget the love and support of both my Neocatechumenal communities from Brasilia and from Immaculate Conception Parish in Revere, how the brothers and sisters accompanied us with their prayers and presence throughout this ordeal.
As the Lord has confirmed his call of love to me, I want to be for other people what those priests were for my mom, for my family and for me. The Redemptoris Mater Seminary and my Neocatechumenal communities were fundamental to allow me to discover that Christ destroyed death for me, that God has a plan of salvation for me and for everyone, and therefore everything is grace — even suffering.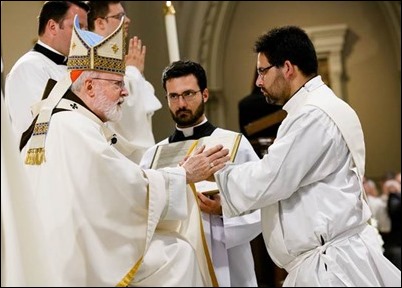 When I first came to Boston, it was difficult to accept that I was leaving my home, my friends and my country — and coming here to serve others! Now, this is what I am most looking forward to. I am grateful to the Lord that He has entrusted a mission to me, to go announce to others that death has been destroyed and that his love alone can rebuild our lives. I see my assignment as a Parochial Vicar of St. Joseph's Church as a gift and an opportunity to give a little bit of the much that I have received in life.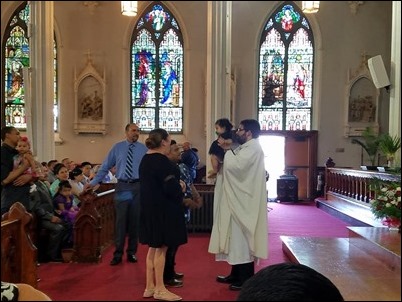 I am still getting to know the people at St. Joseph's and I look forward to visiting the sick, the elderly, or anyone who is in need. As God has done for me, I too want to show them that the Church is close to them — that Christ is close to them. Pray for me that I may be faithful to my calling and joyful in my mission.
– Father Wellington