Hello and welcome,
As a citizen of the United States and a Catholic bishop, I am saddened by the Supreme Court decision on same sex marriage.
The institution of marriage understood in its human, moral and legal dimensions is a fundamental building block of any society. The protection of marriage and families is a shared responsibility for all of us.
In a pluralistic society we inevitably face disagreements about important political and legal questions. But our division over this question in its moral, political and legal significance is particularly painful.
Certainly every citizen of this land, regardless of their sexual orientation, deserves to be respected in their personal and civic life. But enshrining same sex marriage in our constitutional system of governance has dangers that may become fully evident only over time.
I can only express my disappointment with the decision and invite members of my own religious community to remember and reaffirm the fundamental truths of our faith about marriage. At the same time, faced with a decision that embodies a quite different understanding of the meaning of marriage than held by the Church, we should as citizens and Catholics both protect our own deeply held values and participate with civility and charity in the continuing national discussion about this decision.
– – –
Last Saturday, the Portsmouth Institute at Portsmouth Abbey in Rhode Island held their Summer Conference, which focused this year on the ministry of Pope Francis.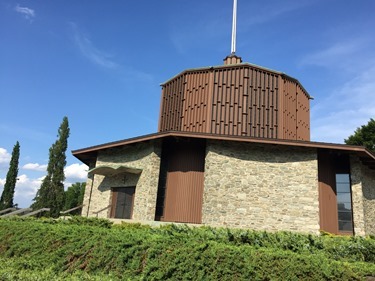 The conference was sponsored by Portsmouth Abbey, the Benedictine's St. Louis Abbey, as well as the Portsmouth Abbey School.
I attended the Vespers service and then delivered the evening keynote talk on Pope Francis.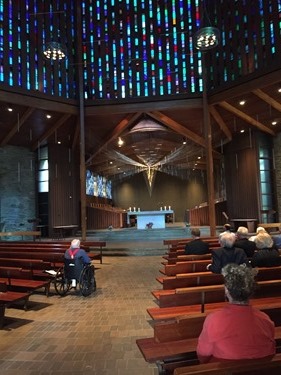 The conference included many fine speakers including Ross Douthat and John Carr, who formerly worked with the USCCB and is now at Georgetown University.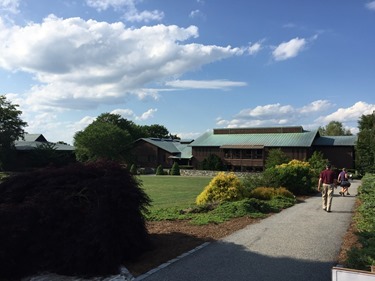 During my visit, I ran into Deacon Tim Flanigan, the doctor who had been in Liberia working to reopen the Catholic hospitals during the Ebola crisis. I was very happy to have seen him.
– – –
Saturday, here at the Cathedral we had a Family Day Festival, which was very lively. They started with Mass and then had an outdoor festival with food and a concert.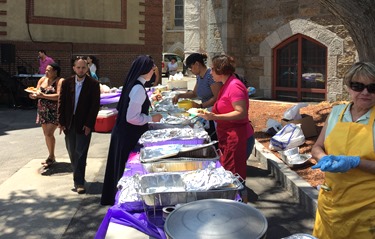 – – –
Then, I celebrated a Mass with members of Opus Dei to mark the 40th anniversary of the death of their founder, St. Josemaría Escrivá.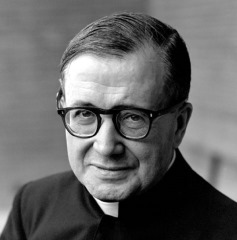 In my homily, I reflected on one of the themes of the Second Vatican Council: the universal call to holiness, which was a very important part of the spirituality of St. Josemaría. Of course, it was also an important part of the spirituality of Pope John Paul II, who canonized about 500 saints and beatified over 1000 others. I talked about how many of these saints who lived closer to our time have had a great impact on us, and that it is an encouragement to realize that we are all called to a life of discipleship and holiness.
– – –
That afternoon, I went to St. Columbkille's in Brighton to celebrate the candidacy of seminarian Tom Olson, who studies at St. John's and has been working at that parish for the last couple years. Admission to candidacy is the last major step a man takes before being ordained a transitional deacon and then a priest.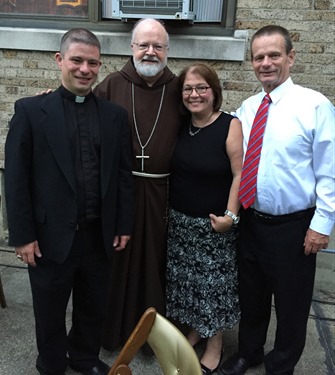 His parents and a number of his classmates were there for the occasion, along with a large number of the young adults that he works with at the parish.
– – –
Sunday, I went to St. Lawrence Church in Brookline to celebrate a Mass at which we instituted three new lectors and two acolytes from the Redemptoris Mater Seminary. The ministries of lector and acolyte are what we used to call the "minor orders" and mark important milestones on the path to priesthood.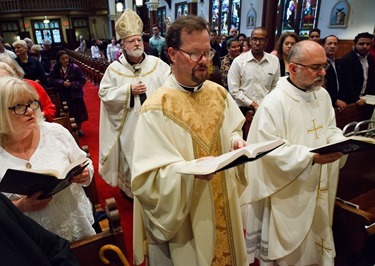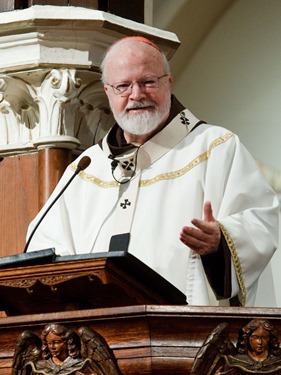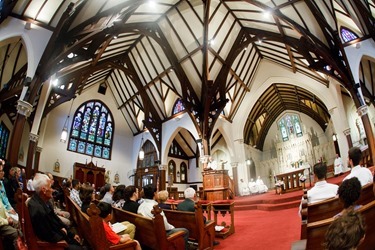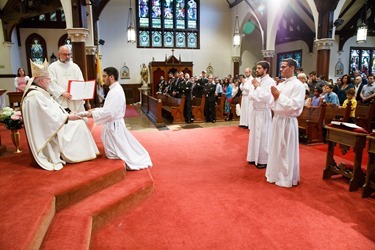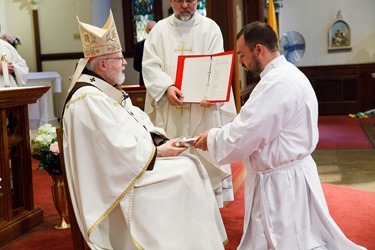 – – –
That evening I attended a prayer service at the Bethel AME church in Jamaica Plain held in remembrance of the victims of the church shooting at the Emmanuel AME Church Charleston, South Carolina. I was asked to give the opening remarks for the service.
The church was just packed and there was a great cross-section of clergy from around the city, including a rabbi and an imam.
I think it was an important event to come together to show solidarity. We pray that these tragic and violent racist acts will end.
– – –
Each year, we have a spring retreat for our seminarians who come together from the different seminaries. This year our retreat was held at the Franciscan Guesthouse in Kennebunkport, Maine.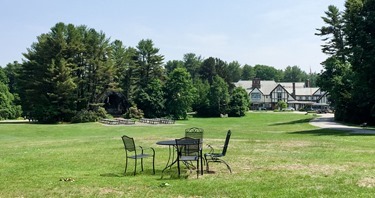 It's always a great experience to have all the seminarians together – those who study in Rome, at St. John's, at Redemptoris Mater and Our Lady of Providence.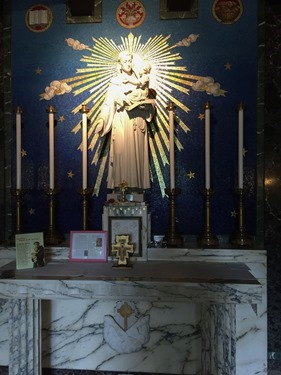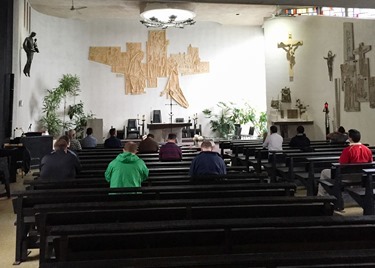 – – –
On Wednesday, we had a Mass at the Pastoral Center to honor the priests and brothers in the archdiocese who are celebrating their 25th anniversaries this year. In all, there were nine priests and two brothers celebrating their silver jubilee.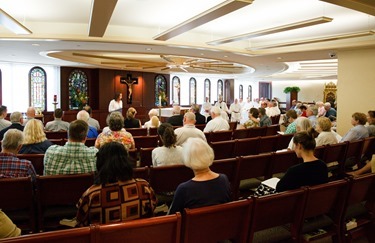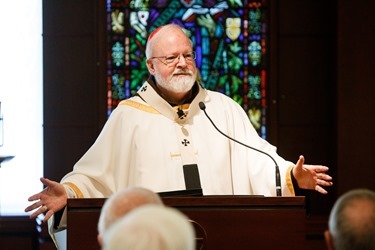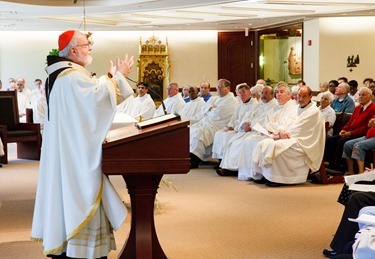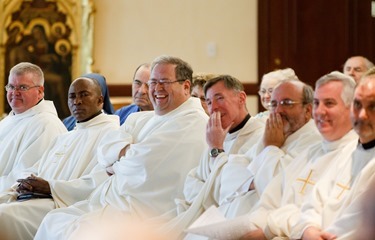 We were joined by many other priests and several of our auxiliary bishops for the occasion.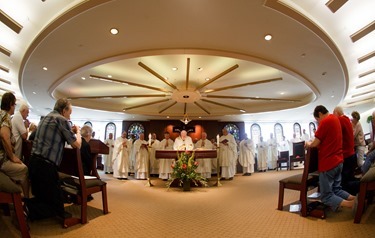 Afterwards we gathered for lunch.
– – –
Then that evening, we had one of our regular meetings of priests ordained within the last five years. We gathered together for a holy hour and dinner.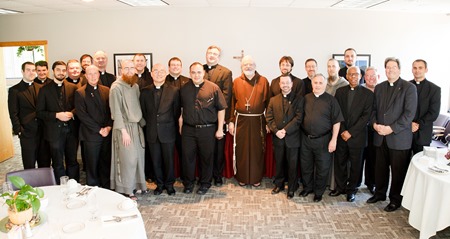 During our gathering, we always like to talk about different aspects of spirituality and ongoing formation. This time, among the topics we discussed was the Holy Father's new encyclical on the environment.
Until next week,
Cardinal Seán