Hello and welcome!
I hope you are all having a good start to the summer.
As I mentioned in my post last week, as I usually do this time of year, I have asked two of our newly ordained priests to introduce themselves to you through a guest post on my blog.
Last week, we heard from Father Karlo Hocurscak, who attended St. John's Seminary and this week we have a post from Father Mark Storey, who attended Pope St. John XXIII Seminary in Weston.
– Cardinal Seán
– – – – –
Hello everyone!
I'm Father Mark Storey, but please feel free to call me Father Mark.
I was born in Montreal just shortly after the melting of the northern polar ice caps, and I grew up in southern Ontario in the city of Hamilton, Grimsby which is close to the city of St. Catharines and Niagara Falls in southern Ontario.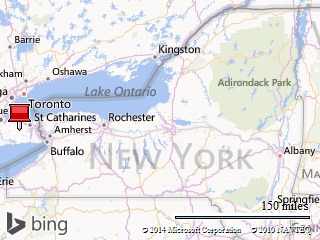 In my late teens, my family moved back to Montreal for two years, just prior to moving to the Boston area in 1973. At that time we lived in Needham, right next door to Dedham. By the way, because inquiring minds want to know, I am a Boston Bruins fan, although I haven't had much time to watch the game over the past four years.
I studied Chemical Engineering at Northeastern University where I received a B.Sc. and M.Sc. in Chemical Engineering. Shortly afterwards, I joined an old historic Boston company with its origins in the mid 1800s, The Badger Company, located in Cambridge, where I worked with a great group of scientists, engineers and dear friends until the time that I left in 2010 — about 30 years.
The Badger Company specialized in the design, construction, startup and licensing of large commodity chemical plants, as well as refineries. Most of my work life involved projects and travel to the Far East, specifically in Korea, Japan, Taiwan, China and South Africa for projects.
I have been married twice, the first time in 1982, and the second in 1992. I have a 28 year old daughter from my first marriage, Elizabeth, who lives at the family home on the South Shore. My first wife, Sandra, died in 1989 after a lengthy battle with metastatic cancer. Elizabeth was three years old at the time. My second wife, Mary Catherine, died in 1999 after extensive complications from diabetes and an almost two year period of time in nursing homes and hospitals. I believe that they have both gone to our true home, which is in heaven, and that they are praying in support of my vocation to the priesthood.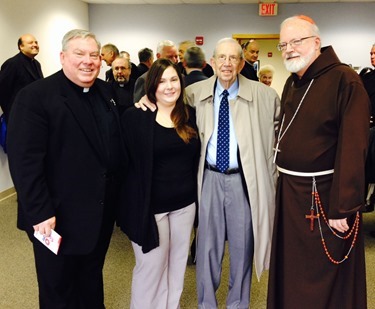 Cardinal Sean with my family
As for my faith life, I grew up in the Anglican Church in Canada and I remember as a youth regularly attending each Sunday morning. I was baptized, but not confirmed. It was convenient to attend each week since we lived right next door to the church. My mother sang in the adult choir and I sang in the children's choir. But something happened in my life during my late teenage years and twenties. Either I grew complacent or perhaps just plain lazy, but I stopped going to church on a regular basis. I was searching for something, but I didn't know just what. I certainly still believed in God and, if anyone were to ask me, I would have said that I was spiritual, but there was something lacking. There were even flirtations with other Christian denominations, which I attended only sporadically but I certainly had fallen away from any weekly praise and worship.
It wasn't until my first wife Sandy died that I was suddenly shocked into the reality of being a single parent caring for a young child. As I mentioned previously, my daughter was three years old at the time. I realized that it was up to me, and me alone, to teach Elizabeth about the Christian faith. I was scared and I didn't know how or where to begin. I prayed one afternoon for God to help me make the right decision. I remember like it was yesterday, that I committed my life to him if only he would help me. Soon thereafter, I began going back to church on a weekly basis, without missing a beat — first to the local Episcopal church, and then later with my fiancée, Mary, to the Catholic church in Hanover.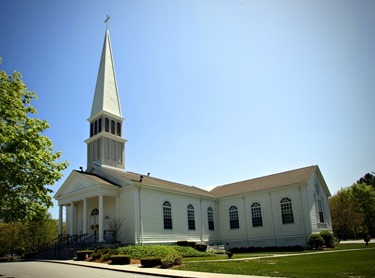 St. Mary's, Hanover
At St. Mary of the Sacred Heart Parish in Hanover I was immediately drawn to the beauty of the liturgy and the welcoming community and pastor there. At long last, I had found my new home. I entered RCIA (Rite of Christian Initiation for Adults) and at the Easter Vigil 1992, I was officially confirmed into the Catholic Church, and Elizabeth was baptized.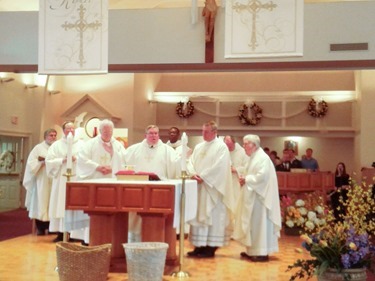 Celebrating a Mass of Thanksgiving at St. Mary's Hanover in May. With me at the altar are  Fr. Alfano, Deacon McLaughlin, Deacon Joy, Bishop Dennis, Fr. Chris Hickey, Deacon Harrington and Fr. Henry Doherty
They say that "Man Plans and God Laughs." Well, after Elizabeth graduated from Emmanuel College, I had thoughts of retirement and living part of the year in Florida and the other half in Massachusetts.
My plan. But God had a very different idea for me.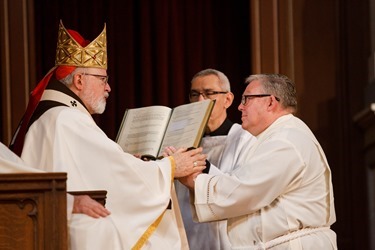 My vocation came very suddenly when one Friday evening I was praying in front of the Blessed Sacrament, and in a flash I just knew, I received an incredibly strong call that God was inviting me to study for the priesthood of Jesus Christ. Within a month, I was meeting with the Vocations Director for Boston and I entered Pope St. John XXIII National Seminary in Weston, in August 2010.
During my studies, I have been assigned to some great parishes with some wonderful priests, and friends. My assignments took me to St. Agatha Parish in Milton, St. Mary's Parish in Franklin, the collaborative of Sacred Heart and St. John's Parishes in Manchester-by-the-Sea and Essex, and last year to St. Catherine of Alexandria in Westford.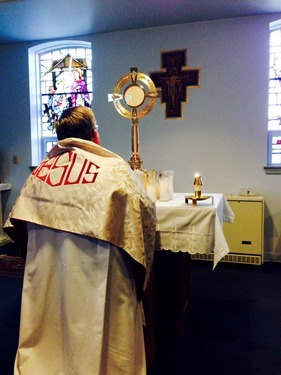 Besides my seminary professors and pastors who helped in my formation, I have several friends who have guided me along the path to my own priesthood and shown me great examples of what parish priesthood is like. They have mentored me and stood by me when times got tough. Specifically, Father John Carmichael, Pastor at St. Ann's in Marshfield, Father Chris Hickey Pastor of St. Mary's in Hanover and St. Helens in Norwell, Father Richard Curran in Somerville, Father Henry Doherty former pastor in Hanover and Father Martin Connor a longtime spiritual director at St. John's Seminary, who was my spiritual director before I entered Pope St. John XXIII National Seminary. In my opinion, the seminary Fathers, professors and staff are world class and all had a hand in taking "the likes of me" and forming me to become a priest of Jesus Christ.
I am very excited, and blessed to have been assigned to St. Mary's in Dedham by Cardinal Seán.  With the Help of God, I will always try to do my very best for each and every one there.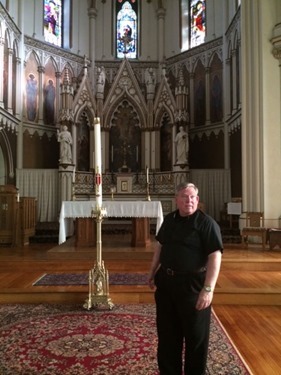 God Bless you All,
Father Mark