Hello and welcome!
This week, as we live out our Pentecost Novena, we pray for the spiritual renewal of our Church and we also hold up the Holy Father and the leaders from Palestine and Israel whom he is bringing together on Pentecost Sunday at the Vatican to pray for peace in that region that has suffered so much violence and instability.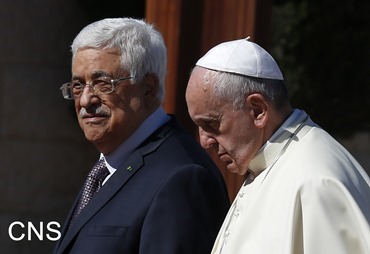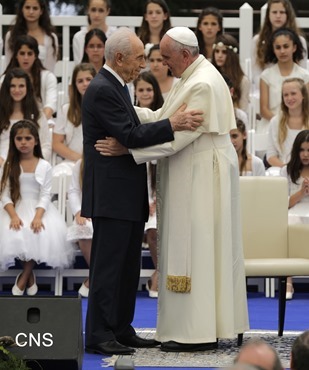 The Holy Father's visit to the Holy Land was a very important moment, not only for the historic significance and ecumenical dimension of our relationship with the Orthodox Church but also because the Holy Father served as a messenger for peace and reconciliation.
His invitation to President Simon Peres and President Mahmoud Abbas was a surprise to all but, of course, our Holy Father is the man of surprises. Hopefully this initiative will have a positive impact, similar to the impact his call to prayer and fasting for Syria had last September.
– – –
Friday, I went to New York for the American Cardinals dinner that is held each year in a different part of the country to raise scholarship money for students at Catholic University of America.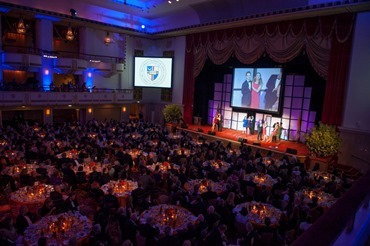 The dinner was held at the iconic venue of the Waldorf Astoria
Several of those who benefit from these scholarships are students from our own archdiocese. This was the 25th anniversary of the Cardinals dinner. It was a great success. They raised over $2 million, the largest amount of money raised in the 25 year history of the dinner.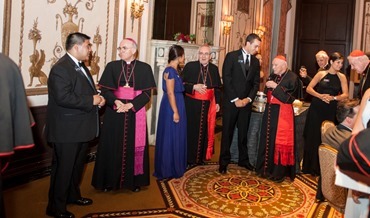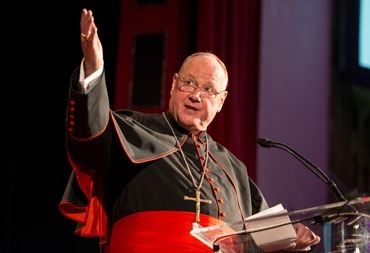 Cardinal Dolan was the host of the dinner this year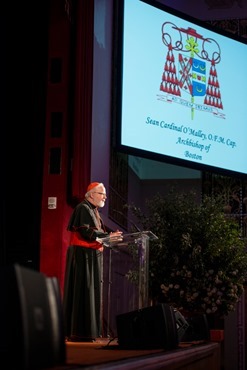 Charlie Rose served as the master of ceremonies for the evening, Cardinal Timothy Dolan warmly welcomed everyone and of course, President John Garvey also spoke at the dinner.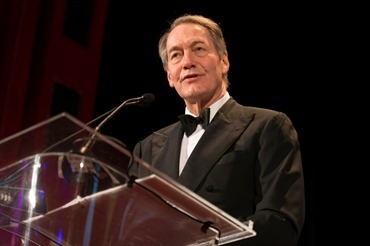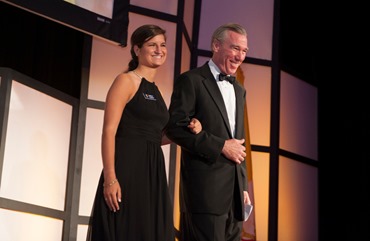 During the evening the Cardinal's Appreciation Award was given to Thomas Moran, president, chairman and CEO of Mutual of America.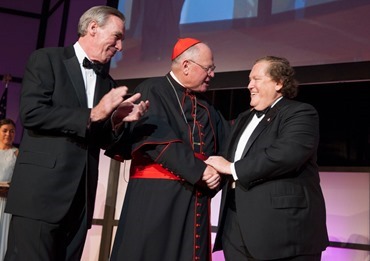 A group of CUA students provided wonderful entertainment for the evening with a musical presentation singing "New York, New York" and other numbers.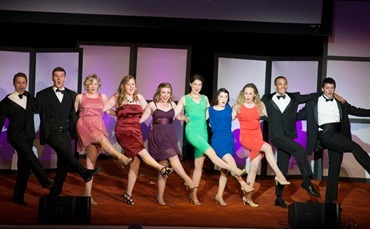 – – –
Saturday morning we went to Yonkers for the ordination of Father Matthew Janeczko. I also ordained two deacons, Michele Vricella and Victor Garcia.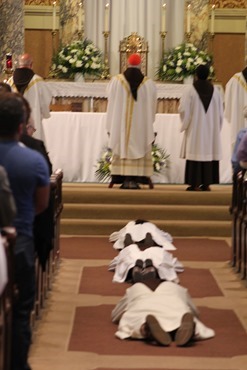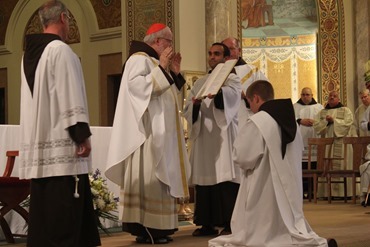 Father Matt has been working as Deacon at Gate of Heaven Parish in South Boston. So, a number of Boston priests and a bus load of parishioners from St. Brigid/Gate of Heaven were present for the ordination.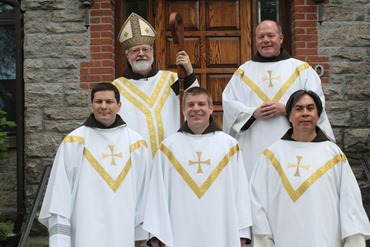 – – –
Being in Yonkers, I took the occasion to have lunch with Msgr. Lorenzo Albacete who was in great form.
He has had some challenges to his health, but he is doing very well and he is anxious to continue his theological and intellectual pursuits.
Msgr. Lorenzo is a longtime friend, who for many years was the head of the Communion and Liberation movement in the United States. He was a very close friend of Msgr. Luigi Giussani, the founder of Communion and Liberation. He is a theologian and lecturer, a man of great talent with a very zany sense of humor.
– – –
Sunday we returned to Boston to celebrate the 50th anniversary of St. Paul's Choir School in Cambridge.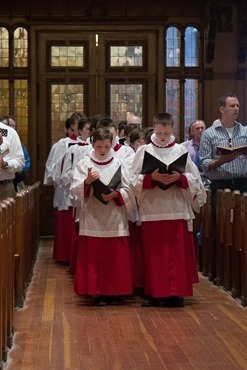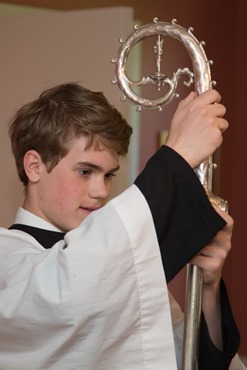 The choir sang Mozart's Coronation Mass, which was absolutely stunning.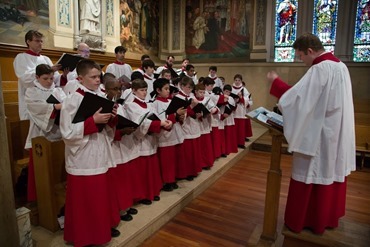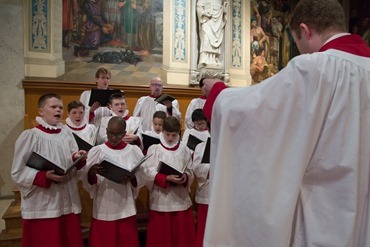 That is a difficult Mass and not one that is often sung in the liturgy because it so long. Sometimes it is sung more as a concert piece, but it is one of my favorite Masses. I was very pleased that they had chosen that for the occasion. (I think they know how much I like it.)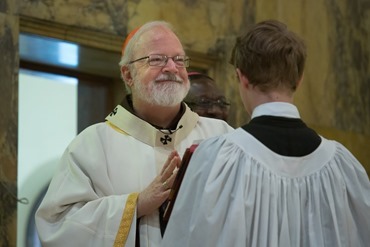 The students from the Choir School were also the acolytes at the Mass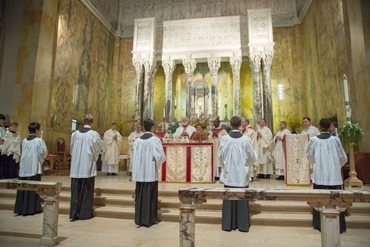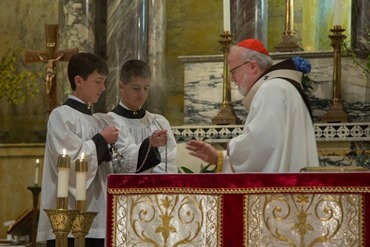 It has been interesting, as I have been celebrating the 50th anniversary of different parishes and organizations to see how many wonderful projects Cardinal Cushing began. The choir school is one of those and we are certainly the beneficiary of that.
– – –
That afternoon I had a gathering with members of the Catholic Appeal's Cardinal's Leadership Circle at the home of Kevin and Rita Gill in Hingham.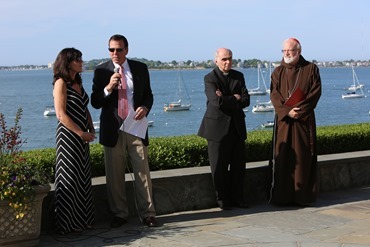 Kevin and Rita along with Father Bryan and myself
They were very gracious in opening up their house to us. They live right on the water. It was a stunning venue.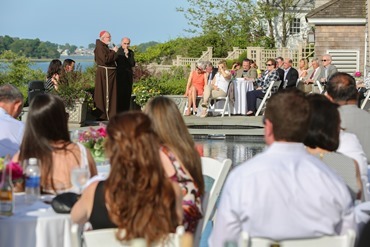 These gatherings are opportunities for us to discuss ways in which benefactors support the work of the Church in Boston and learn how they can be involved in bringing Christ's mercy and care to those in need.
So, during our gathering I gave a brief talk to them about the new evangelization and Father Bryan Hehir spoke about Catholic Charities and social mission of the church followed by a brief period of questions and answers.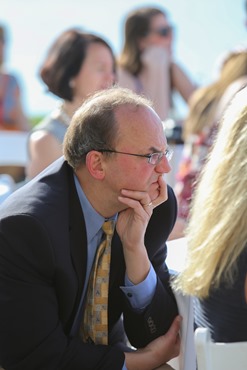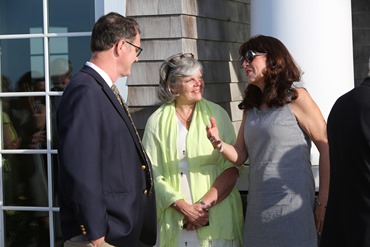 It was a lovely afternoon. We are grateful to Kevin and Rita for all that they do for the Church and for hosting this event to encourage participation in Christ's mission.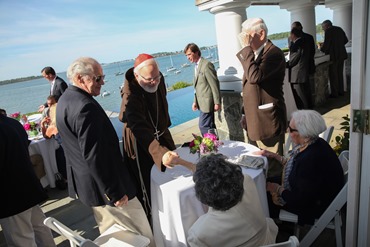 – – –
Monday, we had our board meeting at St. John's Seminary. The seminary is doing very well. The board is a very active and engaged board. Msgr. Dennis Sheehan has been named vice chair of the board and we welcomed Jack Shaughnessy on the board at this meeting.
– – –
On Tuesday I met with the ambassador of the Dominican Republic to the United States Anibal De Castro along with their consul who is Luis Fortuño, the former governor of Puerto Rico.
They came to speak to me about the legislation that President Danilo Medina has put forth in Santo Domingo to try to correct some of the terrible situations that have been provoked by their Supreme Court's decision regarding the status of immigrants from Haiti in the Dominican Republic.
The legislation seeks to be able to recognize people's citizenship. At the same time the president has also called for an amnesty for all undocumented people in the country. I thought one of the interesting aspects of that legislation was that they were providing all of the services for free.
Obviously, it's very sad that the Supreme Court of the Dominican Republic disenfranchised so many of their own Dominicans of Haitian extraction but it is very encouraging that the government is trying to remedy that situation. Hopefully, their legislation is allowing people enough time and will facilitate the aid that people will need in the process. I would also hope that the Catholic Church will be able to be of help.
Attorney Fortuño said that when they presented their amnesty proposals to members of our Congress, many people there were happy, and so they wished that the U.S. Congress would do something similar.
I was very pleased to hear that, because Mr. Fortuño is himself a Republican — and it is within the Republican Party that we are finding some resistance to even letting legislation go forward.
So there is an interesting connection between the crisis in the Dominican Republic provoked by their court's decision and our own inability to deal with the immigration crisis that we face here. In the last few days the papers are full of articles about unaccompanied minors entering the United States and many of the tragic incidences around the smuggling of children into this country.
– – –
Wednesday, Braendán Ó Caollaí, Consul General of Ireland came to visit me.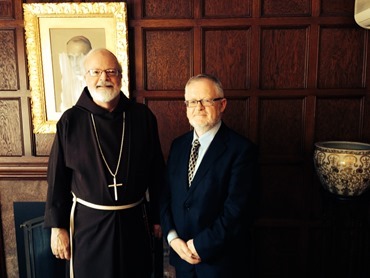 We were so happy Mary Travers made him some Irish soda bread that he enjoyed very much with his tea. Once again the topic of immigration took up much of our discussion. The Irish government is also interested in reform to the U.S. immigration system and is watching it closely.
The consul general is a parishioner at Gate of Heaven Parish and his wife was one of the readers at our St. Patrick's Day Mass at the Cathedral where she read in Irish. He told me that they all agreed that there was as much Irish spoken at our liturgy for St. Patrick's Day here in Boston as there would have been at the Cathedral in Dublin! Of course, I proudly pointed out that it was in great part because of the presence of students of Catholic Memorial High School who are studying Irish and who took part in the liturgy.
Until next week,
Cardinal Seán