Hello and welcome!
This coming week, we will be marking the first anniversary of the election of Pope Francis. I think everyone will agree that it has been a year filled with excitement and surprises.
This week I sat down for an interview with our archdiocesan newspaper, The Pilot. I will not include it here because it was very extensive but I invite all of you to read it here: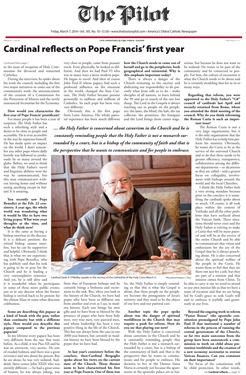 – – – – – – – – – – – – – – – – – – – – – – –
Last Thursday, I was visited by the new Consul General of Israel to New England, Yehuda Yaakov.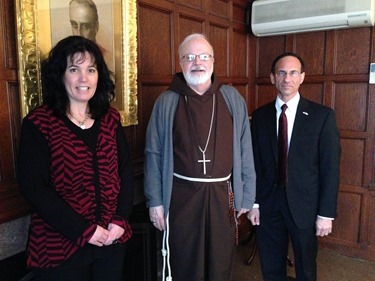 With Consul Ronit Nudelman-Perl and Consul-General Yaakov
He has a very long-standing relationship with the Catholic community and was anxious to make contact with the archdiocese and discuss ways that we can work together on issues of mutual interest. Of course we also spoke about the Holy Father's upcoming trip to the Holy Land.
He gave me the gift of the book "Children of Israel."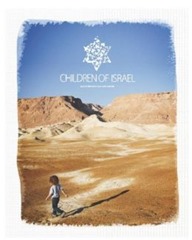 – – – – – – – – – – – – – – – – – – – – – – –
This past Friday, I attended a breakfast gathering of business leaders at the BC Club hosted by Brian Concannon, Patricia Dinneen, Kevin Gill, and Joseph Petrowski.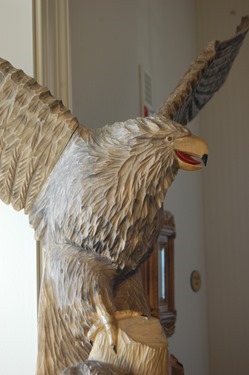 I was grateful for the presence of those who came to hear about the importance of lay participation in light of the challenges and opportunities facing parishes in our Archdiocese today. The support for Disciples in Mission and our efforts to sustain parishes as Eucharistic communities of faith and witness was very positive. I look forward to continuing this conversation as we share the good work of our Archdiocese with other business leaders and other key stakeholders in the future.
– – – – – – – – – – – – – – – – – – – – – – –
Later that day, we had a Mass for the incardination of three priests coming to us from other dioceses, Fathers Succès Jean-Pierre, Gabino Macias and Linus Mendis.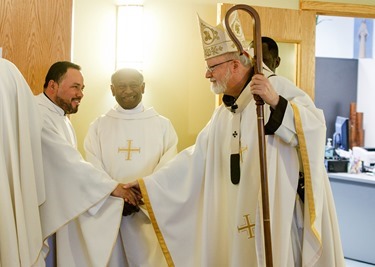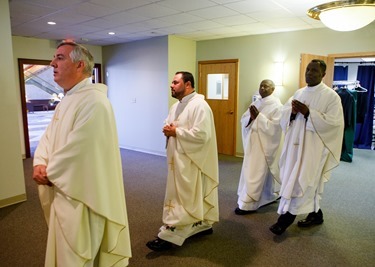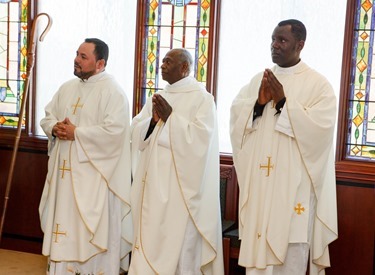 "Incardination" is the process by which a man becomes a member of the clergy of a diocese or a religious community.
Usually, when a man is ordained for a diocese, he belongs to that diocese for life. Even if he is allowed by his bishop to serve elsewhere even for years, for example in the missions, he is still under the authority of his bishop who can recall or reassign him.
Sometimes, though, a priest desires to move permanently from one order or diocese to another. If the bishops or superiors involved agree to the move, they will usually arrange a period of transition. The change becomes official when the priest is "excardinated" or removed from the rolls of his former diocese or order, and "incardinated" into the new one.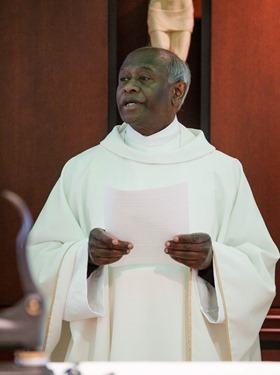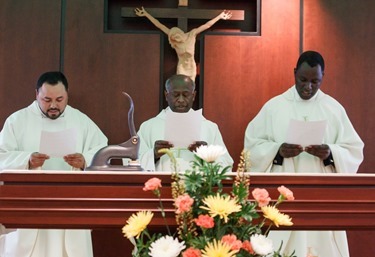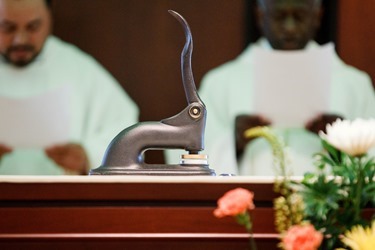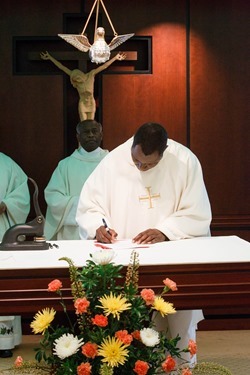 During the ceremony, the priest to be incardinated signs a document of incardination. I then sign it and impress a seal.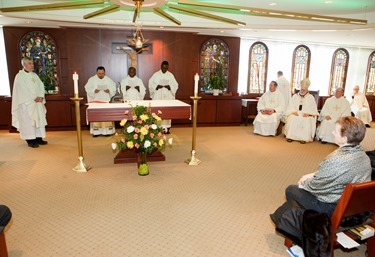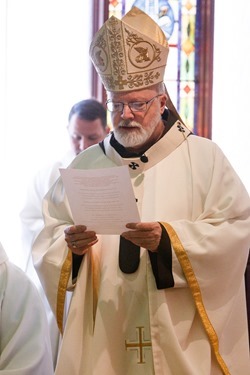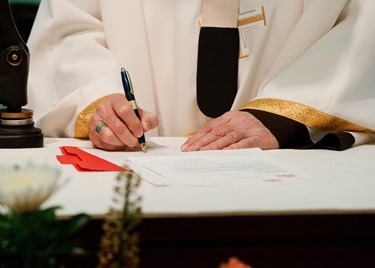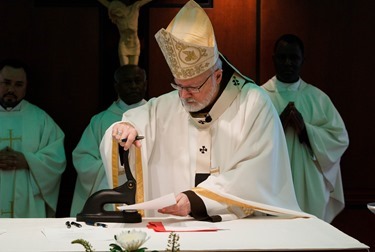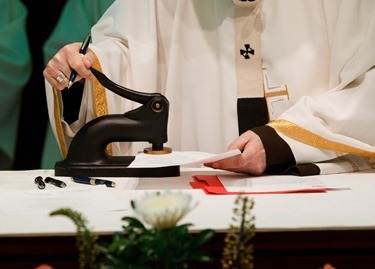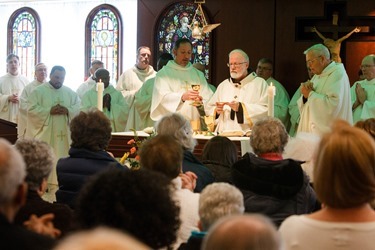 We are very grateful for the generosity and commitment of these men to serve the people of the Archdiocese of Boston. The Mass was attended by some of their parishioners, family and friends.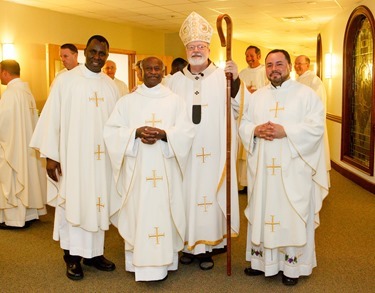 Afterwards, there was a luncheon to mark the occasion.
– – – – – – – – – – – – – – – – – – – – – – –
In response to increased concern over the level of gun violence in Boston, that afternoon we had a meeting with Boston Police Commissioner William Evans and the priests of the Central Region of the archdiocese.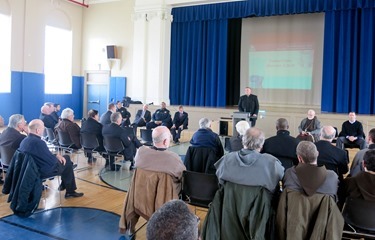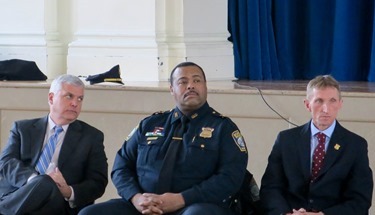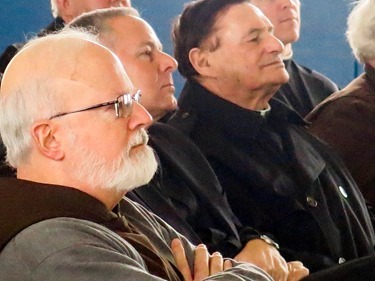 It was an opportunity to talk about how the Church can collaborate with the Police Department in getting guns off the street and encouraging members of the community to be more forthcoming in denouncing crimes and cooperating with law enforcement.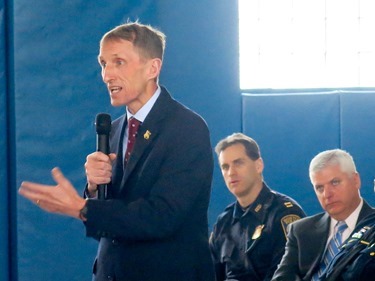 So often, people are intimidated and afraid to cooperate with the police. However, we will never be able to bring down gun violence unless we are able to get the people to collaborate with law enforcement. Good police–community relations are very important part of solving some of these situations of violent crime in the city.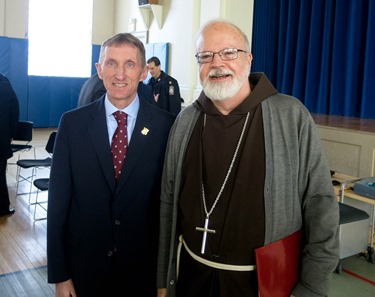 With Commissioner Evans
– – – – – – – – – – – – – – – – – – – – – – –
On Appeal Sunday, I typically like to go to two or three parishes to celebrate Mass to thank the people for their generosity and encourage their support of the Catholic Appeal. This year I went to celebrate Mass at three different parishes: St. Luke in Belmont on Saturday and St. Mary's in Lawrence and St. Michael's in North Andover on Sunday.
After celebrating the Mass on Saturday, I had dinner at St. Patrick's in Watertown.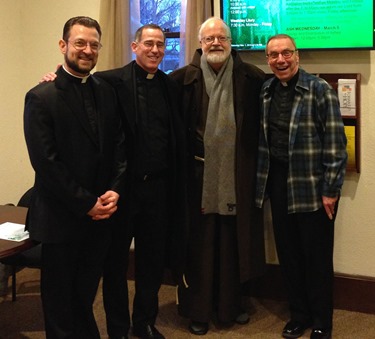 With Father Joe Mozer, Father Thomas Mahoney and Father Bob Connors, the pastor at St. Patrick's
– – – – – – – – – – – – – – – – – – – – – – –
That night, I flew to San Juan, Puerto Rico and drove to the city of Ponce. We arrived in the middle of the night to be there to celebrate the funeral Mass of an old friend and fellow Capuchin the next morning.
Father Francisco García, who was the former Custos (what we used to call the vice provincial) of the Custody of Puerto Rico, died after a short illness on February 27. I was part of that vice-province for 10 years when I was Bishop of the Virgin Islands.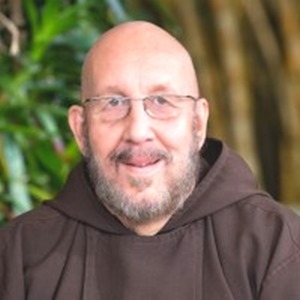 Father Francisco and I were in the seminary together, though he was a couple years behind me. He was originally from Cuba but came to Puerto Rico as a young man. He studied and became a Capuchin there and went on to do his theology studies in Washington. During his seminary years, he worked with me at the Centro Catolico.
He was always a very enthusiastic and energetic priest. During his ministry in Puerto Rico, he founded an AIDS hospice, which he led for 20 years, set up a number of social service programs for the poor and ran some of the largest parishes in Ponce.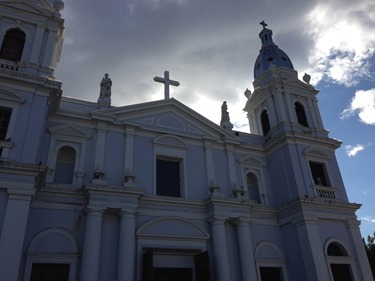 The cathedral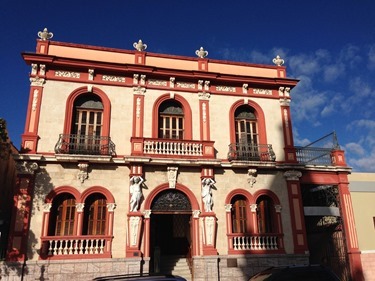 Right across the street from the cathedral is a very typical Puerto Rican colonial building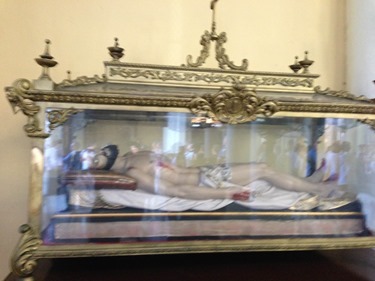 The statue of Cristo Yacente in the Cathedral which is carried in their Good Friday processions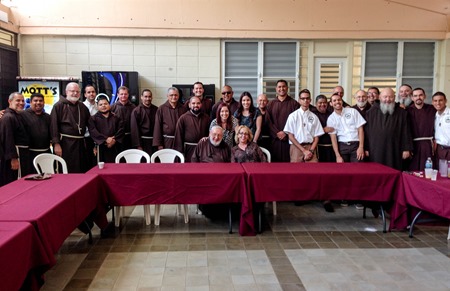 With the Friars after the Mass
– – – – – – – – – – – – – – – – – – – – – – –
Wednesday, of course, was Ash Wednesday. I celebrated the Mass in English here at the Pastoral Center at noon and then the Mass in Spanish in the Cathedral that evening.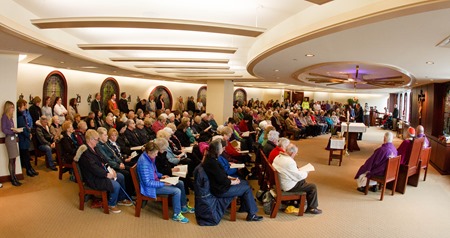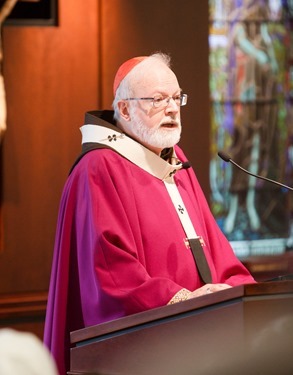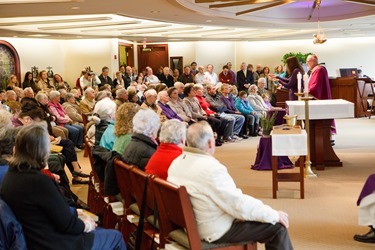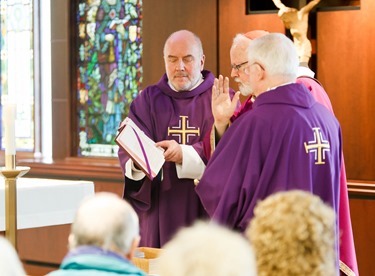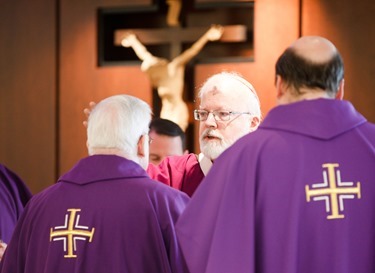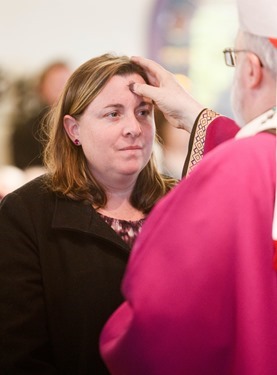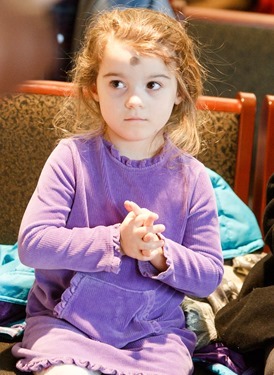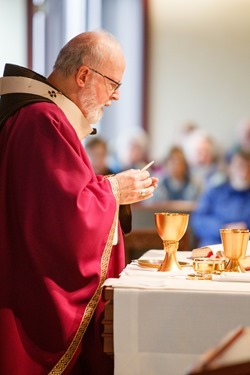 – – – – – – – – – – – – – – – – – – – – – – –
Also that day I met with representatives of Thomas More College. The college is contemplating moving their campuses into the archdiocese and the president William Fahey and board member Michael Gilleran wanted to update me on their plans.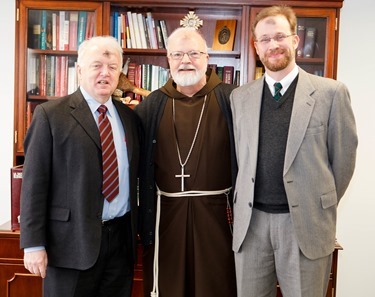 With Michael Gilleran and William Fahey
– – – – – – – – – – – – – – – – – – – – – – –
Lent is a very important time in the life of the Church. It is a baptismal retreat for all of us to renew our baptismal commitment. It is also an opportunity to accompany those who are going to be received into the Church on Holy Saturday who will be with us this Sunday for the Rite of Election in our cathedral and in cathedrals throughout the world.
Please join me in praying for them.
Until next week,
Cardinal Seán