Hello and welcome!
As I have mentioned previously, I have been meeting with all of our seminarians by class, because now that there are so many, I want to be able to meet with them in smaller groups. So, on Friday, I met with our 13 seminarians in second theology. Father Robert McCreary and Father Dan Hennessey also joined us for Vespers and dinner at the Cathedral.
I always look forward to these opportunities to get to know the seminarians better and to have a conversation with them about their experience of the seminary and the life of the Church.
– – – – – – – – – – – – – – – – – – – – –
The following day, I had a Mass with Totus Tuus. These are women who were formerly members of Regnum Christi and have started a new community of about 25 women.
They are under the auspices of the Archbishop of Santiago in Chile and Cardinal Errázuriz has been their spiritual advisor. Their name comes from the motto of Blessed John Paul II, which originally comes from St.Louis-Marie de Montfort's "True Devotion," and is part of their spiritual devotion.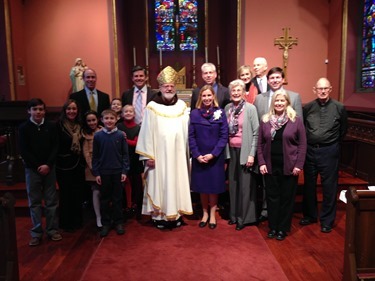 During the Mass, we celebrated the profession of Miamika Gresche. Miamika was there with her family and friends.
– – – – – – – – – – – – – – – – – – – – –
Then, in the afternoon, we participated in a wonderful expression of the Week of Prayer for Christian Unity at The Basilica of Our Lady of Perpetual Help (Mission Church).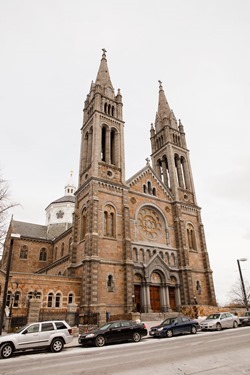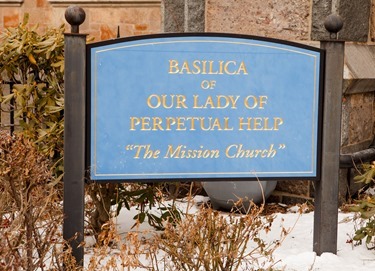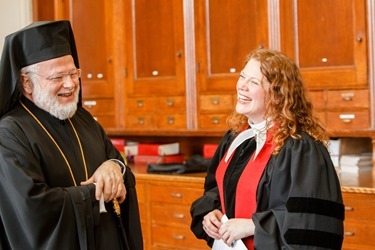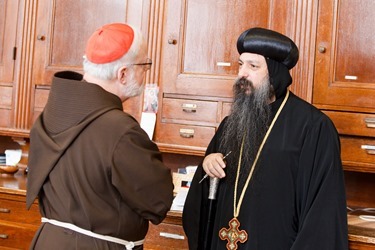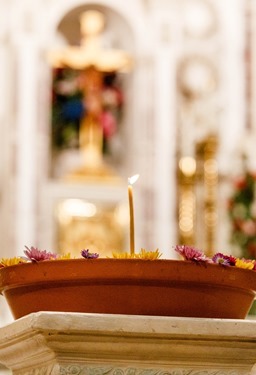 There, we celebrated a beautiful ecumenical prayer service recalling the modern Christian martyrs from the different Catholic, Protestant and Orthodox traditions.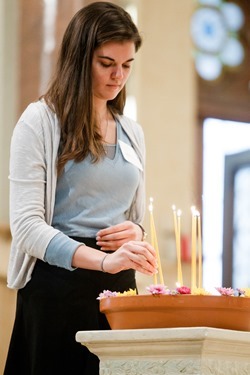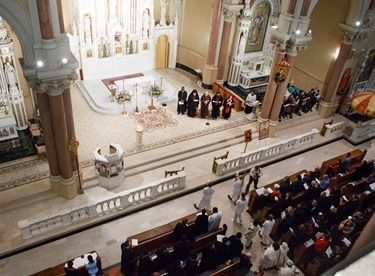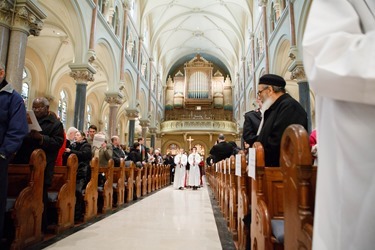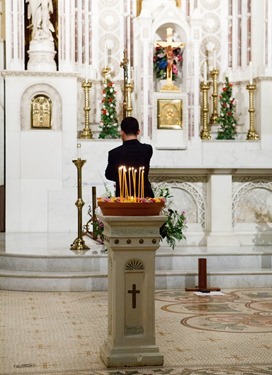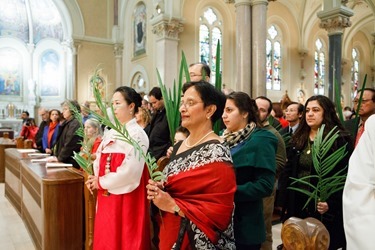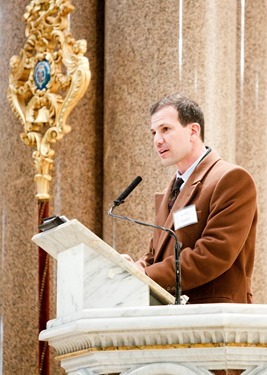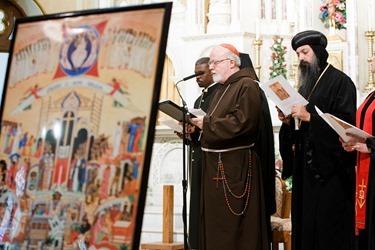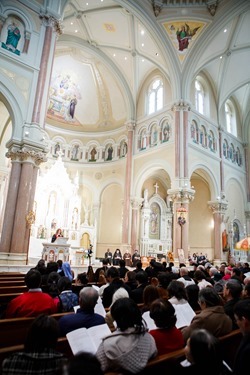 On the altar with me were Greek Metropolitan Methodius, the Egyptian Coptic Bishop of New York and New England Bishop David, Rev. Jeffrey Brown of the Twelfth Baptist Church and Rev. Laura Everett of the Massachusetts Council of Churches.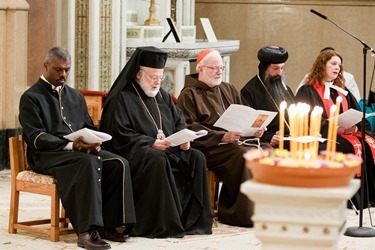 I was approached several months ago by representatives of Community Sant'Egidio who told me about this idea and I was very enthusiastic about it. The community did a great deal of work to bring this gathering together in collaboration with Father David Michael and Vito Nicastro of our Office of Ecumenical and Interreligious Affairs.
This is an initiative that really goes back to Pope John Paul II who, in the year 2000, gathered people in the Coliseum in Rome (which is something of the symbol of Christian martyrdom) where he called upon all Christians to be united in the true ecumenism of the martyrs, those who gave witness to their faith by giving their lives for Christ.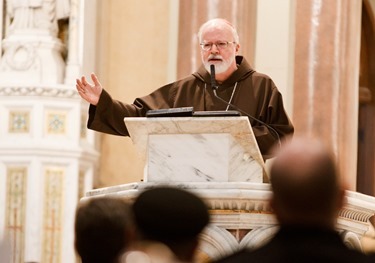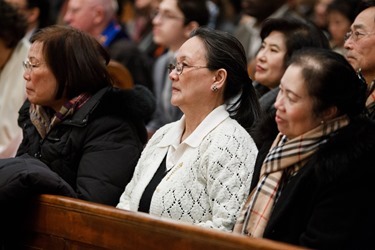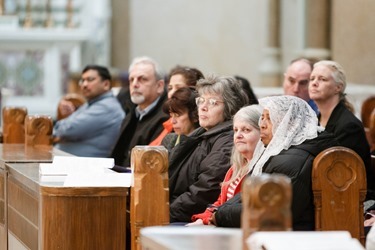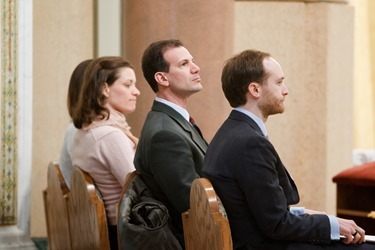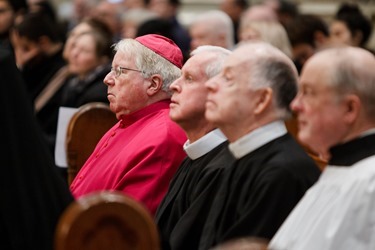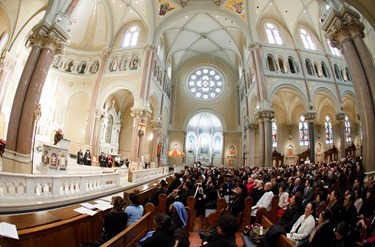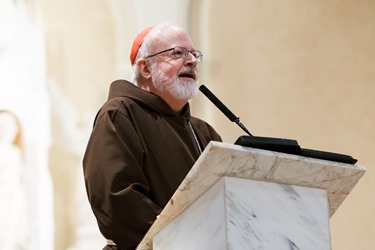 It was a wonderful event and I was overwhelmed by the number of people who attended. I understand there were almost 600 people there.
I would like to share my homily at the service with you here:
– – – – – – – – – – – – – – – – – – – – –
Sunday, I went to Plymouth to dedicate the new St. Bonaventure Church. The former church was lovely, but was just too small. They have had so much growth in the parish, they just could not fit in the old church — which is a good problem to have.
It is a beautiful structure. With all the ceremonies for blessing and dedicating the new church the Mass lasted about 2-and-a-half hours. It was a very beautiful ceremony.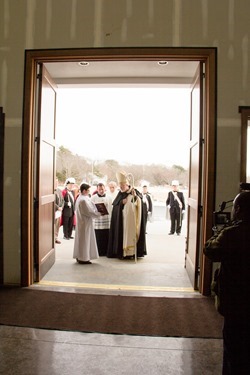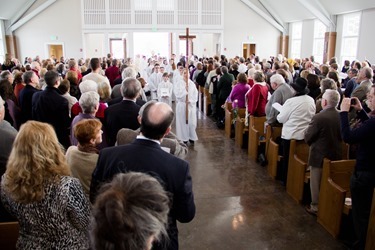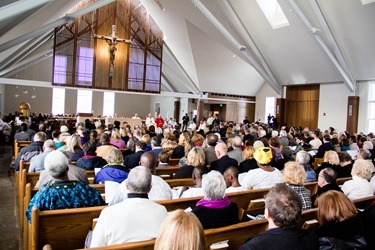 Father Ken Overbeck has done an extraordinary job bringing this all together. He was assisted in the design of the church by the different committees in his parish and also by Tom Ryan, who is a very fine liturgist. The final result was a new church that is just stunning.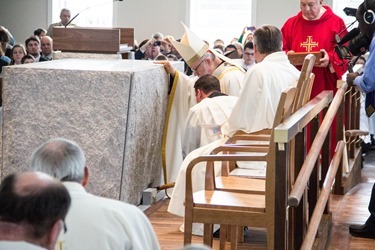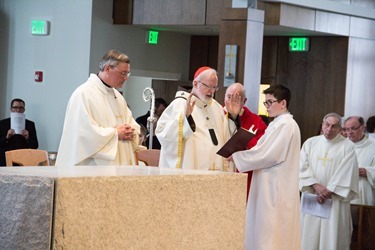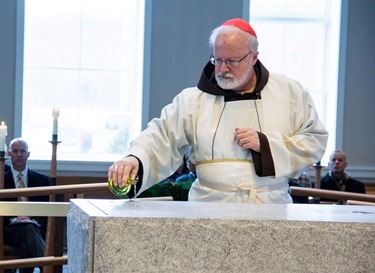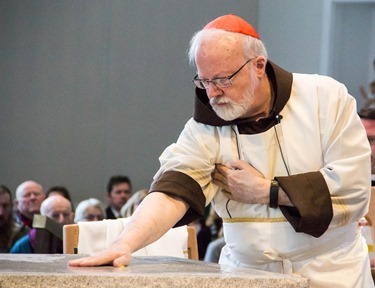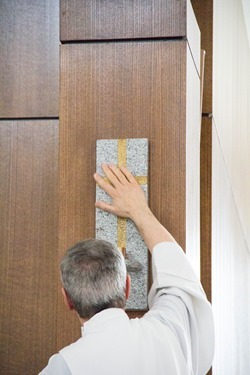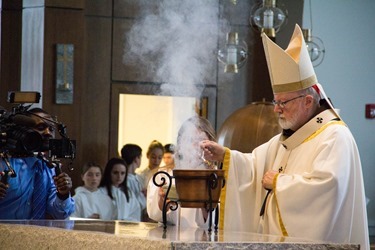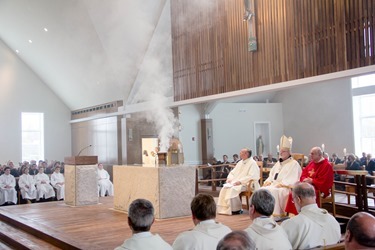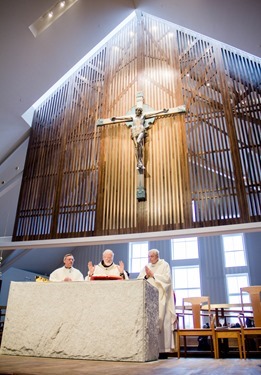 The crucifix was made by Pablo Eduardo, an excellent sculptor, whom I have known since he was a little boy. His father worked with me as the editor of El Pregonero, the Spanish-language newspaper that I started in Washington, D.C. Pablo now lives in Gloucester and he has created a lot of religious art and public art here in the Boston area.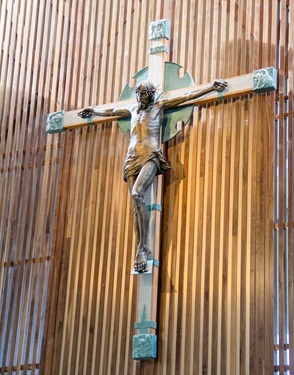 The parish is blessed to have a large plot of land, and so they were able to retain the old church building. The former church will now be used as a parish hall and they constructed a glass connector between the two buildings.
– – – – – – – – – – – – – – – – – – – – –
From there I went to St. John's Seminary for a Mass and gathering to honor Jack Shaughnessy and Loretta Gallagher.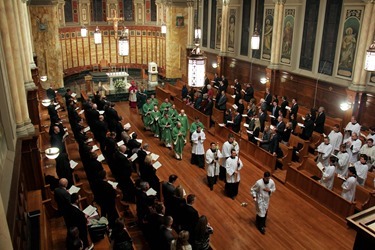 The first award honored the spiritual support given by Loretta, the founder of the Serra Club here in the archdiocese.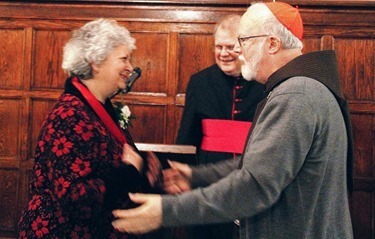 They also gave a posthumous award to Jack Shaughnessy Sr. Jack Shaughnessy's whole life was dedicated to his faith. He had a great love and appreciation for our priests and was so supportive of both Blessed John XXIII National Seminary and St. John's Seminary.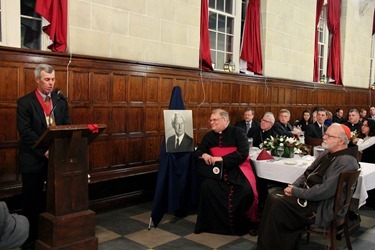 His son, Jack Shaughnessy Jr. received it in his name. He gave just a very moving talk.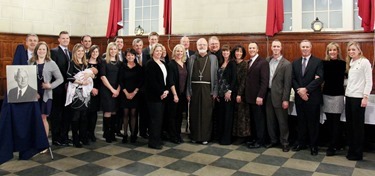 – – – – – – – – – – – – – – – – – – – – –
Tuesday, I sat down with Father Tom Rosica from Salt and Light Television for an interview at the cathedral.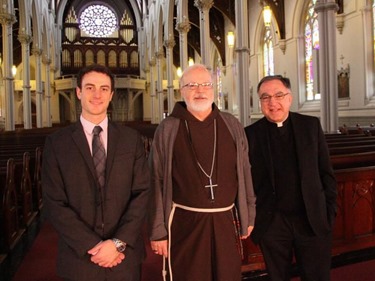 He was here with Sebastian Gomes because Salt and Light is producing a documentary on the first year of the pontificate of Pope Francis. So I was happy to share my reflections with them.
– – – – – – – – – – – – – – – – – – – – –
That evening, I joined one of our regular St. Andrew Dinners for young men discerning a vocation to the priesthood at Saint Andrew Parish in North Billerica.
We were joined by the pastor, Father Shawn Allen; the vicars, Father Gerald Souza and Father Martin Dzengeleski; as well as a number of other priests accompanying students from Lawrence Catholic Academy, St. Sebastian's and several other local schools.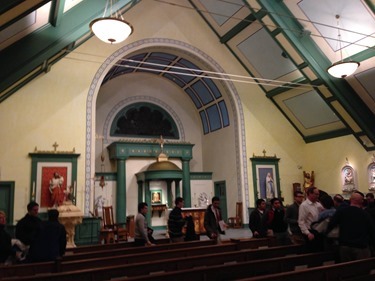 We had Vespers and dinner followed by witness talks by seminarian Craig Cooley and Father Eric Cadin. Then I gave closing remarks.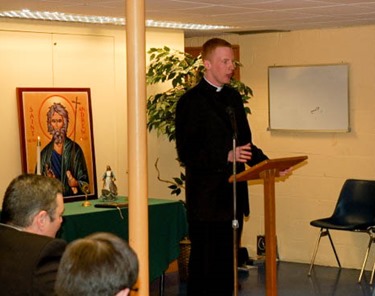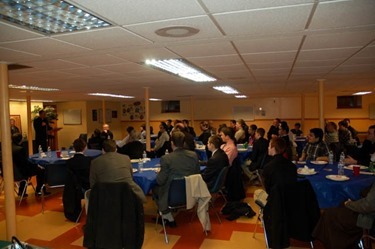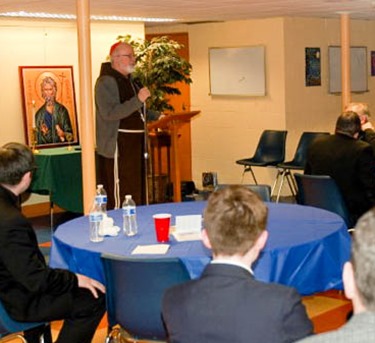 We ended our gathering by blessing the parish's vocation chalice.
They have a very active vocations committee in the parish. Each week, they give this chalice to a different family and, during that week, the family commits to pray for vocations.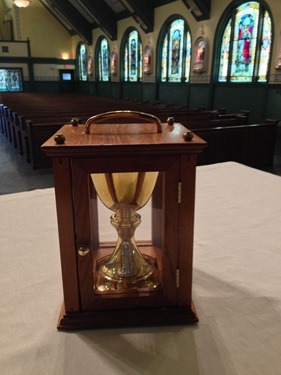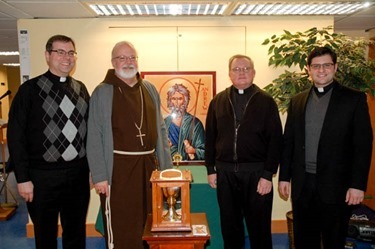 – – – – – – – – – – – – – – – – – – – – –
Wednesday morning, I was invited to give a talk at the New England Council, a group of local businessmen and civic leaders.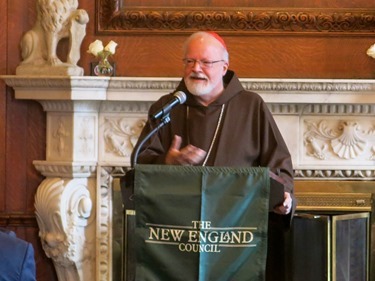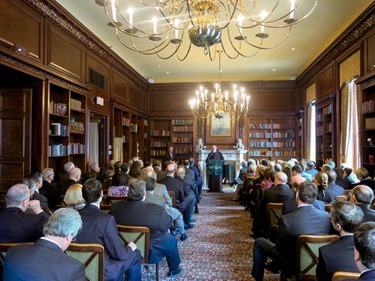 We gathered at The Hampshire House, which many will remember as the setting of the TV series "Cheers."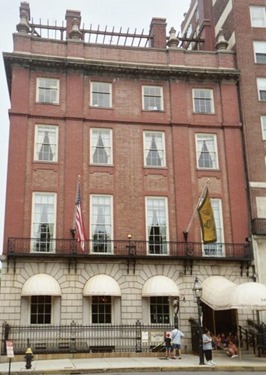 Jim Brett is the president and CEO of the New England Council and John Hailer is the chairman of the board.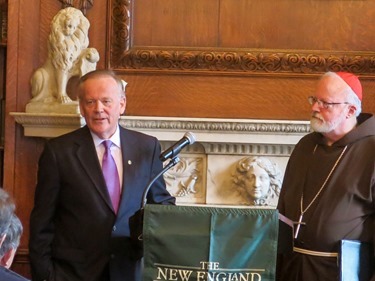 with Jim Brett
I spoke to them about the work of the archdiocese and the Church and then took questions from the audience for about half an hour.
– – – – – – – – – – – – – – – – – – – – –
Wednesday, we had a Mass and gathering of the Pastoral Center staff to say farewell to our Vicar General, Bishop Robert Deeley, who is becoming the Bishop of Portland, Maine.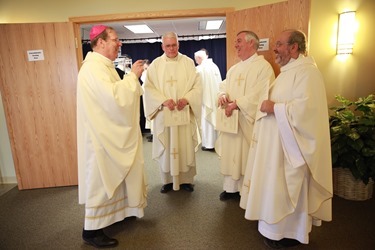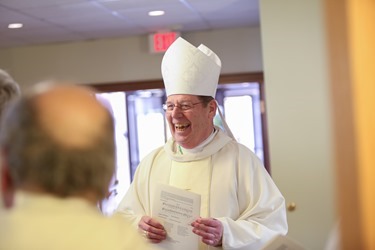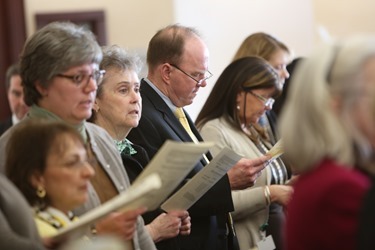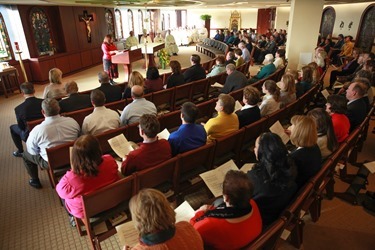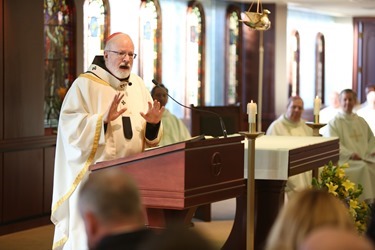 At the reception we presented him with a gift of a set of vestments with his coat of arms.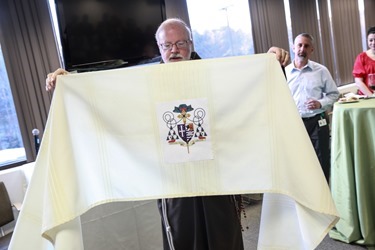 We expressed our gratitude for the wonderful service that Bishop Deeley has provided to the archdiocese through his service as a parish priest, at the tribunal, in Rome and, of course, as Vicar General of the archdiocese.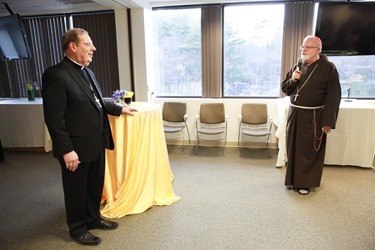 While this Mass was for the staff of the Pastoral Center, there will also be a public Mass of Thanksgiving for Bishop Deeley at the Cathedral on February 9 at 2 p.m.  We will gather there with people from throughout the archdiocese to thank him for his service to the archdiocese and wish him well as he begins this new ministry entrusted to him by the Holy Father.
Until next week,
Cardinal Seán