As I announced on my last week's post, I want to share with the people of the archdiocese some reflections around the theme of end-of-life issues. Nov. 6 we will be asked to vote on ballot question 2, that would legalize assisted suicide in Massachusetts. It is my hope that the citizens of the Commonwealth will be informed about this issue and will vote no to this initiative that would degrade us as a society.
Suicide is always a tragedy
Most people I know have lost a friend, a family member or loved one to suicide. Sometimes the depression and anxiety had been apparent for a long time; other times people are taken completely off guard, not even suspecting the deep torment that a loved one endured secretly.
We have come to appreciate how dangerous depression can be. It is like quicksand that devours a person in the unstoppable urge to self-destruction. Sometimes we experience a rash of suicides in a community, as one depressed person — upon hearing of a friend, acquaintance or even a stranger, who takes his own life — repeats that action. The copycat syndrome is a very real danger. The suffering of a suicide reverberates in the psyche of friends, relatives and co-workers and also in people who have attempted or considered suicide in the past. Suicide always affects other people; it is never an act that only affects the individual involved. Family members, friends and neighbors often are filled with lingering sadness, guilt and confusion. Sometimes those who are closest to the deceased never completely recover, never forgive themselves and are haunted for the rest of their lives by the loss.
There are dedicated suicide prevention organizations like the Samaritans that stand ready to help people in the throes of depression and suicidal thoughts. Many volunteers stand ready on their hotlines, always prepared to try to bring solace and help to those suffering from suicidal impulses. There are also heroic first responders who often risk their lives to help stop someone from taking one's own life. All of us are called upon to be Good Samaritans and to work to prevent suicides in our community.
The World Health Organization (WHO) studies suicides throughout the world. One of their pleas to governments is to avoid presenting suicide as a solution to peoples' problems. In a way, that is what physician-assisted suicide is doing for one group of people — those with terminal diagnoses of six months or less. Oregon, the first state to legalize physician-assisted suicide, has one of the highest rates of suicide (not including deaths from PAS) of any state in the nation. It begs a logical question: how can a state effectively both try to minimize suicide in some situations and promote it as a legal alternative in other situations? There is no doubt that efforts to prevent suicides will be undermined by legalizing suicide for those with terminal diagnoses and presenting it as normal and acceptable. Suicide, in any form, is always a tragedy — a tragedy that all people of good will should work to prevent.
Suicide has increased dramatically over the last few decades. Suicide is among the three leading causes of death among those aged 15-24 years according to the National Institute of Mental Health. Physician-assisted suicide will usually involve, in addition to the physician who writes the prescription, the family, nurses and pharmacists who become accomplices in the suicide.
We need to reflect also on the difficulty of making terminal diagnoses and physician error. These prognoses are just estimates. We should also consider the troubles for human relationships within families and between doctors and patients, as well as the risks to the whole social order from the weakening of our legal prohibition against the participation in assisted suicide.
Fear of tremendous pain is advanced as a reason to support physician-assisted suicide. However, even proponents of PAS readily acknowledge that modern medicine can manage the pain in almost every case. Very few Oregon residents that request PAS indicate unbearable pain as the reason that they requested the lethal prescription.
Another justification that proponents for the proposed law in Massachusetts advance is that PAS provides the patient greater autonomy — the ability to be in absolute control until the very end, and to avoid the fear of humiliations and indignities that catastrophic illness can entail. Disability advocacy groups, who are part of the broad-based coalition against PAS, rebut this argument forcefully. One of these groups, called "Second Thoughts" insists that the "autonomy" offered by physician-assisted suicide may sound like a good idea at first for people who are terminally ill, but on second thought and a deeper review PAS presents several major concerns. They state that the proposed law's principal aim isn't about creating new "rights" for patients, but rather to provide immunity from prosecution to doctors who assist with suicide. This immunity likely will increase the possibilities for mistakes, coercion and abuse for those who are seriously or terminally ill. They also state that PAS advances the idea that people with certain illnesses, disabilities or other conditions are "better off dead."
People with disabilities know what it is to live with the severe limitations brought on by disease or injury. They understand the permanency of conditions that involve paralysis, incontinence, pain and dependence on others. They do not, however, offer suicide as a good option to rescue people from disabilities or other difficult situations. Helen Keller, born blind and deaf, would never agree with suicide as a solution for those like herself.
In almost every instance palliative care can suppress pain. People already have the right to refuse burdensome, life-extending treatments. They also have the option of leaving advance directives to determine their care when they are no longer able to express their wishes. The death that results from withholding or withdrawing of life-sustaining treatment has always been separated by a bright line from active measures to cause death. Assisted suicide proponents seek to blur this line.
I am happy that the Massachusetts Medical Society and the Massachusetts Hospice and Palliative Care Foundation recently testified against the physician-assisted suicide initiative on Beacon Hill and that so many doctors and nurses are speaking out against Question 2 and encouraging a "No" vote.
Last month, a letter appeared in the Ottawa Citizen and in some Florida newspapers. The letter was written by Jeannette Hall from King City, Oregon. In her very poignant testimony she stated that she lives in Oregon and voted for the legalization of physician-assisted suicide in the late 1990s. She was diagnosed with cancer in 2000 and told she had six months to live. She first appealed to her doctor to help to end her life. He refused and urged her to try new treatments. Twelve years later she is happy to be alive. She said "If my doctor had believed in assisted suicide, I would be dead. Thank him and all my doctors for helping me choose 'life with dignity.'" She ends with the plea: "Assisted suicide should not be legal. Don't make Oregon's mistake."
All of us should be committed to suicide prevention, to helping those who might consider committing suicide because of fear and depression. As a community we must send a message that suicide is always a tragedy, a bad choice, and an act of abandonment and despair. It never enhances, and always undermines, human dignity. Legalizing physician-assisted suicide falsely presents suicide as a good solution to one's problems. I ask you to join me and work to stop assisted suicide here in the commonwealth by voting no on Question 2 and encouraging others to join us.
– – –
Last Wednesday, I paid a visit to the Middlesex County Jail in Cambridge. Sheriff Peter Koutoujian is very interested in the different faith communities helping with ministry to the prisoners.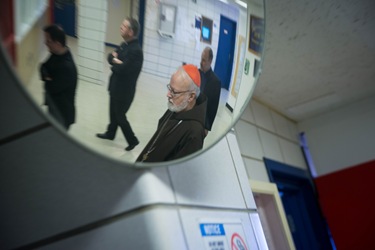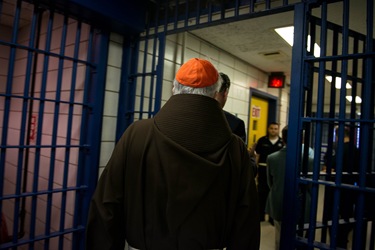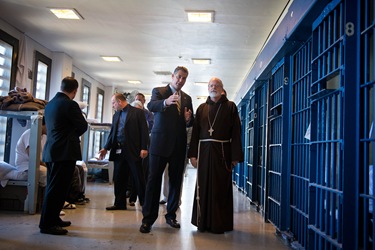 The Catholic Church has a very active ministry there with Michael Charchaflian and Father Richard Deshaies.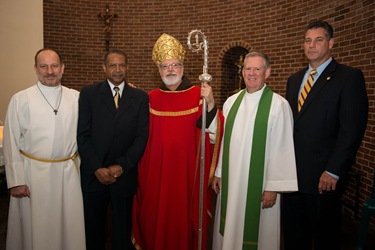 I celebrated Mass for the inmates and then went to visit the cellblocks as well as those in solitary confinement.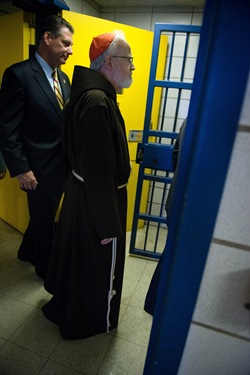 We were very impressed by their very beautiful Chapel.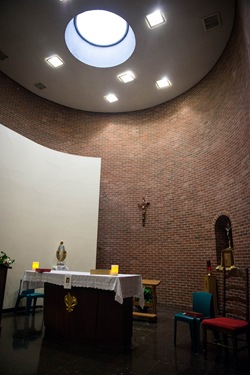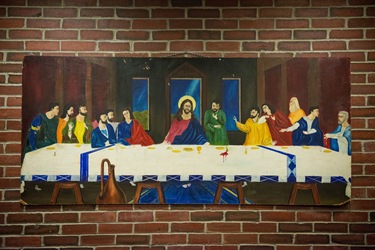 My understanding is that the jail was built about 50 years ago. At that time, I suppose it was a very modern structure.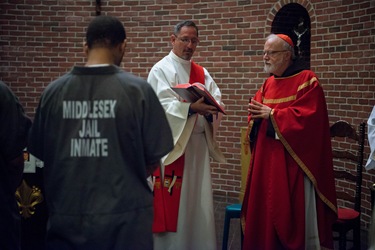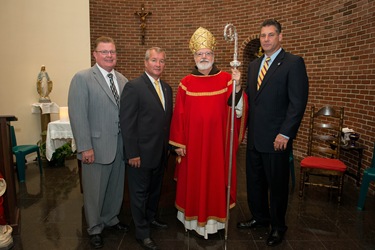 The Protestant chaplain, who is the chief of chaplains at the jail, was there as well and was very welcoming to us. 
We were also very surprised at how overcrowded the jail is. There are plans to relocate for that reason. I believe they have a population that is approximately twice the facilities capacity. This is of course a great concern for the Sheriff.
– – –
Then, later that day, I met with the state leadership of the Knights of Columbus to talk to them about the issue of physician assisted suicide and about ways that they can help in this campaign. They have been very supportive of our efforts and it was a very profitable meeting.
– – –
In the evening, I was very pleased to go to Blessed John XXIII National Seminary for their 31st Annual Lawn Party.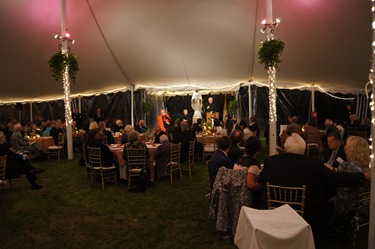 As always, it was a very uplifting evening. Two of the seminarians gave very moving testimonies about their lives and their call to the priesthood. Also, the rector, Father William Palardy, gave a report on the state of the seminary that was very positive.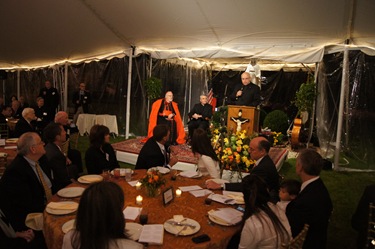 I think this was the largest group to ever attend the Lawn Party and the evening was very successful, as the seminary is gearing up to celebrate its 50th anniversary. We want to thank the chair people of the dinner, Scott and Mia Gieselman for their wonderful work orchestrating this enjoyable evening.
– – –
On Thursday I visited Anna Maria College in Paxton. I was asked to give a talk on evangelization and Catholic education at the convocation to begin the academic year.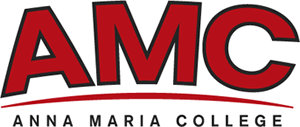 I was accompanied by  Bishop McManus, the Bishop of Worcester. It was my first visit to the college and I was very impressed by the campus and their desire to promote the Catholic identity of the school. I met several of the Sisters of Saint Anne, the community that founded Anna Maria College in 1946. The college actually began in the Archdiocese of Boston, it was located in Marlborough, and then in 1952 went out to the Diocese of Worcester. To this day, the order still has a convent in Marlborough.
During my visit they also very graciously bestowed me with an honorary doctorate of theology.
– – –
Later in the day, we had one of our periodic meetings of the Archdiocesan Pastoral Council.
At the meeting, we discussed the final proposed pastoral plan that has been presented to me by the Archdiocesan Pastoral Planning Commission headed by Msgr. Willam Fay and Deacon Chuck Clough.
Father Paul Soper, our interim director of pastoral planning, made the presentation of the final document and asked for reactions. There was overwhelming support for the plan among the members of the APC.
– – –
That evening, I went to the Redemptoris Mater Archdiocesan Missionary Seminary for the annual Mass of the Holy Spirit to begin the academic year.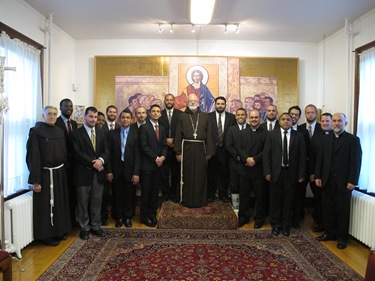 I was able to greet three of the four new seminarians who are beginning at the seminary this year. I celebrated the Mass and afterwards we had a very enjoyable dinner.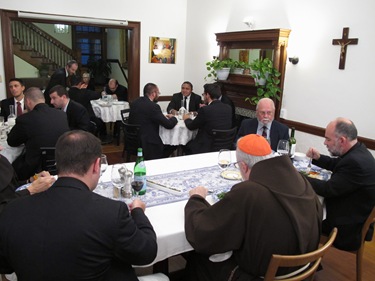 I was able to say farewell to Joseph, who is being sent to the diocese of Armagh, Ireland where a new seminary as being established. He is a very talented young man. He led us in song after the meal and I suggested they sing "The Wild Irish Rover" to prepare him for life in Armagh!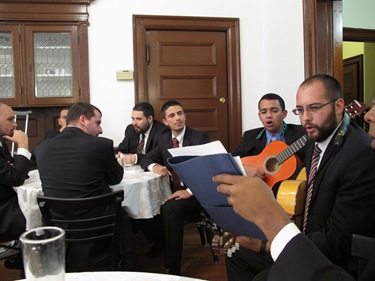 – – –
Speaking of Ireland, I want to mention that this was brought back for me by Mr. Gormley from St. Theresa's parish in West Roxbury.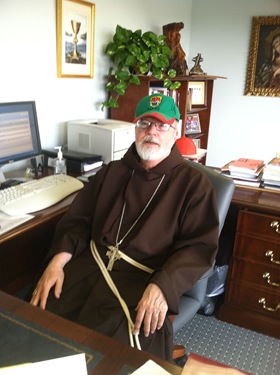 He was recently in Ireland for the All Ireland Football Championship, in which my team was playing – the Mayo team – but we lost! The Mayo team and the Red Sox are not having a good year!
– – –
Saturday, it was my joy to ordained 10 men as permanent deacons at the Cathedral the Holy Cross.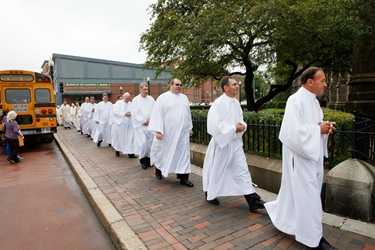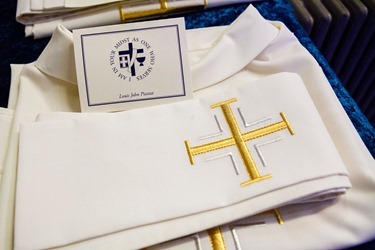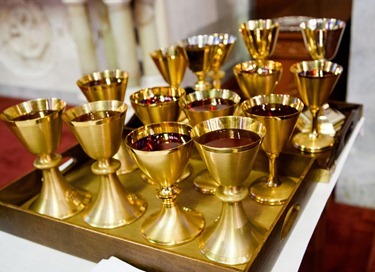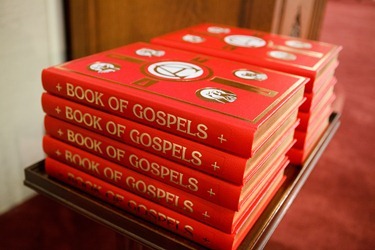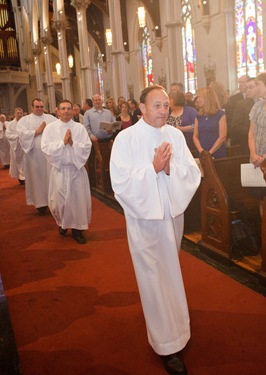 In the past, we held ordinations of permanent deacons every two years. However, going forward, we will now have ordinations every year. This will be a wonderful resource for the archdiocese as this vocation is growing.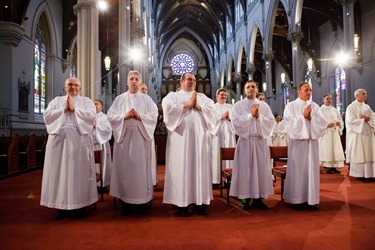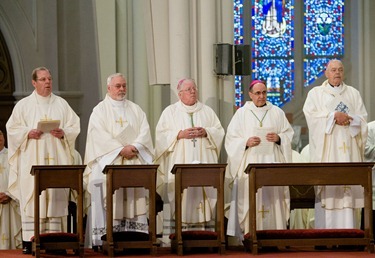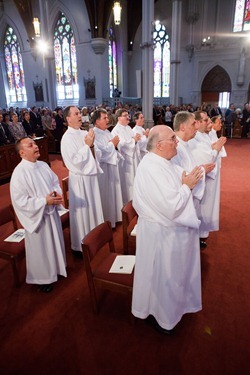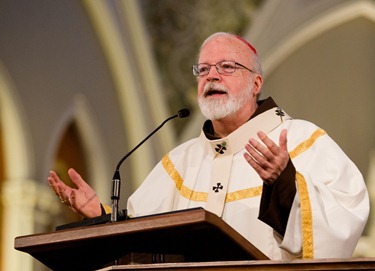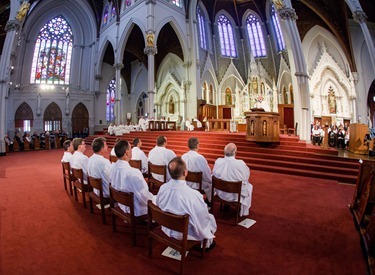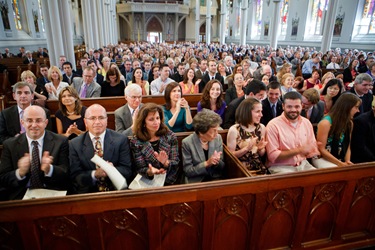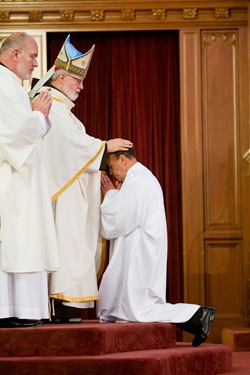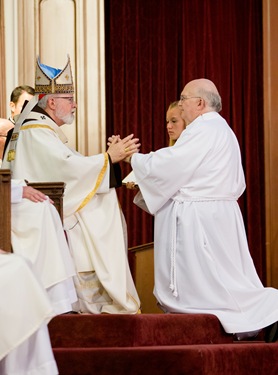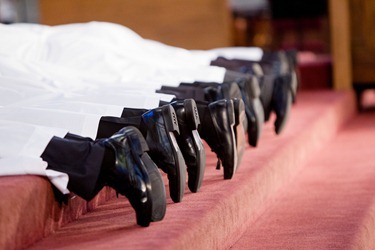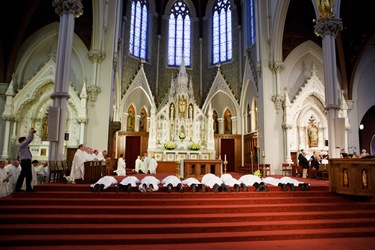 This year, I had the special privilege to ordain the first member of the local Brazilian community to graduate from the diaconate program, Deacon Paulo Torrens. I am very pleased to have him as an additional resource for the outreach to our Brazilian community. The Archdiocese of Boston has about 200,000 Brazilian Catholics. We are very dependent on the generosity of Brazilian bishops and religious communities who provide priests to serve them. We are particular grateful for this vocation to the diaconate.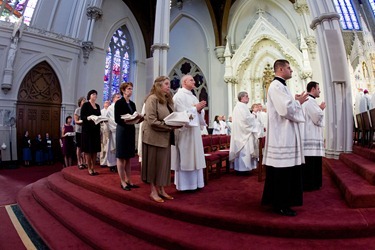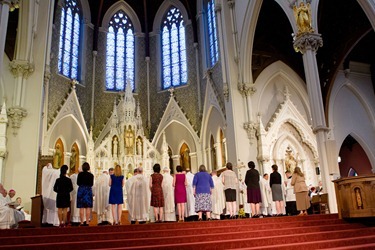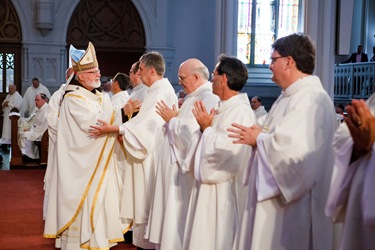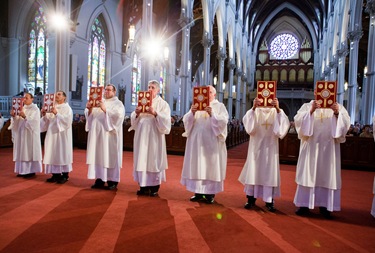 There was also one Deacon who was German, Deacon Michael Joens. They had asked if they could take their vows in their native languages. I was very happy to oblige.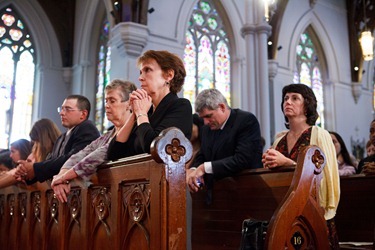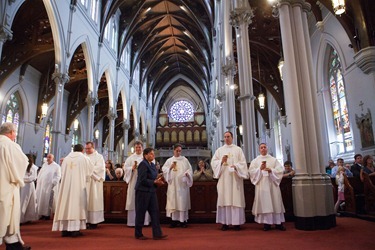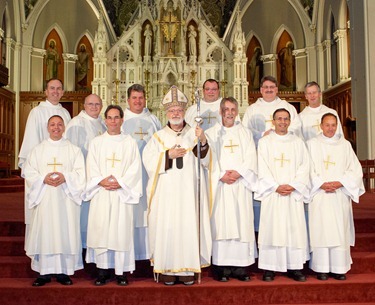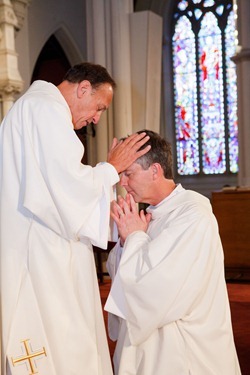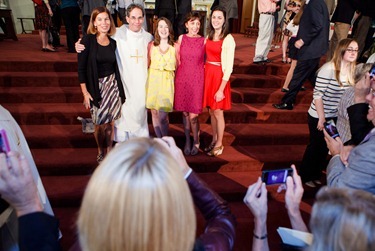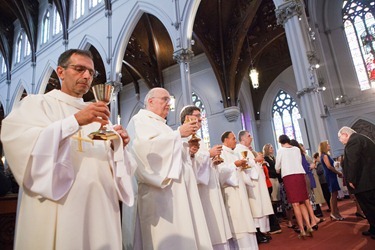 – – –
In the evening, I celebrated the Mass at Our Lady of Lourdes Church in Jamaica Plain for the installation of Father Carlos Flor. He is the pastor of three parishes: St. Thomas Aquinas and Our Lady of Lourdes in Jamaica Plain and St. Mary of the Angels in Roxbury.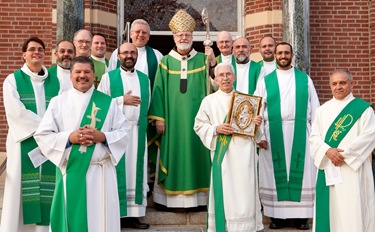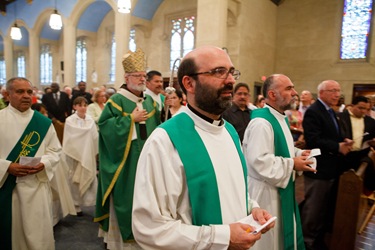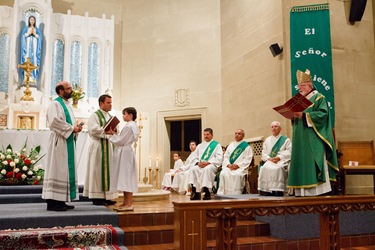 It was a standing room only crowd composed of members of all three parishes.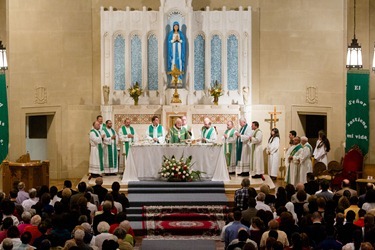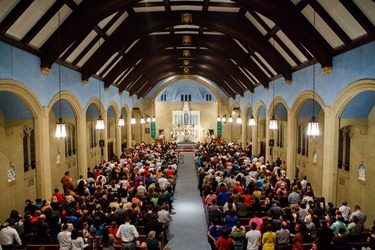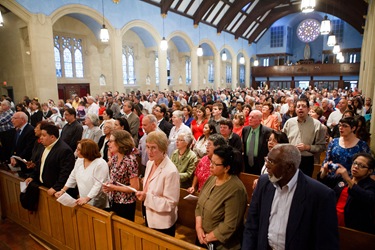 It was a bilingual celebration. They had a very energetic choir composed of members of all three parishes as well.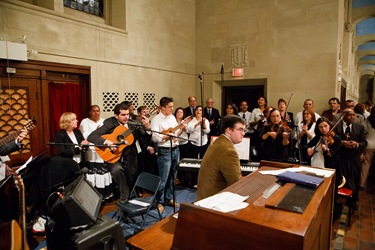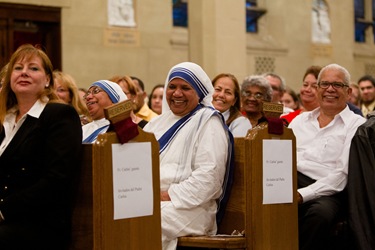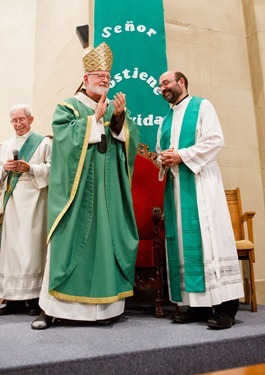 The crowd was very enthusiastic. I was very pleased to see Father Carlos's parents there.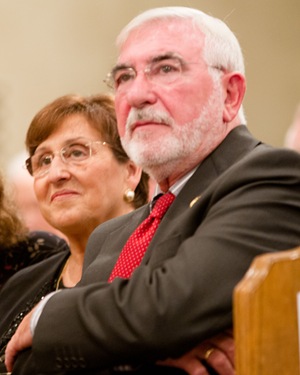 – – –
Sunday morning, we had a beautiful celebration for the installation of Msgr. James Moroney as the new rector of St. John's Seminary. A number of bishops were present including Bishop Arthur Kennedy, Walter Edyvean, Salvatore Matano of Vermont, Robert McManus of Worcester, Bishop Emeritus of Worcester Daniel Reilly and Peter Libasci of New Hampshire.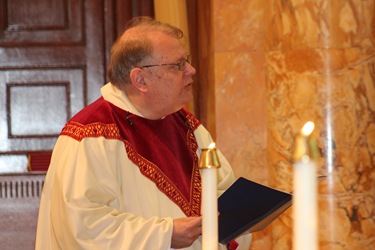 The installation was held on the seminary's Family Day so many of the seminarians' families were able to join us, as well as a number of the members of the Order of Malta, the Knights and Ladies of the Holy Sepulcher and the Knights of Columbus.
Msgr. Moroney is a priest of Worcester, and at the end of the ceremony Bishop McManus made the official announcement of his being elevated to the second rank of monsignor, Prelate of Honor.
– – –
Each year we have a Mass to celebrate the anniversaries of the religious women in the archdiocese. This year, it was held at on Sunday afternoon once again at St. Theresa of Avila Parish in West Roxbury. The parish is always very gracious to host us there.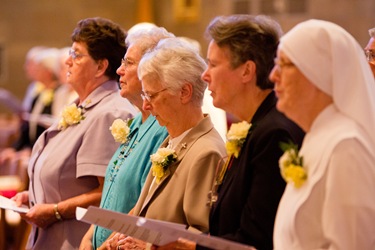 It was said that this year's jubilarians represent over 1,900 combined years of service to the Church. There was one sister celebrating her 75th anniversary of religious life.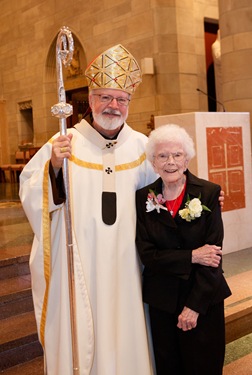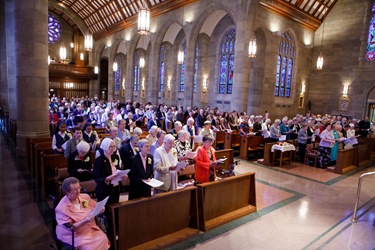 During the Mass, there was a reflection on religious life offered by a Sister Lisette Michaud, a Sister of St. Chretienne.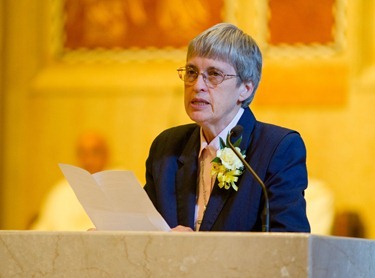 Sister Marian Batho, our Delegate for Religious, offered some remarks as well.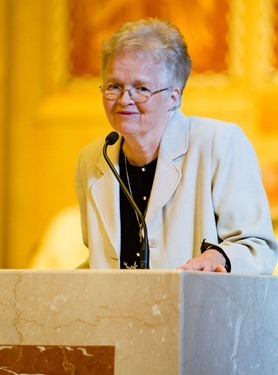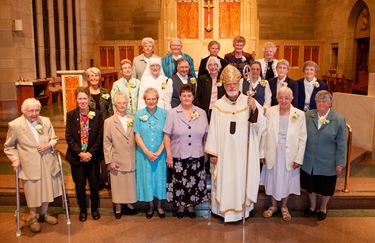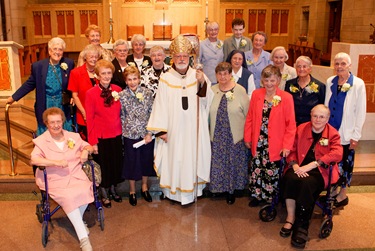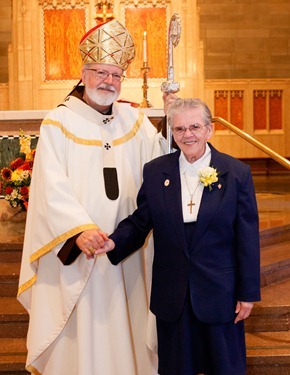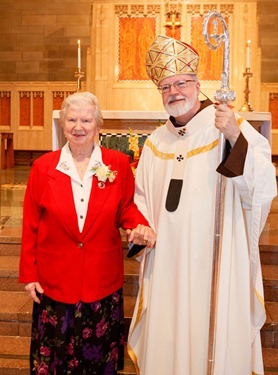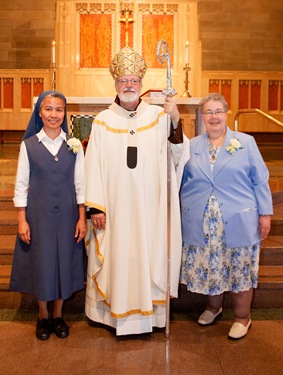 Following the Mass, there was a very nice reception held for the sisters in the school hall next door.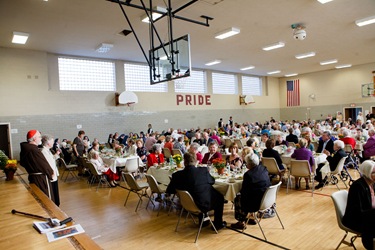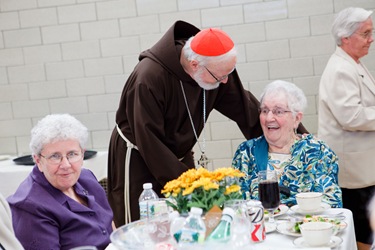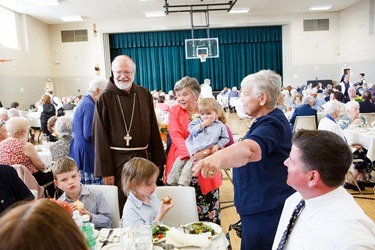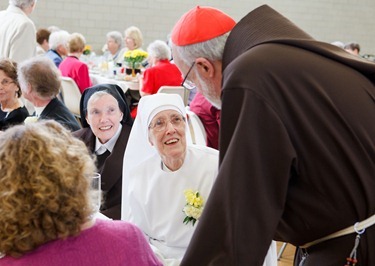 I was very pleased to have an opportunity to be able to greet each of the jubilarians, their families and loved ones.
– – –
Tuesday, I met with the Catholic School Education Council at the offices of Peter Lynch to speak about the strategic plan for our schools. This  Council  has been very helpful in advising the archdiocese.
– – –
Also that evening I attended the wake of Fra Richard Armstrong who is a member of the Order of Malta who was very beloved in the community.
He was a labor lawyer who belonged to the Order of Malta and became a Knight of Justice, which is in the highest of three classes of Knights. Knights of Justice take religious vows of "poverty, chastity and obedience aspiring to perfection according to the Gospel".
– – –
Wednesday I was visited by Bishop George Lungu of the Diocese of Chipata, Zambia who is here to speak in parishes about his diocese and raise support for the missions there. He was accompanied by Maureen Heil and Father Rodney Copp of our of of the Pontifical Mission Societies.
His diocese is, in a great part, a rural diocese and there is great poverty there. He is also trying to help the neighboring diocese in Mozambique that has very few priests and religious. The people of that diocese are of the same ethnic origin even though it is across the border in Mozambique.
He presented me with this shawl, which is commemorative of the anniversary of his diocese. It includes pictures of the different bishops and historical representations of the diocese.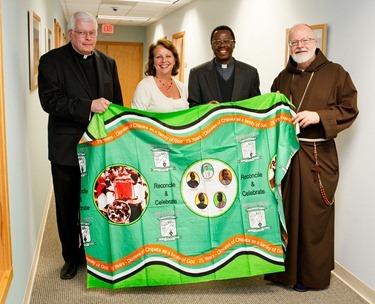 He explained that in his country, particularly women, would wrap this around themselves when they went to Mass.
– – –
For the last four years we have had a Celebration of the Priesthood to support the Clergy Funds, which takes care of the medical and retirement needs of our priests.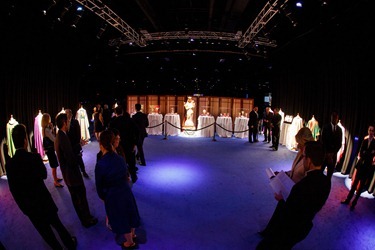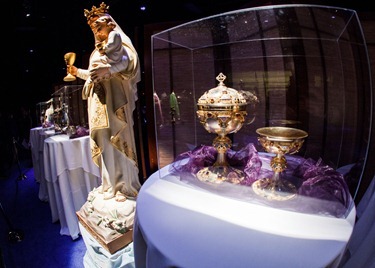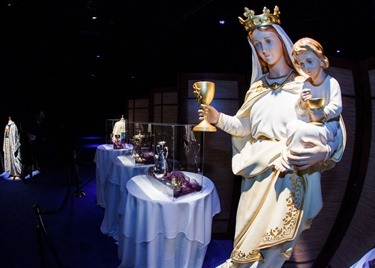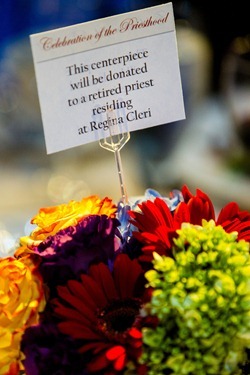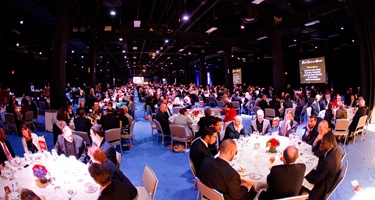 This year over 1,300 people gathered at the Seaport World Trade Center in South Boston to show their gratitude and support for our priests.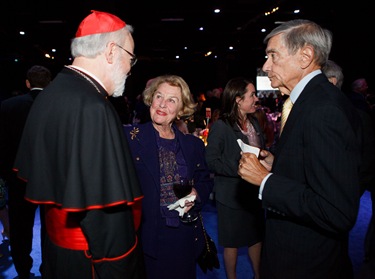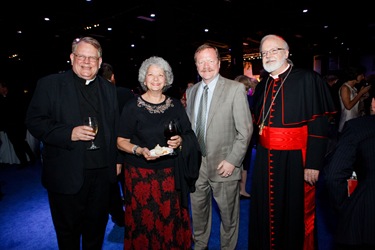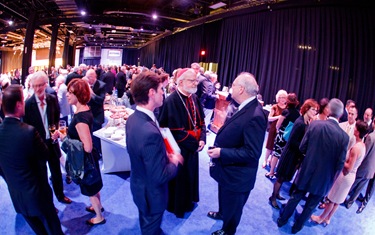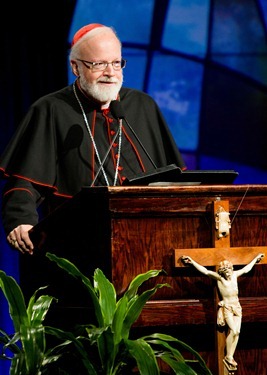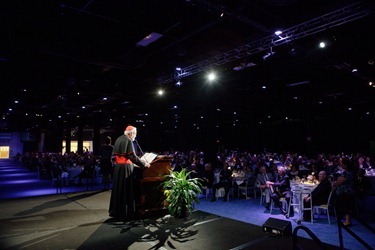 At the dinner they announced that over $1.1 million was raised for the Clergy Funds which was an 11% increase over the previous year.
There are many people who played a part in making this year's celebration such a success. We of course want to thank the dinner co-chairs Neal Finnegan and Ann Carter, our keynote speaker Don Rodman, as well as John Kaneb, Joe D'Arrigo and all the members of our staff who worked so hard to bring the evening together.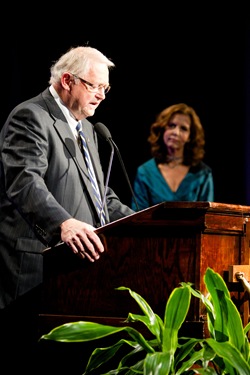 Dinner co-chairs Neil Finnegan and Ann Carter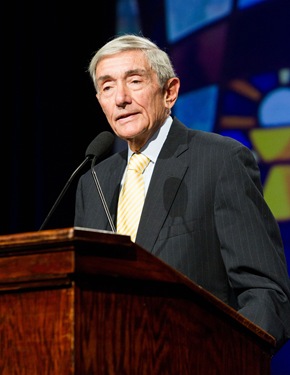 John Kaneb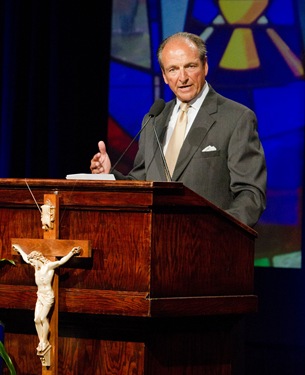 Joe D'Arrigo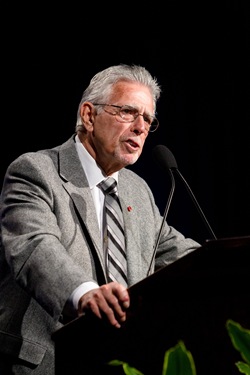 Don Rodman
And, once again, Father Bob Reed did an excellent job as the emcee.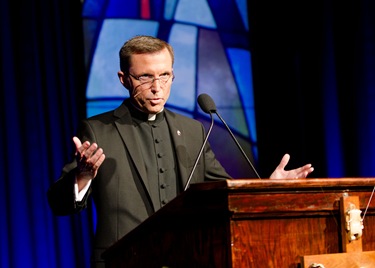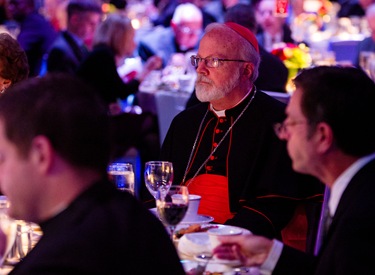 One of the highlights for me was a very beautiful video highlighting the ministry of five different priests.
The opening prayer was delivered by Father Eric Cadin, the youngest priest in the archdiocese.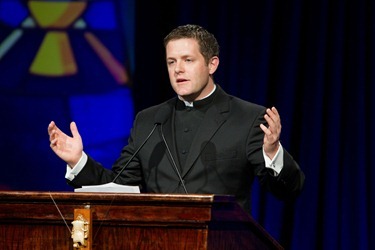 The closing prayer was offered by Msgr. Paul McManus, who I believe is ordained 70 years.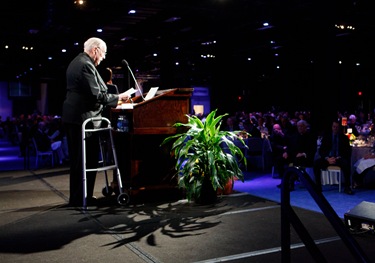 After the closing prayer all the priests joined together and sang the Salve Regina.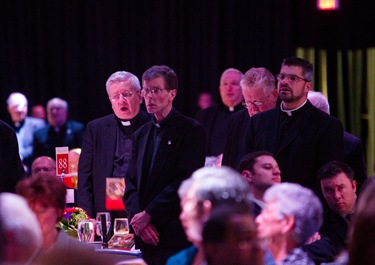 It was, as always, a beautiful and uplifting event.
Until next week,
Cardinal Seán