On Saturday, I was very happy to celebrate the ordination for the Capuchins of St. Mary's Province. I ordained two priests, Fathers Ernest Bedard and Salvatore Cordaro and two deacons, Deacons Richard Mattox and Michal Ramos, at the Mass.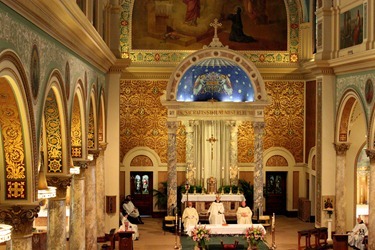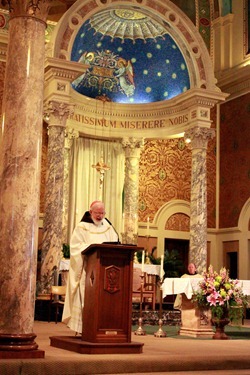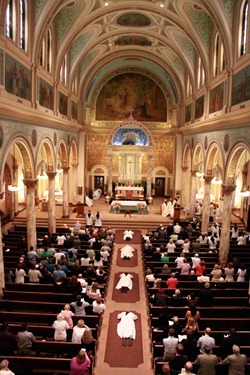 There were several people from Boston in attendance because some of the Friars had been studying here and helping out in parishes.
It is always a great privilege and joy to ordain priests and deacons knowing that the Sacrament of Holy Orders allows Christ's pastoral ministry to continue to touch people through the sacraments and through the breaking open of the word.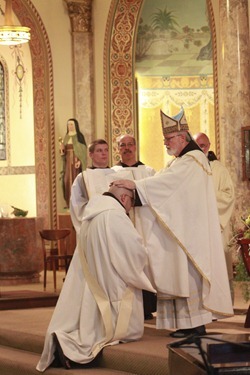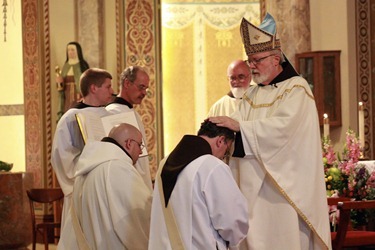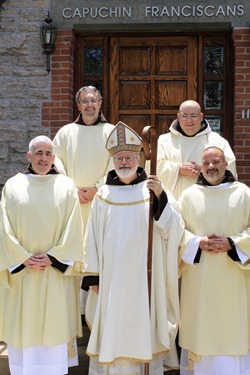 It is also very special joy to be able to ordain brothers from my own religious community. We pray that the Lord will continue to bless the order with vocations to be able to serve God's people.
– – –
Sunday, I celebrated Mass on Father's Day at St. Agnes Parish in Reading.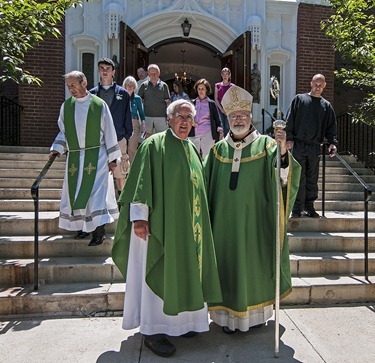 Father Steve Rock is doing a tremendous job there and they have done some beautiful renovations to the church.
It was nice to be there on Father's Day and give a special blessing to the fathers and grandfathers of the parish.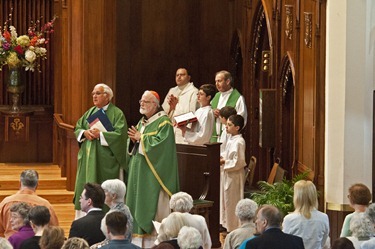 – – –
That night, we had a visit from Msgr. Paul Russell, a priest of the Archdiocese of Boston who is the chargé d'affaires of the apostolic nunciature in Taiwan.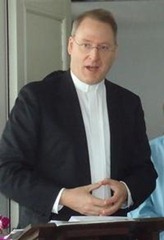 He has been a member of the diplomatic corps for several years, and has been stationed in Ethiopia, Nigeria, and now in Taiwan serving the Church in this very important mission. It was fascinating to hear from him firsthand about the Church in China and in Taiwan. For exmaple, he explained that the Church has a huge institutional footprint in Taiwan — health care facilities, hospitals, schools and universities — even though the Catholic population is comparatively small.
– – –
The Regis College Haiti Project is a program to train nurses from Haiti in graduate studies so that they can lead training programs for nurses back in Haiti.
In the fall and spring, the faculty from Regis travel to Haiti to give courses and then, in the summer, they bring the nurses here to Boston for courses at Regis and to gain experience in Boston hospitals. Once they return to Haiti, the new nursing instructors will help teach the next group of nursing instructors, and so on.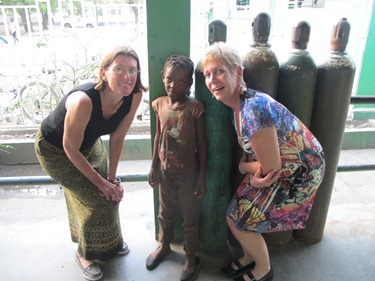 I was able to join the first group of these nurses to go through the program for lunch on Monday along with Regis College President Antoinette Hays, who was instrumental in starting the program, and several faculty members who have been very involved with the program.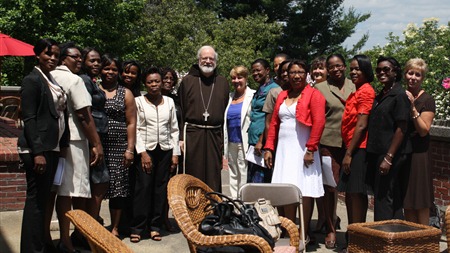 There was a great spirit and enthusiasm among the women.
They sang us some traditional French hymns
This project is another fine example of the ways in which our Catholic organizations are still working to help the Haitian people.
– – –
Sunday was such a beautiful day that, in the afternoon, Father Kevin O'Leary and I decided to go for a walk at Castle Island in South Boston.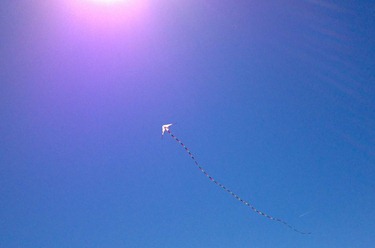 As a child I used to love kites, and this was such a beautiful day for flying a kite because it was very windy.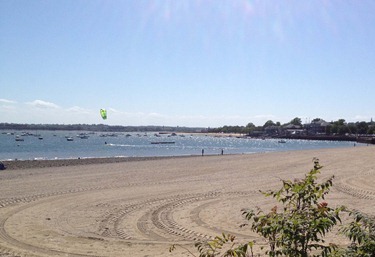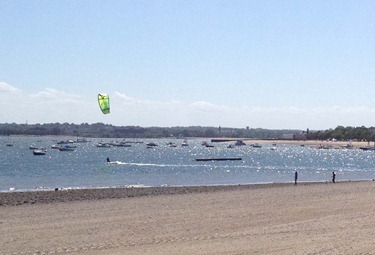 And then we came upon this fellow skimming across the water using a sort of  sail. It was as if he was waterskiing without a boat! Of course, he was zipping through all the sailboats and other boats moored in the harbor. I took this picture because I have never seen anything like it before.  I hear they call it "kite boarding".  It's definitely not the kind of kite I used to play with!
– – –
That night I was pleased to have dinner with Father Peter Arminio. He is a priest of Chicago who is here in Boston to give a lecture at Arnold Hall.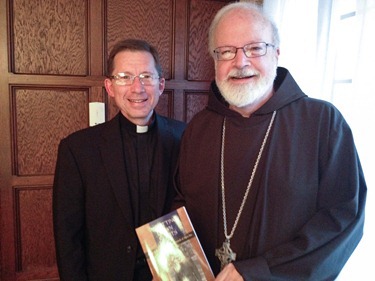 He brought me a book on Father Joseph Muzquiz, a priest of Opus Dei whose sainthood cause was opened here in Boston in 2010.
– – –
Tuesday, I joined the seminarians for the start of their annual retreat at Sacred Heart Retreat House in Wareham.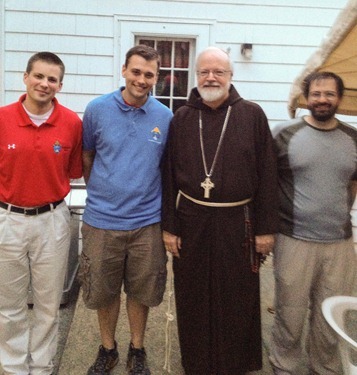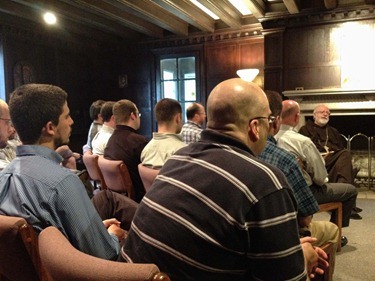 We had a holy hour, Mass and then a period of discussion.  The retreat master was Father John McLaughlin, who is our chaplain at Boston University and had been the vocation director for the military ordinariate.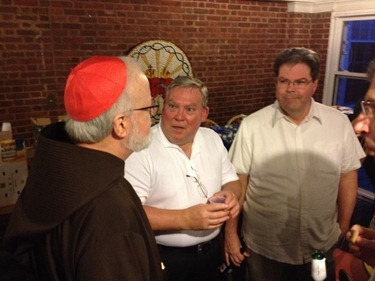 This annual retreat is an opportunity to bring together our seminarians who are studying at different seminaries: Rome, Providence, blessed John XXIII, Redemptoris Mater and of course St. John's.
– – –
Wednesday morning, I was very happy to be able to visit and celebrate Mass with inmates at MCI Concord. Deacon Tom Anthony and the chaplain Hermina Hyacinthe from the nearby Northeast Correctional Center were with us for the visit.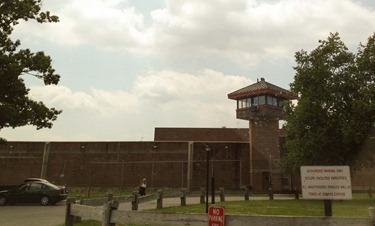 I celebrated three Confirmations at Mass and then afterward I confirmed a man who was in solitary confinement.
– – –
That evening, the auxiliary Bishop of Addis Ababa, Ethiopia, Bishop Abune Lesanu-Christos Mateos, joined us for dinner with Father Abayneh Gebremichael, who is the local pastor for the Ethiopian/ Eritrean Ge'ez Rite Catholic community who celebrate at the Cathedral the Holy Cross.
He brought me this beautiful Ethiopian wall hanging as a gift.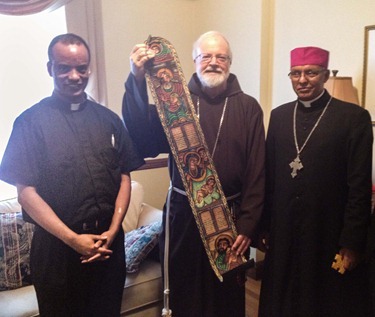 – – –
Tomorrow we will be ordaining Eric Bennett, Eric Cadin, Felipe Gonzalez, John Healey, Adrian Andrzej Milik, Brother Michael Sheehan FPO, at the Cathedral of the Holy Cross.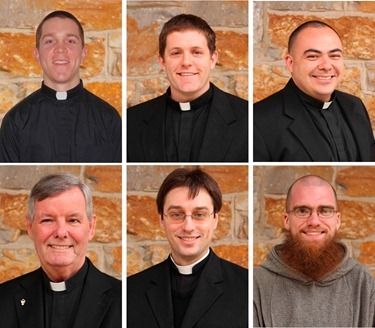 We commend these men to your prayers and we ask also that you continue to pray for vocations that God will send laborers to the harvest.
– – –
Yesterday, on the vigil of today's Feasts of St. John Fisher and St. Thomas More, we began the Fortnight for Freedom. During this special period, which continues until Independence Day, Catholics are invited to pray and become educated on the importance of religious liberty in our times.
I want to share with you this prayer which was issued by the US conference of Catholic Bishops and I invite you to join me in praying it over the coming days: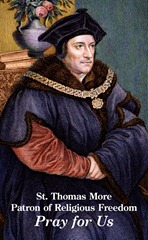 O God our Creator,
from your provident hand we have received
our right to life, liberty, and the pursuit of happiness.
You have called us as your people and given us
the right and the duty to worship you, the only true God,
and your Son, Jesus Christ.
Through the power and working of your Holy Spirit,
you call us to live out our faith in the midst of the world,
bringing the light and the saving truth of the Gospel
to every corner of society.
We ask you to bless us
in our vigilance for the gift of religious liberty.
Give us the strength of mind and heart
to readily defend our freedoms when they are threatened;
give us courage in making our voices heard
on behalf of the rights of your Church
and the freedom of conscience of all people of faith.
Grant, we pray, O heavenly Father,
a clear and united voice to all your sons and daughters
gathered in your Church
in this decisive hour in the history of our nation,
so that, with every trial withstood
and every danger overcome—
for the sake of our children, our grandchildren,
and all who come after us—
this great land will always be "one nation, under God,
indivisible, with liberty and justice for all."
We ask this through Christ our Lord.
Also I want to remind you of the special town hall meeting that I will be holding on Monday, June 25, which will be broadcast on the CatholicTV Network as well is being simulcast on the radio on WQOM 1060 AM here in Boston and on Relevant Radio throughout the country. Viewers will have an opportunity to submit their questions through CatholicTV's Facebook and Twitter pages. I encourage all of you to join me!
Until next week,
Cardinal Seán