Hello again!
On Friday, June 8, I celebrated the baccalaureate Mass with the eighth-graders at St. Columbkille Partnership School in Brighton.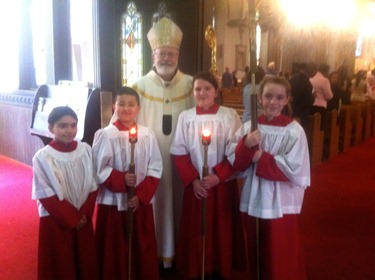 Of course there is a great Irish tradition in that parish, but today it serves a very diverse community.
"Columbkille" actually means "the dove of the Church" in Irish. We celebrated Mass on the eve of his feast day. On the main altar, St. Columbkille is to the right of the Calvary scene, and St. Patrick is to the left.
This is also a church where, for many years, there has been a Hispanic community, so they have an image of Our Lady of Charity. There is also statue of St. Donato representing the Italian community.
The graduating class itself was a very diverse group, representing the many different immigrant groups that are coming to our Church in Boston and that are now part of our parishes and Catholic schools. We celebrate this diversity.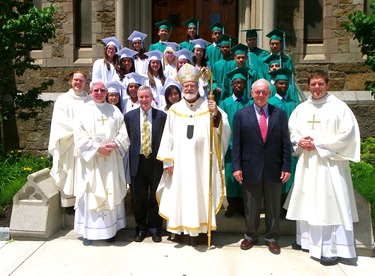 The school has received a great deal of help from Boston College and is flourishing. I understand they are expecting to enroll 350 students in the fall. This is a very good example of the many ways our local Catholic colleges have been very generous in lending their resources to strengthening our Catholic schools.
The growth at St. Columbkille is also a great sign of hope for the future of Catholic education in the archdiocese. Last year, we increased our overall enrollment by 2%, which was a very important watershed for us. It was very encouraging to see that, after so many years of declining numbers, our Catholic schools are beginning to grow again. St. Columbkille's is an exellent example of a school that has rebounded and we are very grateful to Msgr. Bill Fay, the Board of Trustees, and all those from Boston College who have been a part of it.
– – –
That evening, I met with the general superiors of the Sister Disciples of the Divine Master, who were visiting from Rome. I was with them for evening prayer and dinner.
The visit gave us an opportunity to thank them on behalf of the archdiocese for the wonderful work of the Sisters: their presence on West Street, at Regina Cleri and at the Pastoral Center. We also thanked them for all of their support, particularly the support of our priests, which I know is much appreciated.
– – –
Saturday morning, I celebrated Mass with Sister Olga Yaqob and the community of the Daughters of Mary of Nazareth in Brookline.
It was a chance for them to tell me about what is happening in the community, their activities and outreach, as well as the courses the sisters are taking as part of their formation.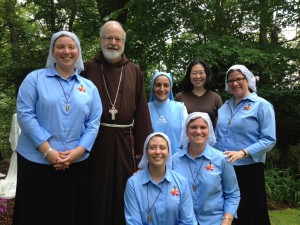 It was very good to be together with them. I was also encouraged to see there was a young woman there from New York who came to learn more about this community.
– – –
On Saturday night, we celebrated the Eucharist anticipating the Feast of Corpus Christi at Our Lady of the Assumption Church in East Boston.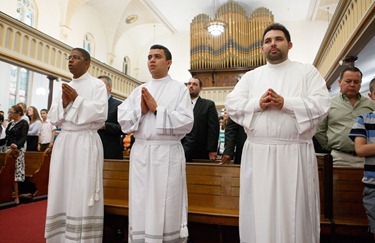 At the Mass, three seminarians were promoted to ministries: Benito Moreno and Eric Velasquez were instituted as lectors and Wellington Oliveira was instituted as acolyte.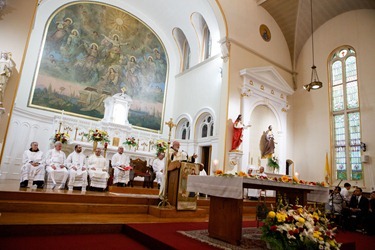 Benito is from the Dominican Republic, Eric is from Costa Rica and Wellington is from Brazil.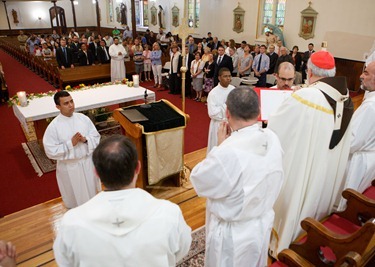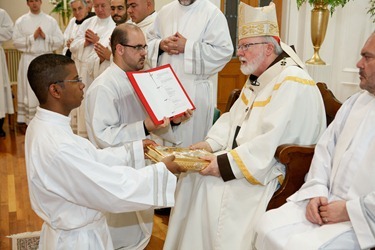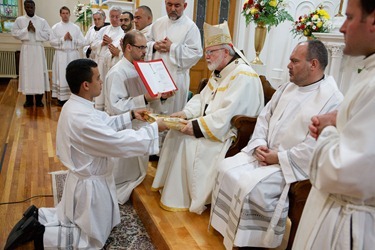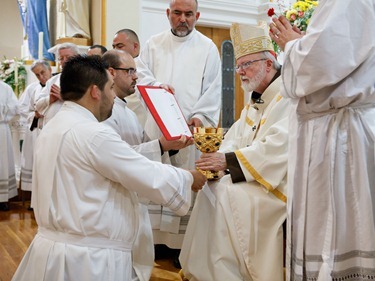 It was a beautiful and uplifting celebration.
– – –
It has been 10 years since the Charter for the Protection of Children and Young People was issued by the U.S. Conference of Catholic Bishops. So, on Sunday, the Feast of Corpus Christi, we had a at Our Lady Help of Christians in Newton Mass to mark the anniversary and thank all the volunteers in our parishes and others who have been involved in our child protection programs.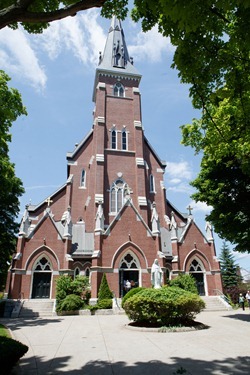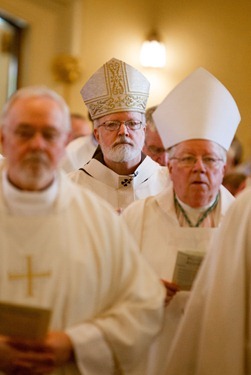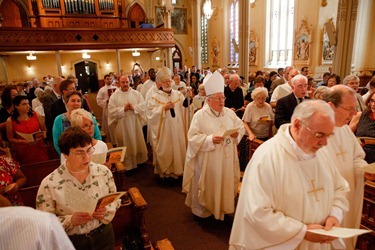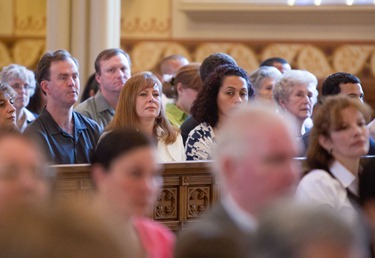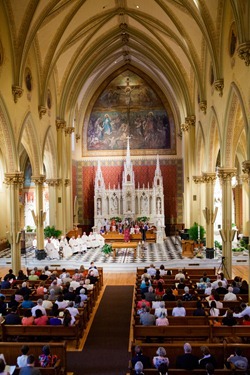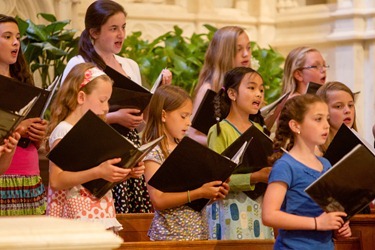 It was fitting that the celebration was held on the feast of Corpus Christi, because when I was installed as Archbishop of Boston, I described the sexual abuse crisis as "wounds on the body of Christ."
Over the last 10 years, literally thousands of people have helped in our child protection efforts of education and screening. Over 300,000 children have received safe environment training in our parish religious education programs or in Catholic schools. Over 175,000 adults — including clergy, religious, volunteers and archdiocesan staff at parishes in Central Ministries — have received child safety and protection training with a focus on preventing abuse. This includes more than 150,000 catechists and volunteers who have incorporated the training into their direct work with children.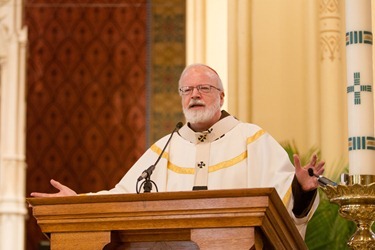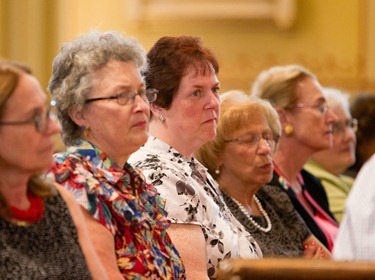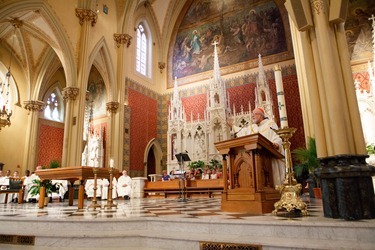 The archdiocese conducts more than 50,000 criminal background checks each year for any personnel who might be working with children in the archdiocese. Meanwhile, the archdiocese's office for Pastoral Support and Outreach has been consistently reaching out to the survivors of sexual abuse and their families and overseeing the counseling services that are provided to them.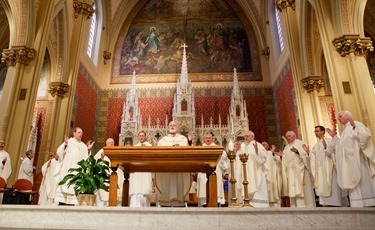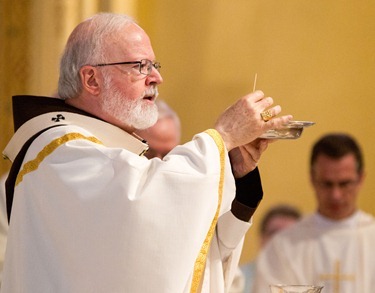 We are very grateful for the generous response of the people of the archdiocese, who have invested so much of their time and resources to this task of making our churches, schools and agencies as safe as possible for children. We cannot undo the great harm that was done historically, but we can do everything possible to prevent a repeat of the errors of the past.
In my homily, I mentioned that in that Sunday's New York Times there was an article on the Horace Mann School in New York City, which had experienced instances of abuse. In the article, they mentioned that the number of sexual abuse cases reported in the public schools in New York this year is up 33% over last year. Also, a month ago, The Boston Globe quoted a detective in the Boston Police Department as saying that his office received 1,200 allegations of abuse last year.
So, although sexual abuse in many venues seems to be on the rise, in the Church it is not. This is in great part due to the dedication, sacrifice and the efforts of thousands of Catholics from the archdiocese who have stepped up to assist us in this enterprise. I was very pleased to offer this Mass in thanksgiving for them and for all of those who have been affected by the sexual abuse crisis.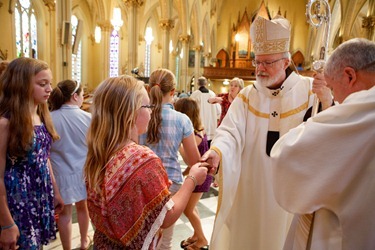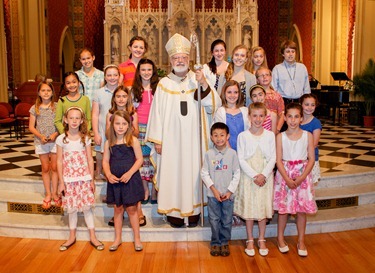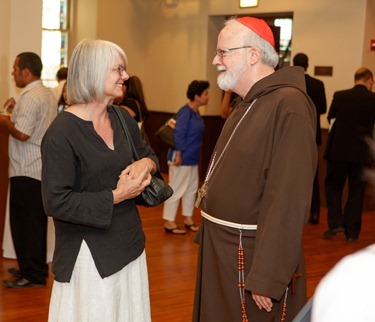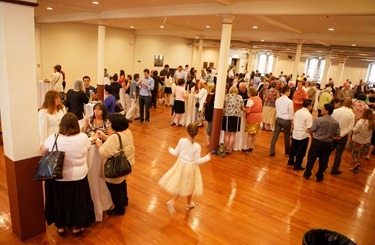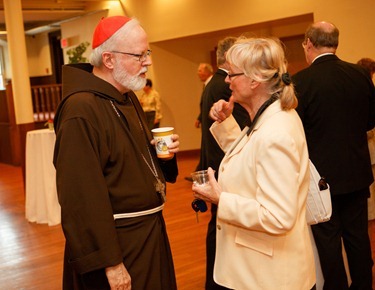 – – –
Much of the rest of my week was spent attending the gathering of the U.S. Conference of Catholic Bishops, which was held in Atlanta.
on Wednesday we gathered for Mass at the Sacred Heart of Jesus Basilica.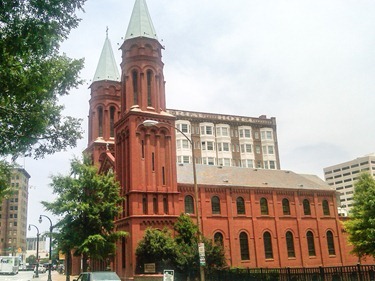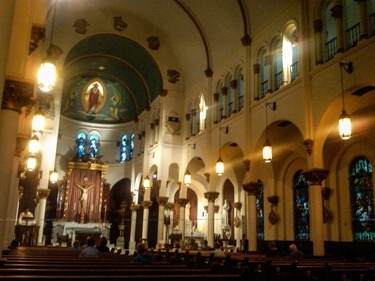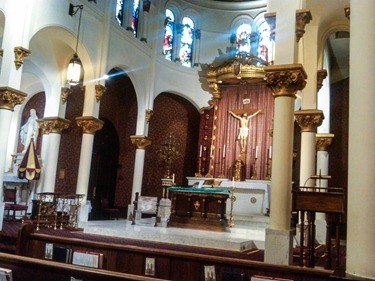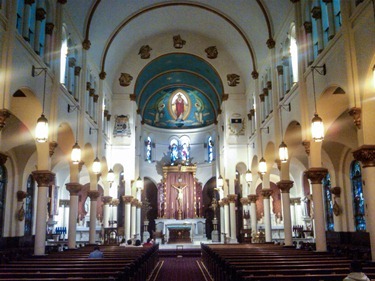 It is a very beautiful and historic church.
In our meetings and discussions there was a great emphasis on the issue of religious freedom.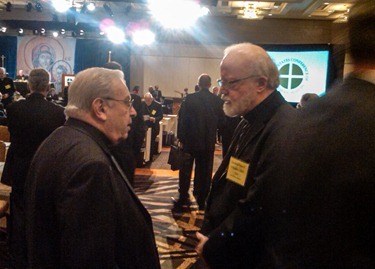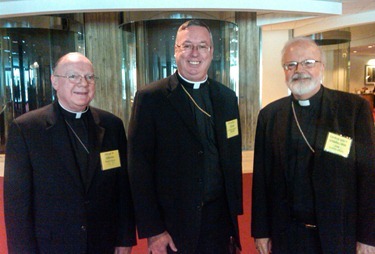 With Bishops Coleman and Coyne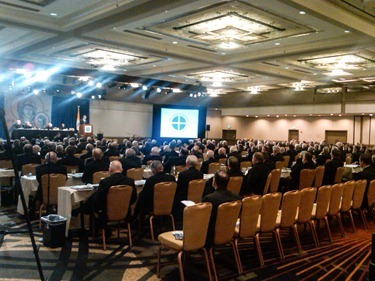 Archbishop William Lori, who is chairman of the Ad Hoc Committee for Religious Liberty, gave a presentation and there were also talks by Catholic University President John Garvey and Professor Tom Farr, the director of the Religious Freedom Project at Georgetown University.
President Garvey spoke about the legal situation in our country, and then it was thought helpful to look at the issue of religious freedom worldwide. Historically, the United States has taken a stand in favor of religious freedom in the world, but according to Professor Farr, recent administrations have not been aggressive in promoting it.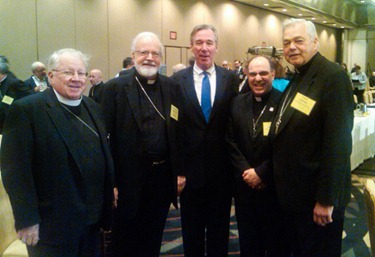 With Bishop Kennedy, President Garvey, Bishop Uglietto and Bishop Dooher
For us, as Catholics, this is an issue of great concern. According to the Pontifical Mission Societies, 26 Church workers were murdered throughout the world in 2011, and more than 1,000 have given their lives over the last 30 years. We also know that, in many countries, Christians are being driven out en masse. A good example of this is Iraq, where before the war there were 1.5 million Christians and now over half have been driven out of their own country. Bishop Shlemon Warduni, a Chaldean auxiliary bishop of Baghdad, gave a very moving talk, urging the peoples of the world to speak out on behalf of Christians in countries such as his.
Of course, this just serves to underscore the importance of the upcoming Fortnight for Freedom, during which dioceses throughout the country will dedicate two weeks, from June 21 to July 4, to educational efforts and invitations to reflect on religious freedom in our country.
Realizing this is an election year, the Bishops Conference is asking that every effort be made to prevent this from becoming a partisan or political exercise. However, the topic has, in many ways, been thrust upon us by the Department of Health and Human Services' issuance of a mandate that will require Catholic employers to provide health plan coverage for morally objectionable procedures and drugs. The mandate, of course, could be resolved in a variety of ways, including pending court cases or even by the administration itself. But beyond the immediate issue — which of course is very urgent for us because the sets a terrible precedent that continues to diminish religious freedom — it is very important for the Catholic community to reflect on how conscience rights and religious exemptions are being eroded in so many areas.
We must remember that our country was founded, in great part, on the principle of religious freedom and was a haven for people fleeing religious persecution in Europe. This freedom was so fundamental that we enshrined it in our Constitution, not as a right given to us by the government, but as the right of every human being and something our country was committed to defending. At this time, we need to hold this up, reflect upon it and call our people to a greater awareness of how precious our religious freedom is. When we see how, in other parts of the world, people's religious freedom is trampled in such a terrible way, it should make us very proud of our own heritage but also make us ever more vigilant in protecting this tradition.
Until next week,
Cardinal Seán