Hello and Welcome Back!
Last Thursday, the arrival of the Stanley Cup caused a great deal of excitement in the Pastoral Center.
We have many hockey fans here and, of course, I was anxious to have my picture taken with it so I could send it Archbishop Miller in Vancouver.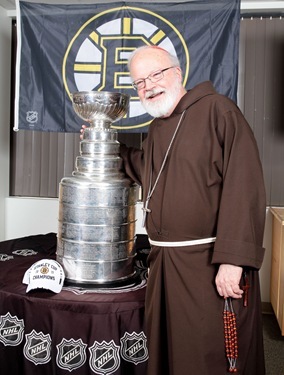 You may recall that at the time of the Stanley Cup Finals the Archbishop of Vancouver and I made a friendly wager of a $100 donation to the winner's local Catholic Charities agency.
The archbishop was a very good sport about his team losing and sent me the donation for Catholic Charities of Boston.
– – –
That evening I attended Cathedral High School's Partnership for Success dinner at the Renaissance Boston Waterfront Hotel.
This was the 10th anniversary of this dinner to raise money for scholarships to the high school. Mr. John Remondi was honored for the extraordinary work he has done to support Cathedral High.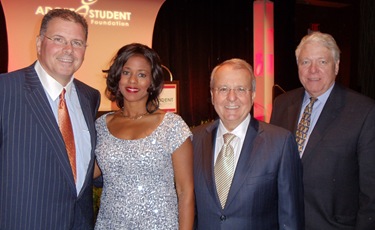 Dinner co-chair Barry Hynes, WCVB's Rhondella Richardson, John Remondi, and dinner co-chair John Drew
They had a wonderful video and one of the students spoke and gave a very inspiring talk. Rhondella Richardson from WCVB-TV Channel 5 was there to emcee the event.  The keynote speaker of the evening was Villanova president Father Peter Donohue.
Father Donohue and dinner co-chair Barry Hynes
It is because of John's efforts and the help of other alumni of Cathedral High that the school has not only survived, but is flourishing. They have raised many millions of dollars, built a new gymnasium and new science labs and put a new roof on the building.
Everyone is so grateful to his dedication and it was wonderful to see him there with his wife Dotty and their beautiful family.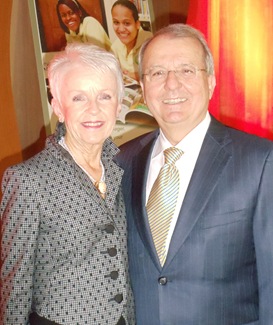 John and Dotty Remondi
He told his story of his mother being an immigrant from Italy and how they had to struggle when they came to America and what an important factor Catholic education was in his own life. He is truly a man who is giving back in a big way.
– – –
On Friday, I attended the funeral of Father Paul Francis, the oldest priest in the archdiocese, a man who was ordained a priest long before I was born.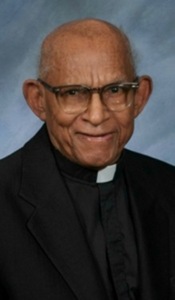 He was originally from Belize, though at the time he was born it was British Honduras. He was sent to Rome to study, but when the Second World War broke out he ended up being stranded there. He was a very brilliant man and so he kept studying — and obtained a number of degrees and doctorates and so forth. Then eventually, he found his way to Boston where he worked in our parishes and was pastor for several years at Sacred Heart in Weymouth .
I was very moved to see that the church was filled. At his age, 96, usually one has buried all of one's friends and acquaintances, but he made such an impact on the life of those people that they all came to pay their final respects.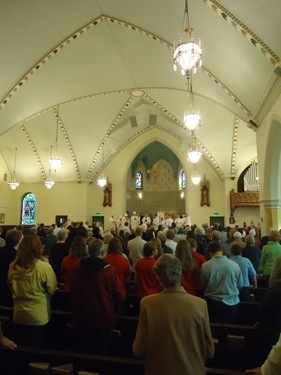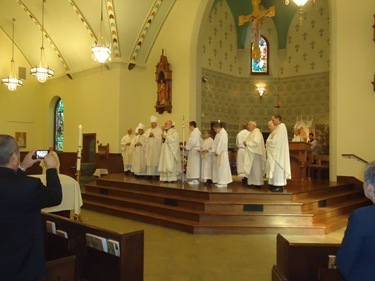 His sister-in-law and nieces and nephews were also there. Some of them are still living in Belize, and they were very surprised that I had been in Belize. When I was part of the Antilles Bishops' Conference, Belize was one of the member countries. I have many fond memories of Bishop Martin and the wonderful people of Belize.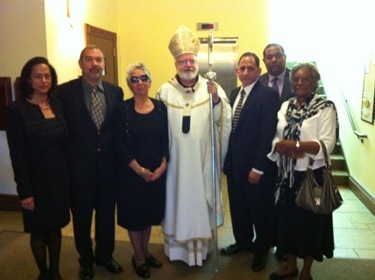 With Father Francis's relatives
So it was a wonderful send-off for a priest who was very, very beloved. Father Frank McGann gave a beautiful homily and of course Sacred Heart Church, which has been rebuilt, is just a stunning place for it.
– – –
That evening, I attended an alumni dinner at St. John's Seminary. Over a 100 priests came; including many priests from neighboring dioceses who had studied at St. John's.
We had a Holy Hour before the meal. One of the deacons gave a talk on the seminary and priesthood, and two of the seminarians provided musical entertainment. One played the flute and the other the violin, they were very good. I was particularly happy that the last tune that they played was the "Irish Washer Woman!"
– – –
On Saturday, we were very pleased that so many people came to participate in the Adopt-a-Priest Mass organized by the Serra Club of Boston by which everyone could volunteer to pray for a priest for a year. Loretta Gallagher, the club president, explained this adoption to the people at the end of Mass.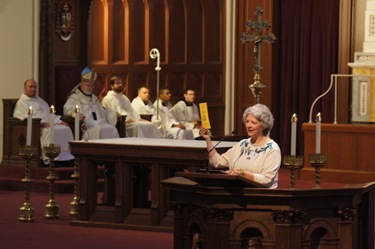 Loretta Gallagher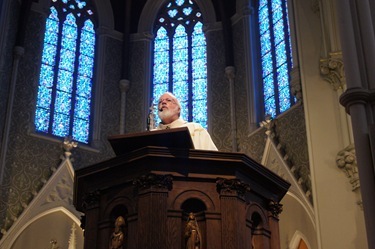 This day was also the first feast day for Blessed John Paul II and so we celebrated the Mass of the feast. Cardinal Dziwisz, who was the Holy Father's personal secretary and very close friend, sent me a beautiful relic of John Paul II that we venerated after the Mass. The relic was a piece of cloth soaked in his blood.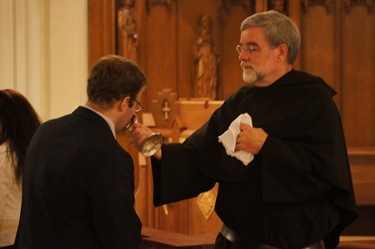 Talk about providence! The relic arrived just the day before the Mass with a very nice letter from Cardinal Dziwisz, who was also my classmate in the same consistory — we were made cardinals together.
There were over a 1,000 people who came to the Mass, including many priests.
Then afterwards George Weigel gave a stunning talk: "Pope John Paul II— a Saint for Our Day." He also answered questions about the Holy Father; it was standing room-only downstairs for his conference. I think The Daughters of St. Paul sold out all of the books that they had brought of George Weigel's second book on John Paul II "The End and the Beginning." Of course, there were coffee and cookies after the Mass, too.
George Weigel
It was a great success and we were all so pleased. It was a beautiful way to mark the first feast day of Blessed John Paul II.
O God, who are rich in mercy
and who willed that the Blessed John Paul the Second
should preside as Pope over your universal Church,
grant, we pray, that instructed by his teaching,
we may open our hearts to the saving grace of Christ,
the sole Redeemer of mankind.
Who lives and reigns with you in the unity of the Holy Spirit,
one God, for ever and ever.
– – –
Later that day, I went to a Mass for candidates for the permanent diaconate in Peabody.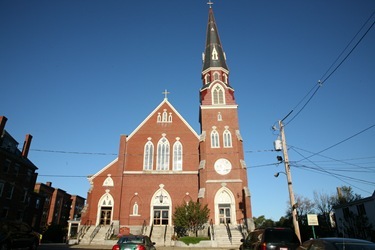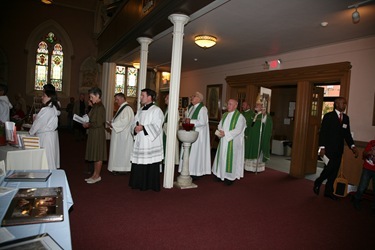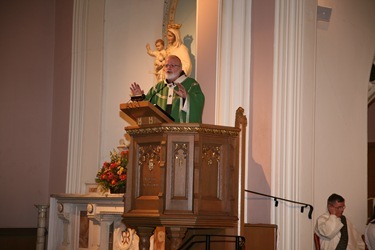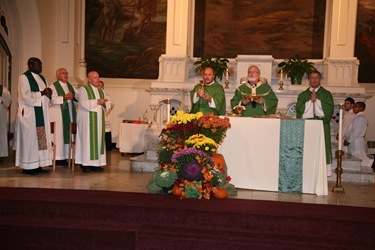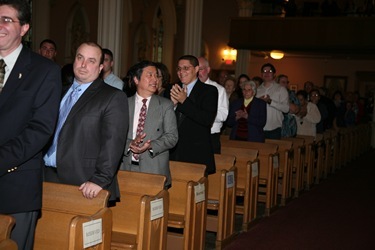 Now we are ordaining deacons every year, and this particular class has six Hispanics, one Brazilian and one Vietnamese, so the different ethnic groups of the diocese were very well represented.
Of course, Deacons Dan Burns and Pat Guerrini from our Diaconal Life Office were with me for the Mass.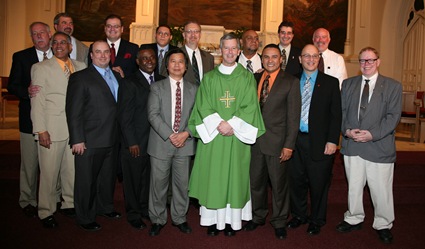 Deacon Burns with the new candidates
– – –
On Sunday, we had the Mass at the Cathedral for World Mission Sunday. Many different choirs came, once again representing some of our different ethnic groups we have here in the archdiocese. There was the Archdiocesan Black Catholic Choir, the Cape Verdean Choir, the Ugandan Martyr's Choir and the Vietnamese Catholic Community Choir of Boston. Intercessory prayers were also said in Ugandan, Spanish, Chinese, Swahili, Portuguese and English.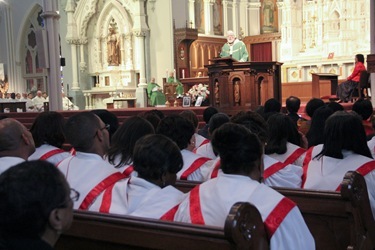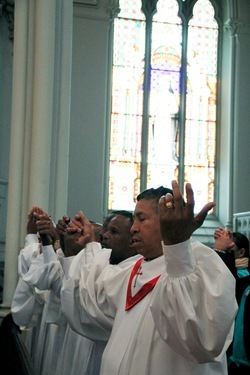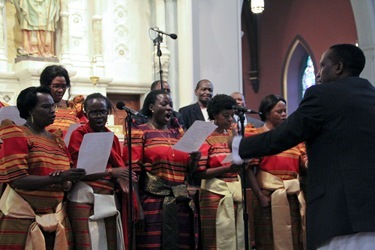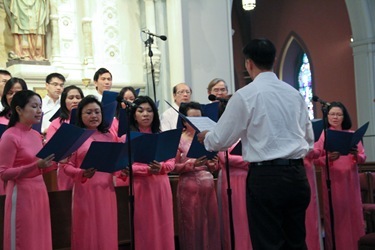 We also distributed mission rosaries, the practice being initiated by Archbishop Fulton Sheen where each decade of the rosary is offered up for a different continent and the missionaries there. Of course, Father Rodney Copp was there, as he is our director of the Pontifical Mission Societies here in Boston.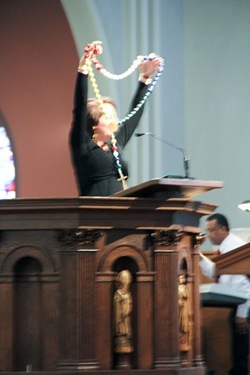 We also had Bishop William McNaughton with us and several other Maryknoll priests. We wanted to mark especially the 100th anniversary of the founding of Maryknoll. The co-founder was Bishop James Walsh who was formerly the director of the Propagation of the Faith here in the Archdiocese of Boston. We also acknowledged the fact the founder of the Xaverian Missionaries was being canonized that morning, so we congratulated them on the new St. Guido Conforti.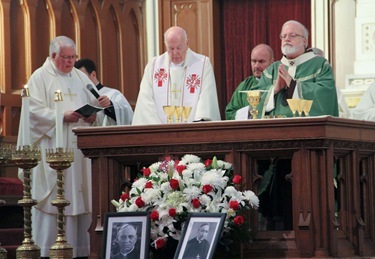 – – –
That evening I went to another event related to the missions: the St. James Society's Cushing Award Banquet held at BC High.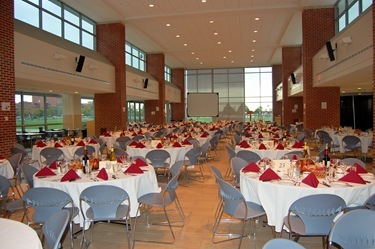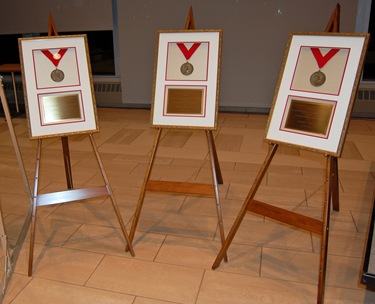 The Cushing Award medals
There were three honorees: Bill Burke of St. Sebastian's School, Sister Janet Eisner of Emmanuel College, and Father John Unni of St. Cecilia Parish.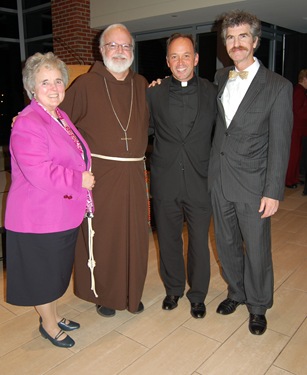 with Sister Janet, Father Unni and Bill Burke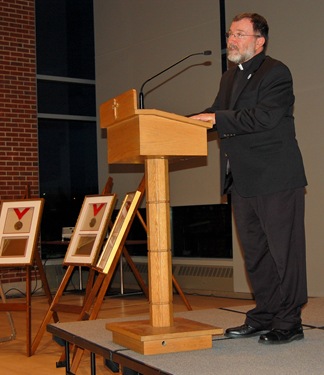 The director of the Society, Father Hays
During the evening they showed an excellent film about the St. James Society! None of us had seen it before and they had lots of old photos with Cardinal Cushing and the first missionaries — it was wonderful!
– – –
On Monday, I went to the wake of Sister Mary Hart who had received the Robert Leo Ruffin Award at the Healy Awards Dinner only a couple of years ago.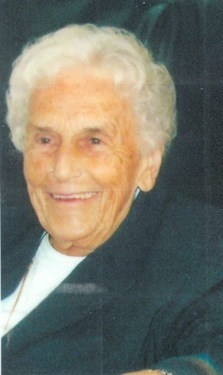 She was so dedicated to the people of St. Katherine Drexel Parish. Her twin brother and many of her relatives were there, along with large numbers of parishioners that gathered to honor her life of service, which made an incredible impact in our community.
We're all very grateful to God for her vocation and we wanted to express our condolences to her religious community— the Sisters of the Good Shepherd— to her family and to the many people that she served.
– – –
Also that day, I stopped in at a new restaurant in the neighborhood of the Cathedral, El Paraiso. It was recently opened by a family of our Cathedral parishioners and Father O'Leary, Father Jonathan and I went to a lunch there to bless the restaurant.
We wish them great success and we were delighted by the wonderful cuisine and hospitality. If you're in the South End area, it's wonderful place to eat and they also have a great take-out selection!
– – –
On Tuesday, I was invited to spend a day at Boston College. My visit was coordinated through the Church in the 21st Century Center with Father William Leahy, the president of B.C.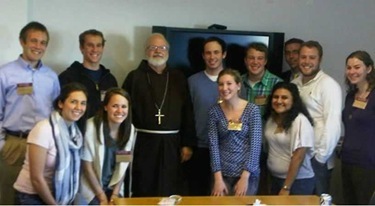 I had Mass at St. Mary's Church at noon and in the afternoon I met with professors and staff members from such areas as the vice president of mission and the chaplaincy office.
Then in the afternoon, I gave a talk that was open to the student body. I was delighted by the wonderful attendance. The subject of my talk was the Eucharist and the need to evangelize and to look for ways to invite young people to be a part of our worshipping community.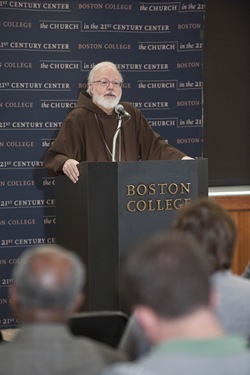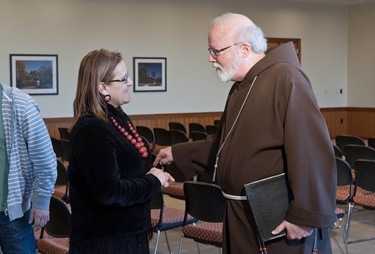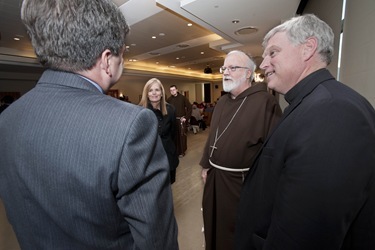 There was also a dinner hosted by Father Leahy with representatives from different components of the university as well as some students. Even at the dinner, we had a discussion about the pastoral concerns and formational concerns of our young people.
We're very grateful in Father Leahy's interest in promoting the Catholic identity of Boston College and also all of the help that he's given to us in the revitalization of our parochial schools, as well as a very generous policy they've had in giving scholarships to priests of the archdiocese studying there.
– – –
That same day, I went to the annual dinner of the Massachusetts Council of Churches. It was held at Holy Trinity Armenian Church in Cambridge and they were honoring a member of the Muslim, Jewish and Christian communities.
Our own Father David Michael was one of the honorees along with Dr. Larry Lowenthal, former Executive Director of the Greater Boston Chapter of the American Jewish Committee; and Dr. A. Karim Khudairi, a founder of the Islamic Council of New England.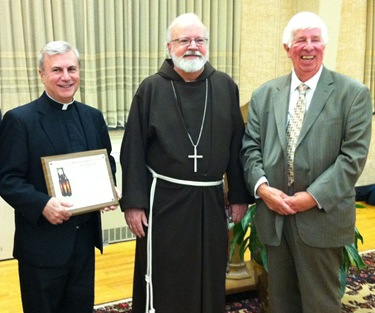 With Father David Michael and Rev. Johnson
The banquet also was a farewell gathering for the Rev. Jack Johnson, who is departing and will be replaced by Rev. Laura Everett.
We wish Rev. Johnson well in the future and we certainly look forward to collaborating with Rev. Everett.
Until next week,
Cardinal Seán