Hello and welcome back!
This week we learned about the appointment of Denver's Archbishop Chaput as the next Archbishop of Philadelphia.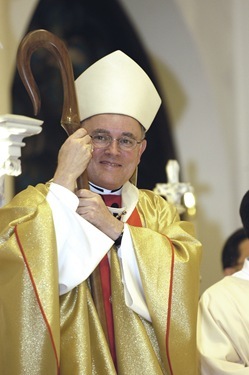 The news of his appointment is a source of tremendous hope and joy for me, and I wish to assure him of my prayers and the prayers of the Catholics of the Archdiocese of Boston. Archbishop Chaput and I were classmates together in the seminary. We Capuchins are very proud of the outstanding ministry of this great friar.
Our Holy Father is wise in choosing Archbishop Chaput to become the ninth Archbishop of Philadelphia. He brings with him many skills and talents that will be put to good use in the Archdiocese of Philadelphia. The people and the clergy of Philadelphia have suffered greatly throughout these past few difficult months. Their new Archbishop is a patient man who will work very hard to bring healing and strength to the Archdiocese of Philadelphia. On behalf of the clergy and the faithful of the Archdiocese of Boston, I pledge our prayerful support for Archbishop Chaput and for the Archdiocese of Philadelphia as they welcome their new shepherd.
– – –
Also this week I was very sad to hear of the passing of Myra Kraft.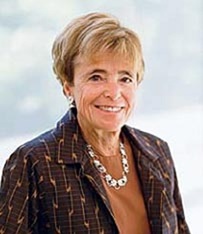 Myra was a strong advocate for serving the less fortunate and, together with her husband Robert, they have been great supporters of worthy organizations like Catholic Charities. Her dedication and commitment to serving those in need and her willingness to enlist others in that important work will be greatly missed. We ask God to provide comfort to Robert and their family during their time of sorrow. We pray for Myra and give thanks for her life. May her memory be for a blessing.
– – –
I also wish to share with you an update on the progress of the Archdiocese's annual Catholic Appeal that was sent to all of our parishes this week.  For all who have contributed to the Appeal, please know of my gratitude, and we hope that those who are considering a contribution will find this message helpful.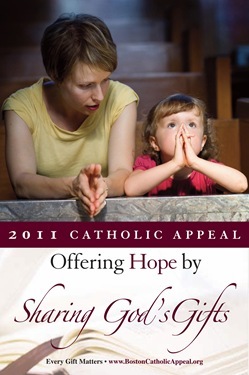 Earlier this year, in March, we launched our annual Catholic Appeal, "Offering Hope by Sharing God's Gifts," a critical fundraising effort that makes it possible for us to provide 60 vital programs that serve the more than 1.6 million Catholics across our Archdiocese.
Thus far 40,000 individuals and families have given to the Appeal and we have raised over $10.4 million, which is on target with our efforts last year at this time. We are grateful for the support from pastors and their parishioners who took the lead in promoting the Appeal at the parish level.
There are many signs of hope and renewal in our local Church. Your gift to the Catholic Appeal will help us to build on this positive momentum. Your contribution enables us to nourish and comfort the faithful, to support young people at pivotal moments in their lives; and embrace those who have been profoundly affected by life-altering circumstances. We can all be proud of the extraordinary programs and services offered by the Archdiocese. It is a blessing that we are able to share these ministries with our brothers and sisters in Christ in their time of need.
On behalf of all those who benefit from the central ministries throughout the Archdiocese of Boston, I am grateful for your commitment to live the Gospel message and share your gifts generously with those who need it most. Your support of the annual Catholic Appeal will make a significant difference in our ability to carry out the mission given us by Jesus Christ.
May God continue to bless you and all your loved ones with His abundant graces.
– – –
Now, on to the events of my week.
On Saturday I was in Natick for the ordination of a new transitional deacon. Eric Bennett, one of our seminarians who is studying in Rome, asked to be ordained in the archdiocese rather than in Rome.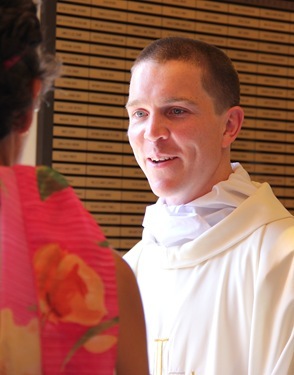 Often times the seminarians who live at the Pontifical North American College in Rome are ordained as a class there. But as he was going to be home, and to facilitate the participation of his family, we decided to do it during the summer.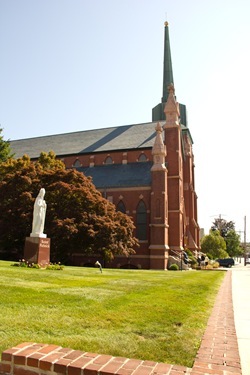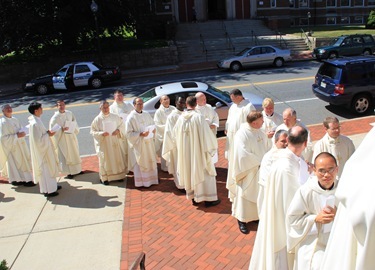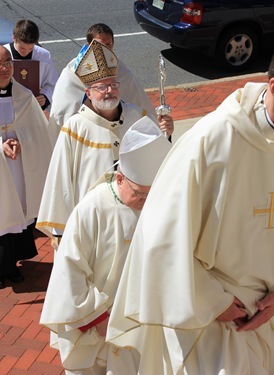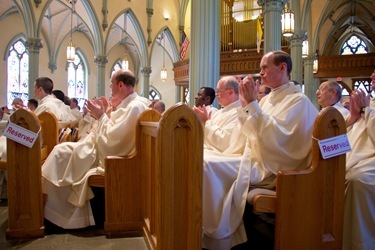 So we had the celebration at St. Patrick's in Natick on the feast of Our Lady of Mt. Carmel. Eric has a very large family with seven brothers and sisters and twenty nephews and nieces. In fact, he was going to be baptizing the newest member of the family over that weekend!
There were many priests who were able to participate and, of course, Bishop Arthur Kennedy, the Rector of St. John's Seminary concelebrated. One of Eric's classmates from the Anglicum in Rome — a deacon of the Diocese of Armagh, Northern Ireland — also attended and was the deacon at the Mass.
Father Brian Kiely, the pastor of St. Patrick's, as always was very gracious in hosting us and his choir did a fantastic job.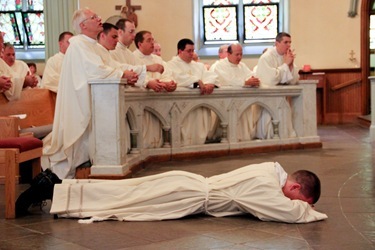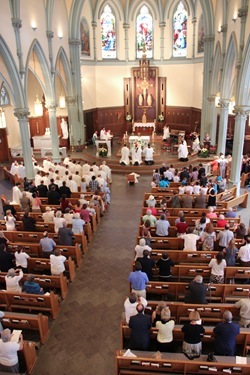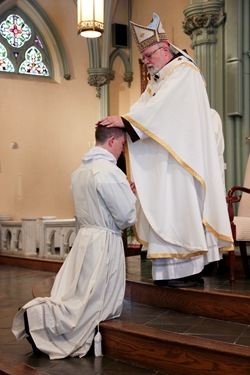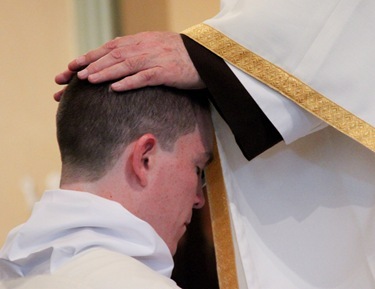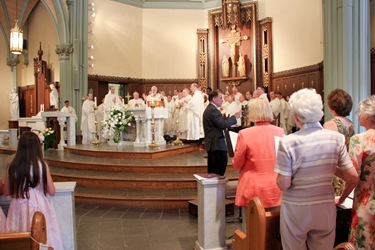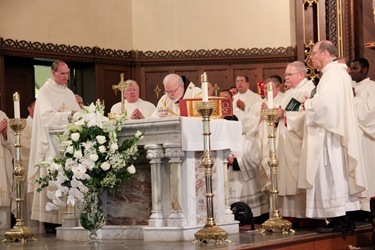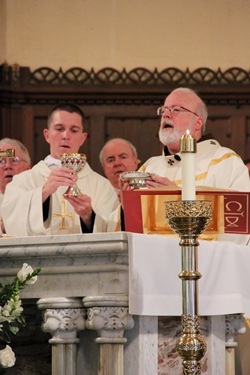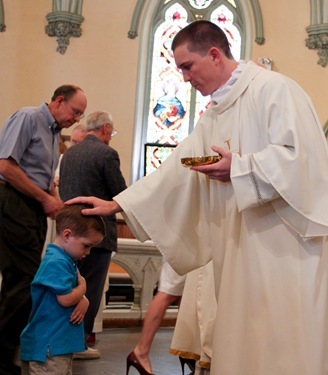 It was a beautiful celebration and Eric will be ordained a priest next summer with his classmates from St. John's, Blessed John XIII and Redemptoris Mater seminaries.
– – –
Later that day, Bishop Arthur Kennedy, Father Jack Ahern and I had lunch with Archbishop Cyril Bustros of the Melkite Greek Catholic Church. Archbishop Bustros has been the Archbishop of the Melkites in the United States until his election by the Greek Melkite Synod and appointment by the Holy Father as the new Archbishop of Beirut.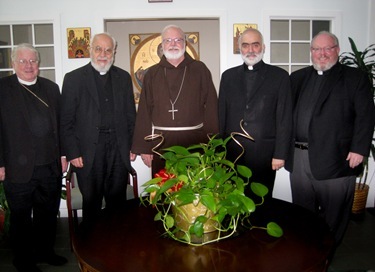 With Bishop Kennedy, Archbishop Bustros, Father Rabbat and Father Ahern
While Boston is the local See for the Roman Catholic Archdiocese, the Eparchy of Newton is the See for the Melkite diocese.
We had a little farewell lunch for him at their headquarters at Annunciation Cathedral in Roslindale.
The newly appointed bishop for the Melkites here will be Bishop Nicholas Samra, who will be installed in the next few weeks. We are grateful for Archbishop Bustro's service and he's always been very close to the archdiocese. We know that being the Archbishop of Beirut will be a challenging task and we pledge our prayers and support to him as he begins his new ministry there.
Also at the lunch we learned that Father Robert Rabbat, who is the rector of the cathedral, has also been named the bishop of the Eparchy of St. Michael of Sydney, Australia.
– – –
On Sunday morning, I paid a visit to the Trappistine Sisters of Mount Saint Mary's Abbey in Wrentham.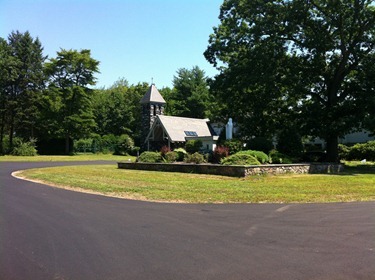 I celebrated Mass for the sisters and then afterwards we had a breakfast and we had a dialogue.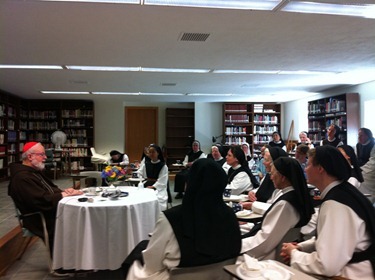 They have a large community, it looked like there were about 50 sisters there, I think with three novices and three postulants.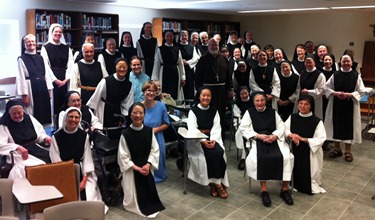 They gave me a tour of their new candy factory and I blessed it for them.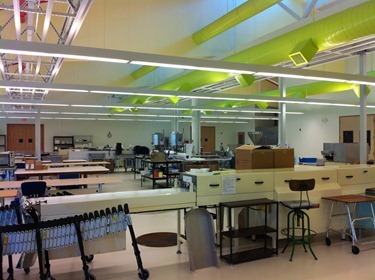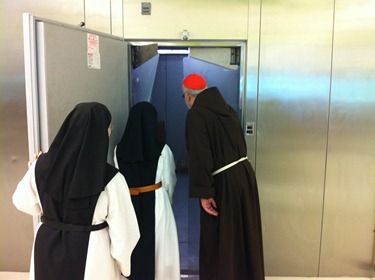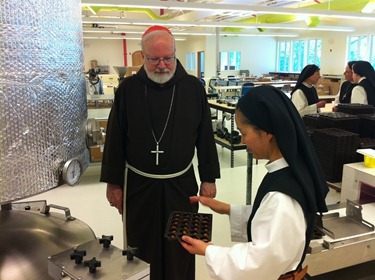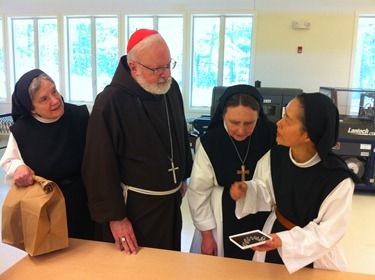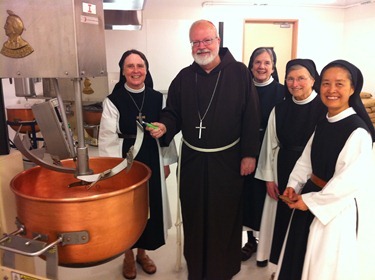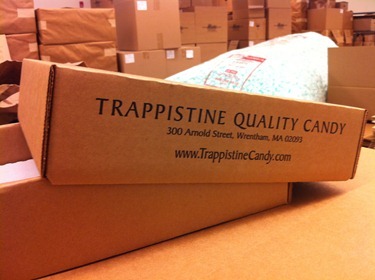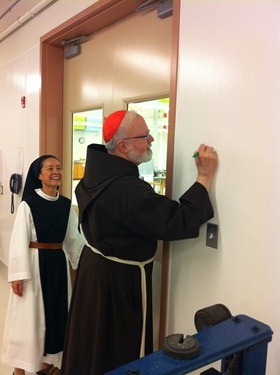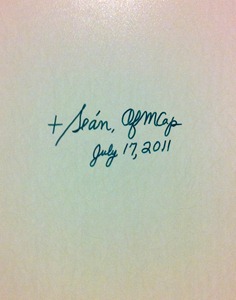 They also showed me their new gift shop/bookstore that they will be opening. Father Kevin Hunt their chaplain was with us; he's a Trappist monk from St. Joseph's Abbey, who lives in Wrentham.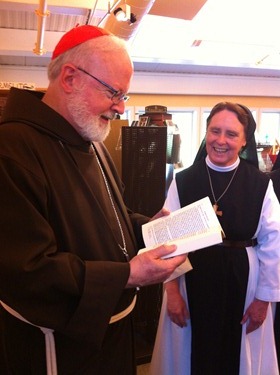 The sisters have just built a large new building to expand their candy business. In the Cistercian tradition, they are to support themselves by their work. So, traditionally, the abbeys and monasteries were on large farms or they made such things as beer, jelly or vestments. The sisters in Wrentham make chocolate — and wonderful chocolate at that!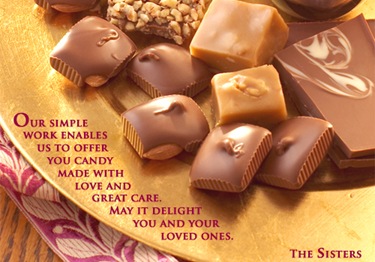 It is such a blessing for us in the archdiocese that we have five communities of contemplative sisters: two of the Poor Clares, two of the Carmelites, and the Trappistines. The Trappistine community, being the largest, therefore has the greatest financial need and the way they address it is by making their chocolate.
If you can't make it to Wrentham and you would like to taste some their wonderful confections yourself, you can even order them online. In this way, you can also support their community life.
I encourage you to try them.  You won't be disappointed!
– – –
Later that day I met with Cardinal Joseph Zen, the retired archbishop of Hong Kong. He had said Mass for our Chinese community at St. James in the morning and in the afternoon he met with me.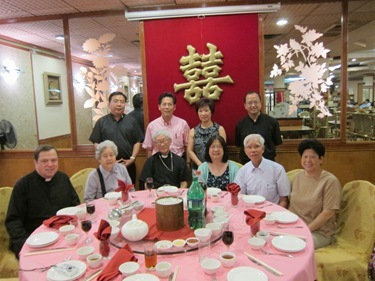 The cardinal has been visiting Chinese communities in the States and in Canada. He has also been meeting with cardinals and bishops in different parts of the country to update us on what is happening in China, where the tension between the government and the Church continues to grow as the government has insisted on ordaining bishops without authorization from the Vatican.
Afterwards, we had dinner with the Archbishop Emeritus of New Orleans Al Hughes, Msgr. McRae and Msgr. Frank Kelley from the North American College.
Before he left Boston, Cardinal Zen also visited the Pastoral Center on Monday, where he celebrated the daily Mass and met with our staff of the Society for the Propagation of the Faith.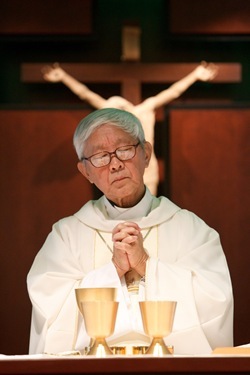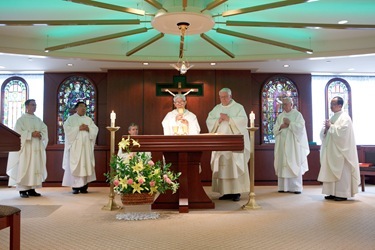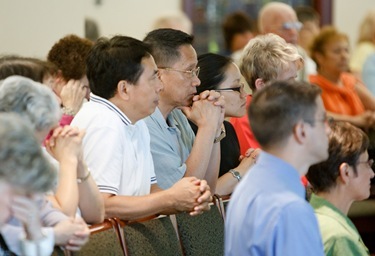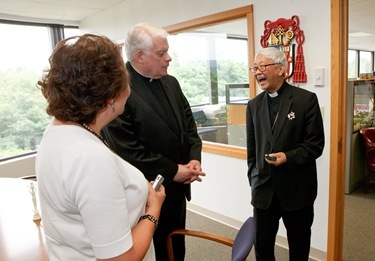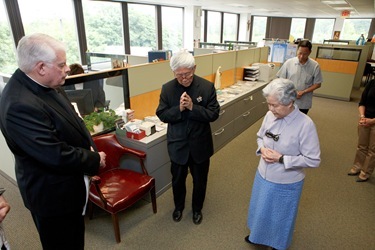 The Pilot printed a story on his visit that I want to share with you.
– – –
On Monday, I met with Deacon Patrick Moynihan, who is president of The Haitian Project. He came to fill me in on what is happening there. His report was hopeful and he thinks there is progress that's taking place.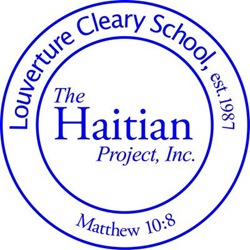 He's been running a wonderful school down in Haiti and has been very helpful to the bishops. He has been helping us to identify and acquire land so that the new seminary and other Catholic institutions, such as schools and parishes, can be built.
– – –
I also met with Father Kuriakose Vadana, pastor of our Syro-Malabar parish in Framingham. He is moving on to a new assignment and came to say goodbye.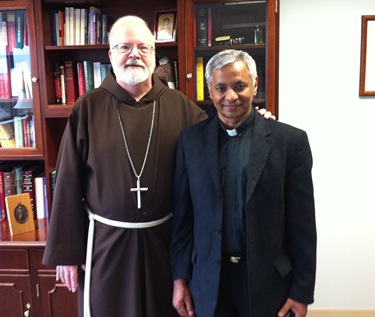 It was wonderful to meet with him and we wish Father all the best in new assignment.
– – –
Also on Monday, I met members of the Sacred Heart Apostolate.

They are going to have a world conference on the Sacred Heart in Paray-le-Monial in France. They spoke with me about the Enthronement of the Sacred Heart and encouraged that devotion.
– – –
On Wednesday, I was visited by a Franciscan sister, Sister Leonora de Stefano, who has recently been stationed in Boston. She was the secretary of Bishop Luigi Padovese, a Capuchin bishop who was murdered in Turkey last year.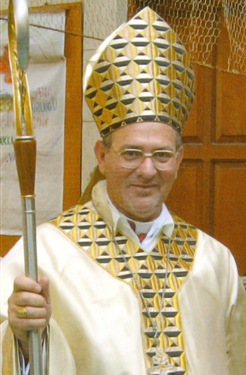 Bishop Padovese was the president of the bishop's conference in Turkey and Sister had worked with him for many, many years.
She brought me a book about him, its sort of a Festschrift with writings about him, his own writings, and writings in his honor.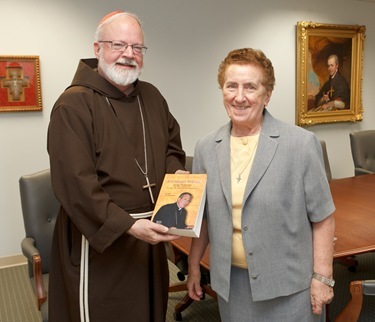 She also brought a recording of his, a variety of international traditional songs he recorded for friends. In light of his murder, they have a new value that speaks of his humanity and love for God and all peoples.
– – –
Finally, last week Kathleen Menendez, an old friend from Washington, sent me a picture of my Cursillo that I made when I was a young brother. This was the seventh Cursillo that was given in the Washington D.C. area. And it was in the days before the Cursillo was taught in English; it was only offered in Spanish.
In my recent Pastoral letter on Evangelization, I recalled my own experience with Cursillo:
"… as a seminarian 44 years ago I experienced the power of a Cursillo retreat. It was in Spanish in Washington D.C. with a collection of Argentine soldiers, undocumented Salvadoran refugees, Cubans, and some Puerto Rican restaurant workers. The weekend forged us into a fraternity, a community of friends, fellow disciples on fire with our love for Christ and our desire to make Him known, loved and served. At the end of the Cursillo weekend, the Rector gave me a Cross and said "Cristo cuenta contigo." And we answered, "Y yo con Su gracia." Christ is counting on us. With Christ, with each other and with his grace, we can do it. It strengthened my vocation to the priesthood and helped me understand the need to look for the lost sheep.
So, here is the photo. See if you can pick me out!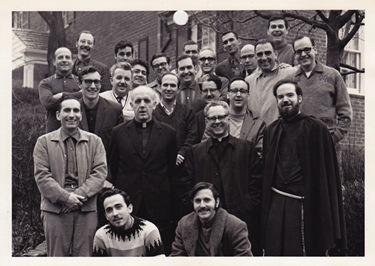 Until next week
– Cardinal Seán