Hello again!
As I mentioned in last week's post (and regular readers will recall), typically this time of year I ask one or two of our newly ordained priests to share their experiences with you as they begin their ministry.
This week, I have asked Father Carlos Suarez, whom I ordained in May, to offer his reelections. I hope you find his story as interesting and inspiring as I did!
– Cardinal Seán
– – –
Before I formed you in the womb I knew you, before you were born I dedicated you, a prophet to the nations I appointed you. – Jeremiah 1:5
As I reflect back upon nearly two months of life as a priest, I'm struck by how well it fits. I cannot imagine doing anything else with my life other than serving Christ and His Church as a priest. This strikes me in a particular way, because I spent so many years trying to turn away from this vocation.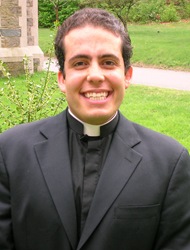 I was born in El Paso, Texas. I realized very early on, around the age of 6, that God was calling me to be a priest. At the time, this translated mostly into coming home from Mass on Sundays, putting on my bathrobe, making an "altar" with the couch cushions and "celebrating Mass" for my grandmother and whoever else might be around.
However, as I grew up, and as I began to think up other plans for myself, God's invitation began to feel like a burden. I began to push God away and to insist that as great as the idea was, there must be someone out there more suited to serving Him as a priest. It wasn't that I doubted my abilities, but rather I had convinced myself that my plans were better than what God had in store for me.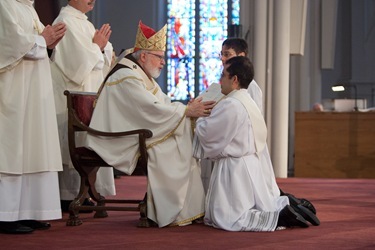 My family moved to Massachusetts in 1989, and in 1992 I entered Boston Latin School. During most of my middle school and high school years I continued to put God's invitation as far away from my mind as possible. I also let my relationship with the Church suffer. Then, towards the end of high school, things started to change. I vividly remember one night during junior year where I was struck by the urge to pray. I began to pray the Our Father, but I couldn't remember how to finish it. I tried in English, and I tried in Spanish, but it just wasn't coming to mind. This experience helped me realize how far I had turned from God, and how much I desired His presence in my life. A few weeks later I was wandering around the Prudential Center while waiting for some friends. It was on this day that I discovered St. Francis Chapel. It was through this chapel, and the Oblates of the Virgin Mary that staff it, that I began to come back to an active faith life.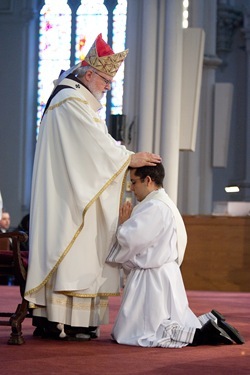 By the time I graduated high school I was back on the right path. I began my studies at Boston University in the fall of 1999, and I immediately became involved in the Catholic Center. The Catholic Center became the center of my social life on campus, and with the help of the campus ministers and my peers I continued to move towards a fuller and more mature embrace of my Catholic faith.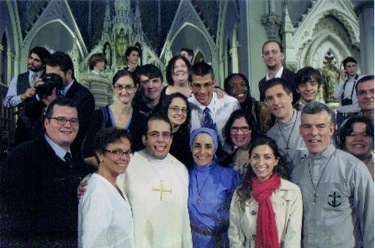 By the spring semester of my freshman year God's call had come back to the forefront. That January I saw an announcement for the Come and See weekend. I decided to attend, and my decision was confirmed a few weeks later when my mother came to BU for Mass and pointed out the retreat announcement to me in the bulletin. I happily told her I had already signed up. That retreat was a fateful occasion, because as I entered the seminary grounds I was struck by a very strong feeling of "coming home", of being where I belonged.
After the retreat ended I resolved to take more concrete steps in embracing my vocation. I began praying parts of the Liturgy of the Hours, and I began meeting with a spiritual director. Around this time I was also introduced to Most Holy Trinity Monastery, a Maronite monastery in Petersham, Mass. I enjoyed the silence and solitude I found there, as well as the beauty of the Maronite liturgy.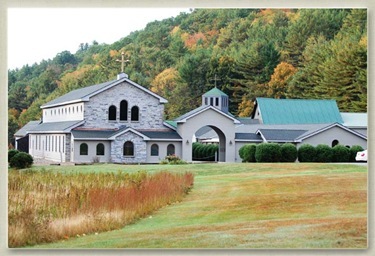 I've continued to make frequent visits there. I find that silence is a key element in creating the space necessary to hear God's voice.
As I became more serious about my vocation I was strongly drawn towards religious life, I explored a wide array of religious orders, but I felt particularly inclined towards the Salesians. I've always enjoyed working with young people, and the Salesians seemed to be a good fit. However, God made it clear that He was calling me to serve Him as a diocesan priest. After graduating from BU, I worked for two years and then I began my studies at St. John's Seminary in 2005.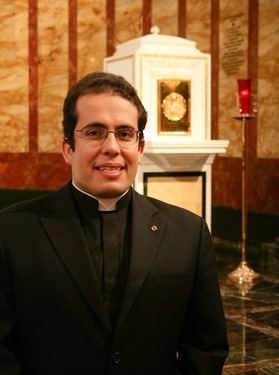 The first semester of seminary felt like it lasted about three years. I had to adjust to the schedule, the academics, and the community. However, as I truly allowed myself to enter into the formation, it started to fit more and more and I began to experience that peace which comes from following God's will. It seems that the more I felt this sense of peace and joy, the quicker the time passed by.
I was ordained a deacon on January 22, 2011. In God's strange sense of timing, my grandmother, the one for whom I had "celebrated Mass" as a child, died the day before my diaconal ordination. Her funeral Mass was the first Mass I served as a deacon.
Although the beginning of my time as a deacon was bittersweet, the rest of the time was joyful. During my months as a deacon I had to strike the balance between entering fully into the ministry of the diaconate and also making preparations for my priestly ordination.
My priestly ordination on May 21, 2011 is one of the greatest moments of my life. I was blessed in the days that followed the ordination to offer Masses of thanksgiving in places which have been important in my life including my home parish, St. Joseph-St. Lazarus in East Boston, and Marsh Chapel at Boston University.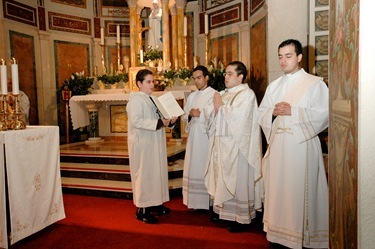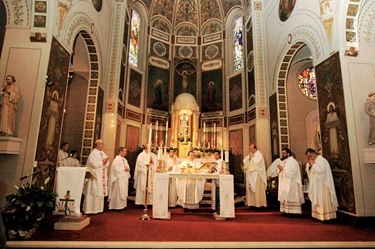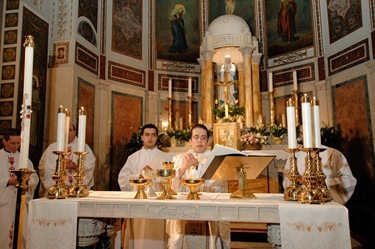 I've been assigned to three parishes in Brockton, St. Edith Stein, Christ the King, and Our Lady of Lourdes. I've been here for about six weeks now, and it's been a thoroughly enjoyable experience.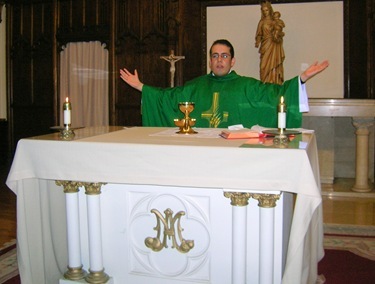 Each day brings new blessings through the celebration of Mass and encountering the people of God in other sacramental moments, whether through the sacrament of reconciliation, or the anointing of the sick.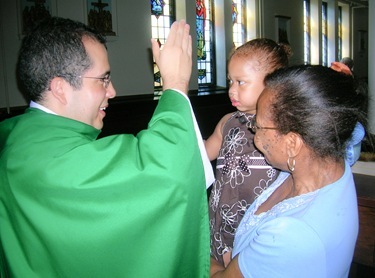 One thing which remains very close to my heart is working with youth. In the long term I hope to help foster a solid youth program at these parishes, and in the short term I'm really looking forward to being one of the estimated 20,000 priests attending World Youth Day in Madrid!
God has truly blessed me through my vocation, and I pray that my work will be a blessing to others. If there is anyone reading this who feels they might have a vocation to the priesthood I would echo the words of Christ which were a favorite quote of Blessed John Paul II, "Do not be afraid!" By running away from the vocation God is calling you to; you are only running from the great and abundant happiness which He has prepared for you.