I am posting my weekly entry a bit earlier than normal this week to make time for my Christmas Eve and Christmas Day events – I'll tell you all about those next week.
– – –
On Thursday afternoon, I celebrated a Mass for our staff here at the Pastoral Center to start our annual Advent Gathering for employees. It was my chance to thank them for all that they do to help the parishes and people of the archdiocese. Afterward, there was a light reception upstairs.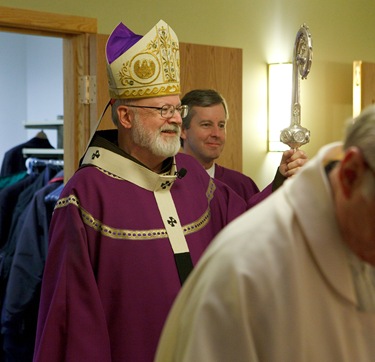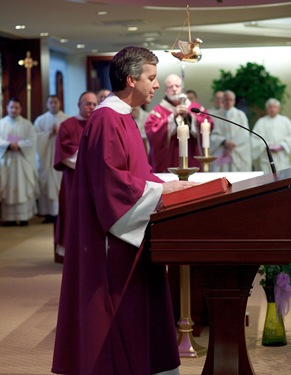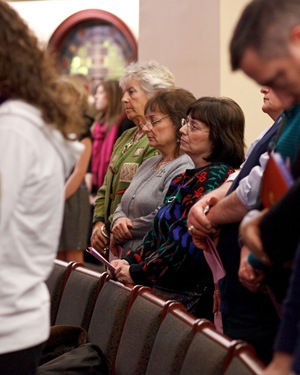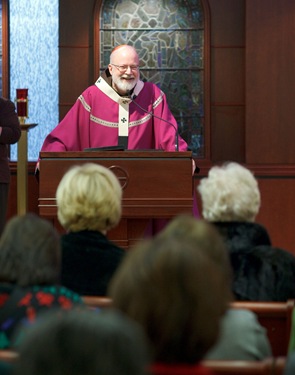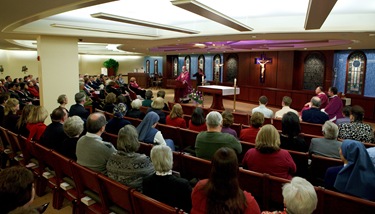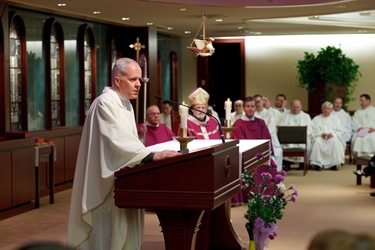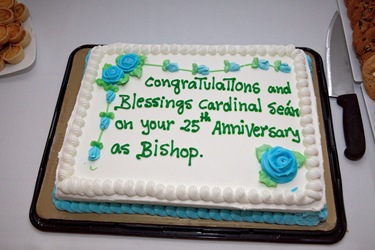 At the reception there was a cake for my anniversary
Also this week, my immediate staff joined me at the Cathedral for Mass, followed by an Advent, pre-Christmas dinner. We are so grateful to the wonderful staff that we have that facilitate the work of this office, which is so variegated because of the many different programs, problems and opportunities that surface here. It's their hard work and fidelity that make it all possible. I was happy to be able to recognize that.
– – –
That evening, I went to Boston College for an event for St. Columbkille School in Brighton. Msgr. Fay, the pastor of St. Columbkille's, Father William Lahey, the president of Boston College, Dr. Mary Grassa O'Neill, our Superintendent of Schools, and representatives from the Catholic Schools Foundation were all there for the program to recognize all the help in this wonderful alliance that has been able to save Catholic education in Brighton. As part of the celebration, the students from St. Columbkille's sang Christmas carols. It was an excellent evening.
– – –
I closed out my evening by speaking at Theology on Tap at The Green Briar, an Irish pub in Brighton. We had a very large turnout of young people for it. The youth minister at St. Columbkille's and Msgr. Fay were involved in the organization of the evening and helped make it a success.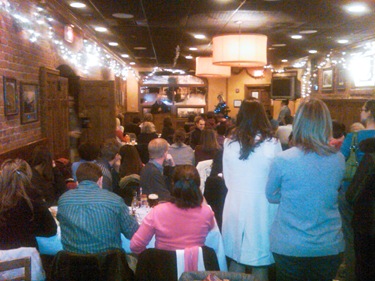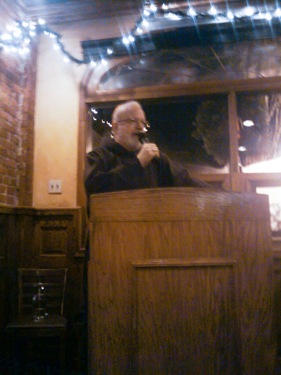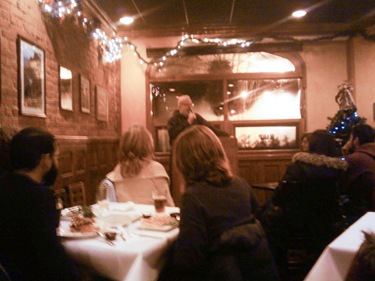 I gave them a talk on the mercy of God and the Sacrament of Confession, and then we had questions and answers. I spoke for maybe an hour and had a half-hour of questions. It was a wonderful group. It was on a cold, cold night. I was happy to see that so many young people turned out.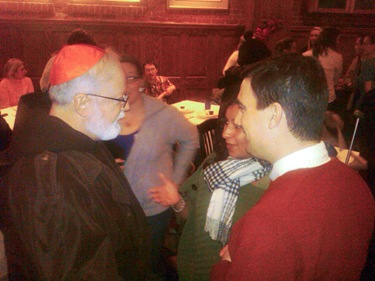 These Theology on Tap sessions have been important moments for people to learn more about their faith and to gather with other young Catholics.
– – –
On Saturday morning, I presided at a rite for the First Neocatechumenal Community at Our Lady of the Assumption in East Boston.
The Neocatechumenal Way is a parish based post-Baptismal itinerary of Catholic formation that gradually initiates members in all aspects of Christian life, following a praxis similar to the early Church's baptismal catechumenate.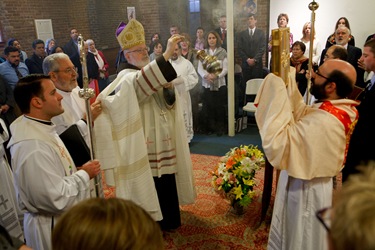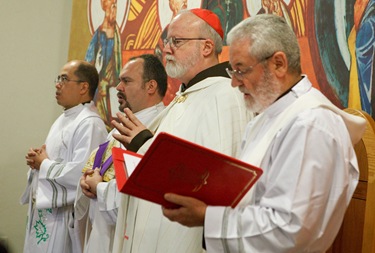 This particular community, the first one that started in Boston, is at the step of the third "traditio," that is the handing over of the Lord's Prayer. In years past, they were presented with the breviary, which they pray every day, as well as the Creed.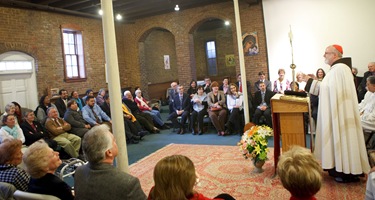 I shared with them some thoughts about this traditio of the Our Father at Baptism and Confirmation, and the custom of arcanum in the early Church. Following that, we reflected on the meaning of the beautiful petitions in the Lord 's Prayer.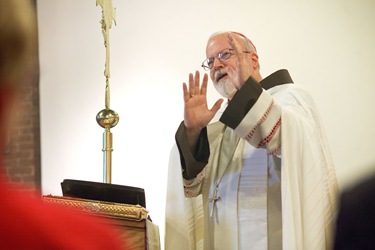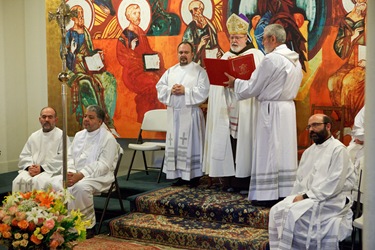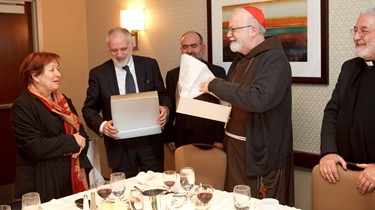 Afterward, there was a reception and they gave me the gift of a brown cardigan
– – –
Later that afternoon, I celebrated Mass with our seminarians and their families here at Pastoral Center. The gathering was organized by the Vocations Office.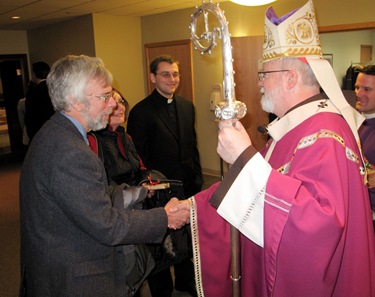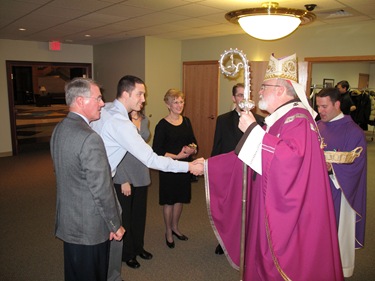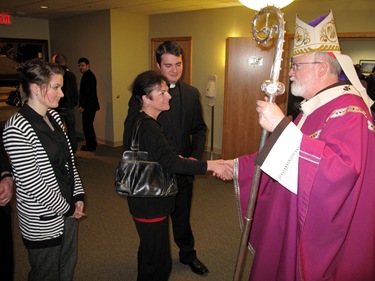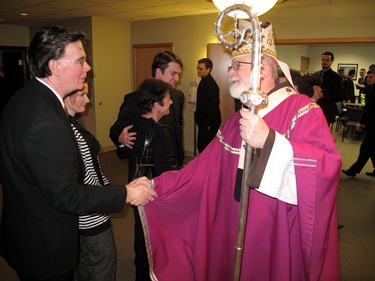 Some years we have had picnics (Of course in warmer weather!) and it's always hard to find a date that's good for everybody. This year, there were the warnings of snow, and many people called in at the last minute to let us know they didn't think they would be able to make it.
So, the group wasn't as large as it might have been but it was nice to get to meet some of the parents, brothers, and sisters of our seminarians.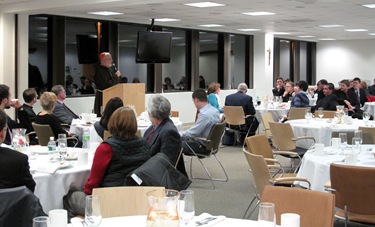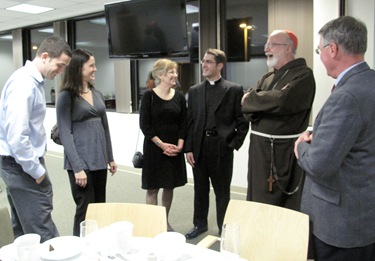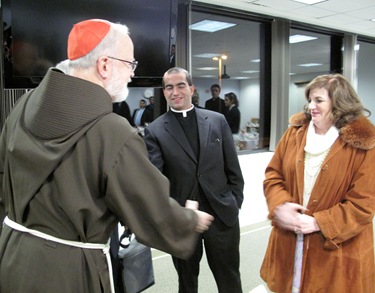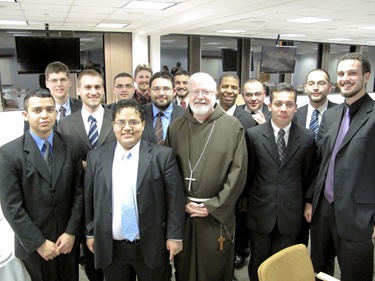 – – –
On Sunday morning, I said Mass at the Cathedral for the ARISE program. Father Alejandro Lopez-Cardinale, who is the Hispanic/Latino Coordinator for RENEW International, came up from New Jersey to be at this Mass. Originally, we had hoped the Hispanic people participating in Arise at the various parishes would come together at the Cathedral, but with the snowstorm it was what you could call a skeleton crew, about 50 or 60 people there.
– – –
From the cathedral, I had a parish visitation at St. Leonard's in the North End. There was a very nice turnout despite the snow. A lot of people in the neighborhood were able to just walk to church.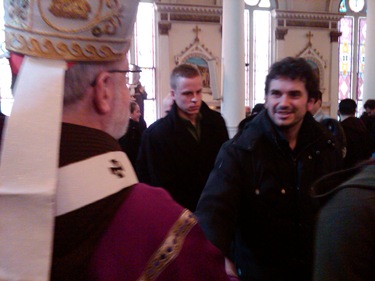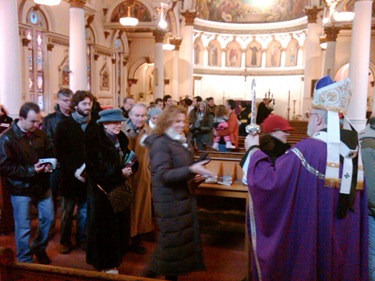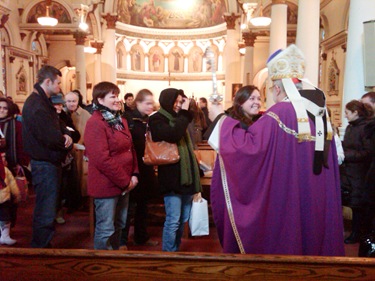 We were able to visit Father Michael Bercik, who is there at St. Christopher Friary and is very ill. I gave him a blessing and met with his family. Afterwards, the friars took us to lunch at Il Panino on Parmenter Street, one of the many Italian restaurants in the North End.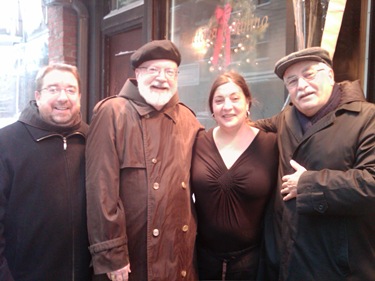 Father Tom washburn; Maria, the manager of Il Panino; and Father Claude Scrima
I had an excellent Italian meal. Thank you to Maria and all the staff who were so good to us!
– – –
On Monday I visited the Redemptoris Mater Seminary, and the seminarians sang some beautiful Christmas carols, including O Holy Night that I want to share with you.
Now a little something for those who are Santa Claus fans and who have a devotion to the Holy Father's camauro:  Father Marino, a friend of mine from the Archdiocese of Miami, shared this photo with me, which I consider priceless. In the Christmas spirit and for the young at heart, we are including it in the blog.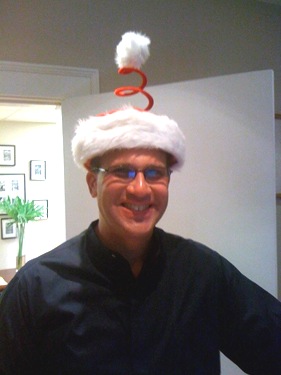 – – –
Finally, as we prepare for Christmas Eve and Noche Buena, I assure you that you are all in my prayers. I want to share with you this greeting, which I gave on Vatican radio.
[audio:CardinalSeanOMalleyChristmas2009.mp3]
I wish you all a blessed and merry Christmas!
Cardinal Seán