Greetings to you all.
Before I begin with the events of my week, I want to briefly comment on the news that the Holy Father is going to issue an Apostolic Constitution in order to accommodate Anglicans who wish to join the Church, and at the same time, preserve some of their Anglican traditions.
In the years immediately following the Second Vatican Council there was a great optimism about the possibility of the Anglican Church being reunited with the Roman Catholic Church. I had many Anglican friends who were very positive and very hopeful about this. After all, the Anglican Church, unlike other Protestant groups, was not founded so much on theological differences but rather because of certain political expediencies of King Henry VIII who was anxious to have a legitimate heir to prevent dynastic wars. Although Henry was very Catholic in his outlook (having authored "The Defense of the Seven Sacraments") more Protestant elements were introduced into the Anglican Church after separation from the Church of Rome. However there was always a strong Anglo-Catholic tradition, which of course flowered with the Oxford Movement, as well as the conversion of Cardinal John Henry Newman, the Graymoor Friars and Sisters, and so many others who came into the Church.
Much of our optimism about the corporate reunification of our churches, however, was dashed by decisions since the Council that were made within the Anglican communion by which they have distanced themselves from Catholic teaching and practice. Those decisions seem to be without reference to the Catholic or Orthodox Churches, particularly with regard to orders.  In light of that, many Anglo-Catholics have felt alienated and have sought to be received into the Catholic Church.
In our immediate history, we have been accepting Anglican priests into the Catholic Church, and in some cases even entire congregations that sought to become Catholic as a group. There are nine of those Anglican-use parishes in the United States and one of them is here in Boston. Those parishes have permission to use a modified version of the Book of Common Prayer as their liturgical book.
Given this, the Holy Father's move is simply building on a practice that has been going for nearly 20 years now.
His gesture is in response to a pastoral need to reach out to those others who are anxious to become part of the Catholic Church, yet, at the same time, allow them to maintain some of their own traditions and culture.
I know people are saying that this threatens the practice of celibacy in the Catholic Church. But, I look at it as being actually a better solution than the one that we have had — particularly in England — where scores of Anglican priests have been ordained as Catholic priests. This resulted in presbyterates wherein you have both married and celibate clergy. I think that was a much greater challenge than the current decision that will establish a separate jurisdiction for the Anglican priests who would become Catholic priests.
The Holy Father's decision was a courageous one. Some are criticizing it as un-ecumenical but I think that the decisions that the Anglican Church has made in the past have been un-ecumenical, as they have moved away from their Catholic roots. For this reason, the Holy Father's decision is a wise one. The hopes for corporate union with the Anglican Church have been greatly diminished. However, there are many within the Anglican Communion who are very close to us and this allows them to find a spiritual home in the Catholic Church.
– – –
On Thursday, I went to Boston College for a Mass and dinner with the Order of Malta.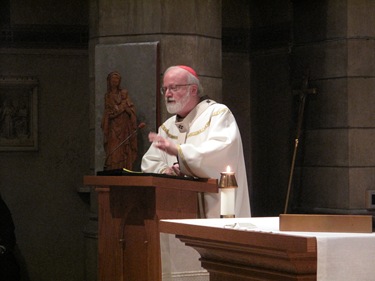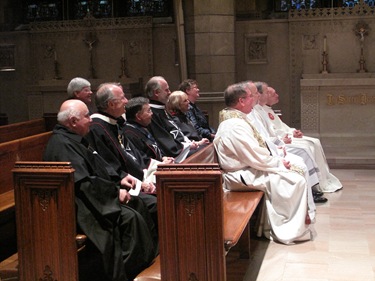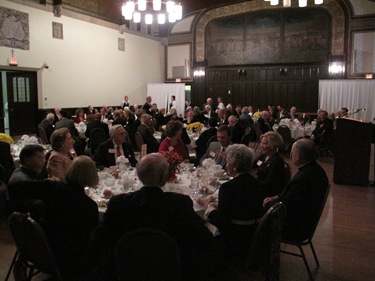 The Order's spiritual advisor, Msgr. Kevin Wallin, a priest of the Diocese of Bridgeport, gave the keynote address. It was a thorough presentation on the life of Blessed Gérard Tonque, who was the founder of the Order. It was very interesting, detailing much of the historical context surrounding his life and the Order's founding. It was very informative, I think we all learned quite a bit. Father had a wonderful way of presenting it. He was very animated in his delivery.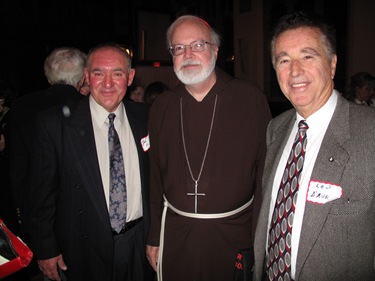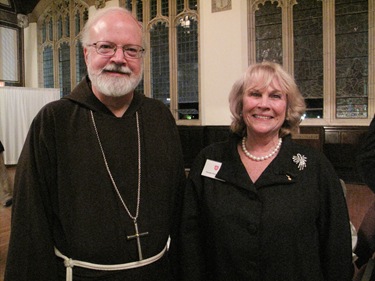 With Suzanne Downing, the area chair for the Order
– – –
The following day, Father Anthony Salim, the new pastor of St. Theresa Maronite Catholic Church in Brockton, came to pay a visit. We are very fortunate to have a number of Maronite parishes within our territory. Although they belong to the Maronite Eparchy, we are very close with them.
During the visit we talked about Archbishop Francis Zayek, who is the retired bishop of the Eparchy of St. Maron of Brooklyn and a very good friend of mine. He is now returning to Lebanon.
Bishop Zayek happens to be Cuban. I told Father Salim that at the bishops' conference we always spoke to each other in Spanish. One day, one of the bishops said to me, "I didn't know you spoke Arabic." I told him, "I don't speak Arabic. I am talking in Spanish." Of course, they were shocked that a Maronite bishop spoke Spanish. He is of Lebanese origin, but was born in Cuba.
I asked Father Salim if he is a relative of Carlos Slim, a man whom Forbes Magazine recently ranked as the third richest person in the world. Carlos is a Maronite in Mexico. He just bought a part of the New York Times and owns most, if not all of, the telephone companies in Mexico, as well as Sanborns, a chain of department and drug stores in Mexico. They interviewed him once and asked him how much money he had.
He answered, "Do you mean now?" Then he paused for a few seconds. "Or now?"
Father Anthony said, unfortunately, he is not a relative!
– – –
That evening, I went to St. John's Seminary for the annual White Mass, for members of the Guild of St. Luke, an organization of Catholic physicians in the archdiocese.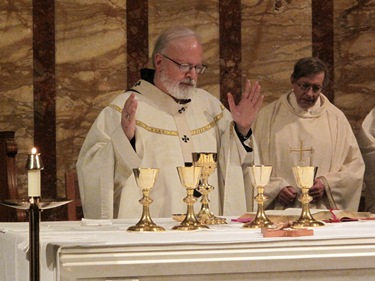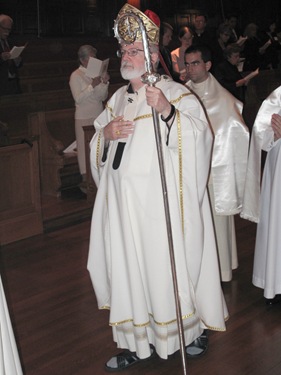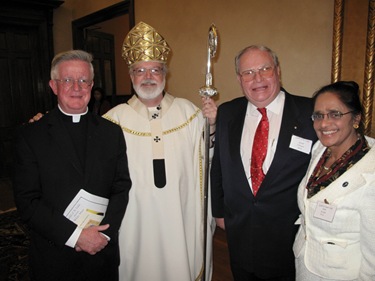 With Guild chaplain Msgr. Timothy Moran, past-president Dr. Gerald Corcoran and Guild president Dr. Helen Jackson
A number of health care workers were present, including a good number of medical students from Harvard.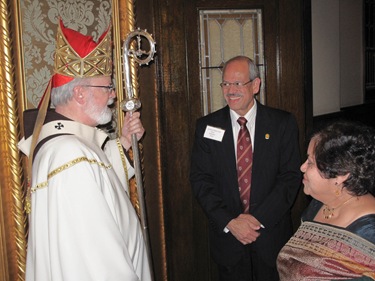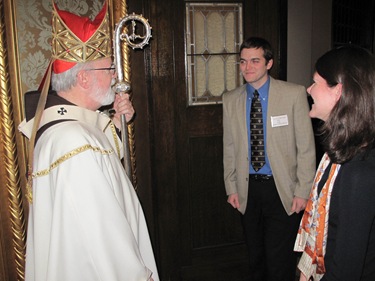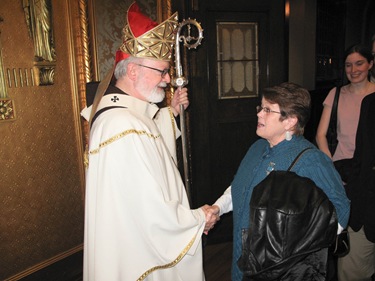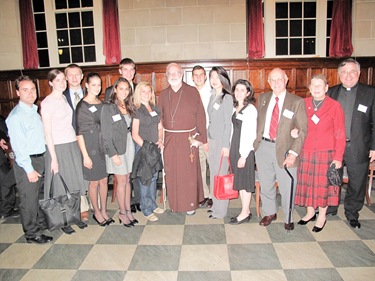 With the students
Father Myles Sheehan, a gerontologist and the new provincial of the Jesuits' New England province, was the keynote speaker at the banquet in the seminary's refectory which followed the Mass.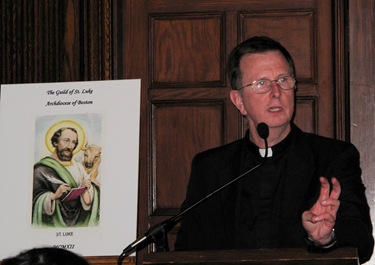 They presented me a lovely pen and a cake to mark my 25th anniversary.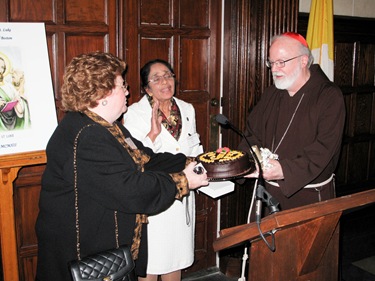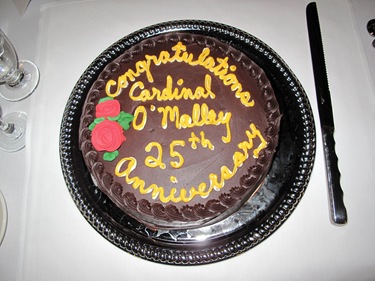 Health care has always been a very important part of our ministry. In the homily at Mass, I urged all the health care workers to be in touch with their professional organizations so that we can weigh in on the health care bill before Congress.
Recently, the United States Conference of Catholic Bishops developed a bulletin insert detailing their position on the current health care debate. I have urged our pastors across the archdiocese to print it in their bulletins. Please click the image below to see it larger or visit the USCCB web site for more information on this important topic.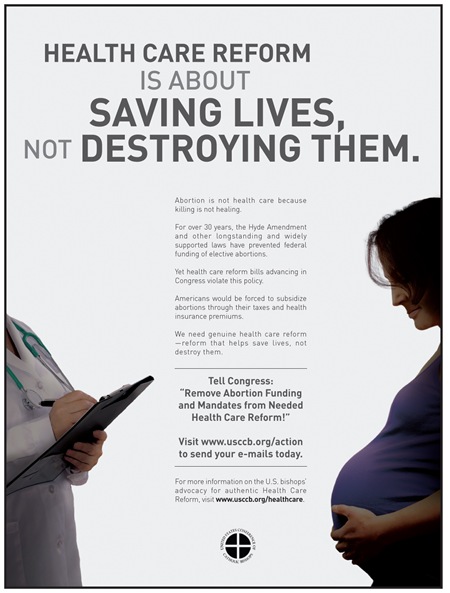 – – –
On Saturday, I led a multi-lingual prayer service and gave the opening remarks at the archdiocese's annual Catechetical Congress. This year's event was at The Lantana in Randolph. There were about 700 catechists there. The group was divided more or less evenly between the English and Spansih-language programs.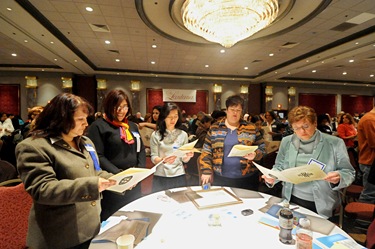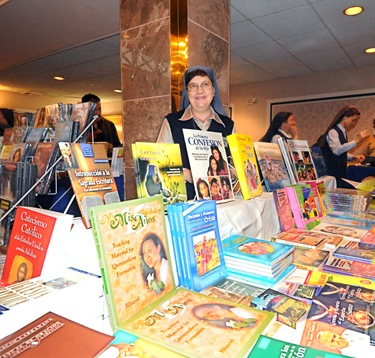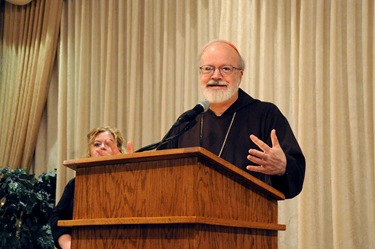 I offered some remarks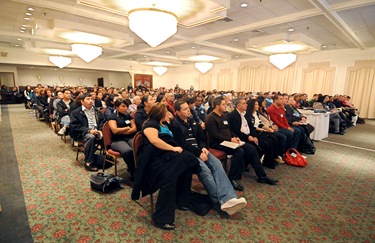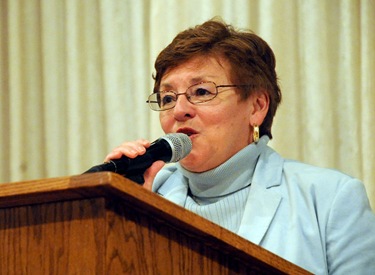 Janet Benestad, our Secretary of Faith Formation & Evangelization, also addressed them
They had keynotes in English and Spanish, as well as a number of workshops in both languages. Susan Kay, Susan Abbott and Pilar Latorre did a wonderful job organizing the event. Bishop Irwin was there as well.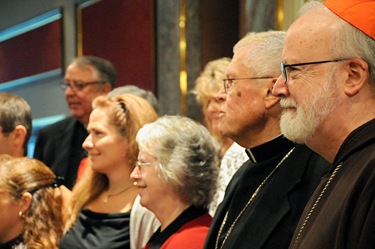 They presented the winners of the 2009 Sister Marion O'Connor, RC Award for Excellence in Catechetical Leadership.
The awards were given to Frances Taylor, the religious education director at Sacred Heart Parish in Lynn and Sister Elisette Signor of the Brazilian apostolate at St. Anthony Parish in Allston.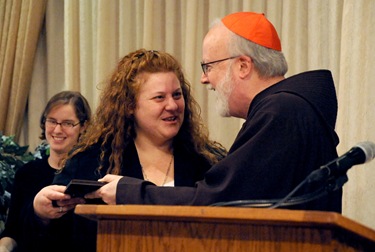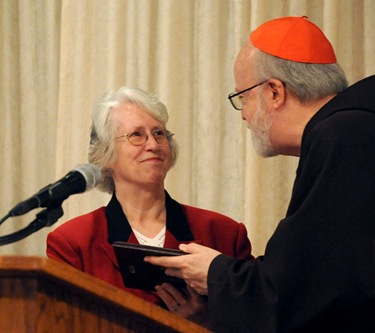 – – –
From there, I went to the Mass at St. Catherine of Genoa Parish in Somerville at the invitation of Mother Gertrude Mary, the superior of the Somerville community of the Little Sisters of the Poor, to have Mass for the sisters, many of the people who live in their home, their friends, and benefactors to celebrate the canonization of the order's foundress, St. Jeanne Jugan.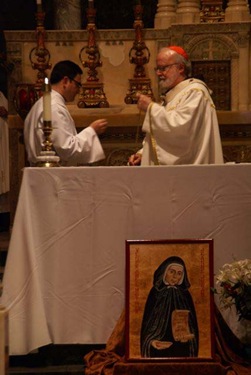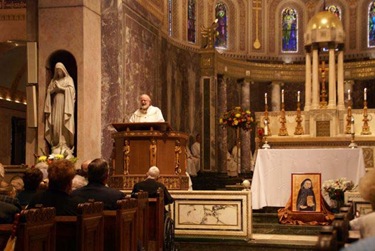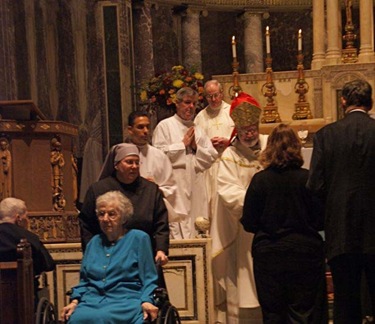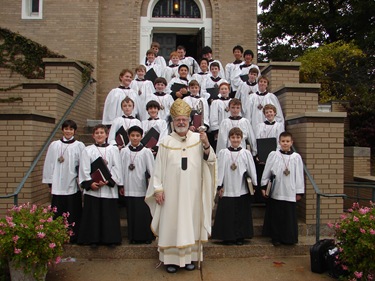 I want to share with you an excerpt from the Holy Father's homily he gave at the canonization Mass in Rome on Oct. 11. Some of the sisters from Somerville, as well as their friends, made a pilgrimage to Rome to attend:
Through her admirable work in the service of the poorest elderly, Saint Marie de la Croix is also like a beacon to guide our societies which must always rediscover the place and unique contribution of this period of life. Born in 1792 in Cancale, Brittany, Jeanne Jugan was concerned with the dignity of her brothers and sister in humanity whom age had made vulnerable, recognizing in them the person of Christ Himself. "Look at the poor with compassion, she would say, and Jesus will look at you with goodness on your last day". This compassionate gaze on the aged, drawn from a profound communion with God, was carried by Jeanne Jugan throughout her joyous and disinterested service, practiced with gentleness and humility of heart, wishing to be herself a poor person among the poor. Jeanne lived the mystery of love by peacefully accepting darkness and divesting herself of all material possessions until her death. Her charism is always relevant, while so many aged persons suffer different types of poverty and solitude, sometimes even abandoned by their families. The spirit of hospitality and fraternal love, founded on limitless trust in Providence, which Jeanne Jugan drew from the Beatitudes, illuminated her whole existence. The evangelical impulse is followed today throughout the world in the Congregation of the Little Sisters of the Poor, which she founded and which bears witness to her following the mercy of God and the compassionate love of the Heart of Jesus for the littlest ones. May Saint Jeanne Jugan be for the elderly a living source of hope and for the persons so generously placing themselves at their service a powerful stimulus to pursue and develop her work!
The Little Sisters of the Poor have been in the archdiocese for 130 years and have been such a blessing to us. St. Jeanne Jugan, as I told them in my homily, came out of that period of the French Revolution when there were so many martyrs, so many who suffered for the faith, that resulted in a great blossoming of sanctity, holiness, and new religious movements in France. The Curé of Ars was also from that revolutionary period, as was Bishop Cheverus, our first bishop here in Boston.
– – –
That evening, I gave the keynote address at the annual President's Council Dinner for the Thomas More College of Liberal Arts which was held at the Omni Parker House here in Boston.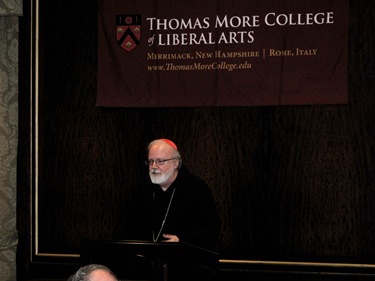 Thomas More is a Catholic college in Merrimack, N.H. and they have a number of students from our area.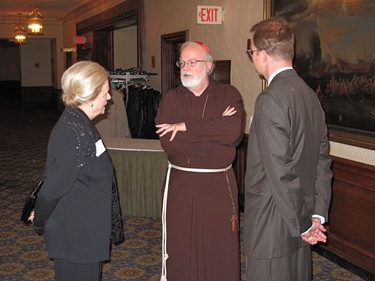 I was happy to have a chance to see Ambassador Mary Ann Glendon and Dr. William Fahey, the college's president.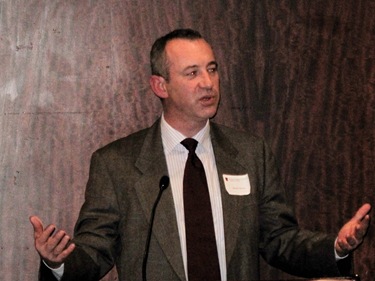 Thomas More College — like Magdalen, Christendom, and Ave Maria — is a small college that is intensely dedicated to transmitting a Catholic culture and a firm theological training to its students. The college uses a Great Books approach to higher education, but also places great importance on the classical liberal arts, as well as a very strong catechetical and theological training and spiritual formation of students. Although their numbers are small, the impact that their graduates make on the community is great, so I was happy to lend my support to them.
– – –
On Sunday, I went to Most Precious Blood Parish in Dover to celebrate the parish's 50th anniversary.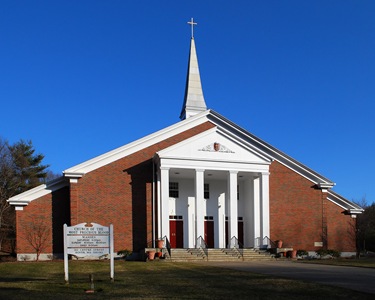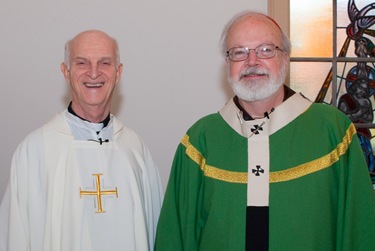 Father John Grimes is the pastor there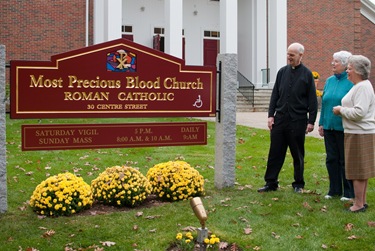 It was a beautiful Mass with a great musical program. There was a children's choir that sang as well.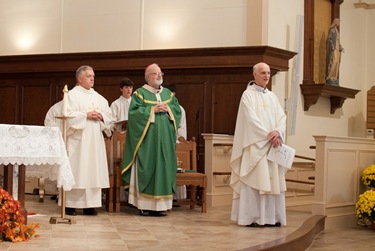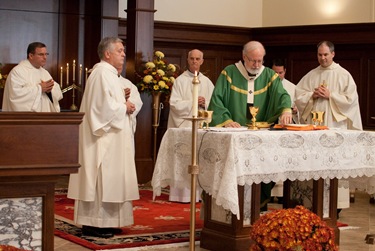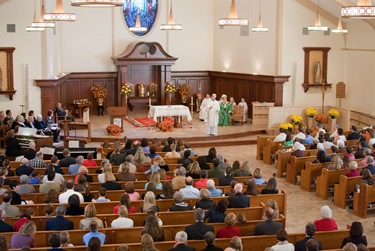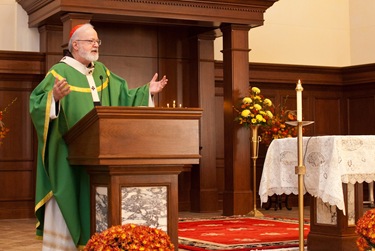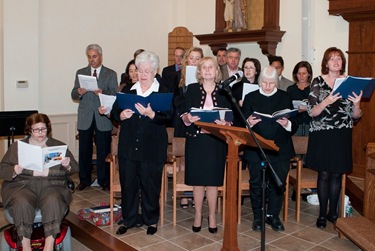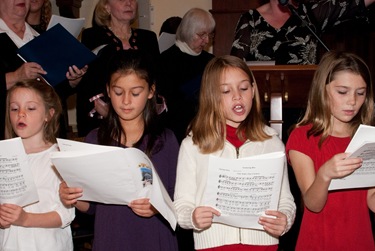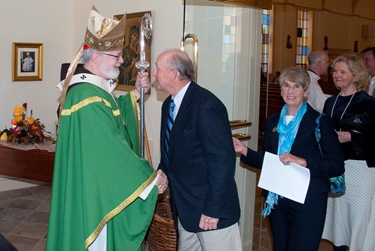 After the Mass we had a reception, then I had a Baptism for little Blaire Mae Fox, daughter and fourth child of Charles and Michelle Fox, who are parishioners there.
Charles is the son of Janice and Charles Fox, longtime friends of the Archdiocese. Janice is a great supporter of Laboure College.
– – –
Then, on Sunday evening, I attended a vesper service and a reception with the permanent deacons who also wanted to celebrate my 25th anniversary as a bishop.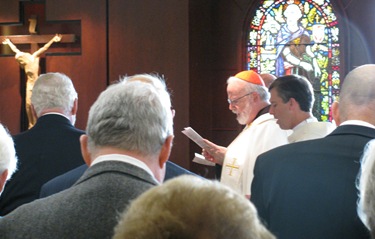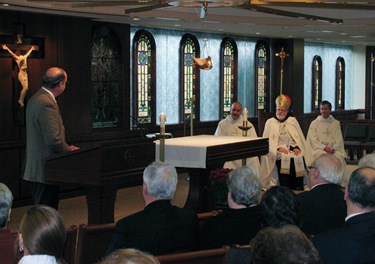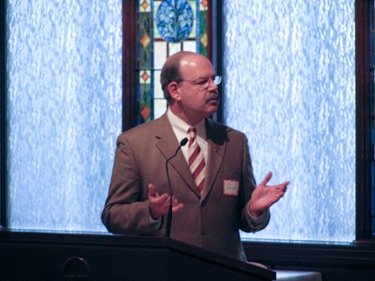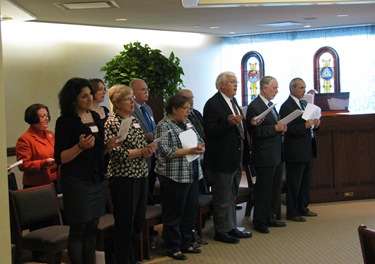 I told them it had been my wish not to have any celebrations, and I was tricked into it because I was told that this was a good way to raise money for the priests' retirement fund. Since then, the celebrations haven't stopped!
It was a lovely event here at the Pastoral Center. Deacon John Nicholson spoke at the event and they made a gift in my name to the St. Francis House in Boston, for which I am very grateful.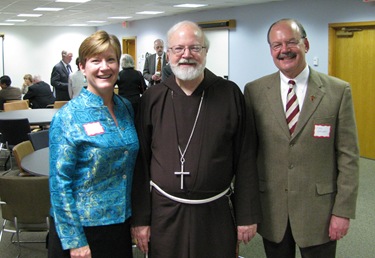 Deacon Nicholson with his wife Claire
– – –
On Wednesday, I went to New York to be present at a meeting with His All Holiness, Ecumenical Patriarch Bartholomew, the Ecumenical Patriarch of Constantinople.  He was on an apostolic visit throughout the United States and that day went to the United Nations and met with its Secretary General Ban Ki-moon.
I was invited to a luncheon at their headquarters. There was a group of religious leaders also invited at the event.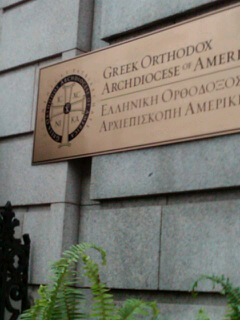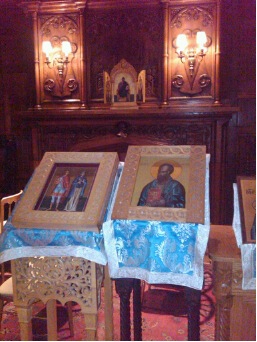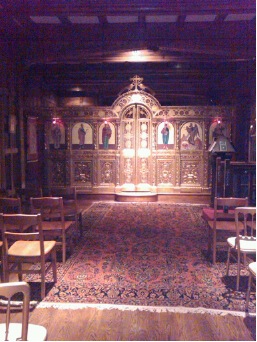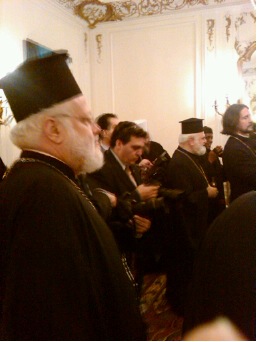 I went down with Metropolitan Methodios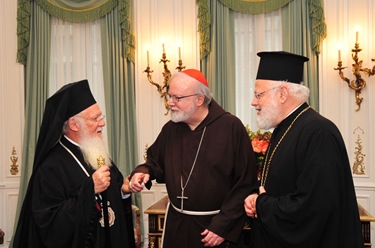 Dimitros Panagos, of the Greek American News Photo Agency, kindly sent us this photo in which Metropolitan Methodios and I are greeting the Patriarch
I remember the Patriarch's warm welcoming when we visited him in Istanbul two years ago as part of the itinerary of the Catholic-Orthodox pilgrimage.
That pilgrimage was a wonderful experience. We met with the Holy Father in Rome, the Ecumenical Patriarch in Istanbul, and went to St. Petersburg. About 100 pilgrims accompanied us.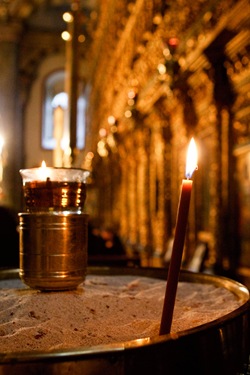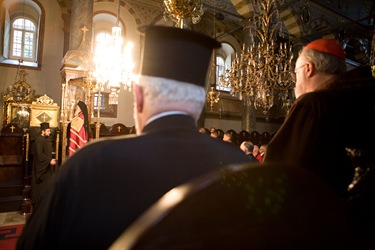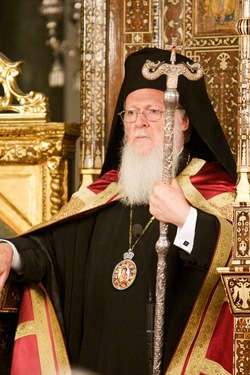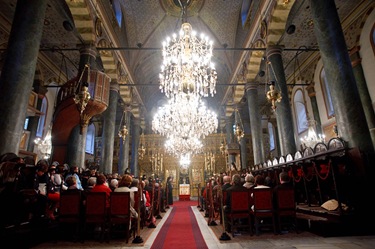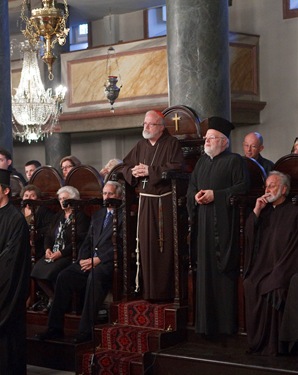 The patriarch has always been trying to bring our churches closer together. He shares with Pope Benedict the great desire to see the Eastern and Western churches, which had been united for the first 1,000 years of our history, be reunited once again.
The patriarch, in his visit, chose to give out a commemorative stamp marking the visit of Pope Benedict to him at the See of Constantinople in December 2006 which I thought, was a significant example of his desire for unity.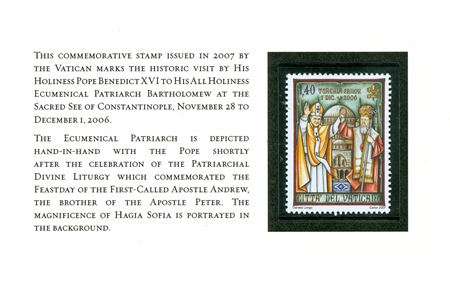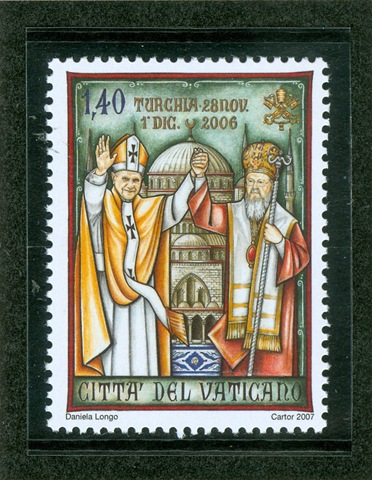 – – –
Cardinal George, archbishop of Chicago, president of our Bishops Conference and a very fine intellect has published a book, "The Difference God Makes: A Catholic Vision of Faith, Communion, and Culture."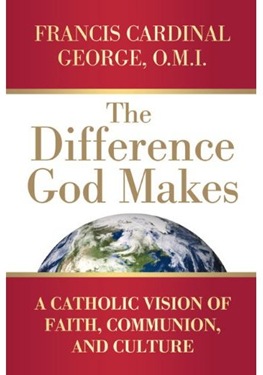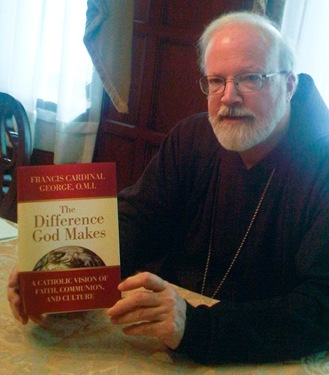 It is a fine volume of themes he has often spoken about. I certainly recommend it very highly to those who wish to have a firm understanding of the interplay of faith and culture in our modern world. I think it's a great contribution and we are very pleased that Cardinal George took the time to publish the book for us.
– – –
Finally, I want to encourage college students and young adults to join us on Saturday evening for a time of prayer, Mass and fellowship at St. Leonard's Church in the North End of Boston.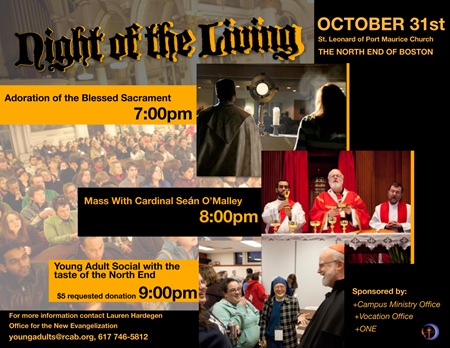 For the second year in a row, the Vocation Office, the Campus Ministry Office and the Office for the New Evangelization have organized "The Night of the Living" on the eve of All Saints. It is a wonderful opportunity for young adults to gather, beginning with Adoration of the Blessed Sacrament at 7pm. Mass will be at 8pm, followed by a social with delicious food from various establishments in the North End at the Nazzaro Center next door.
This event began one year ago on Halloween and has continued every month since then. I have been present at several of these gatherings, and am always pleased to see so many college students and young adults excited about the Catholic faith. I hope to see you there!
— Cardinal Seán