Welcome back!
Last Friday I celebrated the Mass of the Holy Spirit at Blessed John XXIII National Seminary. This was their opening Mass for the year.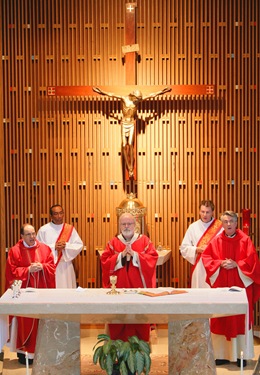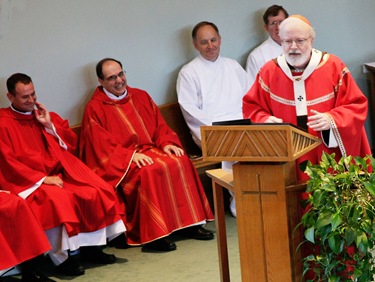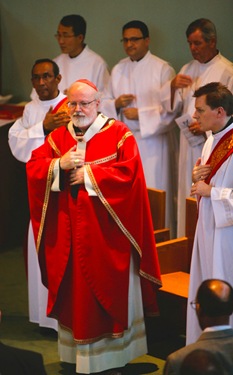 It's a great joy to see the seminarians at Blessed John XXIII, who come from dioceses throughout the country and who are receiving a wonderful formation there. This seminary was begun by my predecessor, Cardinal Cushing, in response to Pope John's statement that a vocation can come at any moment during life. Therefore, he named the seminary after Pope John. The rector Father Peter Uglietto, the faculty, and the Board of Directors are all doing a wonderful job there. There's a great spirit in the house.
As I mentioned in last Friday's post, I also celebrated the opening Mass for St. John's Seminary on Wednesday of last week. The photos did not arrive in time for that post, so I want to share them with you now.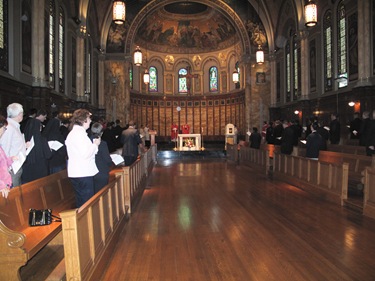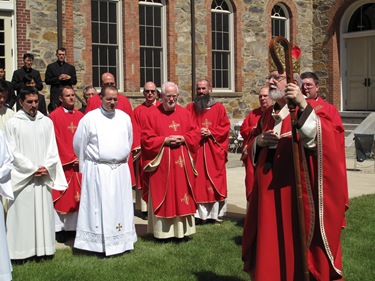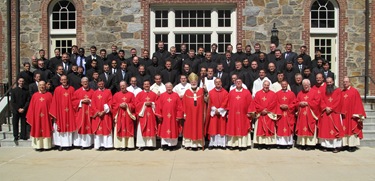 Blessed John XXIII was, in fact, the third seminary I visited in two weeks. The first one was the seminary in Havana, Cuba, as I mentioned a couple of weeks ago.
I had visited there 10 years ago as the Apostolic Visitator, and I was very, very moved when I realized that 90 percent of the 65 seminarians were converts. They had been atheists, agnostics and communists who attributed their conversion to the Holy Father's visit. That was the moment of grace for them to find their way into the Church and, eventually, their vocation to the priesthood. But when I first arrived, the rector discovered a spy infiltrated among the seminarians who had been sent by the government, and, of course, they expelled him immediately. Afterward the rector told me, "O, Bishop, it's just so shocking. This young man was so pious, so studious, so polite, so punctual." I told him: "That should have been a dead giveaway!"
– – –
On Labor Day, I attended a cookout for priests held at St. Brigid in South Boston. We had a great time and it was a wonderful opportunity to spend time with my brother priests.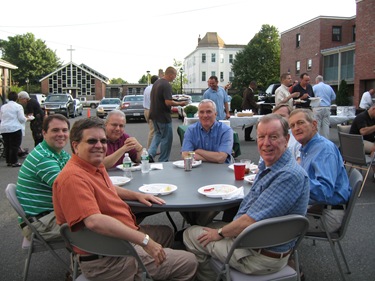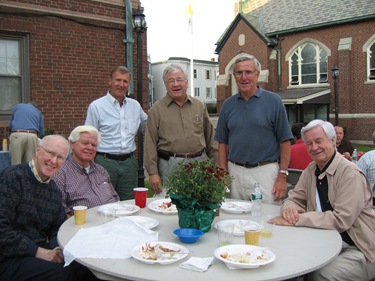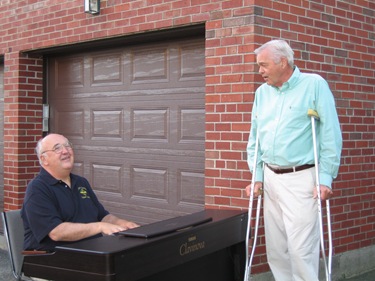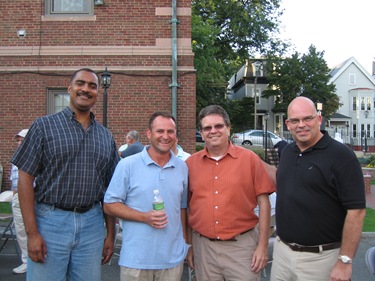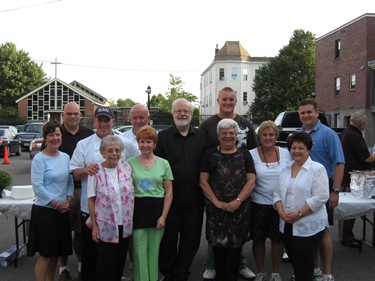 – – –
On Tuesday, I received a visit from Father Simeon Gallagher, who was one of my classmates. He is a very well known preacher and is often in the Northeast preaching at parish missions. He is an extraordinary preacher. It was very nice to have the opportunity to visit with him. He is stationed in Denver now, but travels extensively in his ministry.
– – –
That evening, I presided over the religious profession of Brother Labrie-Marie of the Little Brothers of St. Francis at Mission Church.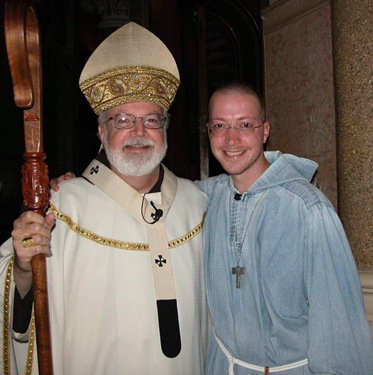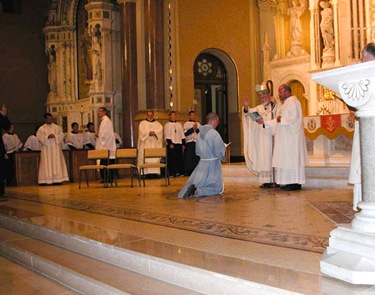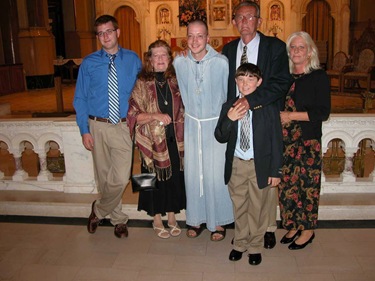 It was very well attended. There were many religious from other communities there, as well as friends and relatives and many of the people that the Little Brothers minister to. Theirs is a very contemplative community, but with a special ministry to the poor and to the street people. Their house is very close to Mission Church and they're very much a part of that community. (Some people refer to them as the Sons of Levi because their habit looks like denim!)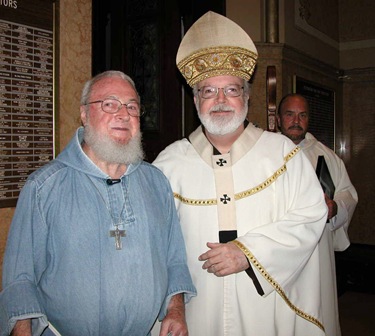 With Brother James
The profession was held on the Feast of the Nativity of Mary. It was the 39th Anniversary to the day of the founding of their community by Brother James Curran.
I told them during my sermon that on that very day, 39 years ago on the feast of the Blessed Mother, I celebrated my first public Mass, which was for Nuestra Señora de la Caridad del Cobre with the Cuban community in Washington at St. Matthew's Cathedral.
– – –
On Wednesday, I returned to St. Brigid's to celebrate the opening Mass of the new South Boston Catholic Academy.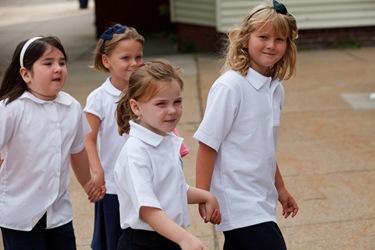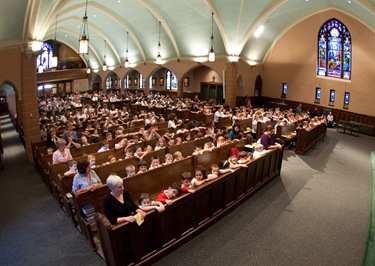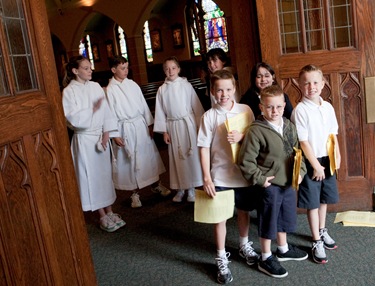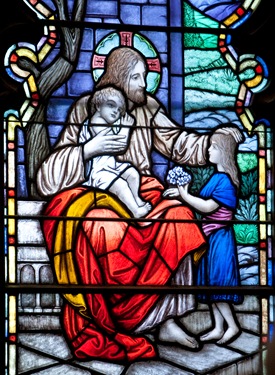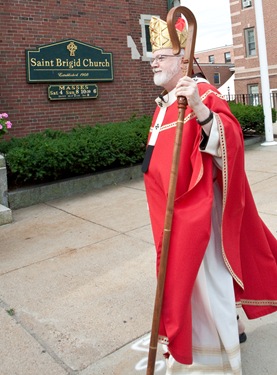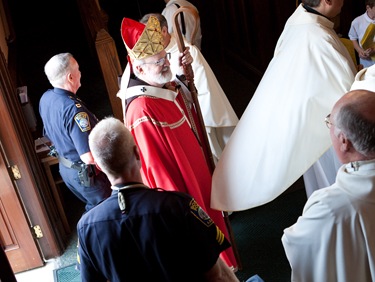 In South Boston, the number of children is far less than it was many years ago, so the decision was made to unite the two remaining parish schools — Gate of Heaven and St. Brigid's. The St. Brigid's building was selected for a number of reasons as being the more adequate to house the larger number of children.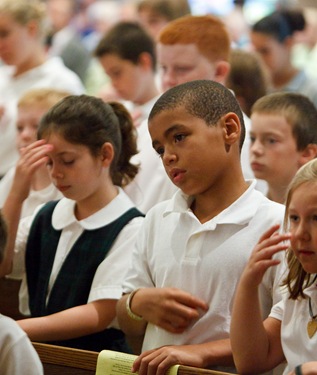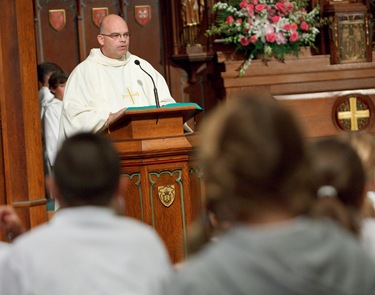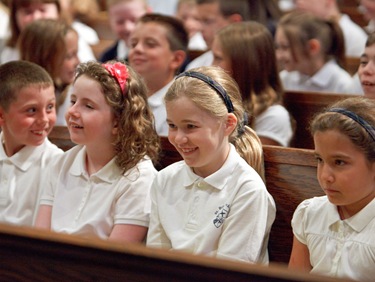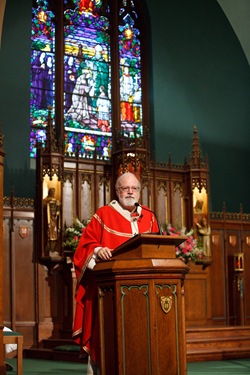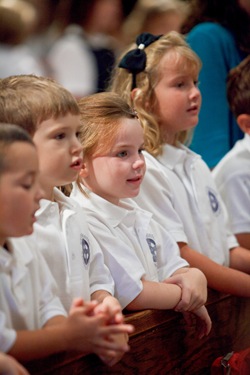 This was the opening Mass for the school year. There was great enthusiasm. The children singing were just astounding – they even sang a happy anniversary song for me!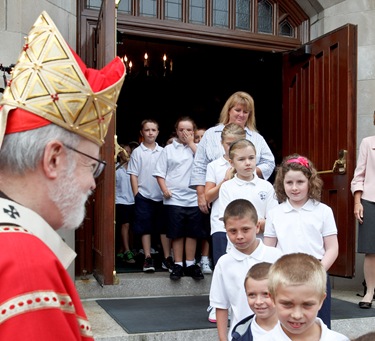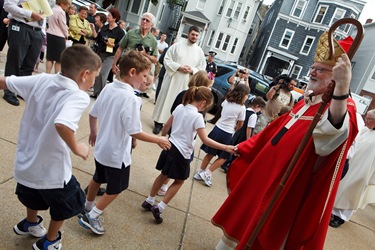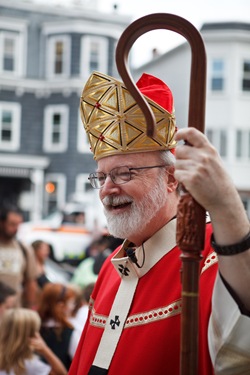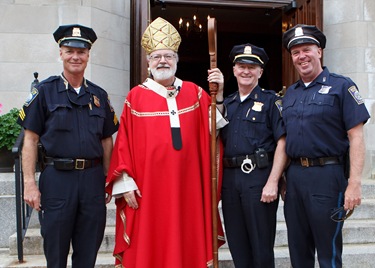 There  were a number of Irish policemen who were there to direct the traffic.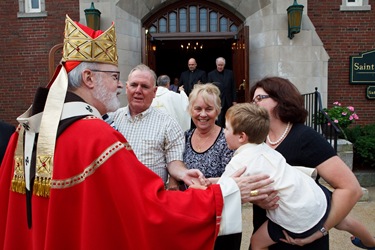 Ambassador Ray Flynn and his wife Kathy were there. Their grandchildren attend the school.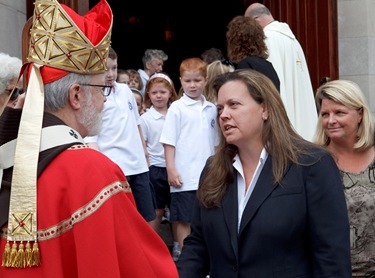 Margaret Lynch, the wife of Congressman Stephen Lynch, was also at the Mass. They have a daughter in 4th grade as well.
Afterwards I had the opportunity to visit some of the classrooms, and meet with some of the faculty and the principal, Nancy Carr.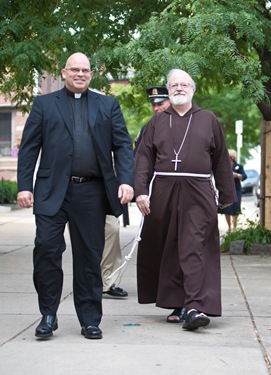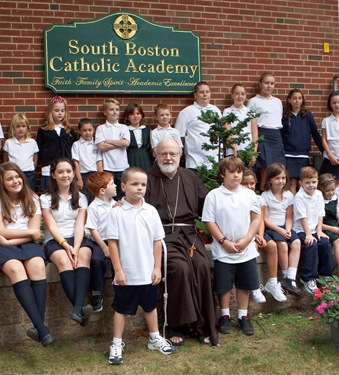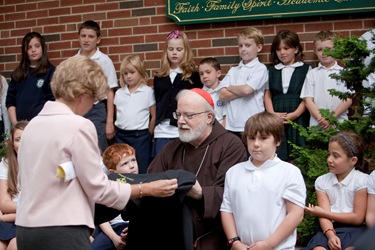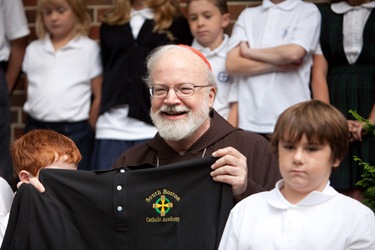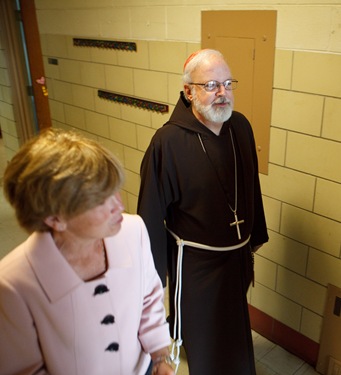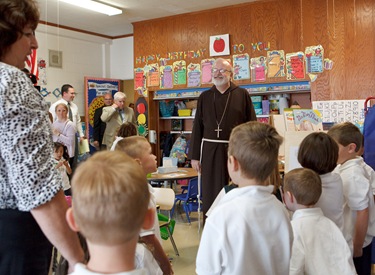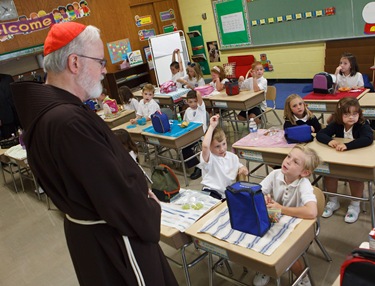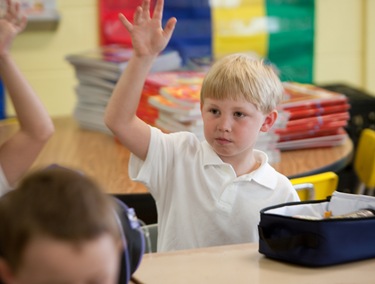 It will be a very strong school. By joining resources, the new academy guarantees the continuance and the strengthening of Catholic education so that we can offer our children excellence in academic preparation as well as the solid faith formation that they need to be good Catholics and good Christians.
– – –
Wednesday afternoon, I was paid a visit by some friends whom I know from my long involvement with the Agrupación Católica Universitaria.
ACU is a wonderful Christian life community of professional Catholic men. It was started in Cuba at Belen — the Jesuit school in Havana — by a Spanish Jesuit named Padre Felipe Rey de Castro. His assistant was Padre Amando Llorente, who is still the spiritual director and in charge of the movement.
During my 20 years in Washington, I was very involved with that movement.
Back in 2006 I celebrated a Mass for the 75th anniversary of the ACU. I remember I was struck by the great number of vocations that have come out of the movement. If I recall correctly, in those 75 years, they had 45 vocations. (Many of them I have ordained for several different orders and dioceses. Men from the movement have gone on to be ordained as Jesuits, Capuchins and diocesan priests.)
When I worked at the Centro Católico, because our budget was very limited and we had literally many thousands of refugees we were serving, we depended greatly on volunteers. It was the Agrupados and their wives who stepped forward and were an incredible help in so many ways. Many of them were doctors, and helped begin the medical clinics, the dental clinics, and the educational programs there.
Jorge Campañá, whom I have known since he was in high school, is now an eye doctor. He was up in the area for a wedding with some of his family members, and he wanted to stop in.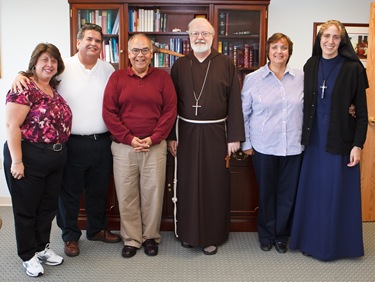 He is also a very good friend of Sister Anthony Mary, who works in my office. She has known him for many years. It was a pleasant surprise, and it gives me a chance to say something about the Agrupación and the wonderful contribution they have made to the life of the Church, both in Cuba and certainly in the United States — in Miami and Washington.
– – –
I also want to share with you pictures of a gathering with the priests of the diocese of Fall River.
A couple of weeks ago they invited me to vespers and a cookout to mark the Year for Priests. They also invited Hartford Archbishop Daniel Cronin, who is also former bishop of Fall River.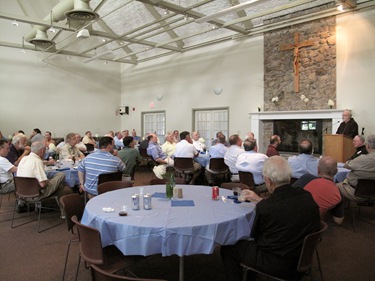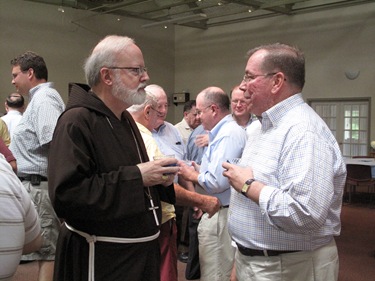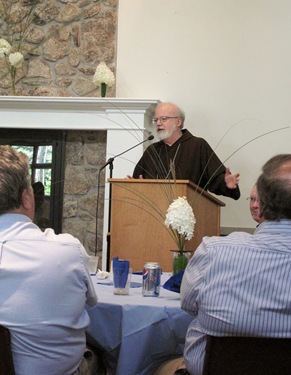 So, they had the three amigos, as they called us, there — three current or former bishops from Fall River. It was very gracious.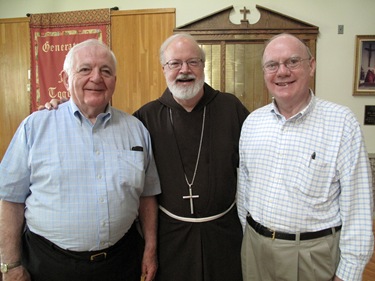 It was at Our Lady of Victory in Centerville and Father Hession is the pastor there. Many of the priests from the Diocese, and some of the retired priests from Boston who help out on the Cape, were also there. About 100 priests attended.
– – –
Finally, I wanted to mention an event which took place back on August 31. Richard Armstrong made final profession as a First Class Knight of Justice, a vowed religious in the Order of Malta, at a Mass and ceremony held in the chapel at Massachusetts General Hospital.
The principal celebrant of the Mass was Msgr. Dennis Sheehan, Magistral Chaplain for the American Association of the Order of Malta, assisted by Father Richard Mullins, a priest of the Diocese of Arlington, Virginia and Master of Ceremonies for the Subpriory of Our Lady of Lourdes, which exercises oversight for professed Knights. Richard has been a long standing member of the Order and an active parishioner at the Cathedral of the Holy Cross. Though dealing with significant health issues at this time, Richard was very happy to be able to follow through with his intention to make final profession. The medical and support staff at Mass General were very helpful with the planning for the Mass and assisting Richard, we are most grateful for their assistance and all their good work.
We pray for Richard, that he may find strength and comfort at this time, and give thanks for the gift of his commitment to the Order of Malta and the good of the Church.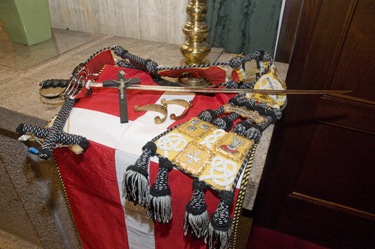 The vesture and implements of the Knights of Justice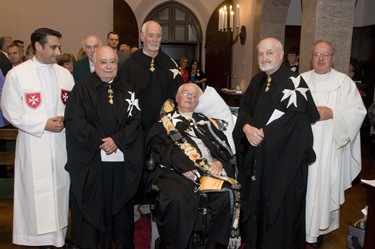 Father Mullins; Knight Gus Grace; Richard Armstrong; Fra. Ely Comgae of the Order; Fra. James-Michael von Strobel, Regent of the Supriory of Our Lady of Lourdes; Msgr. Sheehan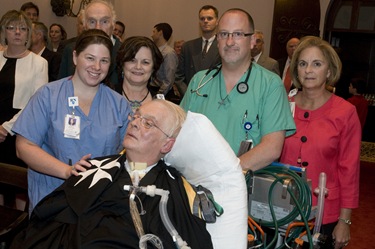 Assisting Rich ard are Danielle Duma RN; Mary O'Malley RN Case Manager; Richard Huton RT; Maria Winne RN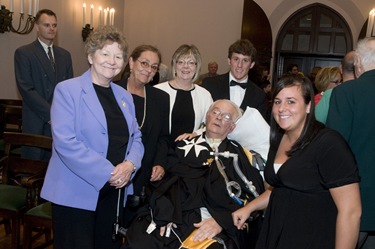 Richard with family members, including his sisters Patricia, Kathleen and Mary
Until next week, blessings to you all!
– Cardinal Seán