This Sunday is the feast of Our Lady of the Angels of the Portiuncula. This is a very special Franciscan feast and it is also the 25th anniversary of my ordination as bishop. I was ordained August 2, 1984 at the Cathedral of Sts. Peter and Paul in St. Thomas, Virgin Islands by Bishop Edward Harper. On Sunday, I will be celebrating Mass at St. Patrick Parish in Natick. Father Brian Kiely, whom I've known since my days in the Virgin Islands, was gracious enough to invite me.
I'd like to share with you a reflection I prepared for our diocesan newspaper, The Pilot, for their special issue on my anniversary.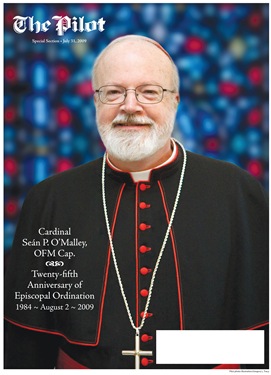 It was a very moving experience for me to be called to this service in the Church. It has been 25 years of a great adventure, for which I am very grateful. I ask the Lord's forgiveness for my shortcomings and for help so that I may be a better shepherd in the future.
Since this is a significant anniversary, I have been asked to talk about the ministry of a bishop. Although I have been a bishop for 25 years, I do not consider myself an expert. I am still learning in the saddle. Had I known I was going to be a bishop, I would have studied much harder in the seminary.
At 19 I joined the Capuchin Order and was eventually ordained a priest in 1970. As a deacon I had been told I was to be a missionary in Easter Island, but before my priestly ordination, Cardinal O'Boyle asked my Provincial to leave me in Washington to work with the Hispanic immigrants. I began the week that I was ordained and did not say Mass in English, except very rarely, until I became a bishop in the West Indies.
At 39 years of age, I was not a canon lawyer, not Roman trained, not a chancery worker, the last thing I expected was to be named a bishop. After I received the news from Archbishop Hickey there was a total eclipse of the sun, which I was at a loss as how to interpret. The friars said — he was never a guardian, never a provincial — the stone rejected by the builders has been made the cornerstone. When I was informed that I was to be bishop, I was not permitted to tell anyone but I had to go to the Father Guardian and ask permission to go to the Virgin Islands to be there for the announcement. I was a wreck. I thought, what will I say if the Superior asks me why I want to travel to the Virgin Islands? Strangely enough, he gave me permission immediately. (Later I told him, "I would never give you permission had I been your superior.")
When I arrived on St. Thomas I was 30 years younger than the youngest priest and the only Capuchin. One old Redemptorist told me — "we don't go crazy, we just get colorful" — and he was colorful.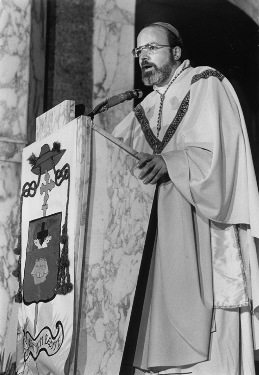 Preaching at the Cathedral of Sts. Peter and Paul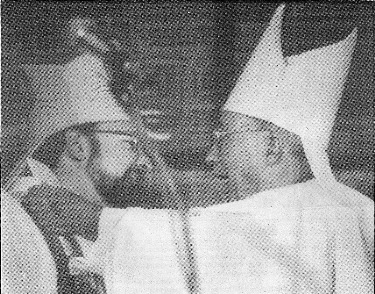 Bishop Harper welcoming me as bishop upon his retirement
We traveled between the islands by seaplane and it was terrifying. The first week on the job I went down to the port and stood in line nervously waiting to get on the seaplane. Suddenly the pilot appeared with a chart and asked the large West Indian women in front of me — "Miss how much do you weigh?" She said, "90 lbs." He then asked me, "Bishop how much do you weigh? I replied, "300 lbs."
The diocese had a total budget of $30,000 per annum. It was money sent from the ABCM — American Board of Catholic Missions. It gives you an insight into the importance of our second collections.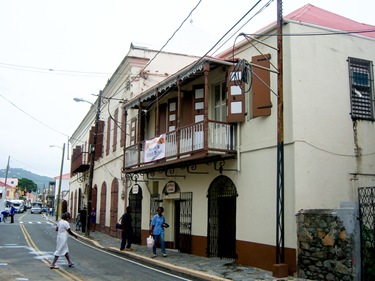 This was my chancery. The building is now used by Catholic Charities
I was there almost nine years and came to love the people very much. The singing and joy of the liturgies was something I have never experienced anywhere else. During my time there I participated in the Antilles Bishops Conference — that was part of CELAM and consisted of 17 different countries — the French, Dutch and English-speaking islands and the mainland nations of Belize in Central America and Cayenne (known for Devil's Island), Surinam and Guyana (famous for Jonestown) in South America.
During my tenure in the islands, the biggest challenge was Hurricane Hugo that destroyed much of the diocese. We were six months without water, electricity and phones. For days we survived on coconut milk. There was no TV for a year. Public schools were closed for two years. We opened the Catholic schools in tents in about three weeks.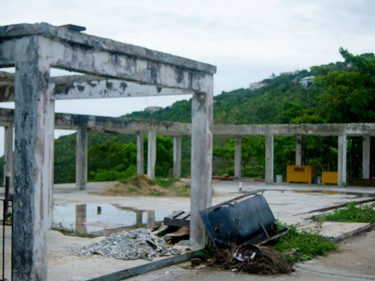 The bishop's residence that was destroyed by Hurricane Hugo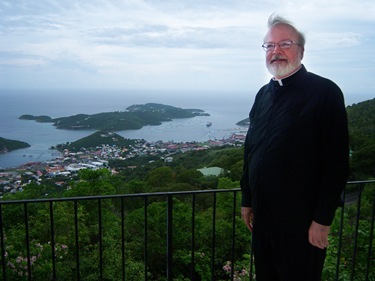 During that time I began to do seminary visitations in Latin America. I eventually visited about 20 seminaries. I received an inquiry from the Vatican asking me if I would be willing to become the Bishop of Machiques in Venezuela — an Apostolic Vicariate of the Capuchins near the Amazon region. I said that I would be glad to go. Shortly thereafter I received a letter from the Holy See naming me Bishop of Fall River, Massachusetts. I felt like "wrong way Corrigan." This was in 1992 and the Porter case had just broken during the interregnum and the diocese was in havoc because of this terrible pedophile predator who had abused hundreds of small children. I was in Fall River 10 years speaking Portuguese and it was a good fit.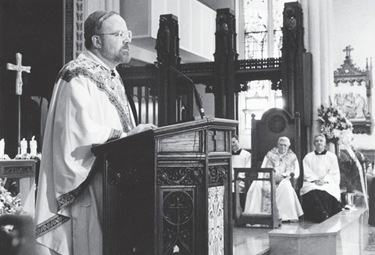 The installation in Fall River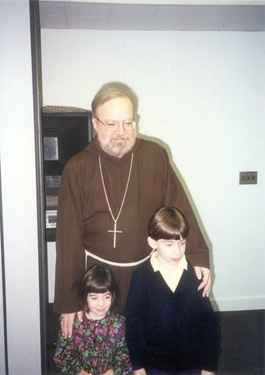 A few photos from my time in Fall River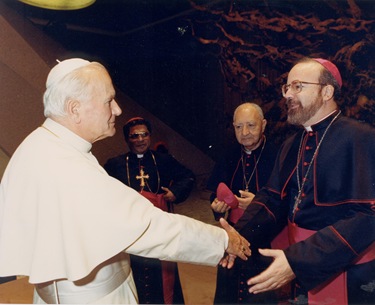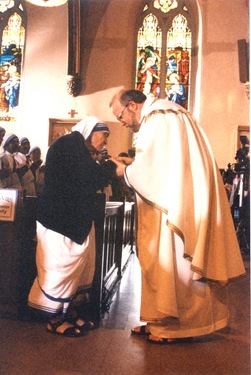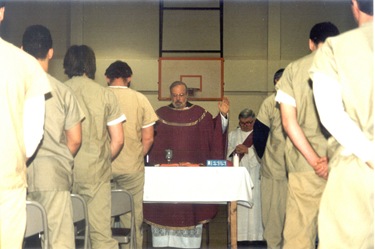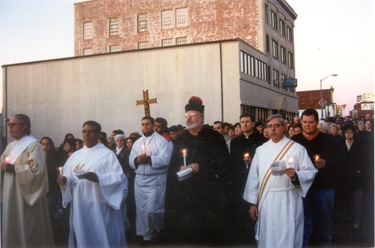 In 2002, I was sent to Palm Beach to replace two bishops who had been removed, one after another, for sexual abuse of minors. My first week there I was finger printed and at the press conference one of the reporters asked me if I was a pedophile.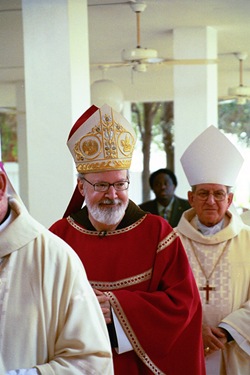 My installation in Palm Beach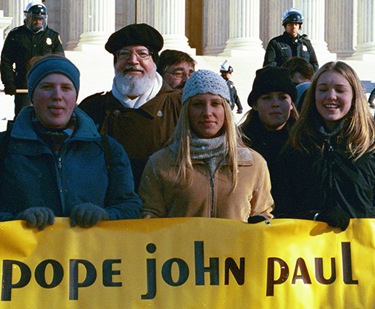 The 2003 March for Life in Washington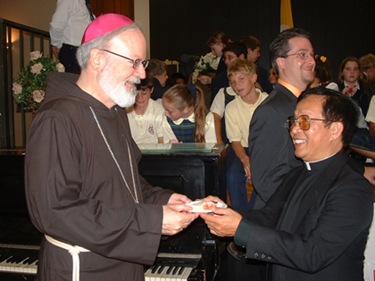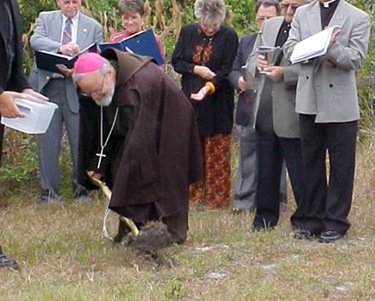 After 10 months the diocese began to calm down. My family took me out to dinner on my birthday, June 29. The phone rang. It was Archbishop Montalvo telling me that the pope wanted me to be Archbishop of Boston. I dropped the cell phone on the ground. I thought I really need to get caller ID on this thing. I was told that I was to be installed as soon as possible. I was numb.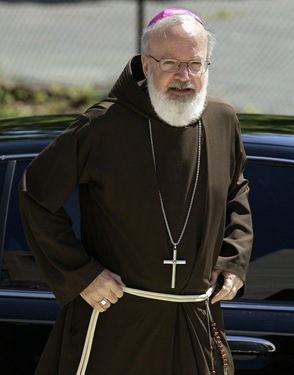 Arriving in Boston for the first time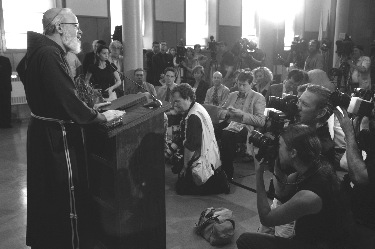 Facing the Boston media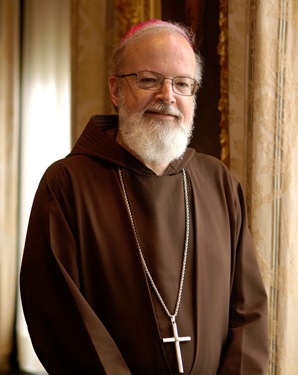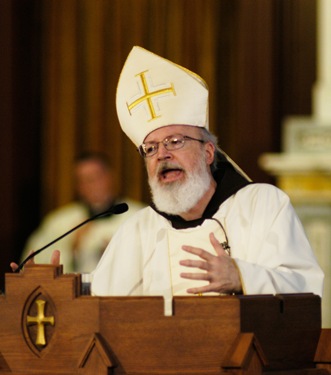 The climate in Boston could not have been more negative. One newspaper reported, O'Malley gets a fixer upper." At that point I doubted that all the king's horses and all the king's men would be able to pick up the pieces. For starters there was a shocked and angry flock that was horrified and profoundly disappointed with the Church. The priests were very hurt and embarrassed. The victims and their families were indignant and devastated.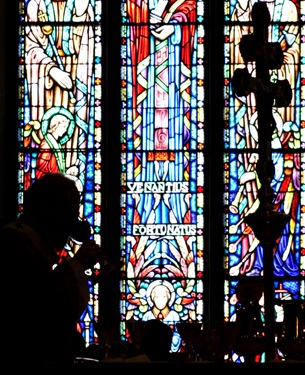 The archdiocese was in economic free fall. There was an annual operating deficit of $15 million, the archdiocese owed the Knights of Columbus $35 million, the Catholic hospitals were losing $30 million a year, many parishes and schools could not pay their bills, the lay pension fund was failing, the priest pension fund was failing and there were 1,000 law suits against us. I told the priests that I used to think that a vow of poverty meant that you did not own anything but that was before I owed hundreds of millions of dollars to impatient creditors.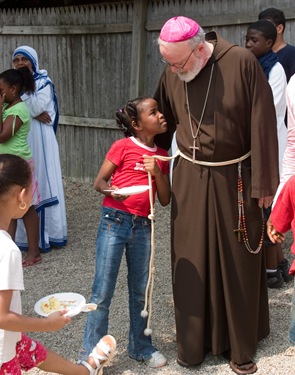 I have often been scandalized by the thought that a bishop might be angling to get a larger or more prestigious diocese. Small is good. We need to bloom where we are planted. It has been my fate to be transplanted to four dioceses — I am certainly one of the few bishops to have four dioceses. Before coming to Boston, my Provincial commenting on my ministry in vacation spot dioceses like the Virgin Islands, Cape Cod, and Palm Beach asked me when I was going to get a real job. At my installation as Archbishop of Boston, I asked him, "Does this count?"
Serving in four very different dioceses has been a very special grace, an opportunity to experience the catholicity of the Church. I have grown to love each of the four dioceses where I have been privileged to serve. The great thing about being in so many different places, is to be able to experience the beauty of our Catholic faith lived out generously by devoted priests, deacons, religious and laity in very different settings.
It is the same Eucharist that draws us together, the same love for the Lord, His Blessed Mother and His Saints and His Church. It is the same mission that Christ has entrusted to us to make His Kingdom more visible, to build a civilization of love.
In every diocese where I have served, I have seen beautiful Catholic families devoted to the ideals of the Gospel. I have seen our people caring for the sick and the poor, living the works of mercy, bearing the cross of suffering with courage and hope. Everywhere I have seen how our people love our Church and our traditions. I am edified by the pastoral zeal of our clergy and religious and extraordinary lay leadership.
In each of my dioceses I have looked forward to spending the rest of my life among the people of that diocese. I would never have imagined that I would be called to serve in so many different places. I have been enriched by each local Church where I have served. I thank God for the call and ask for His Grace to be able to serve His people better.
As I look back at 25 years as a bishop, I am filled with awe and gratitude to be given such a responsibility, despite my shortcomings. There have been many challenges, but also many graces, so many joys. Confirming our young Catholics, ordaining priests and deacons, gathering for diocesan celebrations like the Chrism Mass, experiencing the vibrancy of our parishes, diocesan organizations, apostolic moments, the seminaries, the dedicated religious, deacons, diocesan and parish staff is a source of joyful hope. The help I receive from the auxiliary bishops, vicar general, secretaries, cabinet members, staff, lay leaders and volunteers is such a great assistance and allows me to minister to the vast Catholic community of the archdiocese. Without you, I could do nothing.
In this year for the priest, I ask for the prayers of our Catholic community. Know that you are in my prayers each day. Together let us continue to announce the Good News of God's love and invite others to be a part of Christ's Family. Let us strive to be what the Lord is calling us to be and to live our Catholic Faith in love and joy. "For all that has been, Thank you Lord, for all that will be, Yes Lord, Yes."
– – –
Earlier this week I was in Dallas with Bishop Bob Hennessey attending a workshop for bishops based on the Good Leaders, Good Shepherds program.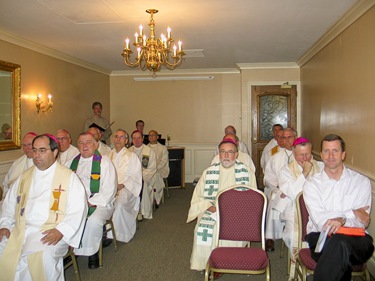 Celebrating Mass with the bishops participating in the conference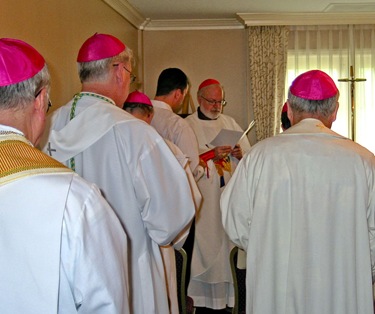 Good Leaders, Good Shepherds is a two-year program developed by the Catholic Leadership Institute which helps priests take leadership principles from the business world and apply them to their ministry.
CLI was founded by Tim Flanagan, whose brother, Father Brian Flanagan, was one of my priests in Palm Beach. This is how I first heard of this program. Father Bill Dickinson, from the Diocese of Cleveland, is CLI's national director and Matthew Manion is president and CEO.
For priests and bishops, ongoing formation is a very important part of our lives in ministry. We cannot depend on what we learned in the seminary, but we must constantly be updating ourselves and trying to learn new and better ways to serve God's people.
Good Leaders, Good Shepherds is one of the most outstanding instruments of the ongoing formation for priests I have seen. Over 50 priests in our archdiocese have been involved in the program and it has been very well received.
Now, they are beginning a program for lay leadership among parish staffs in the archdiocese as well as the workshop for bishops.
The workshop itself was held in something of an unusual place — not a place I otherwise would have seen — called The Cooper Institute.
It is sort of a health center founded by a physician, Dr. Kenneth H. Cooper, whose whole thrust has been preventive medicine – the idea of treating people while they are healthy people to prevent them from getting sick. He said that our health care here in the United States is too much health care, too late. I must say, being here has helped remind me that I need to constantly stress, to all priests, the importance of taking care of their health!
The workshop has been a very enlightening and interesting experience having the opportunity of being with other bishops from around the country and to have a greater understanding of ourselves and how we can relate with others. It has helped me to appreciate why our priests in Boston are so enthused about the Good Leaders, Good Shepherds program.
Until next week, blessing to you all!
– Cardinal Seán