Hello and welcome!
Before I come to the events of my week, I would like to address the killing of Kansas abortion physician Dr. George Tiller last Sunday.
This was indeed a tragedy on many different levels. Certainly it was a tragedy for Dr. Tiller and his family, as well as the fact that the violence took place in a church — a place where people go to pray and to seek spiritual solace.
Obviously, this was the act of a very disturbed person and it is a tragedy for that man and his family, as well. All of those who are working in the pro-life movement are horrified by acts of this kind and repudiate the use of violence; it is in direct contradiction to what the pro-life movement must stand for.
We pray for healing in all of the communities that have been affected by this very tragic crime. We pray, as well, for the day when human life will be protected, at all stages, and that our country as a whole will reject the violence of abortion, the violence of capital punishment and the violence that results from the proliferation of arms in our population.
– – –
Last Friday, I had lunch with the newly ordained priests and the members of their families here at the Pastoral Center.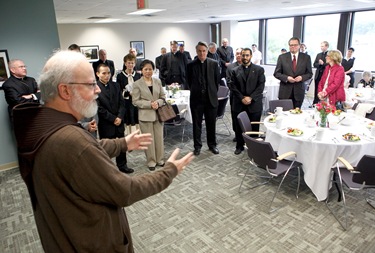 It has been a custom after their First Masses to have an opportunity to come together to meet and congratulate their families and to hear about their experiences.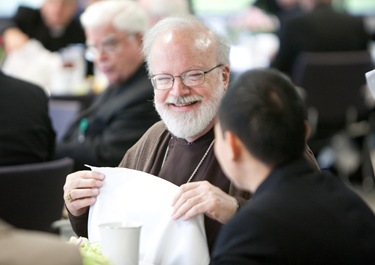 It was a wonderful event and opportunity to see many of the families and friends of the newly ordained, as well as the members of the seminary faculty and auxiliary bishops who also accompanied us.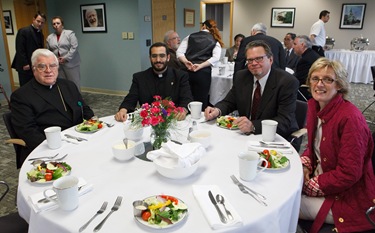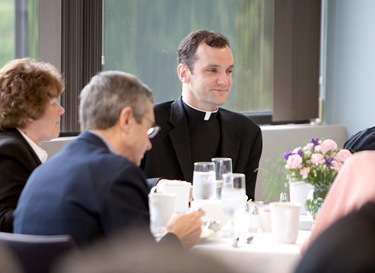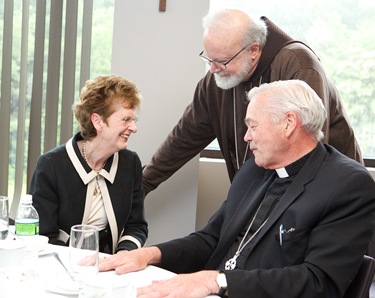 I hear that all of the new priests had wonderful experiences at their First Masses. A couple of them had the courage to preach at their First Masses, while others invited respected friends to do it for them.
At the time of my ordination, no one preached at their First Mass. It is nice if you can do it, but I also certainly understand why someone would prefer to have a guest preacher at that Mass.
I celebrated my own First Mass at the Convent of the Poor Clares.
I had a very eloquent guest preacher at my First Mass, a Capuchin friar named Father Paul Brody who was a missionary in the mountains of Puerto Rico. It was only my family there, a very small and intimate celebration and I remember the sisters of the cloister sang like angels.
A week later I had my first public Mass at St. Matthew's Cathedral in Washington where I celebrated the Mass of Nuestra Señora de la Caridad del Cobre with the Cuban community — I did preach at that one!
Often, I joke about new priests having their first-First Mass, their second-First Mass and the third-First Mass… but I did it myself!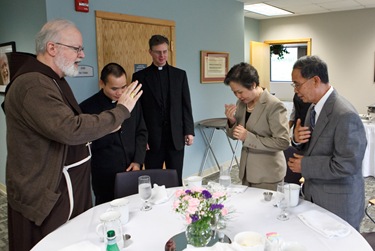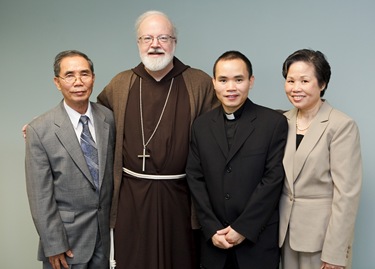 – – –
On Saturday, I was visited by Bishop Cosme Hoang Dan Dat of the Bac Ninh Diocese in the north of Vietnam who was accompanied by Father Jim Gaudreau.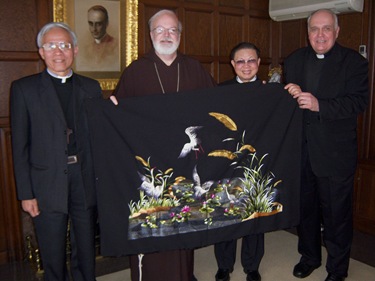 He brought me a lovely gift of an embroidered scene of cranes and lotus flowers — very Vietnamese — beautiful workmanship
During our meeting, we talked about the situation of the Church in Vietnam and he shared the story of his own family with me. He said his grandfather had been a martyr for the faith. He was buried alive and they had elephants trample the ground over him.
Certainly, one of the reasons for the great faith of the Vietnamese people is the many, many martyrs they had in Vietnam. So many have shed their blood as a testimony of their faith in the Risen Lord.
Tertullian said the blood of the martyrs is the seed of the Church and, certainly, that is the case in Vietnam where we see such vibrancy of the faith, many vocations and great devotion.
We talked about Cardinal Van Thuan, who of course he knew. We also discovered we had another mutual friend: Bishop Enrique San Pedro. Bishop San Pedro was a Jesuit and a very good friend of mine who became the Bishop of Houston. He had been a missionary in Vietnam for a long time and spoke Vietnamese fluently.
It turns out, he had been Bishop Dat's teacher when he was in the seminary. He had also taught in the seminary in Boynton Beach and that is where I had met him. It's a small world!
Bishop San Pedro was a wonderful man. I was very pleased when he was named a bishop and I thought it was perfect that he should be named to Houston, being a Vietnamese-speaking Hispanic. Many may not be aware of it, but Houston has one of the largest Vietnamese communities in the country.
– – –
Sunday I went to St. Mary's in Foxborough for the Mass to celebrate the parish's 150th anniversary with Fathers Stephen Madden and Jason Makos, as well as two of the former pastors who were there.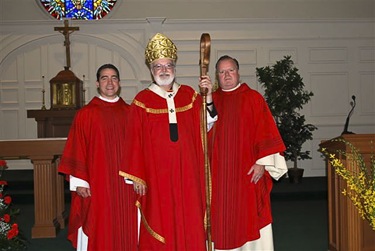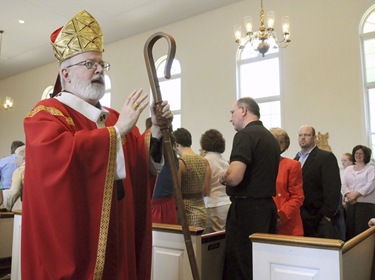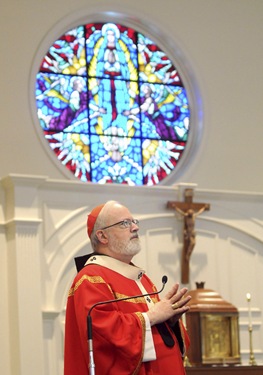 It was Pentecost Sunday so, as I told them, it was a two-fer: They were celebrating their birthday and the whole Church was celebrating its birthday!
We reflected on how 150 years ago it would have been very difficult to be a Catholic in New England, and yet those people courageously and generously came together. Today, we are the beneficiaries of their witness, hard work and dedication. Now, it is our responsibility to pass on the treasure to new generations of disciples.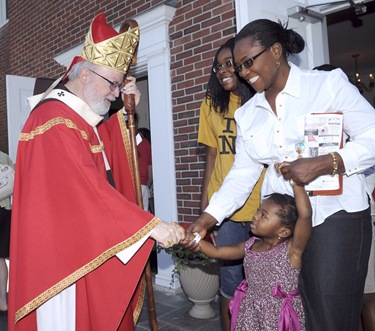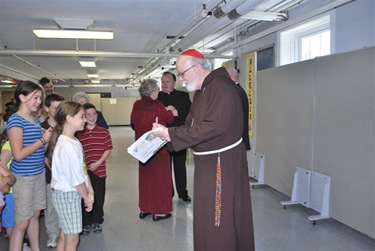 This little girl had me autograph her copy of The Pilot!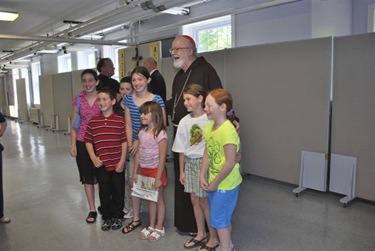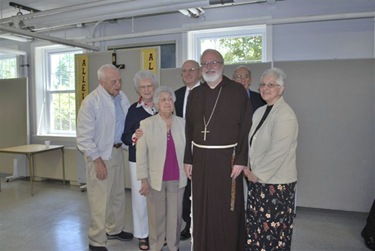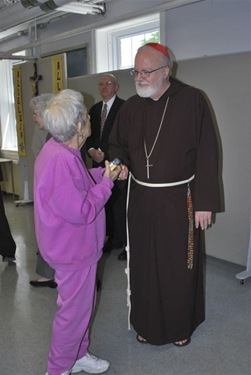 – – –
Later in the day, I celebrated Confirmations for members of the Brazilian community. This year, rather than going to a number of parishes, we invited the Brazilian community to come together at the cathedral. There was great enthusiasm for the idea. Many of the people had never been to the cathedral and were excited to have the opportunity.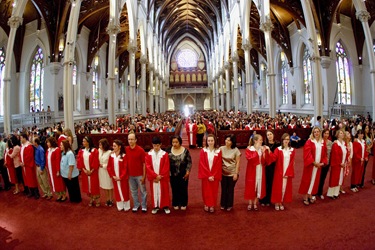 The Brazilians have a great sense of community, so the cathedral was almost filled. I think in all I confirmed almost 240 people. It was about a three hour ceremony, but nobody seemed to be in a hurry!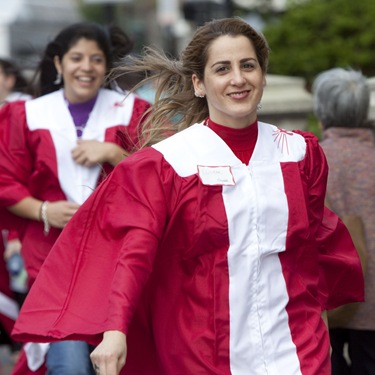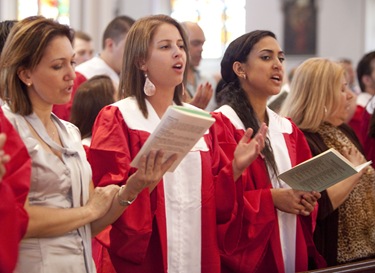 I was quite taken by the youth of the crowd. I could not find five people in the Church with gray hair. There were three of us in the sanctuary, but I'd say there were not five people in the Church over 50.
Father Claudio, Father Eduardo and the other Brazilian priests have done a wonderful job. I am particularly grateful to the Scalabrinians and the Don Orione fathers, the other diocesan priests who are on loan from Brazil and Sister Elisete, who is always a motor-force in organizing these events.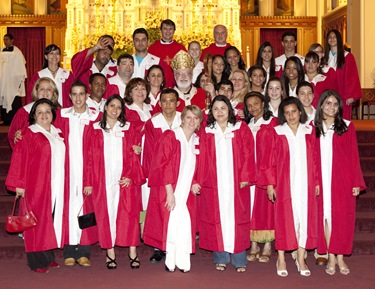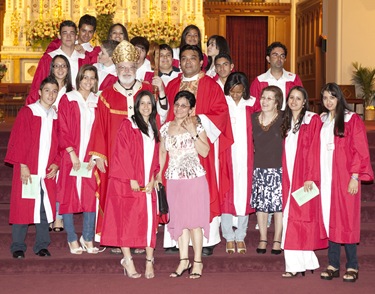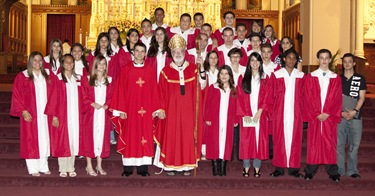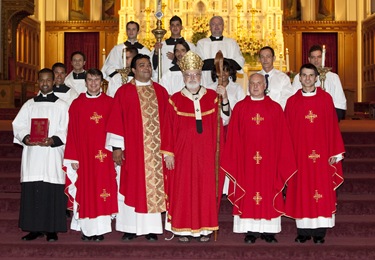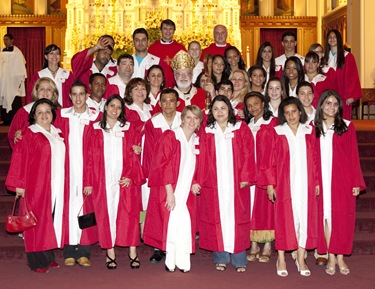 At the end of the confirmation, we recognized the work of the catechists who instructed the confirmands. They had a wonderful musical group to accompany them and it was a very joyful way to celebrate Pentecost — I've never had so many confirmations on a Pentecost Sunday!
– – –
In the evening, I went to Boston University for the awarding of the Medeiros Scholarships.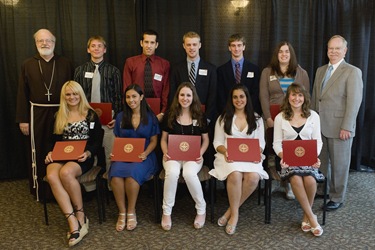 Each year, BU awards several full, four-year scholarships to outstanding students at our Catholic high schools. This year, they presented scholarships to 10 graduating seniors:
— Edward W. Adams III of Boston College High School
— Daniel H. Bradley of Central Catholic High School
— Rebecca L. Gabriel of Presentation of Mary Academy
— Rebecca A. Gulla-Devaney of Our Lady of Nazareth Academy
— Michaela A. Immar of Cardinal Spellman Central High School
— Derek C. Liberti of Arlington Catholic High School
— Kristen M. Maney of Pope John XXIII High School
— Mark A. Medeiros of Malden Catholic High School
— Arianna Medina of Bishop Fenwick High School
— Sarah E. Shaughnessy of Notre Dame Academy
BU's president, Dr. Robert Brown, was there along with his wife Beverly. As you may remember from a blog post of a few weeks ago, Beverly accompanied Sister Olga Yaqob and the women from the campus ministry group from BU on a pilgrimage to Italy and was with us there.
Also at the ceremony were Dr. Mary Grassa O'Neill and Jim Walsh from our Education Office as well as representatives from the various Catholic schools.
It is an extraordinary recognition of the quality of Catholic education that Boston University would be willing to dedicate such great resources to ensure getting students from our Catholic schools enrolled in the university.
– – –
On Tuesday, there was a Mass and reception for the Marist fathers on the occasion of the 125th anniversary of their presence in the archdiocese.
The Church where the Mass was held, Our Lady of Victories on Isabella Street in Boston, was constructed by the Marists.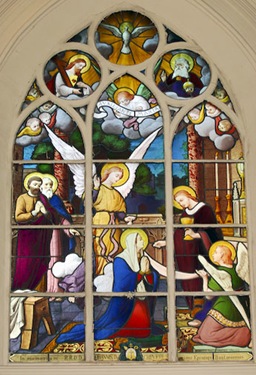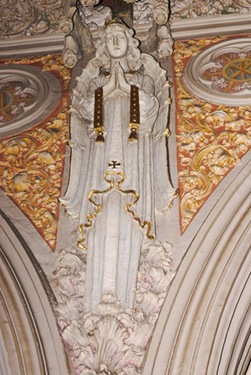 The interior of the Church is most impressive and downstairs they have a statue of St. Peter that is a replica of the one in St. Peter's Basilica — I believe it's even the same size. The statue was a gift from Pope Leo XIII to the French community of Boston.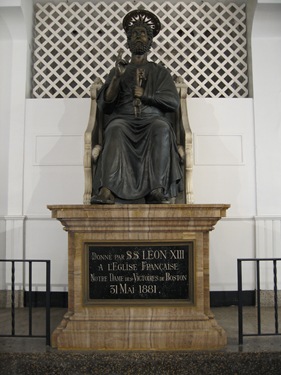 The Marists have traditionally been very much involved with the Franco-American community in the archdiocese. However, they are also active in prison ministry, education and retreat work — a whole variety of apostolic work.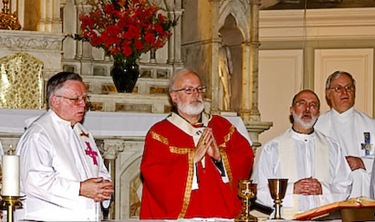 The Marists are a very mission-oriented community. They have had a glorious history and a very large presence particularly in the Pacific.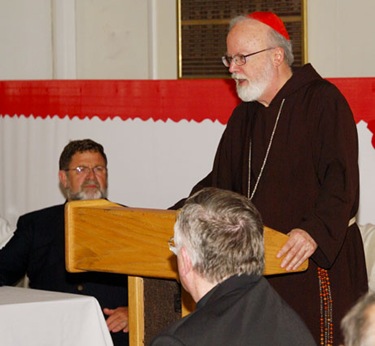 The new provincial, Father Ted Keating, was at the ceremony as well as the former provincial, Father Roland Lajoie, who is working as the chaplain at Presentation of Mary Academy in Methuen. Father DeMers is the pastor at Our Lady of Victories.
During the visit someone commented on the fact that my titular church in Rome is Santa Maria della Vittoria, so they told me that their church can represent my Roman parish. I replied that in "Angels and Demons," a cardinal was burned alive in my Roman parish. I told them that I hope they don't do that!
– – –
On Wednesday, I went to Andover for the Merrimack Valley Catholic Charities reception. Their board of advisors, many of the priests from the area and many of their benefactors came.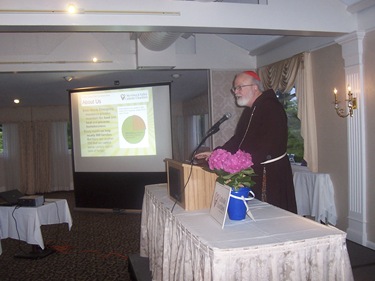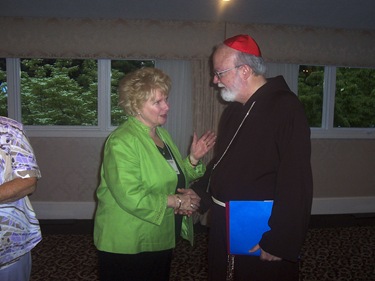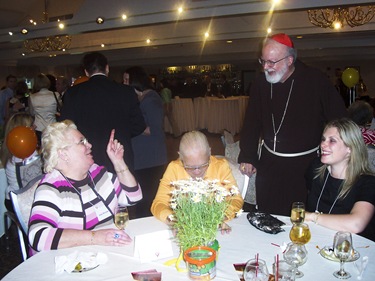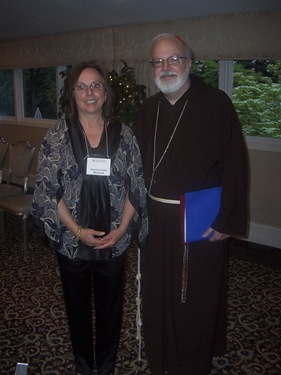 Jeanne-Lucie Michaud of Grandparents as Parents spoke on the program for grandparents who are raising their grandchildren. She said there are 68,000 children in Massachusetts being raised by grandparents and, of those, about 30,000 will never see their parents.
It is a tragic situation, but certainly the Church is trying to help these grandparents in the face of many problems. Many of these children are traumatized because of what happened to their parents — death, addiction or whatever else caused them to be removed from the scene. One of the grandmothers also gave a very beautiful witness as to what Catholic Charities has done for her.