This week was filled with many events and meetings, but before I get to them I want to make a mention of the Holy Father's visit to the Holy Land which seems to me to have been very positive.
Things are never without their challenges, particularly when there are so many emotional issues involved. The Holy Father, I think, is trying to call people to collaboration and peace and to resolve the differences that have divided that part of the world and spawned so much violence for so many years.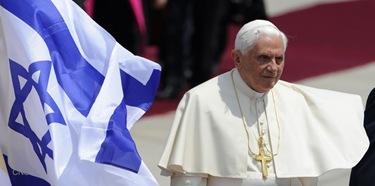 I was very moved by his trip to Jordan where he met with 40,000 Christian refugees from Iraq alone. He participated in their First Communions.
It is very worrisome that the Christian population is being driven out of the Middle East. The Holy Father wanted to demonstrate his solidarity with the Catholics and other Christians who are in that part of the world and are being overwhelmed by the ongoing geopolitical events.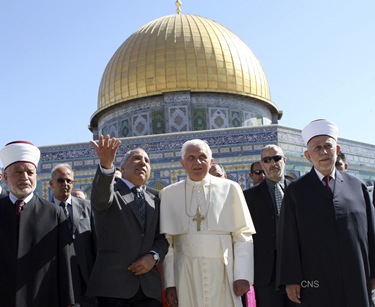 – – –
Last Thursday I attended a Catholic School Foundation meeting on immigrant student issues hosted by Catholic Charities. They had two sessions: one with the primary school principals and one with secondary school principals.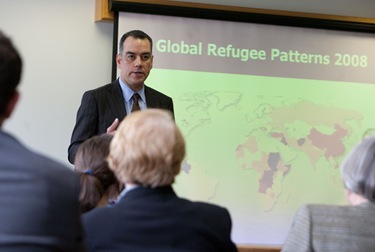 Several speakers addressed different ways Catholic schools can be more available to the immigrant population.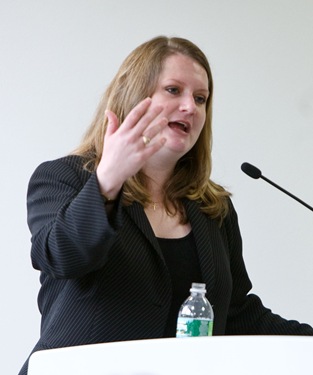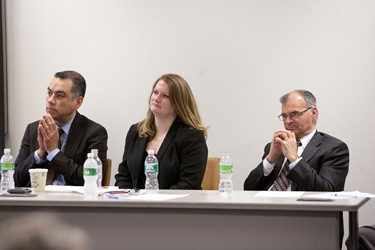 We have, in particular, in our inner-city schools, many immigrants. Immigrant communities tend to have more children but, for that very reason, we realize that there are many families who cannot afford tuition. So we must come up with a plan and a strategy to service that demographic. It has always been a very important part of the mission of Catholic schools in this country.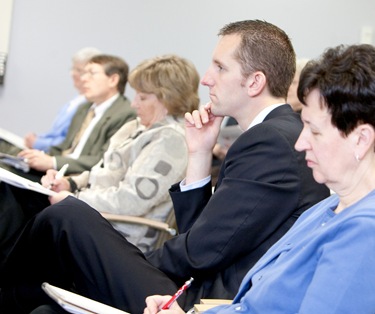 – – –
Also on Thursday I celebrated the incardination Mass of Father Ken Cannon, who had been a Xaverian missionary and worked for many years in the Philippines. However, at this time in his life, he has decided to return to the diocese and become a member of our clergy.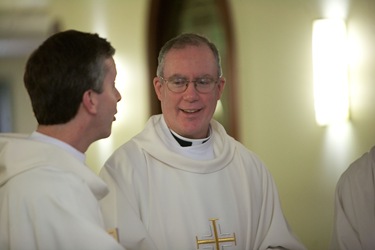 The word incardination is the process by which a man becomes a member of the clergy of a diocese or a religious community. This happens when the man is ordained a deacon. He belongs to that diocese for life, even if the bishop allows him to go elsewhere.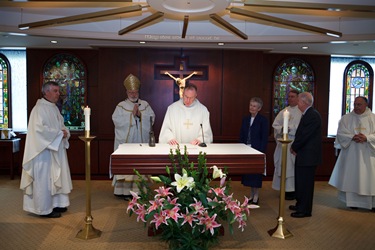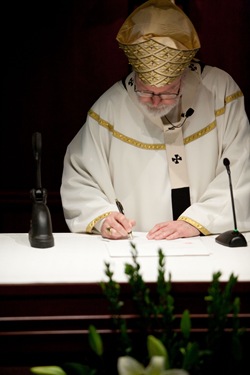 During the ceremony, the priest to be incardinated signs a document of incardination.  I then sign it and impress a seal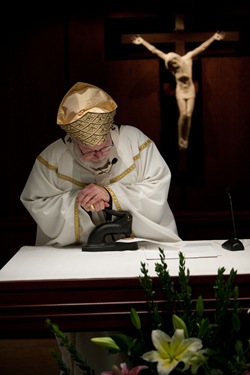 For example, the Boston priests who serve in the St. James Society are still Boston priests. If the priest wants to move permanently to or from a diocese or religious order, the bishops and superiors involved must agree to the change and usually arrange a period of transition. The change becomes official when the priest is incardinated or enrolled among the clergy of the new diocese, and he is "excardinated" or removed from the rolls of his former diocese or order.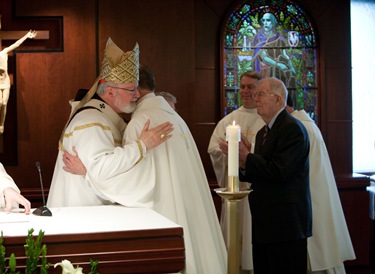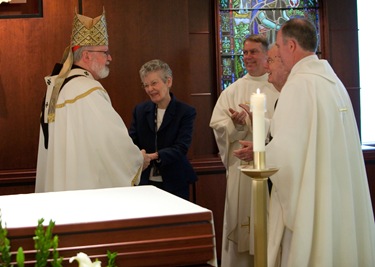 Father Cannon served as parochial vicar in two parishes here in the archdiocese during his "transition" — St. John the Evangelist, Hopkinton and Holy Family, Duxbury. Effective June 1, I have appointed him pastor of St. Mary of the Nativity Parish in Scituate.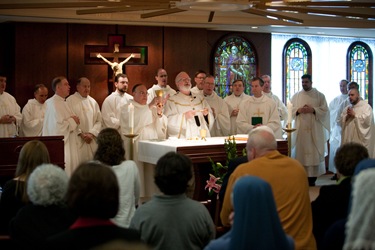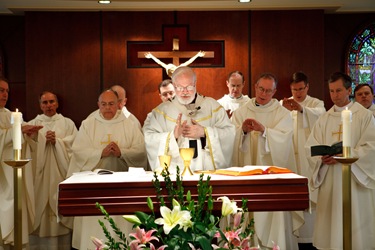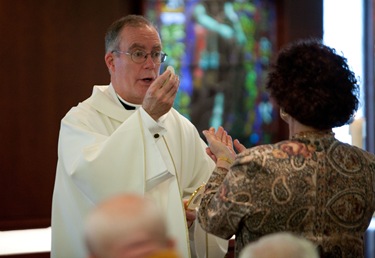 Joining us at the celebration were his parents and his brother, Father Richard Cannon, pastor of St. John the Baptist in Quincy.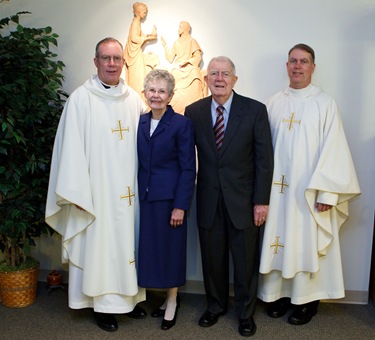 Father Ken, his parents and his brother
We are very grateful for the wonderful spiritual formation that he received in the Xaverians and also grateful that he will be available to continue working in the archdiocese.
– – –
I met with the Superior of the Sister Disciples of the Divine Master, Sister Regina, later in the afternoon.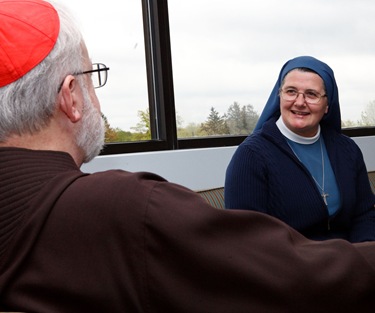 The sisters have been an important presence in the archdiocese. Their mission of promoting the beauty in the liturgy and Eucharistic Adoration and their particular service to priests has been a great blessing for all of us.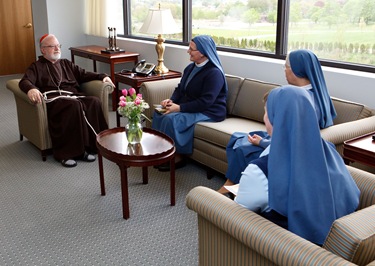 Having them here at the pastoral center has made it possible for us to have Eucharistic Adoration in the afternoon. Their presence at Regina Cleri for so many years has also been a great service to our elderly priests.
– – –
Thursday night, I met with recently ordained priests at St. Francis of Assisi in Braintree. We had the Holy Hour and a very nice dinner that the parishioners arranged for us.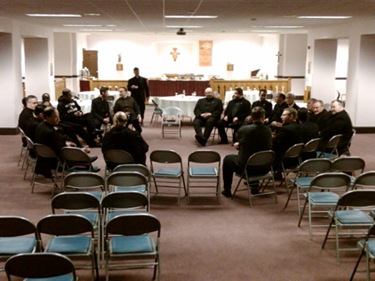 Of course we ate Italian food as many of the parishioners there are Italian. Then we had a discussion with about 30 young priests. I always find these very life-giving experiences. I think the priests enjoy having the opportunity to be together and discuss with the bishop and share some of their pastoral experiences.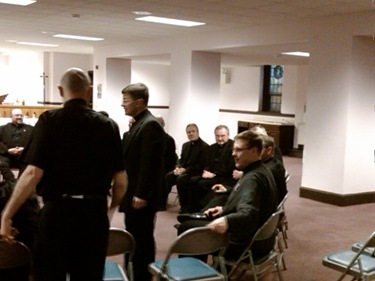 – – –
On Friday, Boston College President Father William Leahy and his assistant, Kevin Shea, came to the Pastoral Center for lunch and to take a tour of the new building.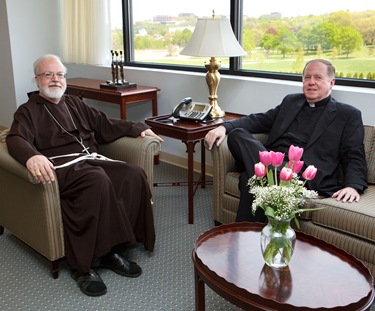 They were very impressed by the lovely facilities we have here.
– – –
Later, I met with Father William Petrie, provincial of the Sacred Hearts Fathers, and Father William Gaffney, a Redemptorist, both of whom work in the Enthronement Movement of the Sacred Heart.
There has been, for some time, a movement very much promoted by the Sacred Hearts Fathers. I knew them very well. Their provincial house is in Fairhaven.
Members of the movement enthrone an image of the Sacred Heart in their homes. It is intended as a family event to get families together to pray. As part of the promises of our Lord to St. Margaret Mary, He speaks to us about His desire to be venerated, promising his blessings to "every place where a picture of My Heart shall be set up and honored."
This devotion of Sacred Heart underscores Christ's humanity — that God has become one of us and loves us with a human heart and human friendship. The devotion has typically been a Catholic devotion.
The enthronement ceremony gives families an opportunity to recommit themselves to the faith and to participate in a spiritual event in their homes. I think it's a very important thing. The Holy Father talks so much about the families being the domestic Church, and yet many of our families never have the experience of praying together or having a sacred space in their home that calls them to prayer and reminds them of God's constant loving presence in our lives.
– – –
In the evening, I celebrated two Confirmation Masses at St. Thomas More in Braintree. The Church was packed both times. It is wonderful that so many people come to these confirmations. I think it's an opportunity for us to help people reconnect with their faith and an opportunity to challenge young people to live a life of fidelity.
– – –
Saturday, we had Confirmations at St. Columbkille in Brighton with Msgr. William Fay and then in the afternoon we went to St. Helen's in Norwell for the dedication of a statue of St. Francis. It was dedicated in honor of Father Dick Smith, who had been the pastor there for a number of years.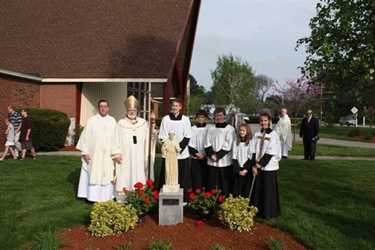 Members of his family where there, as well as many of the parishioners. Afterwards there was a reception.
Apparently Father Richard was a great lover of animals, which is why they chose a statue of St. Francis to honor him, depicted in the statue with his birds and so forth.
– – –
Sunday we were at St. Anthony's in Cambridge for the Feast of the "Santo Cristo dos Milagres." We had perfect weather for the thousands of people who participated.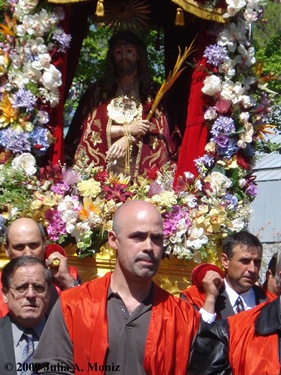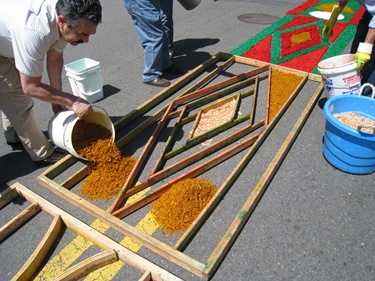 To mark the path of the procession, they use colored saw dust poured into forms.  It looks almost like a beautiful carpet rolled down the road.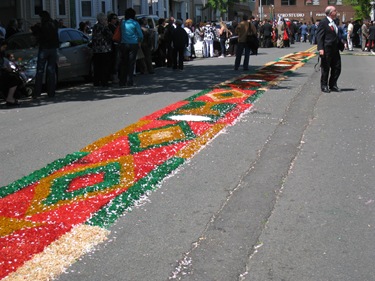 I have always loved these Portuguese "festas." I find them great intergenerational events. The little children dressed as angels and shepherds, the teenagers played with their bands, the men carried the statue and the women cooked and organized. These events really bring the whole family — the whole community — together.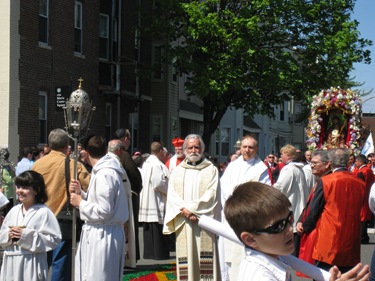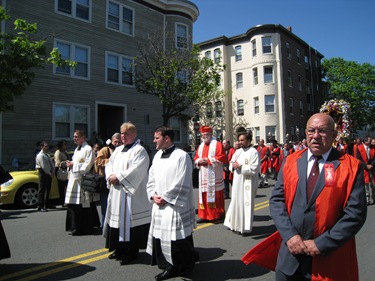 The Santo Cristo feast is traced to the devotion the people have to a statue that is in Ponta Delgada in San Miguel in the Azores Islands.
It is a beautiful statue of what we called 'the Ecce Homo,' a depiction of Christ from the Gospel when Pilate brings him before the people and says, 'behold the man.'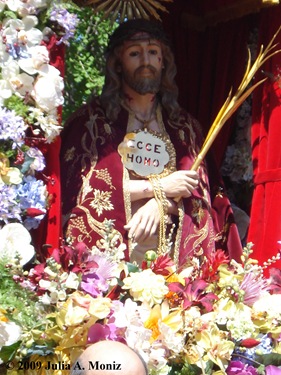 Christ is crowned with thorns, scourged, wearing the purple military cloak that they put on him to mock him, and holding the reed in his hand as if it were a scepter. So the Ecce Homo it is very much an image of Christ at that moment when Pilate presents him to the crowd and the crowd responds, 'crucify him, we want Barabbas.'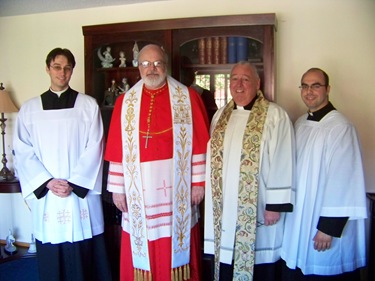 With Father Walter Carreiro, the pastor at St. Anthony's
I preached on the feast and talked about how St. Theresa of Avila, in her memories talks about how as a young religious she was very mediocre and not particularly devout and one day she was walking down the corridor in the convent and saw the image of a scourged Christ, crowned with thorns, and for the first time in her life she realized how much Christ loves us. That was the beginning of a very special grace of conversion in her life—from the very frivolous and mediocre sister she became the tireless reformer, Santa Theresa of Avila. So I invited the people to look at this image of Christ and try to see it with new eyes and realize the message and how much our Lord loves us and that he is looking at us with love even as we behold him.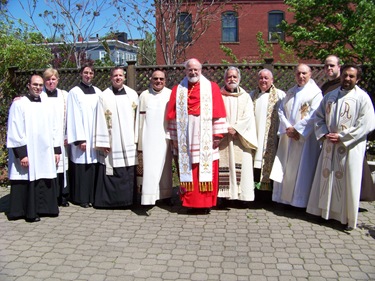 In the procession you notice that the Portuguese men wear a red vest on top of their suits that comes down to the knees. They call them "opas."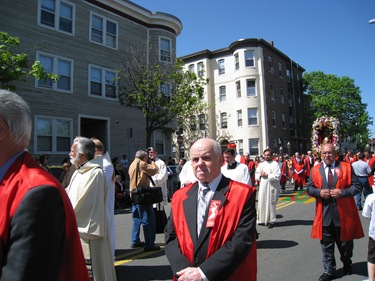 In the procession there was a young man named C.J. with blue hair cut in a Mohawk, so I could not pass up the opportunity.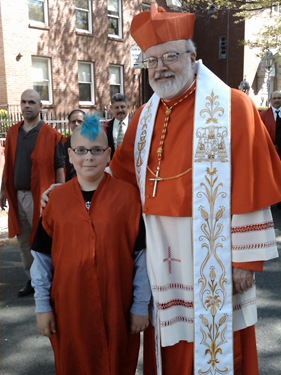 It reminded me that when I was a little boy, my brother and I went to the barber and had him cut our hair as Mohicans. My mother was so upset she made us wear baseball caps till our hair grew back in! I didn't dye my hair though because in those days we didn't know you could make your hair blue!
– – –
On Monday, I attended the Sears Road Dinner Club, which is organized by David Fubini, a director of the McKinsey & Company which last year provided the Archdiocese a pro-bono review to improve the efficiency and productivity of our organization. This is a dinner that happens twice a year at which a number of community leaders get together and discuss, in an off-the-record way, contemporary problems in the community and in the world. There are always people there from universities, the government, the private sector, the world of communications, and others.
– – –
On Tuesday I attended an interreligious gathering organized by Metropolitan Methodios. We discussed the response of the religious communities to the economic crisis. Father Bryan Hehir came with me and spoke at the event.
– – –
Also Tuesday, I met at St. Julia's in Weston for a pastoral planning meeting called "One Pastor, Two Parishes." The new director of our Pastoral Planning Office, Father David Couturier, was there along with the pastors who are shepherding more than one parish community or communities that have been joined together. They came together to talk about their experiences and also what some of the challenges and some of the successes have been in melding their respective communities together.
– – –
On Tuesday evening I was pleased to celebrate Mass and take part in a dinner in support of Por Cristo, a member of the Caritas Christi Healthcare System that provides charitable medical services in Latin America, particularly the country of Ecuador. The Mass took place in the beautiful campus chapel of Emmanuel College.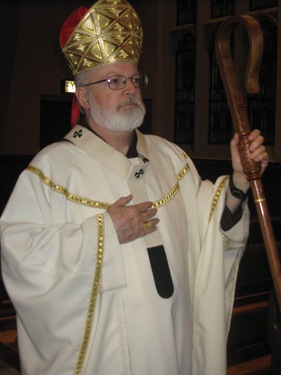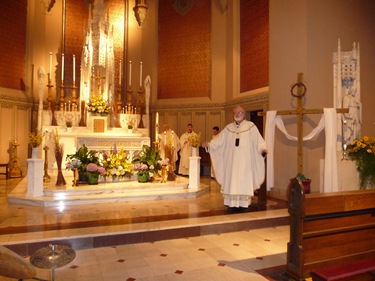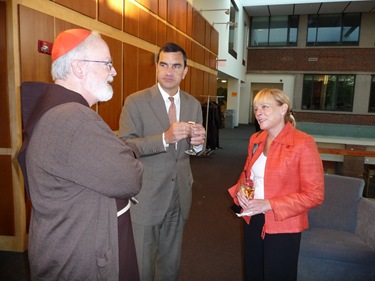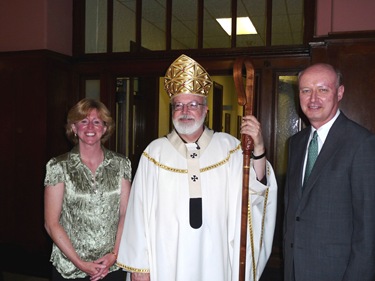 We then moved to the Yawkey Center for a delicious dinner. It was great to be at Emmanuel with Sister Janet Eisner, president of the college.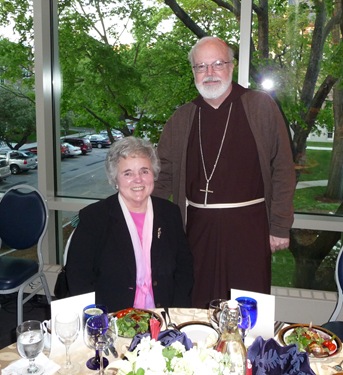 With Sister Janet
Por Cristo has been at work in Ecuador for nearly 30 years. The organization traces its founding back to the visit of Pope John Paul II to Boston in 1979. (Many of you remember that rainy day, I'm sure!)
Among the things the Holy Father did was challenge us all to share our abundance with those in need, particularly in Latin America. Por Cristo was born in response to that challenge and they continue that work today.
Last year they conducted 18,000 consultations at the Por Cristo Nutrition and Health Center in the Isla Trinitaria barrio of Guayaquil, Ecuador. They have many wonderful programs at the center including some dealing with HIV/AIDS, malnutrition, and adolescent girls' self-esteem.
Por Cristo also conducts other projects in Ecuador and sends teams of volunteer doctors and nurses from the United States to work there on short missions. They also ship medical equipment and supplies that are hard or impossible to obtain in Ecuador.
Joe Reardon is the Executive Director of Por Cristo and works with a great team including Deborah Clark and Orlando Vargas. They have a staff of 18 in Ecuador. Gary Kaneb is Chair of the Board of Por Cristo and it was great to be with him and his wife, Diane, who are major supporters of this important work. The Massachusetts Knights of Columbus are also very generous to Por Cristo and it was good to see so many of their leadership at the dinner.
– – –
On Wednesday, at our mid-day Mass at the Pastoral Center, we celebrated with six priests who are celebrating the 25th anniversary of their ordination.
The Mass itself was very crowded — standing room only – because, in addition to the family and friends of the jubilarians, there were several other groups join us for Mass at the Pastoral Center.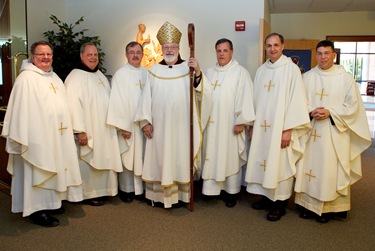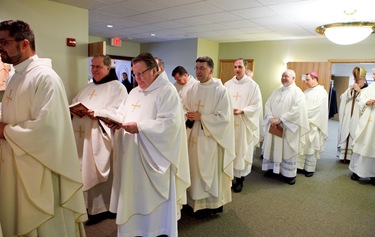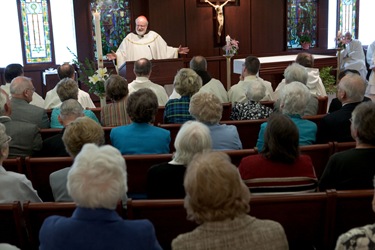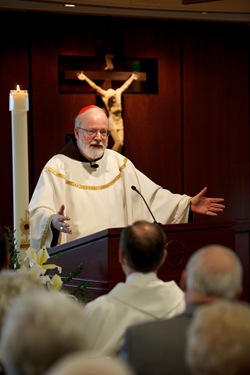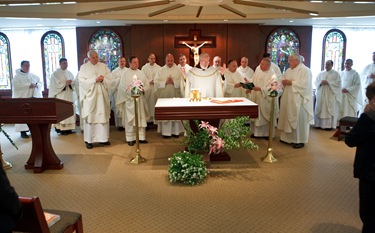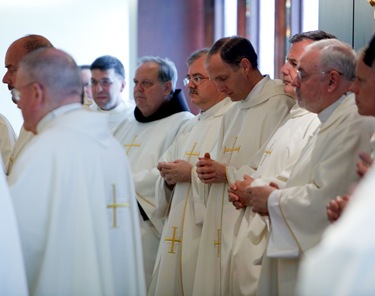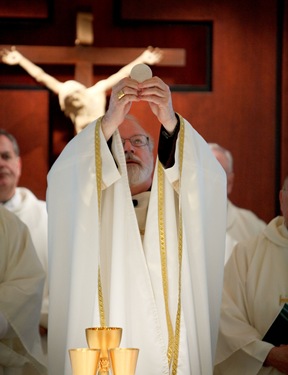 One of the groups was from St. Claire's in Braintree. Following the Mass, I joined them for a group photo in the lobby.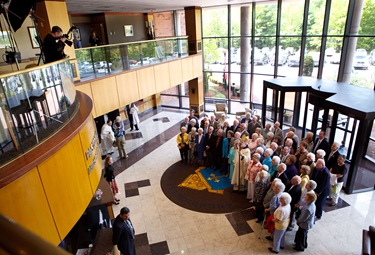 – – –
Later, I met with the pro-life directors of the New England dioceses.
The directors meet twice a year at the Pastoral Center to share resources and develop programming ideas.
One of the topics of discussion was a new resource on end of life issues developed by Peter Cataldo of the diocese of Manchester entitled "Three Beliefs". Peter is a bioethicist affiliated with the National Catholic Bioethics Center and who also serves as the Respect Life Coordinator for the Diocese of Manchester.
Peter has developed a Catholic guide on the durable power of attorney for health care in New Hampshire that includes an overview of three fundamental beliefs of Catholics on informed conscience on life-sustaining treatment and care.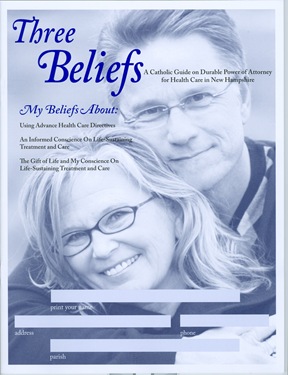 We talked about trying to do to promote the booklet in all of our dioceses, because we can see that this issue is beginning to resurface and it is one that requires a lot of education for people to understand what is really at stake.
He has also prepared an educational PowerPoint presentation on Church teaching that he will offer at the next meeting of the group in the fall.
Among the other resources shared at the meeting was this beautiful, three minute clip of prenatal developed by Catholic Media House which the Respect Life Education Office has recommended to parishes and schools for use with our "See, I Make All Things New /Created for Love" middle school program in life, love and relationships.
I think it's a wonderful to conclude this week's post.
Until next week, blessings to you all!
– Cardinal Seán