Welcome back!
Last Thursday evening I attended a reception at the home of Deacon Chuck Clough and his wife, Gloria.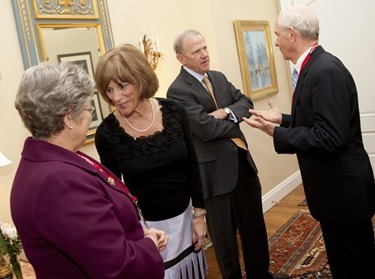 Deacon Chuck and Gloria (center) greets Joan and Al Lagan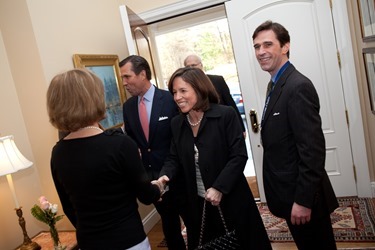 In attendance were Craig and Nancy Gibson seen here along with Damien DeVasto from our staff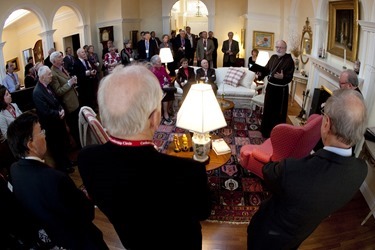 There were a hundred or so people there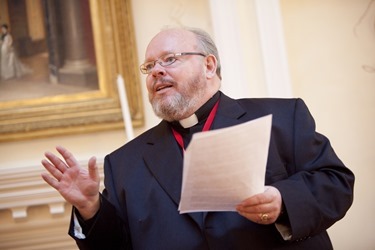 Father Jack Ahern spoke of the opportunities ahead as he begins as the pastor of three parishes in Dorchester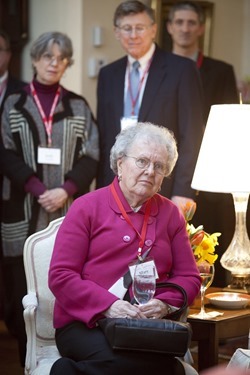 Mary Ryan along with David and Judy Castaldi
We are very grateful for all of the support that Chuck and others are giving to the Church's development activities. In these times of economic distress, the demands on our services are ever-increasing, so we are very, very grateful to all of those who have come forward to help us.
– – –
On Friday afternoon, we made a lightning trip to Houston for the annual cardinals' dinner to raise scholarship money for The Catholic University of America.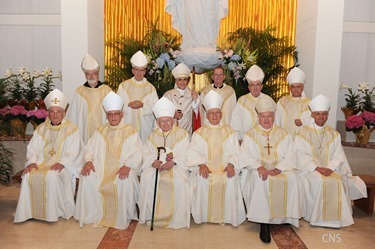 The evening started with a Mass at the new cathedral in Houston. This was the first time that I had been in the cathedral and I was very impressed.
Archbishop Joseph Fiorenza built it towards the end of his tenure as bishop of Galveston-Houston and, of course, now they not only have a new cathedral but they also have a new cardinal, Cardinal Daniel DiNardo.
The archdiocese has grown considerably. There are probably 1,200,000 Catholics in Houston now and the cathedral was built in response to that growth.
I remember when I was Bishop of Fall River the people in Sandwich wanted to build a parish church. They said: "We want a Church that looks like a Church," because sometimes churches are built today that you could mistake for a bowling alley.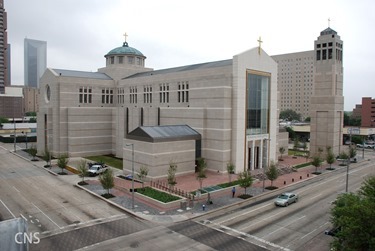 Well, I think the people in Houston got a cathedral that looks like a cathedral — it is very bright, large and the artwork is stunning.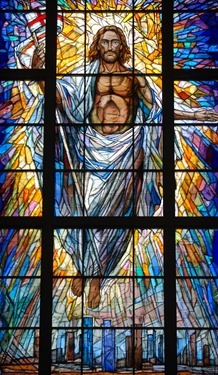 They had a wonderful diocesan choir that sang for the event. The church was filled and I and eight other American cardinals attended the Mass.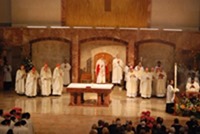 Father David O'Connell preached the homily and he always gives a very inspiring talk. Cardinal DiNardo, of course, presided at the Mass. The nuncio, Archbishop Sambi, was with us as well.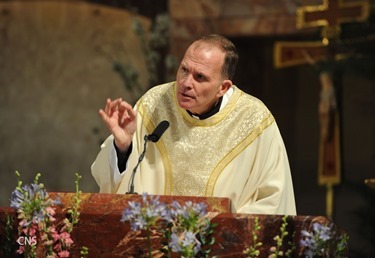 Father O'Connell
After the Mass, we went to a hotel for the gala dinner. There were a number of students there from Catholic University who gave speeches. It was very impressive to see the very strong Catholic identity and commitment of faith of the institution as reflected in the testimonies of the students.
There were also a number of musical programs. One student played the violin, another sang opera and a duet performed some more contemporary pieces.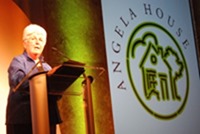 At the dinner, they presented the "American Cardinals Encouragement Award" to Sister Maureen O'Connell, the executive director of Angela House, which is a transitional housing facility for women recently released from prison.
I think they raised close to a million and a half dollars for scholarships!
– – –
So, having been in Houston for a few hours, we jumped on a plane the next morning and came back to Boston in time to be here for another fundraiser, the third of the week!
This time it was for St. Elizabeth's Hospital. That was also a very successful fundraiser. There was a lot of enthusiasm and hope among the hospital staff and personnel with the recent dedication of the new Emergency Room, so it was a beautiful evening.
I am comforted by reading St. Paul, who spent a lot of his time taking up collections for Jerusalem, so we are following in that tradition!
– – –
That same evening, Father Ignacio Larrañaga came to see me. Father Larrañaga is a Spanish Capuchin who is Basque and has spent most of his life in Chile in the Capuchin province there.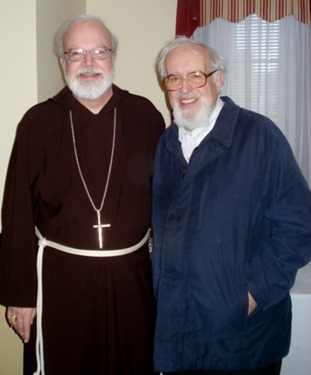 With Father Larrañaga
He is probably the most read spiritual writer currently in the Spanish speaking world. He has authored several books, many of which have sold over a million copies. But, beyond his great ability as a spiritual writer, he is a retreat master and a preacher and has gone around the world giving workshops on prayer, called "Talleres de Oración."
During all the turmoil in Latin America at the time of liberation theology and so many other things, he never lost sight of what his role was to teach people about the interior life. He draws very much from our Franciscan traditions, but also from the Carmelite spirituality, St. Ignatius of Loyola and the other spiritual masters. His book on the Blessed Mother, "The Silence of Mary," is one of my favorite books on the Blessed Mother. It is a beautiful biography and I encourage you to read it. Many of his books have been translated into English.
I first met Father Larrañaga back in the 1981 when I was in Washington. I invited him to come give conferences on Our Lady of Guadalupe. It was the 450th anniversary of the apparition of the Blessed Virgin to Juan Diego.
He gave a number of conferences, but the most striking was the a standing-room only Mass he preached at the Basilica Shrine of the Immaculate Conception. I recall it was just an extraordinary event.
Now, at 80-plus years, he is still traveling around the world giving workshops on prayer. He came to Boston to give a talk at Boston College. They had 300 people come to this workshop, and they said that they had to turn away at least as many people because they didn't have room!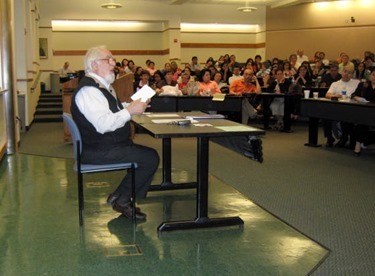 Father Larrañaga speaking at BC
I am sorry he couldn't have stayed in Boston the next day to have Mass in one of our Hispanic parishes, but he was off to Washington where he was having another event and then going on to Mexico to continue his work.
It was a joy to see him again and he has always kept in touch over the years. I am very proud of him as Capuchin and also very grateful for his extraordinary ministry that has helped so many people to find the path to God in their spiritual life and life of prayer.
– – –
Sunday we arrived in Charlestown for the 150th anniversary of St. Francis de Sales Parish. The firemen had two fire trucks with the American flag in front of the church. For those of you who may not know, Father Dan Mahoney, the pastor at St. Francis, is Chief Chaplain of the Boston Fire Department.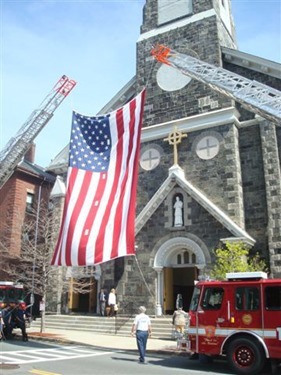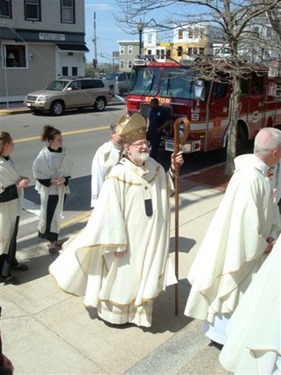 The Mass was very well attended by parishioners and former parishioners, representatives of the ecumenical community, firemen and scores of altar servers.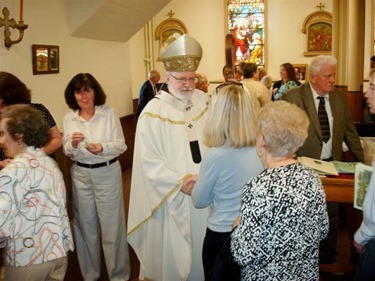 It was a very beautiful celebration of their 150th anniversary and we thanked Father Mahoney for his ministry in the parish, and to the firefighters for their presence and support.
– – –
Sunday afternoon I attended the Holocaust Remembrance Day celebration at Faneuil Hall.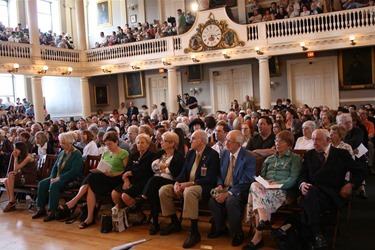 Several Holocaust survivors were in attendance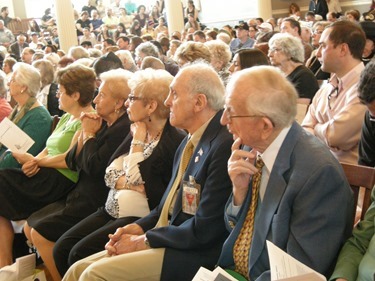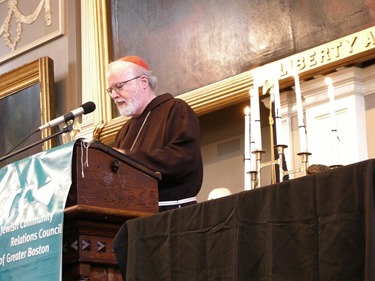 I had been asked to make some remarks at the ceremony.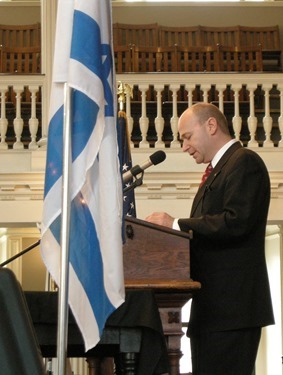 Nadav Tamir
The Israeli Consul General, Nadav Tamir introduced me and spoke very beautifully of Pope John XXIII and all that he had done to save Jews when he was nuncio in the Middle East at the time of the Second World War. There was also a rabbi, a holocaust survivor, who spoke. It was a very moving talk.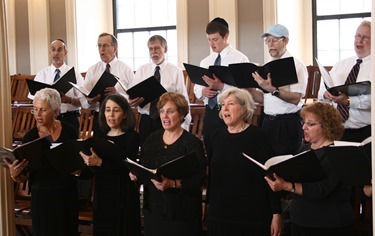 Many people told me they were very grateful to the archdiocese for hosting the rededication of the holocaust menorah at the Pastoral Center in March and for having inviting Cardinal Kasper to the event.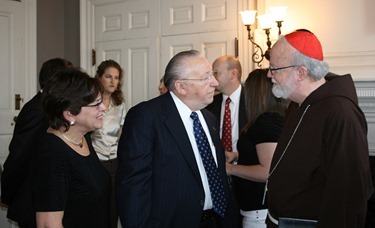 Speaking with Nancy Kaufman and Israel Arbeiter
– – –
On Monday evening, I celebrated Mass marking the one year anniversary of the passing of the foundress of the Focolare Movement, Chiara Lubich, at Our Lady Help of Christians in Newton.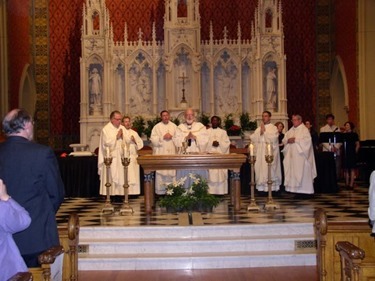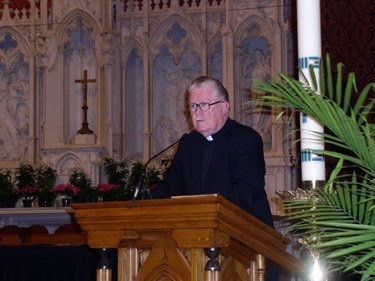 Father Tim Murphy of Immaculate Conception in Salem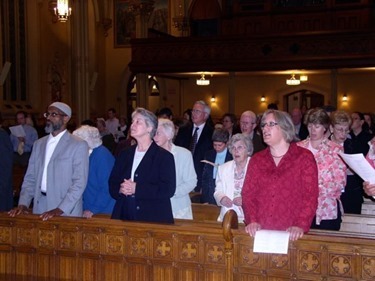 Local people from the Focolare Movement and representatives of other faith traditions, including Rev. Diane Kessler and Imam Taalib Mahdee, were there to honor the memory of Chiara Lubich.
She started the Apostolate when she was a 23-year-old elementary school teacher in Trent, in northern Italy. She was a lay member of the third order of St. Francis of her Capuchin parish.
In the midst of the violence of the Second World War, she gathered in a bomb shelter with some of her companions and began reading the scriptures and picking out the words of life, the "parola di vita." The first "parola di vita" was: "Father, may they all be one," and this has become the overriding theme of the movement's beautiful spirituality based on Christ's prayer for unity.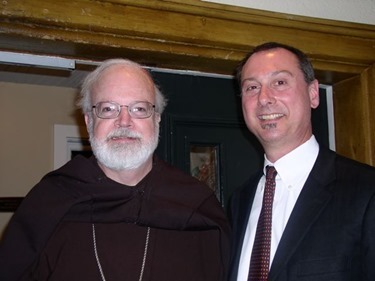 With BC professor Michael James
There are 100,000 members of the movement in the world; they have used the theme of unity to reach out beyond our own Church to other religious groups as well.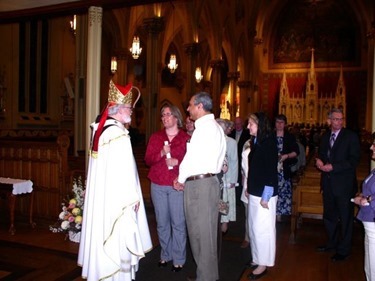 There are about 35 Mariapolis, which are like small cities that they have set up, like Loppiano in Italy and Luminosa in New York, where they come together and live in the way that the first Christians did: in a spirit of great unity, following the teaching of the apostles, in fellowship, prayer, breaking of bread and communion of goods.
I was privileged to have met with Chiara Lubich many times over the last 30 years and was very honored to celebrate the Mass for her. I pray that her spiritual family will grow and particularly here in the archdiocese. I think that their theme of unity and love is a great gift for us.
– – –
On Tuesday, Father Bill Kelly organized a conference on St. Paul.
Father Frank Santilli, from the Diocese of Providence, gave the conference, which was attended by priests, deacons, seminarians and myself.
– – –
On Wednesday, I had two very important meetings.
Twice a year the bishops of the Province of Boston — which includes the four dioceses of Massachusetts, New Hampshire, Vermont and Maine — gather to reflect on the pastoral challenges facing us, share information and be together.
This was our spring meeting, and for a couple of the bishops it was the first time they had been to the Pastoral Center and they were very pleased to see the beautiful headquarters that we now have.
Later in the evening I met with all the Boston seminarians who came to the Pastoral Center for Holy Hour, dinner and dialogue—questions and answers. I always enjoy having an opportunity to spend some time with our men who are studying for the priesthood.