Hello and welcome to all!
I'd like to begin this week's post addressing a couple of recent developments:
Earlier this week President Obama signed an executive order reversing a ban on federal funding of embryonic stem-cell research. 
The continuing debate on stem cell research is of great importance to the Catholic community.
Like everyone, we are anxious to further the cause of science and hope that new discoveries will lead to cures for diabetes, Parkinson's Disease and the other terrible physical maladies that afflict so many people.
At the same time, we believe that human life is so sacred and that we must always seek the ethical and moral way to carry out these scientific experiments and research. Human life is too precious to be reduced to a commodity or a remedy.
I do not doubt the sincerity of those who favor embryonic stem cell research, but I wish that they would understand that our opposition is not based on superstition or narrow-mindedness, but rather on a profound regard for the sacredness of human life. When we disregard that sacredness and neglect to respect human life it can lead to, not only a devaluation of life itself, but a diminishment of our humanity.
Also, on Thursday, the Holy Father issued a letter to the world's bishops concerning his lifting of the excommunication of the four Bishops consecrated by Archbishop Lefebvre.
We are all very happy to see that the Holy Father has written such a powerful statement concerning his actions. As the Holy Father points out, the irony is that his action was, on one hand, motivated by reconciliation, but on the other hand it jeopardized our reconciliation with the Jewish community. Certainly, this was unintentional.
I was particularly struck by the part of the letter where the Holy Father says:
"The real problem at this moment of our history is that God is disappearing from the human horizon, and, with the dimming of the light which comes from God, humanity is losing its bearings, with increasingly evident destructive effects."
Certainly, this situation we face with stem-cell research could be included in the results of that "dimming of the light that comes from God" in our American society.
And finally, one of the many benefits of this blog is that it allows me to provide updates and information to the Catholic community and all our readers.  At this time I wish to share with you a statement about the recent developments concerning Caritas Christi and the Commonwealth Family Health Plan:
 "While I appreciate the opportunity given to Caritas Christi to serve the poor through this agreement, I wish to reaffirm that this agreement can only be realized if the moral obligations for Catholic hospitals as articulated in the Ethical and Religious Directives of the United States Conference of Catholic Bishops are fulfilled at all times and in all cases.  In order to assure me that this agreement will provide for the integrity of the Catholic identity and practices of Caritas Christi Health Care System, I have asked the National Catholic Bioethics Center to review the agreement and to assure me that it is faithful to Catholic principles."
– – –
Last Thursday we held the first annual Symposium on Adolescent Catechesis at the Pastoral Center.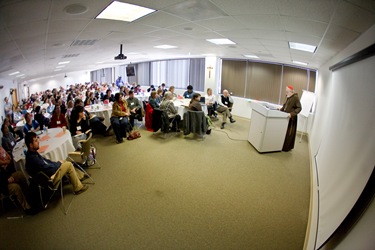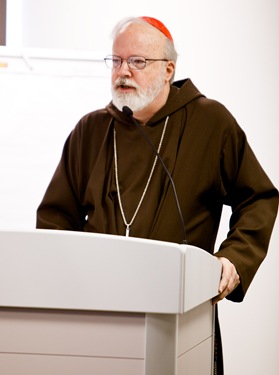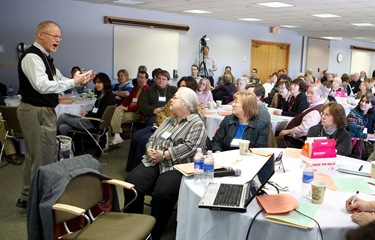 We were very pleased by the excellent response of the more than 200 individuals involved in ministry to adolescents and young adults in the archdiocese who came to be part of the symposium.
I gave an opening talk and then Sean Reynolds from the Archdiocese of Cincinnati made several very lively presentations over the course of the day.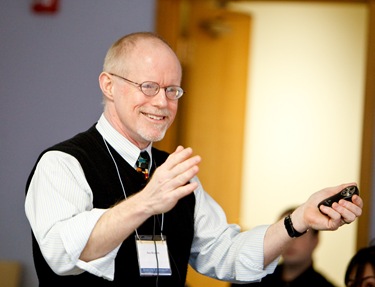 Sean Reynolds
The symposium was very well received and we look forward to having Sean back in the diocese at some future time to talk on adolescent catechesis.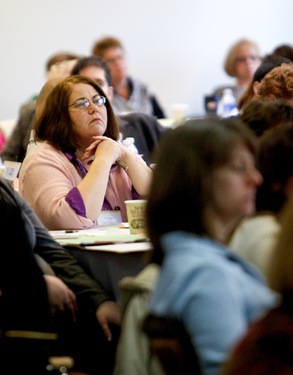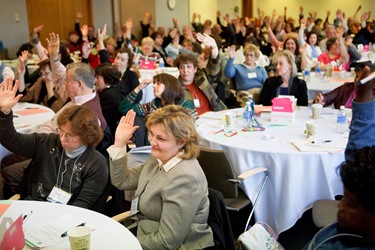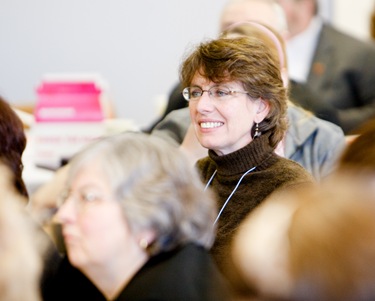 We are all concerned about the faith formation of our adolescents and the post-Confirmation programs where many of them are not participating in the life of the Church or furthering their spiritual development and acknowledgment of faith. The symposium was particularly directed at addressing those issues.
Click here to watch a video of my opening address:
 [flv:http://www.thebostonpilot.com/Video/v111-AdolescentCatechesis/CardinalTalk2.flv 320 240]
The symposium was an initiative of the Office of New Evangelization for Youth & Young Adults who reached out to the Catholic Schools and Religious Education Offices in order to address this very timely and important subject. We would like to thank all the offices that contributed to putting the symposium together.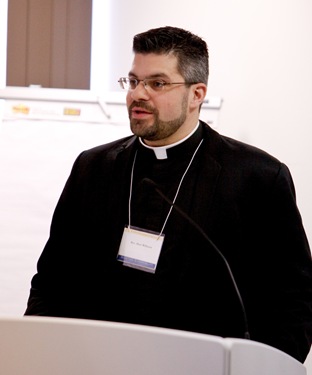 Father Matt Williams, director of our Office of New Evangelization for Youth & Young Adults
– – –
Later on that day we had the Catholic high school principals here, meeting with Dr. Mary Grassa O'Neill, the director of our Catholic Schools Office. There was a very enthusiastic response with practically all of the Catholic high schools in Boston represented.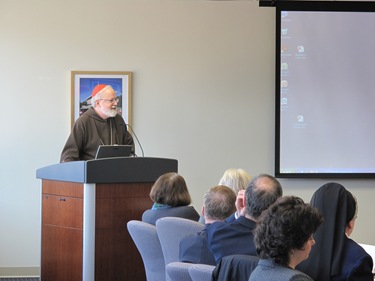 In my address to them, I encouraged them to look for ways to send young people to the annual March for Life in Washington, D.C. 
I pointed out that we will soon be marking the 25th anniversary of World Youth Day and what an impact it has made on young people in our Church.  Perhaps as much as a third of our young priests and seminarians have reported that they trace their vocation to participating in World Youth Day. So many young Catholics have been revitalized in their faith by the experience of the Universal Church and the affirmation of being with thousands of their peers who are enthusiastically embracing the Gospel of Life and looking for their vocation in the Catholic community.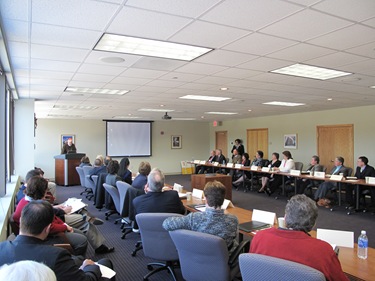 I told the principals that I realize there will always be a limited number of people able to go to World Youth Day due to the travel and the expense but, in a sense, the March for Life is something of "a poor man's World Youth Day."
Although we do not have the joy of having the Holy Father present in Washington, the young people who go get to experience the witness of hundreds of thousands of people dedicated to their Catholic faith, and particularly the thousands upon thousands of young people that have become a growing presence each year. Many of them have been inspired to live their faith more fully after experiencing the March for Life so I urged the principals to try to be as creative as possible in finding ways to enable the largest number of their students to attend each year.
– – –
Saturday afternoon we had Mass at St. Mary's Parish in Dedham for the launch of the 2009 Catholic Appeal.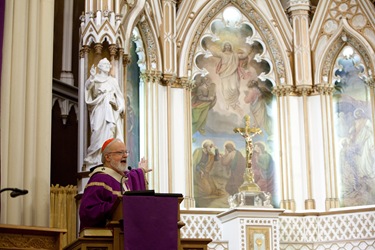 I commented that it was very clever of Father Bill Williams to have a painting of the transfiguration put behind the altar for the occasion, since that was the theme of the Gospel!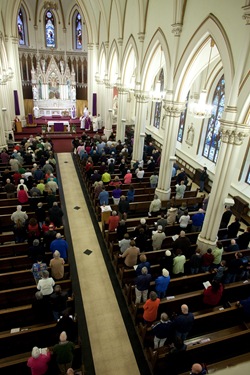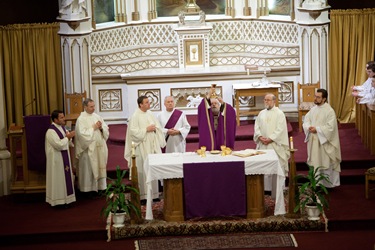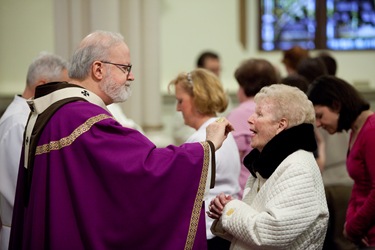 Before the Mass, I had the opportunity to meet with a number of parishioners involved in the ARISE movement at St. Mary's who shared with me their experience of the faith formation sessions that have been organized in the parish. They were all very excited about the program, which has made such in difference for many of them.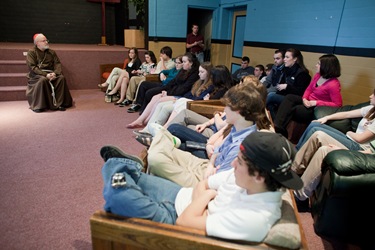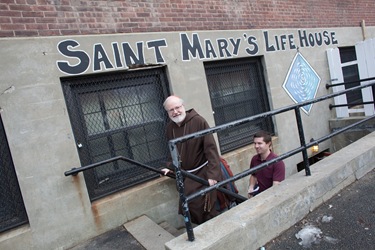 I also met with the Life Teen youth at St. Mary's, as well as some young adults who have moved beyond Life Teen and are now at college, but still return for the retreats that the parish organizes for them, the "alumni" of the Life Teen program.
We selected St. Mary's for the kick-off of the annual appeal because it has such wonderful pastoral leadership and these two programs have been very successful and deserve to be showcased.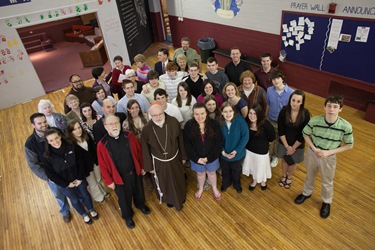 Our trip to St. Mary's also afforded me another opportunity to visit Msgr. Thomas McDonald who is in good spirits and is so happy to be at St. Mary's parish and receiving the wonderful attention of the priests and people there.
– – –
Saturday I attended the Rev. Daniel Kennedy Memorial Scholarship Dinner at St. John's Seminary. The evening was very well attended by priests and laypeople and Father Dan's family.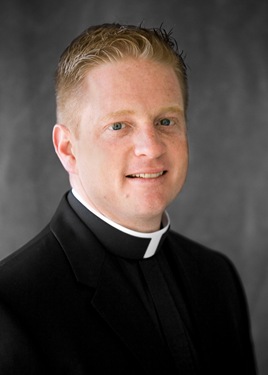 Before dinner there was a Mass celebrated by Father Arthur Kennedy, the rector of St. John's.
Father Dan's father, Dan Kennedy, Sr., gave a very moving talk before the meal. At the end of the meal, Father Matthew Westcott spoke, being very close friends and classmates with Father Dan.  Another of his classmates, Father Bob Blaney, offered the concluding prayer.
The program featured a quote that Father Dan wrote when he reflected on his ordination in my blog back in 2007:
"I was reminded of a prayer to be said before Mass and I have found it particularly meaningful. 'Lord may I celebrate this Eucharist in union with you, as though it were my first Eucharist, my only Eucharist, my last Eucharist.' It is my hope that I will never lose sight of the privilege it is to bring Christ, truly present in the Eucharist, to the good people of God.
We all lament his passing, but his ministry and great love for the priesthood live on and this memorial scholarship dinner is just one indication of the very strong impact he made on people's lives, even though he exercised his priestly ministry among us for less than a year.
– – –
Sunday we went to Immaculate Conception Parish in Marlborough and I held Mass for the Second Sunday of Lent. Father Michael MacEwen, the pastor there, has done a great job and it is a very active parish.
After Mass I was able to see the renovations that have been made to the chapel in their lower church and bless it before heading to a reception where I was able to meet with many of the parishioners.
– – –
On Tuesday, I flew down to Florida for a gathering of supporters and friends of the Campaign for Catholic Schools, the organization which is working to revitalize our Catholic schools.
The event was organized by Jack and Eileen Connors in Naples. Around 100 people came to the reception including many Boston people who vacation in that area. Many of the people who are very committed to our Catholic schools were also there, including John Harrington of the Yawkey Foundation; Tom and Mary Shields; John and Cyndy Fish; and Peter Lynch. At the reception they were addressed about the value of Catholic schools and our commitment to the Catholic identity, excellence in education and service to all—especially the immigrants and working class families.
Then the next morning I celebrated a Mass for those who have made major gifts to our Catholic schools.
Matt George, president of the board of directors of Trinity Catholic Academy, also addressed the group. I congratulated him on having a new public school named after him in Brockton!
– – –
While on the subject of congratulations, I want to congratulate my priest secretary, Father Jonathan Gaspar, on his birthday yesterday!  Ad multos annos!
– – –
Finally, next Tuesday is, of course, St. Patrick's Day.  In honor of the feast day of our patron saint, we are planning an announcement of an exciting new initiative that will be made here, on my blog.
Check back Tuesday for the good news!
Until then, blessings!
+ Cardinal Seán