Greetings!  As I publish this week's blog, I am in Quebec City, Canada participating in a Symposium on the Eucharist in anticipation of next week's Eucharistic Congress.
Before I speak of my experiences of the week and share some highlights with you, I'd like to make note of an exciting upcoming event. I am very pleased to say that in a couple of weeks we will have our Catholic Family Conference here in the Archdiocese of Boston on June 29 from 1-8 p.m. Our first such event was held in 2005, and this year we will be having another day set aside for families in our archdiocese.
The 2008 conference will be held at St. Mary Parish in Waltham and all men, women and children are invited to come. The Holy Father has dedicated this year to St. Paul, so we will be celebrating the opening of that at the conference.
The day includes workshops for adults with separate teen and children's programs. There will also be adoration, veneration of a relic of St. Paul, a family cookout and a Mass that I will celebrate. Anyone interested in coming should register by visiting www.schoolofnazareth.org or calling 617-435-5018.
– – –
Last Thursday evening, I attended a dinner for senior priests organized by the Order of Malta. The event took place at the Boston College Club in Downtown Boston. It is an annual event and this year they had over 60 retired priests attend. Of course, many members of the Order of Malta were also there.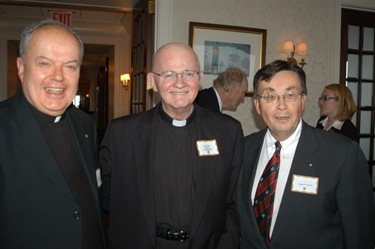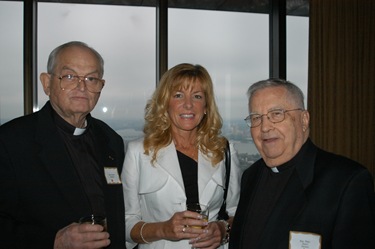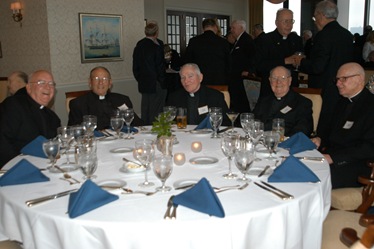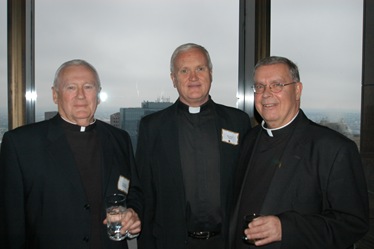 They had wonderful entertainment at the event. They brought in a fantastic group of bagpipers who performed beautifully.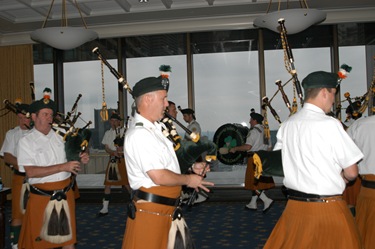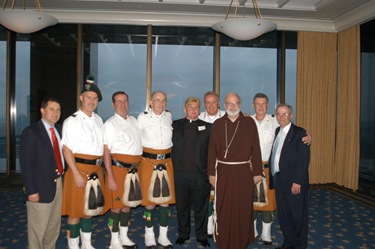 There was also a singing group called the Treasury Notes who sang traditional Irish music. They were very, very funny. They even played the washboard!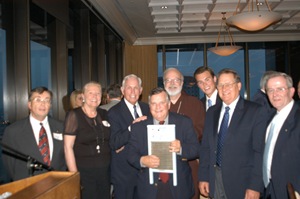 Then, there was Dick Flavin, who performed a revised version of the famous poem "Casey at Bat," called "Ted Williams at Bat." It was very funny and well acted out. The priests enjoyed it very, very much.
– – –
On Saturday I traveled to New York where I presided over three presbyteral and two diaconal ordinations of Capuchin friars. All of the ordinations were done in the same Mass.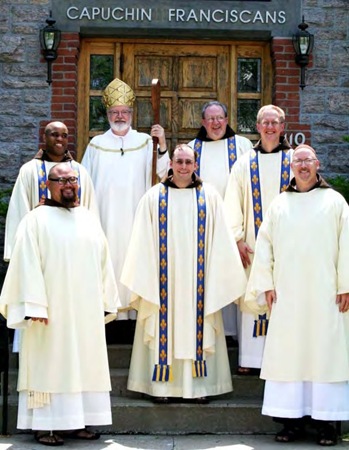 A number of Boston people went down because these friars have worked in parishes in our archdiocese. Father Paul Soper and Father Matt Williams came, as well as a number of parishioners from St. Katharine Drexel Parish in Roxbury, Blessed Mother Teresa of Calcutta Parish in Dorchester, Our Lady of Lourdes Parish in Jamaica Plain and St. Mary Parish in Dedham.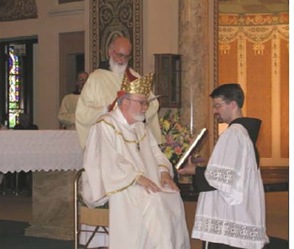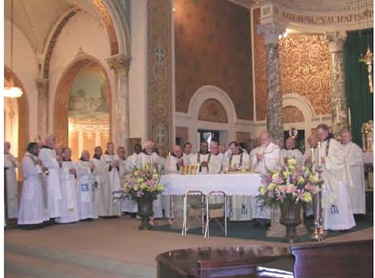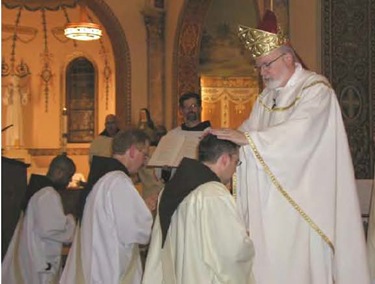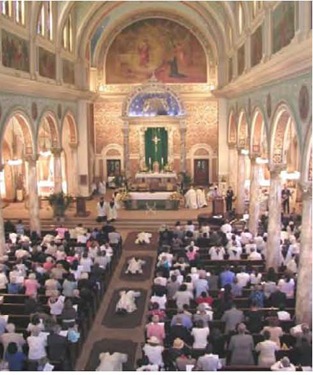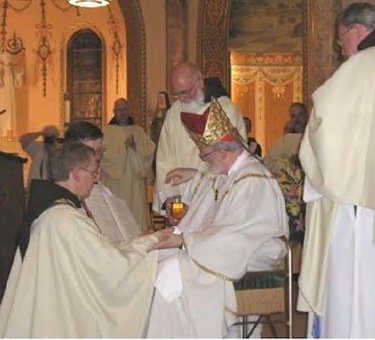 One of the seminarians who was ordained a deacon, Brother Marvin Bearis, is from Guam. People from Guam are called "Chamorros," and as part of their custom, his parents brought a wreath that they put on my neck afterwards.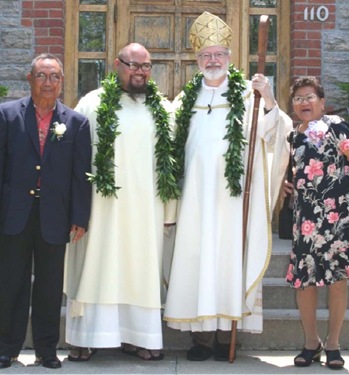 – – –
We had about 70 confirmations of Brazilians at St. Anthony of Padua Parish in Somerville which is a parish run by the Scalabrinian fathers. As you may recall, two weeks ago I had another Brazilian confirmation at St. Tarcisius Parish in Framingham, which is also a Scalabrinian parish. The celebration at St. Anthony's was very beautiful and animated. The pastor, Father Moacir Balen and Sister Elisete are doing a wonderful job at that parish.
– – –
On Monday, we had the Mass of candidacy for seminarian Eric Bennett. Eric will be going to the North American College in Rome to study theology in the fall. Before seminarians leave to study abroad, they usually receive candidacy.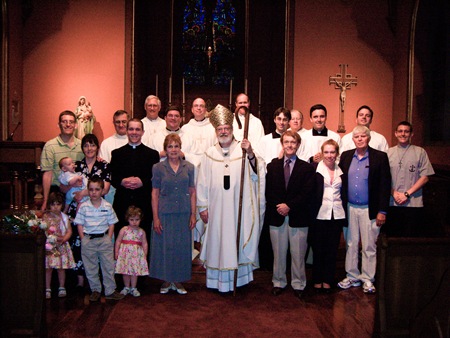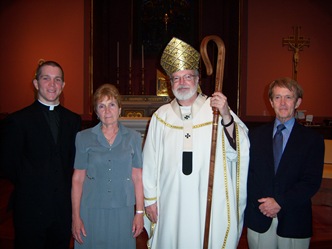 We had a celebration at the Cathedral's chapel with his family and some of his fellow seminarians as well as faculty from St. John's Seminary in Brighton.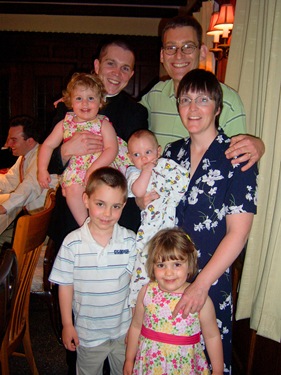 Afterwards, we had a little reception.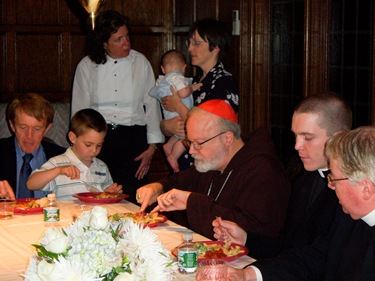 – – –
This past Tuesday the City of Somerville honored Marshall and Barbara Sloane and their family at the dedication of the new Sloane Family Field House at Trum Field. Because of my travels I was unable to attend, but I wanted to tell you a little about it and share some of the photos with you.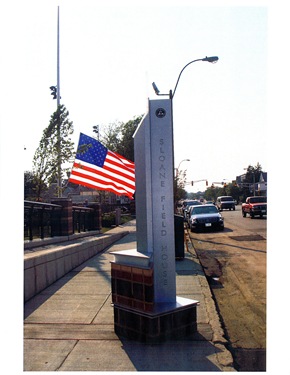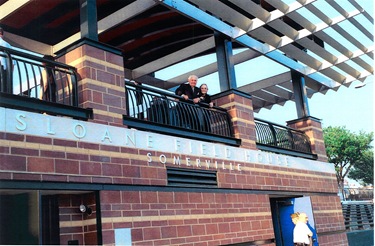 Marshall and Barbara Sloane on the deck of the new field house,
overlooking Trum Field.
The event was attended by many people who the Sloanes hold important in their lives, including Dr. John Silber, President Emeritus of Boston University, and was a tribute to Marshall and Barbara's commitment to the local community.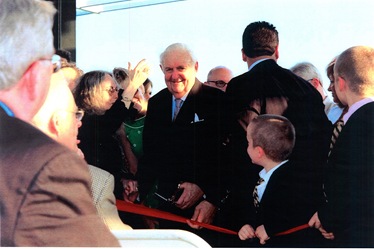 Marshall surrounded by his family at the ribbon cutting
In his remarks, Marshall shared that as a young boy growing up in Somerville he often played ball at Trum field, and how pleased he is that the current generation and those following will have the opportunity to continue that tradition with the help of the new field house.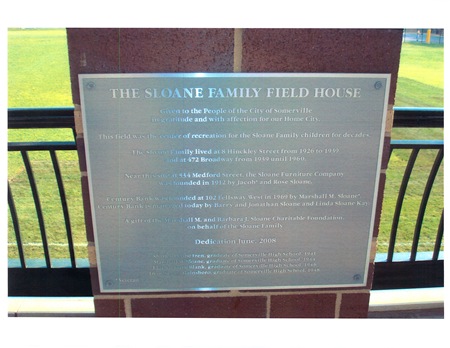 The plaque commemorating the Sloane Family's gift of the field house to the people of Somerville
Our communities are blessed by the Sloanes generosity and goodness, I am privileged to know them as good friends.
– – –
Next week is the Eucharistic Congress in Quebec, and in preparation for that Cardinal Marc Ouellet organized a theological symposium on the Eucharist, entitled "The Eucharist: Gift of God for the Life of the World."
It is an international symposium that is being held at Universite Laval.

Laval is the name of the first bishop of Quebec who was just beatified a couple of years ago and is now Blessed François Montmorency de Laval.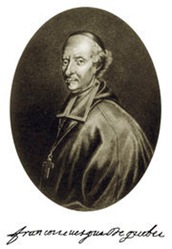 This year Quebec is celebrating its 400th anniversary as a city. The diocese was founded as an Apostolic Vicariate in 1658, 450 years ago. That puts things in perspective as we are celebrating 200 years as a diocese in Boston. In fact, the Archdiocese of Quebec is the oldest American diocese north of Mexico.
Quebec is a beautiful and very picturesque city, and right now it is filled with tourists.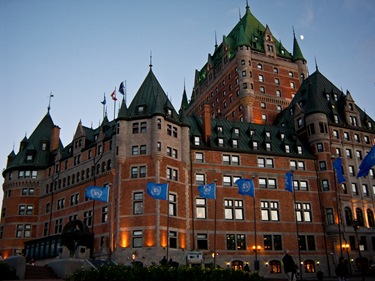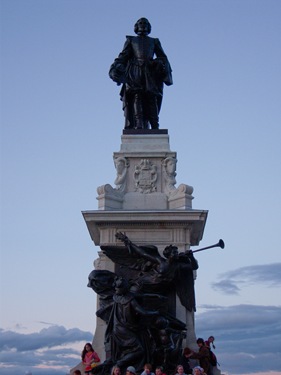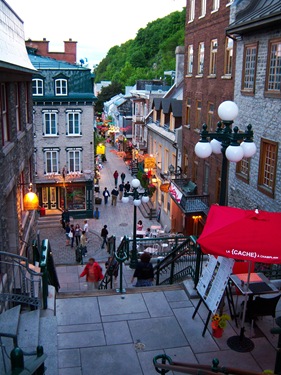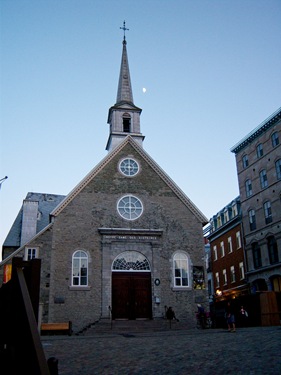 This little Church is Église Notre-Dame-des-Victoires in Place Royal. Costructed in 1688 at the request of Bishop de Laval, this little stone church was erected on the site of "the king's armoury" which was a part of Champlain's dwelling. The church is the oldest in Quebec City. A commemorative miniature replica of the Brézé, a ship that arrived in Canada in 1664, is suspended in the nave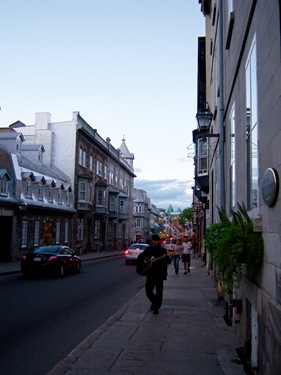 The symposium is three days of conferences and workshops on different theological themes. Wednesday the theme was "The Eucharist, an Eschatological Gift to the World History." On that day the conferences were given by Cardinal Angelo Scola, the patriarch of Venice, and a Greek Orthodox Archimandrite Job Getcha from the Institut de Theologie Orthodoxe in Saint-Serge, Paris. Then, there were workshops in the afternoon, and we ended with a Mass, held at one of the local churches.
The theme on Thursday was "The Eucharist, a Constitutive Gift to the Church in the World." That day, Cardinal Walter Kasper from Germany gave the first conference, and I gave the second on "The Eucharist and Evangelical Life." You can read it here.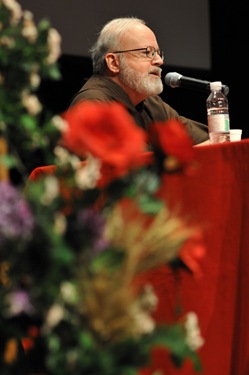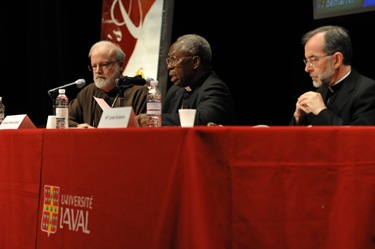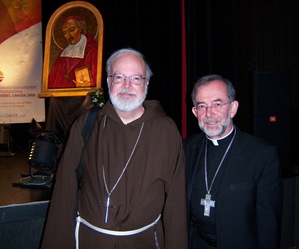 Bishop Lionel Gendron, of the Institut de formation théologique de Montréal, Canada, was the respondent to my talk
Today is the last day of the symposium with the theme "The Eucharist: a Gift for Mission." Bishop Thomas Dabre from India gave the first conference, and the second was given by Alberto Giraldo Jaramillo of Medellin, Colombia. Then, there were workshops this afternoon, and the conclusion is tonight.
Until my next post.
In Christ
Cardinal Seán