Welcome all, once again, to my weekly blog posting!
This week, we had our fall United States Conference of Catholic Bishops meeting in Baltimore where Archbishop Sambi, Apostolic Nuncio to the United States, graciously told us the official dates and itinerary of the pope's visit next year. The trip will take place next April and will include two cities, Washington and New York, as well as a visit to the United Nations.
We are of course very happy that the Holy Father is coming to the United States. His presence in our country will be an opportunity for all of us to experience his ministry and listen to the words that he will direct toward us as Americans.
As I am sure you are aware, I had invited the Holy Father to come to Boston, but I understand that there are limitations to how much the Holy Father can travel because of his age. In fact, he will turn 81 while he is with us next year.
We would certainly have loved to have him come to Boston, and we hope that perhaps at some future date he will be able to come, but we know that it is not possible for him to visit every diocese.
– – –
Last week on Wednesday, the Por Cristo Mass and dinner was held at Emmanuel College.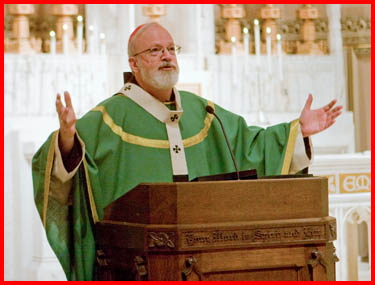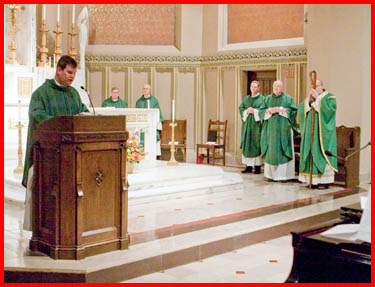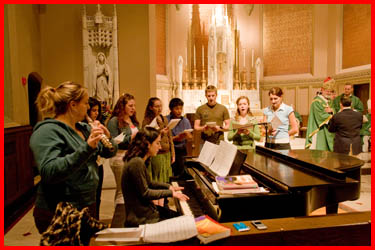 Student musicians and choir from Emmanuel College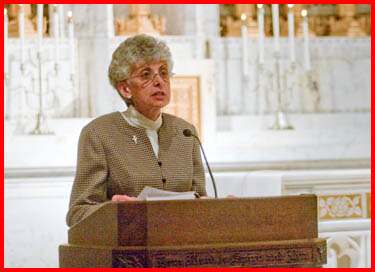 Sister Marie Puleo, Caritas Christi Senior Vice President for Mission, proclaiming a reading
Like the St. James Society, the Por Cristo organization serves the poorest of the poor in Latin America. It is another way the church of Boston reaches out to that part of the world. Through Por Cristo, our Catholic Health Care System, Caritas Christi, organizes trips for Boston doctors and specialists to help out in Ecuador. They also send medical supplies and financial aid.
We have a small staff of Por Cristo here in Boston — Joe Reardon, Orlando Vargas and Deborah Clark. They are doing a wonderful job supporting this fantastic mission.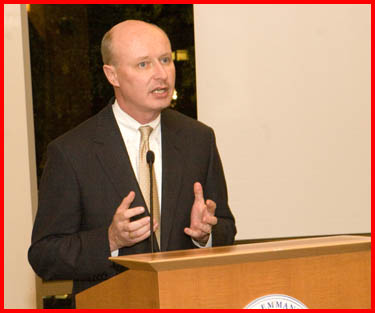 Joe Reardon addressing the gathering
Gary Kaneb is also a huge support as president of the board. Dr. John Chessare, interim president and secretary of Caritas, was at the banquet as well.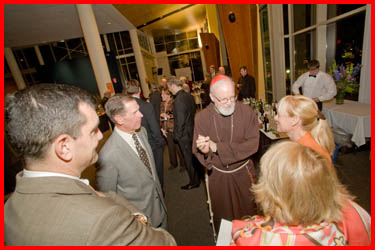 Talking with Gary Kaneb, Steve Orr, Diane Kaneb, and Joan Orr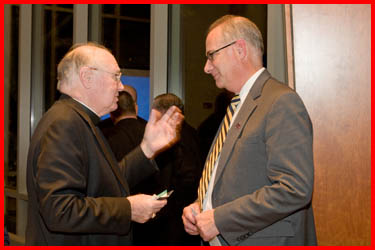 Retired Worcester Bishop Daniel Reilly and Dr. Chessare chat during the reception
I think it is important for people to realize that our Catholic health care system is not only focused on serving the needs of our local community. It also very generously helps those in Latin American — where one of the greatest health problems is as simple as nutrition.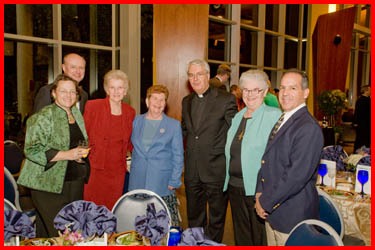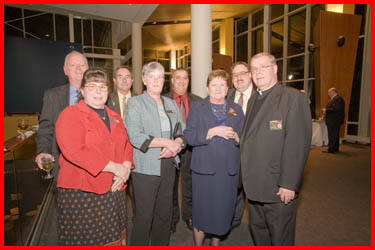 Several members of the Knights of Columbus were present
Before Por Cristo began working there, 60 children a year were dying of malnutrition in that one community in Ecuador. Now that has been completely wiped out, and the many medical services that are provided have made an enormous difference in the quality of life of the people in Ecuador.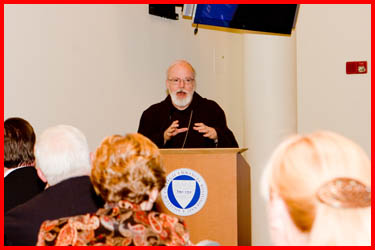 Speaking to the gathering
– – –
This is the third year that we have invited the alumni of St. John's Seminary in Brighton for a vespers service and meal. The response of the priests has always been very good.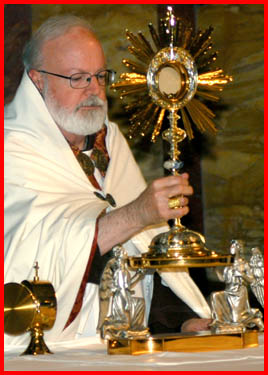 The evening began with a Holy Hour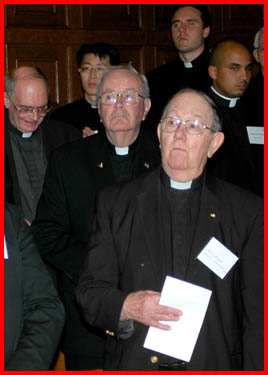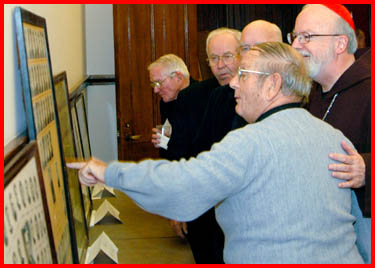 This year there were 165 priests that came not only from the archdiocese but from other dioceses in Massachusetts as well as from as far away as Scranton, Penn. and Maine.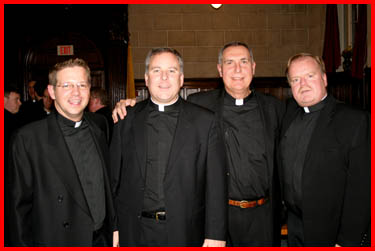 It is always a wonderful opportunity for the priests to gather and to enjoy priestly fraternity. For some of them it had been a long time since they had come to St. John's. Also, this year it was an opportunity for many to meet new rector Father Arthur Kennedy, to meet the current seminarians, to pray with their brother priests at a holy hour and to share a meal.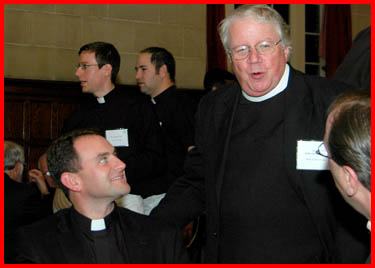 Father Kennedy speaking with some of the priests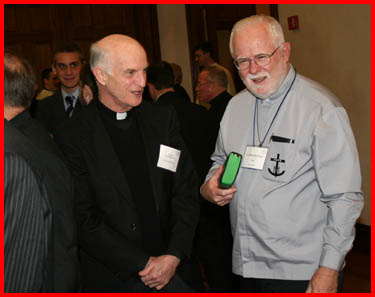 I think all the priests and seminarians were very appreciative of the opportunity to gather.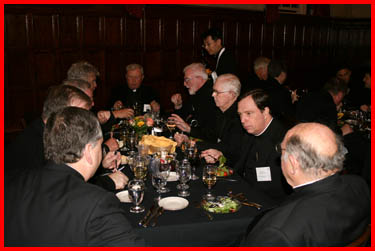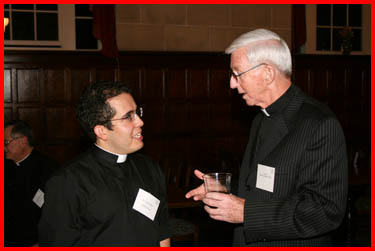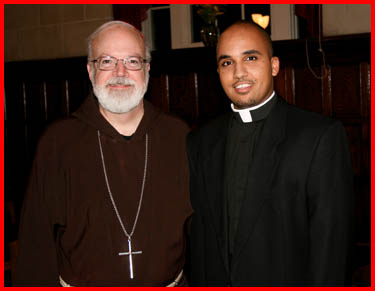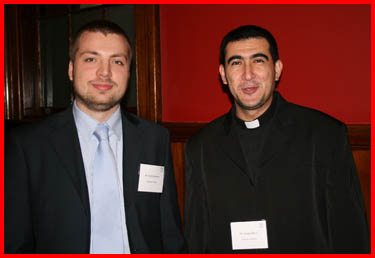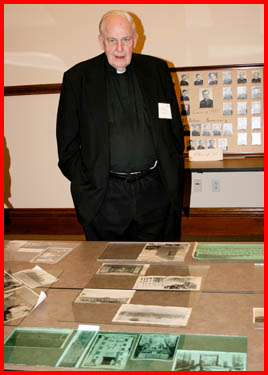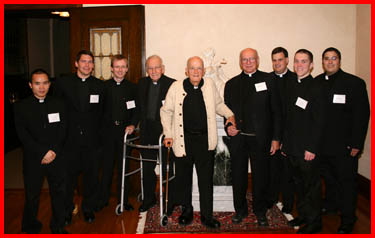 – – –
I spent most of the week participating at the bishops' conference in Baltimore.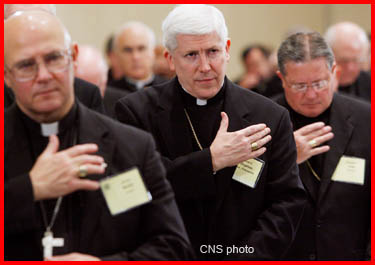 We meet twice a year, and every two years we elect a new president for the conference. The new president is Cardinal George from Chicago. He had been vice-president for the past two years.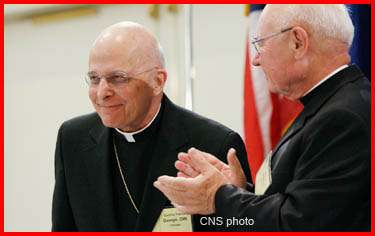 The outgoing president of the USCCB, Bishop Skylstad applauds Cardinal George on his election as the new president
In our practice, the vice-president is something of a president-elect. That is to say, he usually moves into that position. Being vice-president gives one an opportunity to begin to learn the ropes. Cardinal George has done that very well and will continue to bring his intellectual abilities to his new role.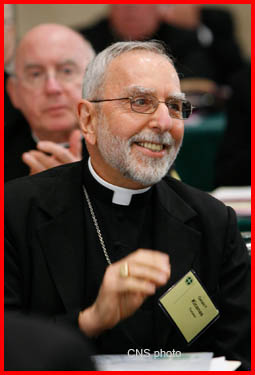 Bishop Gerald Kicanas of Tucson was elected the new vice president
We are very thankful for Bishop Skylstad's service as president during which he has successfully led the Conference in challenging times.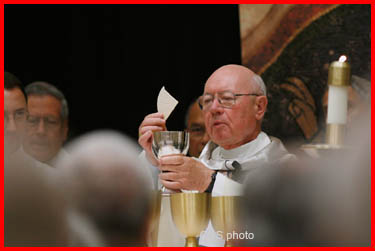 Bishop Skylstad celebrating the Mass to conclude the first day of our gathering
At every meeting, we discuss numerous issues, but I would like to focus on three: a statement of the outgoing president on the war in Iraq, a document on stewardship and young people as well as a document on faithful citizenship.
The outgoing president of the conference of bishops issued a statement on the Iraq war titled "A Call for Bipartisan Cooperation on Responsible Transition in Iraq." It was his own document but has the support of the bishops' assembly, as it reflects the bishops' consensus on the war. I think it is a very well thought out statement that talks about the need for bipartisan solutions and avoiding political games. All parties need to come together with a plan that, without abandoning the people of Iraq by leaving to quickly or making the situation worse by staying too long, will bring some resolution to the war. An important concern for us are the approximately 2 million internal refugees and an additional 2 million external refugees affected by the situation. We are very worried about those refugees as well as the safety of our forces there.
Here is an excerpt of the statement:
As pastors and teachers, we are convinced that the current situation in Iraq remains unacceptable and unsustainable. Our Conference offers once again the goal of a "responsible transition" as an overall ethical framework for national decisions.
The dangerous political stalemate in Iraq that blocks national reconciliation finds a parallel in our own nation. We are alarmed by the political and partisan stalemate in Washington. Some policy makers seem to fail to recognize sufficiently the reality and failures in Iraq and the imperative for new directions. Others seem to fail to recognize sufficiently the potential human consequences of very rapid withdrawal. These two forms of denial have helped contribute to partisan paralysis.
As pastors, we have called for bipartisan action for almost two years. Our country needs a new direction to reduce the war's deadly toll and to bring our people together to deal with the conflict's moral and human dimensions. Our nation needs a new bipartisan approach to Iraq policy based on honest and civil dialogue.
Our Conference encourages our national leaders to focus on the morally and politically demanding, but carefully limited goal of fostering a "responsible transition" and withdrawal at the earliest opportunity consistent with that goal. The moral demands of this path begin with addressing the humanitarian crisis in Iraq and minimizing further loss of human life.
We do not have specific competence in political, economic and military strategies and do not assess particular tactics, but we can, as teachers, share a moral tradition to help inform policy choices. Our Catholic teaching on war and peace offers hard questions, not easy answers. Our nation must now focus more on the ethics of exit than on the ethics of intervention. The grave moral concerns we and others raised prior to the war now give way to new moral questions. In the current situation the traditional principles of "noncombatant immunity" and "probability of success" suggest these questions: How can we minimize the further loss of human lives? What actions will do the most good and least harm? What elements of a responsible transition are attainable? How can they be achieved? What actions should be avoided? How can decision makers take into account both the realities and setbacks in Iraq and the likely human consequences of rapid withdrawal? What are the financial costs and global consequences of continued war and occupation? And, how can our nation effectively counter the perversion of religion and ideologies that support terrorism, which in all cases merits condemnation?
Catholic teaching has long held that peace is more than the absence of war; it is built on the foundation of justice. This moral insight means that building a just peace in Iraq requires far more than military action; it demands a comprehensive political, diplomatic and economic effort.
I encourage you to read the full statement here.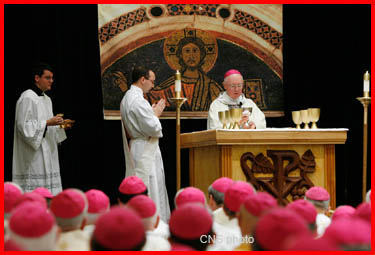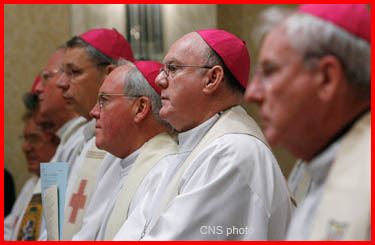 Bishop Richard Malone of Portland, Maine and Bishop George Coleman of Fall River at the Mass
We also approved a statement titled "Stewardship and Teenagers, The Challenge of Being a Disciple," addressed specifically to our young people
Stewardship is not just a method of fund raising. It is a way of discipleship in which a person — also a teenager — identifies his or her vocation in the Lord and shares those gifts in the context of offering them as time, treasure and talent. It is important that young people are made aware of this so they, too, can use their gifts to participate in the mission of the Church. We approved two statements, one in English and another one addressing specifically the Hispanic youth, which was written in Spanish.
On the last day of our fall meeting, we approved a document on faithful citizenship, called "Forming Consciences for Faithful Citizenship: A Call to Political Responsibility From the Catholic Bishops of the United States."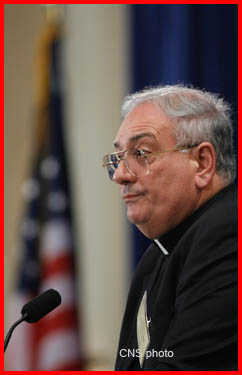 The Faithful Citizenship document was presented to the conference by Bishop DiMarzo of Brooklyn
Documents on faithful citizenship have been published for years by the executive board of the conference of bishops, but this most recent document was the first that involved so many committees. They tried to craft a document that really addressed the issue of conscience formation. Then, that document was voted on by the entire Bishops Conference. This was the first time that has been done. I think that was very helpful because in the past many felt that the documents addressed a "grocery list" of issues that sometimes obscured the importance of some issues. So by looking at the formation of conscience, we hope to help Catholics make informed and morally sound decisions.I want to share with you an excerpt of the document that talks on the formation of conscience:
The Church equips her members to address political questions by helping them develop well-formed consciences. "Conscience is a judgment of reason whereby the human person recognizes the moral quality of a concrete act. . . . [Every person] is obliged to follow faithfully what he [or she] knows to be just and right" (Catechism of the Catholic Church, no. 1778). We Catholics have a lifelong obligation to form our consciences in accord with human reason, enlightened by the teaching of Christ as it comes to us through the Church
The Church also encourages Catholics to develop the virtue of prudence, which enables us "to discern our true good in every circumstance and to choose the right means of achieving it" (Catechism of the Catholic Church, no. 1806). Prudence shapes and informs our ability to deliberate over available alternatives, to determine what is most fitting to a specific context, and to act. Prudence must be accompanied by courage which calls us to act. As Catholics seek to advance the common good, we must carefully discern which public policies are morally sound. A good end does not justify an immoral means. At times Catholics may choose different ways to respond to social problems, but we cannot differ on our obligation to protect human life and dignity and help build through moral means a more just and peaceful world
There are some things we must never do, as individuals or as a society, because they are always incompatible with love of God and neighbor. These intrinsically evil acts must always be rejected and never supported. A preeminent example is the intentional taking of human life through abortion. It is always morally wrong to destroy innocent human beings. A legal system that allows the right to life to be violated on the grounds of choice is fundamentally flawed.
Similarly, direct threats to the dignity of human life such as euthanasia, human cloning, and destructive research on human embryos are also intrinsically evil and must be opposed. Other assaults on human life and dignity, such as genocide, torture, racism, and the targeting of noncombatants in acts of terror or war, can never be justified. Disrespect for any human life diminishes respect for all human life.
As Catholics we are not single-issue voters. A candidate's position on a single issue is not sufficient to guarantee a voter's support. Yet a candidate's position on a single issue that involves an intrinsic evil, such as support for legal abortion or the promotion of racism, may legitimately lead a voter to disqualify a candidate from receiving support.
Opposition to intrinsically evil acts also prompts us to recognize our positive duty to contribute to the common good and act in solidarity with those in need. Both opposing evil and doing good are essential. As Pope John Paul II said, "the fact that only the negative commandments oblige always and under all circumstances does not mean that in the moral life prohibitions are more important than the obligation to do good indicated by the positive commandment" (Veritatis Splendor, no. 52). The basic right to life implies and is linked to other human rights to the goods that every person needs to live and thrive—including food, shelter, health care, education, and meaningful work. The use of the death penalty, hunger, lack of health care or housing, human trafficking, the human and moral costs of war, and unjust immigration policies are some of the serious moral issues that challenge our consciences and require us to act.
– – –
For the photo of the week I have selected this closeup of one of the wonderful (I won't say old!) class pictures on display at the St. John's Alumni Dinner. It was such a great occasion to not only look back at our seminary's past but also to celebrate its future.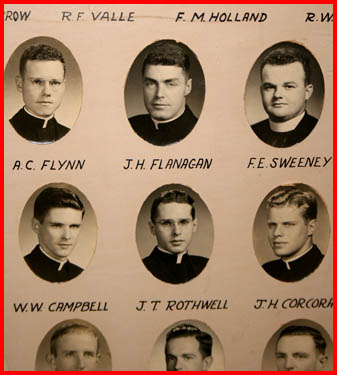 Until next week, blessings to you all.
Cardinal Seán