I would like to begin by expressing my condolences to the relatives of those who died in the bridge collapse in Minnesota on Wednesday. I want to assure them of my prayers in this time of mourning.
– – –
Last Friday, I met with a group of members of the Archdiocesan Pastoral Council (APC) who had recently approached me about the possibility of creating a social justice committee.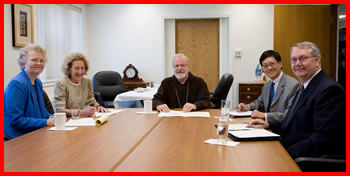 APC members with Sister Marian Batho
I was very enthused about the idea because we really need to address so many different issues in our state, and we have a very great need of promoting knowledge of the social doctrine of the Catholic Church which is so powerful, so consistent and which flows from the Gospel teachings.
We see that very often Catholics are unaware of our rich tradition of social justice. We have been trying through the Massachusetts Catholic Conference (MCC) to look at ways to involve our people more in the social issues that affect the Church. So I am anxious for the APC to work with the MCC and the other dioceses in the state.
Ideally, I would like to see every parish council have a social concerns committee that then would be able to promote the education and faith formation of adults. It could also help to galvanize attention around social justice issues that the Church faces in our relationship with the larger community.
Most Catholics are very quick to recognize the need that we have to provide direct service to the sick, the hungry and the homeless. Yet, the social justice agenda of the Church goes beyond that, trying to create a society that is more just, in which the structures favor human dignity. Social justice includes a wide variety of topics such as life issues, racism, economic justice, the morality of war, casino gambling and the housing crisis.
What we would like the MCC and the APC to do is to help us prioritize what the most pressing issues currently are. Obviously the Church cannot deal extensively with every issue, but there are some issues that are so important to the community that we should try to lift them up for consideration, prayer and action within the Catholic community.
– – –
Last Friday, I also had lunch with Msgr. Francis D. Kelly, who for many years was the rector of Blessed John XXIII National Seminary in Weston. Then, he was invited to be the rector of the Casa Santa Maria, which is the graduate school of the Pontifical North American College in Rome. Msgr. Kelly has always had a great love for Rome and brings a lot of seminary experience to his role there, where he is supervising young priests who are doing their graduate studies. We have one Boston priest, Father Derek Borek, at Casa Santa Maria. He is studying for a doctorate in theology.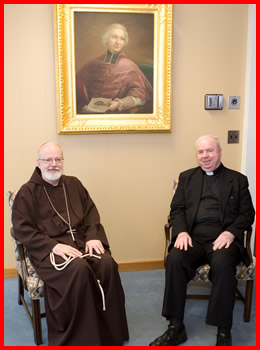 Msgr. Kelly brought me his latest book, "Discovering Christ." Of course, we expect everyone to go out and buy it immediately, lol.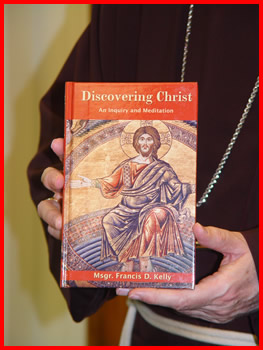 – – –
On Tuesday, I met with Dr. Clayton Christensen, a member of The Church of Jesus Christ of Latter-day Saints. He is a member of the Area Authority Seventy, who each have a responsibility for a large area of the Mormon community. He is also the Robert and Jane Cizik Professor of Business Administration at the Harvard Business School.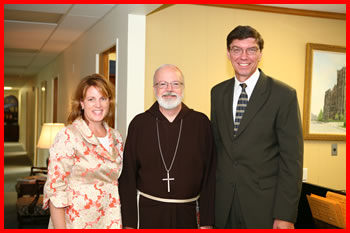 Dr. Christensen was accompanied by Whitney L. Johnson,
Coordinator of Public Affairs of The Church of Jesus Christ of
Latter-day Saints, Greater Boston
This was the second time that I met with him in trying to have a greater understanding of Mormonism. As part of our outreach to other religious denominations, we spoke about the Mormon community and some possible points of collaboration. We have been very impressed with their desire to have more communications. Dr. Christensen thanked us for our efforts on behalf of marriage. He said that was very much appreciated by the Mormon community.
Dr. Christensen brought me my genealogy. It went back to my great-great grandparents. Apart from one mistake in it that I could find, there were many things in it that I did not know, like that the maiden name of my great-great grandmother was Gallagher. The other great-great grandmother was Nagel. They were from Ireland. I never knew them and had never even heard their names before. It was interesting.
– – –
That evening, I had dinner with the Jesuits on the Feast Day of St. Ignatius of Loyola. I was happy that after dinner Father Bill Russell arranged for me to talk to Archbishop Larry Burke of the Archdiocese of Kingston, Jamaica, who is also a Jesuit. Archbishop Burke is a good friend of mine who has been ailing, so it was nice to have a conversation with him. When I was in the Antilles, we were in the bishops' conference together, and I was also the visitator of the seminaries in Jamaica. I know Archbishop Burke very well, and I enjoyed personally wishing him many blessings on the feast day of their founder.
– – –
Catholic Relief Service recently opened a regional office in Philadelphia, dealing with the Northeastern United States. Yesterday, Father J. Bryan Hehir and myself met with Maureen McCullough, CRS regional director, and Joan Neal, CRS vice-president of U.S. operations.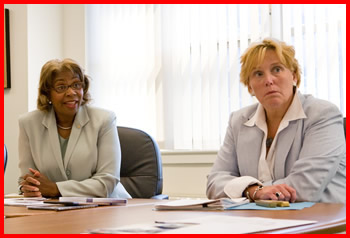 Joan Neal and Maureen McCullough
They were coming to us about promoting the works of CRS and also the general education of Catholics on social teachings. So much of the work of CRS is to raise people's consciences of the Church's commitment on social justice at the international level.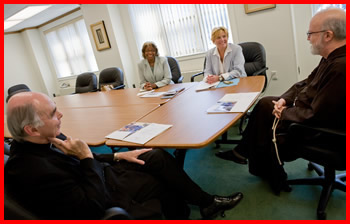 Sharing a light moment together with Father Hehir
They have a number of wonderful programs. We spoke particularly about the participation of the archdiocese in the rice bowl that CRS sponsors every Lenten season.
I encouraged them to be in touch with our campus ministry people as well as Catholic Television and The Pilot so we could help Catholics in Boston get to know the programs they have.
CRS operates on five continents and in 98 countries. I thought you would like to see photos provided by Catholic News Service showing some of their activities throughout the world.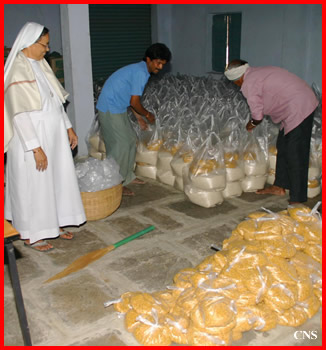 Franciscan Sister Cecilia Reddim supervises preparation of nutritional food kits to be distributed among HIV-positive people at a Catholic Relief Services depot at the social service center in the Diocese of Warangal, India, in February. CRS sponsors most of the nutritional food kits distributed by the Warangal Diocese to people living with HIV/AIDS.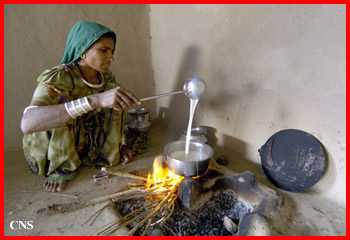 A woman cooks in her new home outside Mirpur Khas, Pakistan, last year. She and her family built the home with help from the Lower Sindh River Development Association, an organization supported by Catholic Relief Services. The aid they received has allowed them to live free of a landlord's control for the first time.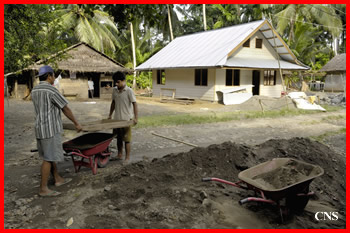 With assistance from Catholic Relief Services, Caritas Indonesia is building homes, including this one, for survivors of the 2004 tsunami and 2005 earthquake on the Indonesian island of Nias.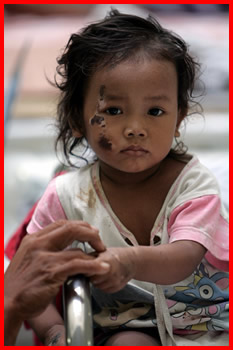 An injured child holds her father's hand at a hospital in earthquake-stricken Bantul, a town in Central Java, Indonesia, in June. According to Catholic Relief Services, Catholic agencies were allocating $1.2 million for emergency aid to the more than 100,000 people left homeless by last year's quake.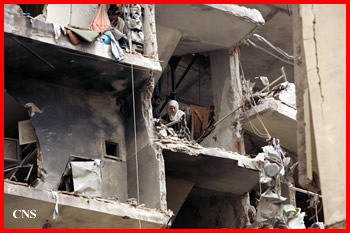 A woman searches her destroyed apartment in a southern suburb of Beirut, Lebanon, last summer during the 34-day war between Israeli forces and Hezbollah militants. CRS worked with its partner, Caritas Lebanon to assist the 90 percent of the displaced who returned home immediately after the cease-fire took effect.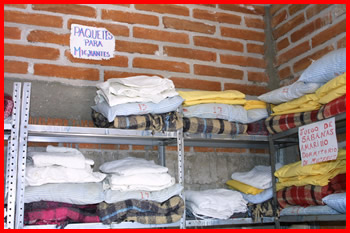 Bedding for guests is seen on shelves at the Community Center to Aid Migrants and the Needy in Altar, Mexico, in February. The center is sponsored by the local Our Lady of Guadalupe Parish and the Archdiocese of Hermosillo, with support from Catholic Relief Services. Besides beds, it also provides clothing, shoes, medical care, meals and warnings about the dangers of crossing the U.S. border illegally.
– – –
This is the third year that we have organized a gathering of priests on or near the Feast of St. John Vianney, the Curé of Ars. It was well attended with about 200 priests and seminarians. I was glad to see a cross section of priests of all ages and seminarians at the gathering.
This year, we had a lecture for the priests. Fr. Michael Medas, Director of Pastoral Formation at St John's gave a wonderful presentation entitled The 7 Habits of Highly Effective Pastors. We also had a holy hour and a cookout.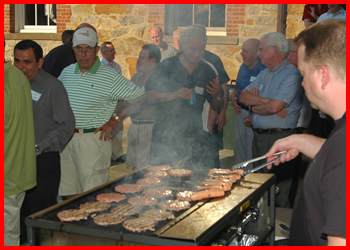 At his presentation, Father Medas explained that as he drove around the Archdiocese ministering to the deaf he had the opportunity to meet many of our priests and be welcomed by them into their parishes. He noticed that in the parishes where a tangible peace, joy, and enthusiasm about spreading the Gospel existed often the pastors, unknowingly, where living out the life lessons contained in the book The 7 Habits of Highly Effective People by Stephen R.Covey.
Father Michael was reading the book at that time. The first three Habits offer insights on how a person can truly live life deliberately and not by default. The second three challenges a person to bring the fruit of such empowerment into the relationships of life. The last Habit, Sharpen the Saw, encourages a continual renewal of mind, body, heart, and soul.
In his overview of the 7 Habits, Father Michael showed how those insights could be taken to another level of empowerment if they were linked to Gospel values and the spirituality of our Church. That is exactly what he was seeing happening in those vibrant parishes.
For example, the first Habit is to "Be Proactive." He explained that Habit teaches us to pause before we respond to anything that happens, directly or indirectly, in our lives. In pausing, a person consciously – and with some reflection – decides what kind of a response will be true to inner values that lead to authentic freedom. Fr Michael called that pause the "moment of grace" when we ask and allow God to guide us so that our words, actions, and decisions truly reflect the face of Christ. Without the pause, he explained, we run the risk of being controlled and tossed about by our emotions or prejudices.
It is powerful to be reminded that God wants to be involved in all the responses of our lives so that we experience more and more freedom to love and be healed. "Forgive us our trespasses as we forgive those who trespass against us." The power of the pause Father was speaking about. God's grace empowers us to choose the freedom of forgiveness over the tyranny of revenge.
The fact that so many priests came early, and sat in a hot 90 degree classroom was inspiring to me and showed their true dedication to do whatever it takes to become the best priests possible for God and His people.
After the presentation we had a holy hour. I reminded the priests that in this very chapel we had the heart of St. John Vianney last October.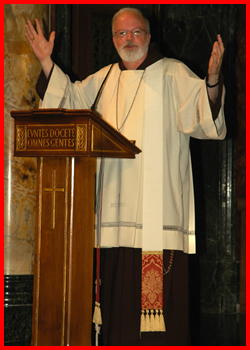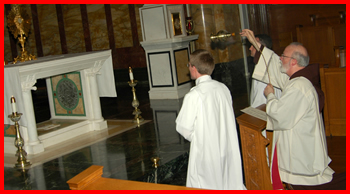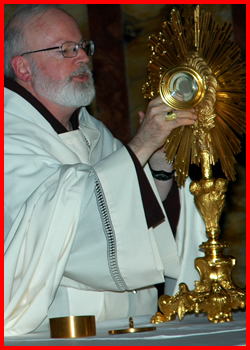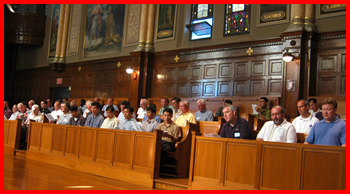 The visit of the saint's relic to Boston caused such an outpouring of devotion of the priests and the people of the archdiocese. I also told the priests and seminarians that we were praying that we would have the same priestly heart as St. John Vianney – a heart that would make the pastoral love of Jesus for his people visible and present in today's world.
For the photo of the week I leave you with a shot of the relic of St. John Vianney taken at St. John's last year.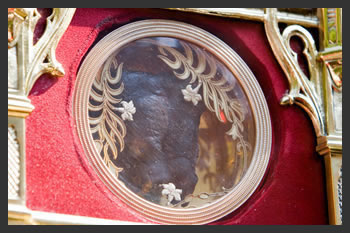 Yours in Christ,
Cardinal Seán