God bless you all during these summer months.
I am still on vacation this week and want to share reflections from another newly ordained priest. Father Robert J. Blaney was ordained on May 26 and is now serving in his first assignment at St. Mary Parish in Franklin.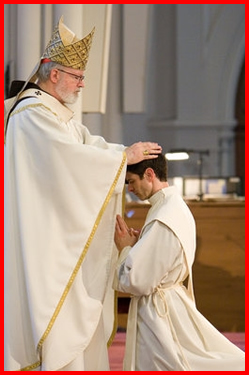 Laying hands on Father Blaney
Thank you Father Blaney for your willingness to give readers a glimpse of God's actions that led you to the priesthood.
Yours in Christ,
Cardinal Seán
—
It has been more than a month after my ordination, and I still cannot get over the fact that I am really a priest!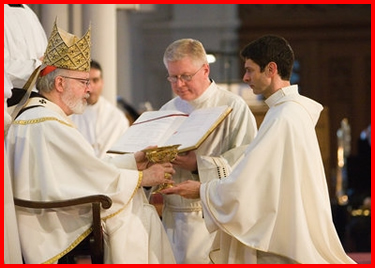 Cardinal Sean presents me the chalice and paten for Mass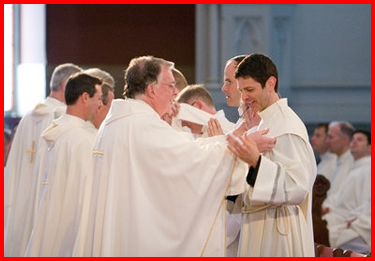 Monsignor William Helmick was my vesting priest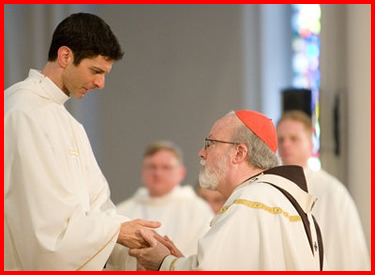 After giving Cardinal Sean my first blessing
The events working up to the day of the ordination and the Mass of Thanksgiving happened so rapidly. From that day on, time has seemed like a blur. I have been so busy and so much has happened. I moved into my first assignment at St. Mary Parish in Franklin and began a whole new chapter of my life as a Catholic priest for the Archdiocese of Boston.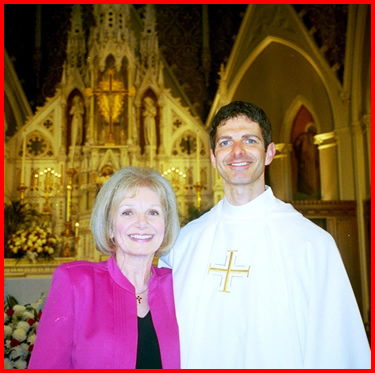 My mother and I at the Ordination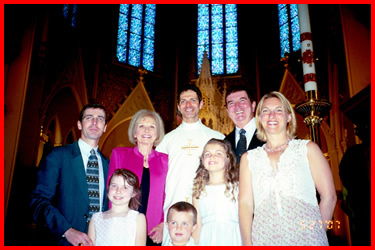 Back row, left to right: My brother Ken, my mother, me, my father, my sister-in-law Julie. Front row: My nieces and nephew: Ayla, Jake and Kerry
In these first weeks, one thing has been exceedingly clear to me — that these have been big-time, grace-filled days with the Lord carrying me along and pouring down many blessings upon me through all of the people with whom I have come into contact. Needless to say, I have felt a bit overwhelmed but in a good way, in an exciting way.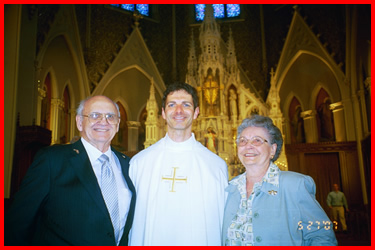 Me with Richard & Ida Guglielmo
(my uncle and aunt from Palm Beach Gardens, Florida)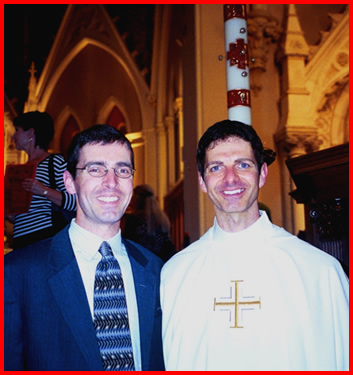 My brother Ken and I
My life journey up to this very day has had lots of turns and surprises. As I have aged, I have been working at getting better at knowing when to step aside, putting my self-interests away and responding to the workings of the Holy Spirit. What I have come to realize is that God, who has created us and knows all of us as the unique individuals that we are, communicates His love and His grace to each of us in a specific and personalized way.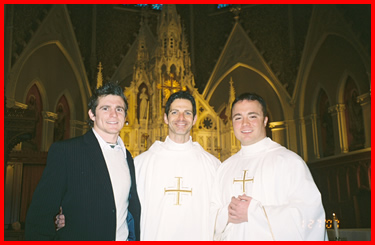 Luke Vercollone, me, and Fr. David Shoemaker
We should pray to be attentive to the extraordinary things that happen to us in our ordinary lives. There is a reason for everything. Confusion, fear or helplessness is best remedied by admitting to ourselves that we are only weak human beings and that we need God. It is only when we take the time that we are able to hear what God is asking of us. After listening to God, it is up to each one of us to respond so that we might be able to carry out God's will.
When I was 31 years old, I finally began to understand this. I was working as an actor at a regional theater, and on one weekend a pianist from the Zurich Opera House who was only slightly older than me gave a concert. Watching him playing the piano during the concert, I began to think about my own history as a concert pianist.
I had been a bit of a child prodigy, competing in piano competitions in Boston, giving recitals throughout Massachusetts and performing at numerous events since I was seven years old. (For those old enough to remember the show, I competed on the Boston television variety show hosted by Dave Maynard called Community Auditions and was the "1973 Grand Champion of the Year.") When I was 13, I made the decision to stop playing the piano because I wanted to "fit in" more and "be normal" like the kids that I went to school with.
And so, sitting at that concert, listening to the pianist in 1996, I was struck by the fact that I'd let my very same God-given musical gift wither and die over the years. I recognized that once I had had the potential to be just as good as, if not better than, the guy on stage who was making his living as a successful pianist and conductor in Europe.
I went back to New York City where I was living. Feeling guilty over the acute awareness that I had not made use of a gift that God had given me, I started playing the piano again, with great difficulty. I revisited pieces I had played as a child, but my hands were in such bad shape due to years of not playing. As the days went on, however, I got better and better. Much to my parents' surprise, I asked them if I could move the grand piano they had purchased for me when I was 13 to my apartment in NYC. Ever-supportive, they were more than happy to oblige, and within the week the grand piano arrived at my apartment a little after midnight.
For the next three months, all of my free time was consumed with playing the piano. All the while, my agent and friends were puzzled as to why I was spending so much time on classical piano — something so "unmarketable" that "would never help" my acting career. That was not a concern of mine, though. I just knew I had to do it for myself. Getting back to my musical roots and making the most of my talents from God was therapeutic for me, and within three months I was playing better than I ever had when I was performing regularly as a child. My expectations were even exceeded when, a month later, I mastered Bach's English Suite II — the intricate opening piece in the aforementioned concert I'd recently attended.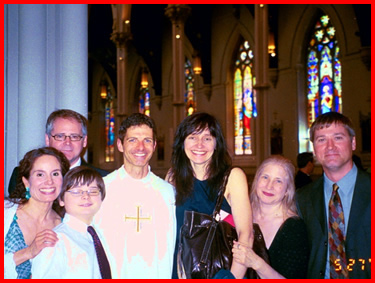 My friends from NYC at the ordination (left to right):
Cynthia Enfield, Emil Adler, Julian Adler, me, Julie Flanders, Shellen Lubin, Rik Walter
A year later, a new show opened in NYC . It was a two-person play called 2 Pianos, 4 Hands, and told the story of two men who had wanted to become professional concert pianists since childhood and who never saw that dream become a reality. Not having much money at the time, I volunteered to usher at the theatre in order to be able to see it. I was deeply moved by the show, and a week later I ushered there again.
What touched me most was the universal theme of the play. Although told through the eyes of musicians, it could have been about athletes, scientists or accountants. The theme of how a person responds to the predicament of working towards a goal in life and then not reaching that desired goal was the plot of the show — one to which anyone could relate.
What was most interesting to me was how the two characters evaluated their lives when, as adults, they looked back over the sum total of their life experiences to see who they had become. Each man determining for himself whether or not he was "a success" — regardless of society's opinion — was a positive and empowering thing to watch. I had done the very same thing in my own life the previous year, and to see this message conveyed in the show was very affirming. Needless to say, the fact that the two characters in the play were pianists allowed me to be able to relate even more.
Friends and colleagues, upon hearing of my enthusiasm for the show, encouraged me to get an audition for it, but I convinced them all that it was out of the question — there was a great deal of classical piano playing in the show. I thought that the level of musicianship required was way beyond me, especially since the play ended in a mini-concert with the two men, in tails and at concert grands, playing Bach's Concerto in D Minor.
Unbeknownst to me, my agent got me an audition for it. After pleading with him that I was not capable of auditioning, he persuaded me to pick up the audition material and give it a shot. Well, because of my own personal pursuit of getting back to playing the piano the previous year (and learning Bach's English Suite II), I soon realized that I was capable of auditioning. I had even been working on the perfect, most appropriate audition piece for the prior year without even knowing it! I just could not believe it — the whole series of "coincidental" events that had transpired.
Terrified, yet enthused, I auditioned and got cast to take over the role from one of the creators. Classical piano, something that I returned to for interior reasons, had brought me a starring role in a Broadway show. I was fully aware that God had given me the gift of this show, and that all of the seeming "coincidences" had rather been part of His mysterious plan.
I performed 2 Pianos, 4 Hands in the New York production, the Canadian production and the U.S. National Tour from 1998 to 2001. For me, parts of it felt like a play within a play, and some of the dialogue could have been extracted from my own life. The demands of doing the show were many — continually practicing to maintain the concert piano level standards; balancing health and sanity amidst an eight-shows-a-week schedule and constant interviews, press events and publicity appearances; and dealing with the pressure that came along with headlining such an expensive and high-profile operation.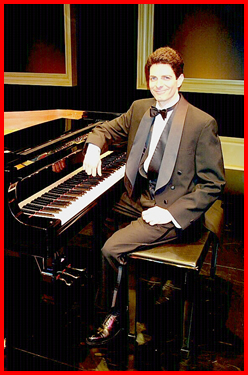 A 2001 photo while performing "2 pianos,4 hands"
My faith in Jesus Christ allowed me to get through many stressful times during this period. Every performance began with prayer, was interspersed with prayer, and ended with a prayer to God. Oftentimes it actually felt that Jesus was carrying me whenever I would get nervous or feel panicked. My prayer life increased tremendously during those three years, and I realized that I could not do any of what I was doing on my own. On a couple of occasions, I was aware that it was God who was playing (through me) Bach's concerto on stage when I, myself, would be so paralyzed with stage fright. Somehow, He kept my fingers moving while I seemed to float above the stage, watching it all.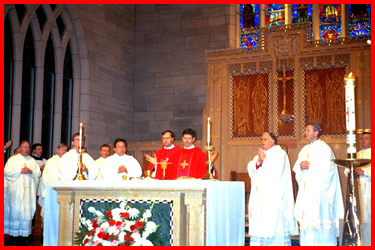 My Mass of Thanksgiving at Saint Theresa of Avila Parish in West Roxbury (left to right: Fr. Michael Drea, Nick Twaalfhoven, Fr. Raymond Helmick, SJ, Fr. Robert M. Blaney, Fr. David Shoemaker, Father Jack Kurps, Deacon Paul Boudreau, me, Monsignor William Helmick, Fr. Brian Bachand, Fr. Tom Maguire)
Artistically, it was a unique and wonderful opportunity. The script combined gritty dramatic scenes along with physically comedic ones. Both actors played 14 different characters throughout the play, and the play's denouement was a mini-concert which allowed me the opportunity to experience vicariously what it would have been like to be a professional concert pianist.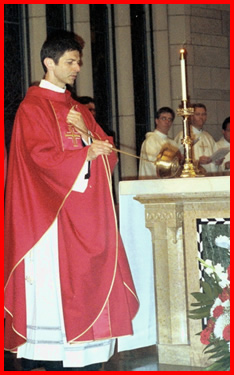 Incensing the altar at my Mass of Thanksgiving
Unexpectedly and ironically, I discovered that my newfound success did not totally fulfill me. I had been reaching for a level of status in show business since I moved to NYC in 1987, and once I had it, it was not all I thought it would be. I began to feel a sense of emptiness and apathy, but I could not pinpoint exactly why I was feeling that way. I was now being sent out on many good auditions and long-closed doors were opening for me, but I was not even interested in pursuing them. Being an actor now seemed meaningless to me, and this realization found me perplexed.
During this time, I realized that I wanted to connect with something more real. Sensing that my priorities were shifting, I began praying for direction in my life. (My mother later revealed to me that during this same time she had been praying to God for me for the very same thing.) I began to read and pray the Bible, Thomas a Kempis' My Imitation Of Christ, and The Catechism of the Catholic Church. Simultaneously, I found myself going to Mass more and more frequently, cultivating a relationship with Our Blessed Mother, meeting other Catholics of my generation and, most importantly, spending a great deal of time in front of the Blessed Sacrament.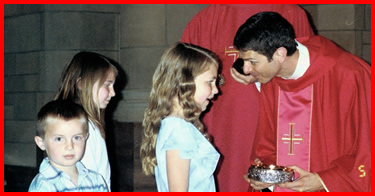 Jake, Ayla, and Kerry Blaney present the gifts at my Mass of Thanksgiving
In what seemed at the time to come out of nowhere, I suddenly heard God asking me to give my life for His Church. When I first experienced this "call" to the priesthood, I was intimidated and frightened by the whole notion, did not tell anyone about it and tried to block it out of my mind. But every day there would be some event — a remark made by a friend, something I had read in the newspaper, a scene in a movie — that continually reminded me that God, indeed, seemed to be calling me for some work far greater than myself. I was stunned by this challenging offer, as the idea of the priesthood had never crossed my mind my entire life. Not to mention that I thought I was too old and unworthy of such a calling.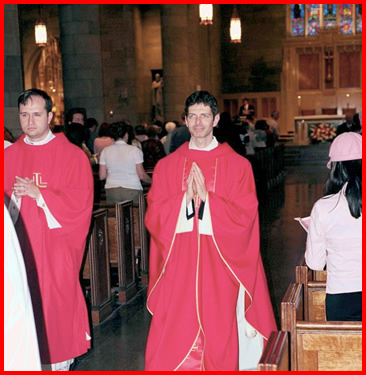 Deacon Paul Boudreau and I (Recessional at my Mass of Thanksgiving)
I immersed myself in prayer, and brought up to God all the reasons why I did not believe I should answer His call. And one by one, every one of my issues got resolved in such a way that, as the days went on, I found myself becoming peaceful and even enthusiastically joyful with the decision to investigate what it entailed to discern a vocation to the priesthood. I still realized that I was unworthy, as we all are, but God gave me the necessary grace to follow Him. I applied to St. John's Seminary in January 2001, gave my notice and left 2 Pianos, 4 Hands in May, and entered St. John's in September.
So now, six years later, I find myself beginning a whole new chapter of my life. I am living in Franklin, Mass. where my brother, his wife and children live. I am back near the town in which I was born and raised, Framingham, and where my parents still reside. And I am a Catholic priest.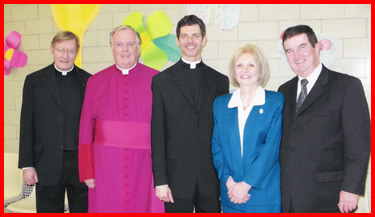 At the reception after the Thanksgiving Mass, with Father Raymond Helmick, SJ, Monsignor William Helmick and my parents
Do I feel blessed? Totally! Do I, even more so, feel humbled? Absolutely! I am so thankful to the Lord for having called me to serve Him and His Church as a priest. I am honored to serve the people of God in the Boston Archdiocese. I promise to pray for the grace that is needed for all of us to grow together toward a deeper knowledge of God's Love. I ask you to continue to pray for me, for my six brothers who were also ordained in May and for all the priests who serve the Archdiocese of Boston. May God bless us all.
– Fr. Robert J. Blaney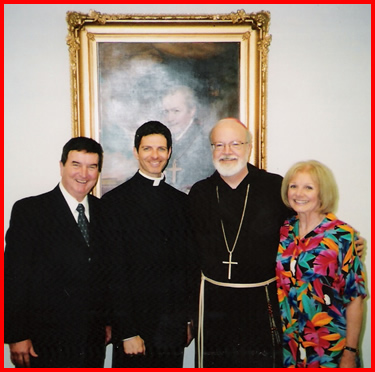 With my bishop and my parents